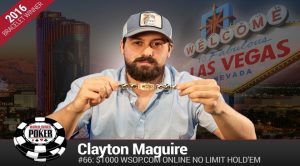 The WSOP $1,000 Online No-Limit Hold'em Event was held for a second consecutive year with great success. This year's edition literally blew away the one that took place in the summer of 2015, with more than 1,240 participants compared to the 905-player field last year.
The event was held in two days. The No-Limit Hold'em Championship's first stage started online, and only the final six players headed to Las Vegas to take part in the live final table. The players were required to be positioned in Nevada in order to become eligible to participate in the event.
The US-based Clayton Maguire managed to emerge victorious after beating all the rest 1,246 players and winning his first gold bracelet, as well as the event's $210,279 prize. This was also the first appearance of the player at a final table in a WSOP event, and his third time to cash in a series event.
Clayton Maguire has already taken part in several other WSOP events, but this is his best finish for him in the WSOP. He has previously occupied the 44th position in the 2014 $10,000 WSOP Main Event, winning a total of $186,388, while the overall live tournament earnings in his career are estimated to $1.06 million.
Maguire commented on his victory, saying that he was really pleased he managed to win the gold bracelet. He also shared it had been really fun for him to take part in a big web-based tournament, especially considering the fact he did not play high quite these days. Normally, he sits in $5-10 and $10-20 blind No Limit Hold'em cash games, but he now managed to win the victory facing some strong foes in the final lineup.
What is interesting, is the fact that only one of the six finalists was based in Nevada, and the other five were only visitors. Representatives of four different countries, including the US, Canada, Bulgaria and Hong Kong took part on the final table.
At the end, Clayton Maguire held 2 to 1 chip lead and managed to widen the gap between him and the Bulgarian poker professional Simeon Naydenov, who proved to be a serious foe. This could have been a second WSOP gold bracelet for Naydenov, who won his first one in the $1,500 buy-in No Liming Hold'em Shootout, but Maguire managed to deal with him and scooped the final pot, finishing as a victor.
Simeon Naydenov finished as the runner up, taking a prize of $150,569. The third place was occupied by the Canadian Marc-Olivier Carpentier-Perrault, who got $110,172.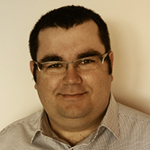 Harry Evans is a long-year journalist with a passion for poker. Apart from a good game of poker, he loves to write which is why he spent several years as an editor of a local news magazine.