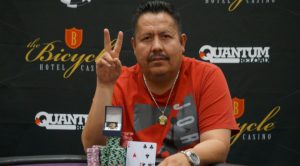 American player Hermilo Vargas was crowned winner at the WSOP Circuit $365 No-Limit Hold'em Monster Stack event last night and was awarded his second champion ring. In addition to the champion title and his ring, Vargas went home with $86,270 in prize money for his first-place finish.
The local player who resides in Bell Gardens, California, joined a huge field comprising 1,317 contenders at the Bicycle Casino in Los Angeles. The entries competed for a share of the $522,600 prizepool, but only the first 171 finishers were paid out, with the minimum payout standing at $600. At the end of Day 2 of the tournament, Vargas was the only one of the 18 remaining contenders to surpass the 4 million mark, holding a total of $4,890,000 in chips. He was followed closely by opponent Yu Hung Chen with 3,595,000 in chips.
However, by the time the unofficial final table was formed, Vargas had surrendered his chip supremacy to compatriot Michael Itaev. Itaev joined the unofficial final table as a chip leader with 5,600,000 in chips whereas Vargas' chip count had dropped to 4,400,000.
Vargas Defeats Michael Itaev Heads-Up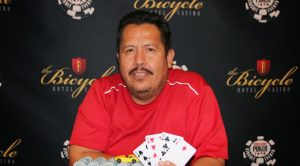 The unofficial final table started with ten opponents competing for the first-place finish. At this point, the small and big blinds escalated to 30,000 and 60,000 while the ante stood at 10,000. The first one to go was Michael Bailey who was eliminated in tenth place and went home with $7,210 in prize money. Bailey's elimination marked the beginning of an intense nine-handed battle for the first-place finish and the champion ring.
Vargas' runner-up at the end of Day 2 Chen Yu Hung finished fifth and walked away with $22,840 in prize money. Gregory Gibson who collected the first-place prize at the 2017 WSOP Circuit $365 No-Limit Hold'em Event 7 failed to repeat his last year's success and finished in fourth place for the prize of $30,150. California-native Alexander Farahi had no choice but to settle for the third-place finish which earned him the amount of $40,000.
Despite the difference in the chip count, Vargas outlasted the other seven contenders to start a heads-up battle with rival Michael Itaev. Vargas prevailed over his opponent with [Ah][5c] and collected the top prize of $86,270. Michael Itaev, on the other hand, had to settle for the runner-up position and took home $54,450 for his performance.
Hermilo Vargas is hardly a stranger to WSOP Circuit success. The player who was previously occupied as a taxi driver captured his first ring in December 2017 when he prevailed over a tough field of 1,150 contenders to collect the prize of $71,150 for his first-place finish in the WSOP Circuit $365 No-Limit Hold'em Monster Stack event. At the time, this was a best-live-cash result for the American player, whose overall live poker earning presently exceed half a million.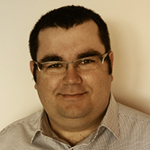 Harry Evans is a long-year journalist with a passion for poker. Apart from a good game of poker, he loves to write which is why he spent several years as an editor of a local news magazine.