Playtech has been occupying a leading position in the gambling software development industry for nearly two decades. The company was established in Estonia in 1999 and launched its first online casino several years later, in 2002. The years to follow were marked by continual expansion for Playtech as the company went on to become one of the largest software developers on the online gambling scene and was listed on the London Stock Exchange in 2006.
Today, Playtech provides premier-quality software for over fifty of the most esteemed online casinos in the world, including notable names like William Hill, Ladbrokes, and Paddy Power. Playtech is renowned for its overwhelming range of games as its catalogue comprises various video slots, classic table games, a live dealer offering, poker, bingo, and other unique casino products.
Playtech also offers a nice collection of video poker games which spans eight variants, including standard varieties like Jacks or Better, All American Poker, and Deuces Wild. Additionally, the software developer has created one bespoke variation, Mega Jacks, which has a progressive jackpot with pools that reach quite impressive amounts. The games are available via the developer's downloadable client but many online casinos offer the collection for instant play where no download is necessary.
Top Online Casinos
Paytables and Gameplay in Playtech Video Poker
One thing players will surely notice is that Playtech's video poker games are quite unique in terms of visual design as they look nothing like the old-school video poker terminals one might find in brick-and-mortar casinos. The developer has adopted an unconventional approach towards video poker as its offerings please the eye with dazzling, bright graphics that are light years away from what one is accustomed to seeing in this simplified poker game.
The interface of the games is quite user-friendly. The paytable with the winning hands is located in the upper half of the base-game screen. Players can change the coin denomination by using the "+" and "-" buttons in the lower left corner. The available denominations generally depend on the Playtech casino one plays at, but in most cases, they range between £0.01 and £5.00. The number of credits you bet per hand is modified with the Bet One button, with the option to stake one to five coins on each round. Players can also automatically wager the maximum number of credits by clicking on the button that reads Bet Max.
The paytable is divided into six columns and the first one contains all hands that can earn you a payout, listed from the strongest to the weakest one. The remaining five columns contain the payouts on each hand when you bet one, two, three, four or five credits. The column in the paytable that corresponds to the number of credits players bet gets illuminated, which makes it easier to track one's payouts on winning hands.
Some of Playtech's video poker variations are available in multi-line format, meaning that it is possible to play several hands at the same time. However, many fans of the game prefer Playtech's single-hand games due to the fact they are less volatile and offer better payback percentages.
Whenever players are dealt a pat hand, the cards it contains are held automatically by the software. The Double feature allows players to try and increase their profits after each winning hand. One feature that is unique to Playtech video poker games is the option to double up only half of the profits on winning hands. In other words, players can collect half of the amount they have won and risk the second half only.
Playtech's Range of Video Poker Games
The video poker collection of Playtech consists of about eight varieties of the game. Some of the most commonly played variations like Jacks or Better, Aces and Faces, and Deuces Wild are available in single-hand and multi-hand formats. You will be able to find brief overviews of all eight video poker games created by Playtech below.
Deuces Wild
Playtech's Deuces Wild is played with a standard deck of 52 cards as the jokers are removed. The unique aspect of this game is that the four deuces in the deck are wild cards, helping players complete winning hands whenever they are short of cards. Note that whenever one is dealt a wild card in the opening hand, it is automatically held by the software.
The paytable of the game is different than that in other video poker varieties because of the wild deuces. The lowest-ranking hand that qualifies for an even-money payout in Deuces Wild is the Three of a Kind while a natural Royal Flush can earn you the maximum of 4,000 credits. The second best hand here consists of four deuces and awards a payout of 1,000 credits for max bets. This is followed by the Wild Royal Flush which pays 125 credits if you bet the maximum. Five of a Kind formed with wild cards earns players up to 75 credits. The Double Up feature is also available in the game, allowing players to potentially increase the amount they have won on winning hands.
Jacks or Better
This is the most popular variant of video poker and as the name itself implies, the weakest hand that qualifies for a payout here is a pair of Jacks or better. Playtech's variation is played with a 52-card deck and utilises the standard ranking of winning hands. It features impressive, crisp visuals with knights and castles located on both sides of the paytable. The game is available for mobile play and there are several different variations to choose from, namely single-hand, 4-line and 50-line Jacks or Better. Some online casinos also offer a progressive version of Playtech's Jacks or Better where the jackpot increases with every bet players make.
Many video poker fans prefer the single-hand and the 4-line versions because they are the only ones to offer a full pay of 9/6 for a Full House and a Flush. In comparison, the Full House and the Flush in the 50-line variation pay 8/5 which decreases the overall payback percentage.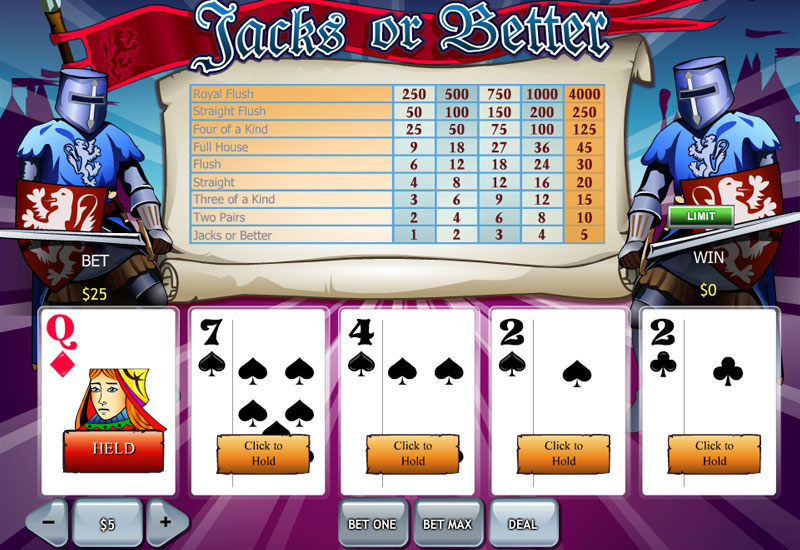 Aces and Faces
Playtech remains true to its unorthodox approach towards video poker as becomes evident by its take on Aces and Faces, which boasts bright pink colours and a stylish design. In Aces and Faces, players again need to complete a hand consisting of at least two Jacks in order to receive a payout. There are slight deviations in the paytable as the second best hand after the Royal Flush is not the Straight Flush but Four Aces. Additionally, players can collect payouts for Four Jacks, Queens, or Kings as well as for Four 2's through 10's.
Playtech has created two variations of this well-known video poker game. The single-hand version offers the 8/5 full pay for Full House and Flushes, which is the standard for Aces and Faces. There is another version where players can bet on up to four hands simultaneously which also awards full-pay payouts of 8/5 for the above-mentioned winning hands.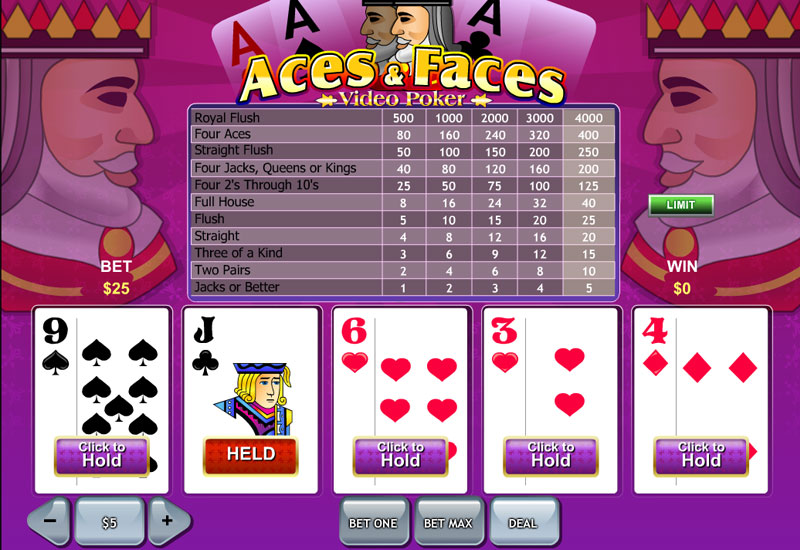 Joker Poker
Playtech's take on Joker Poker features perky jesters, positioned on each side of the paytable, who appear to invite players to bet on a few video poker hands. Playtech has truly created a visually stunning video poker variation and has opted for a pink and yellow colour scheme which further adds to the appeal of Joker Poker.
The unique thing about this game is that it utilises a deck consisting of 53 cards because there is an additional joker which acts as a wild and thus, enhances the odds of forming a winning hand. Players will definitely notice the values of certain winning hands are slightly lowered. The weakest winning hand is a pair of Kings or better, followed by the Two Pair but both pay even money. Because of the additional joker wild card, players can also qualify for a payout on Five of a Kind and Joker Royal Flushes. The natural Royal Flush, on the other hand, earns players an increased payout of 5,000 credits if they bet the maximum.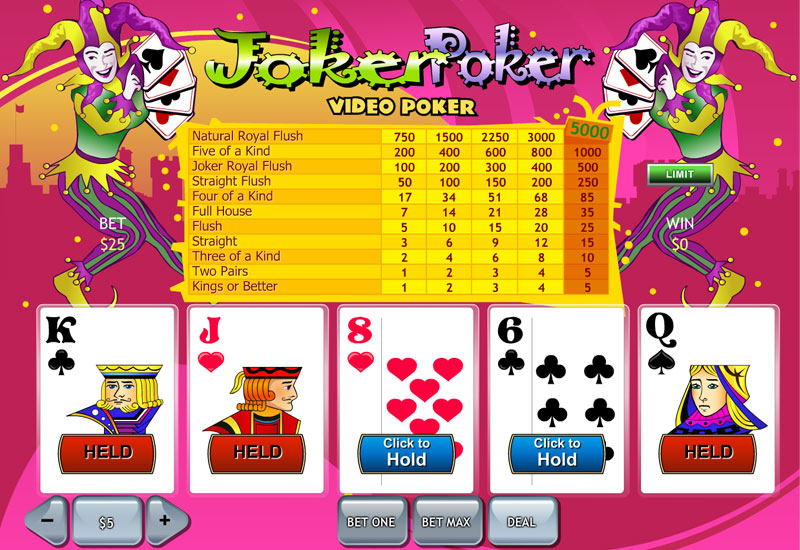 2 Ways Royal
This is a less known video poker variant which offers players an exciting twist as its very name implies. In 2 Ways Royal, there are actually two Royal Flushes that award players with the highest payouts of 4,000 coins for maximum bets. The Hi Royal Flush is the usual Ace-high Straight Flush while the Lo Royal Flush contains suited 2 through 6.
This variety is the perfect option for video poker fans who enjoy chasing huge jackpots because the addition of the Lo Royal Flush to the paytable further increases the odds of winning. Other than that, the ranking of subsequent hands is standard since the second-best hand is the Straight Flush while the lowest qualifying hand is a pair of Jacks or higher.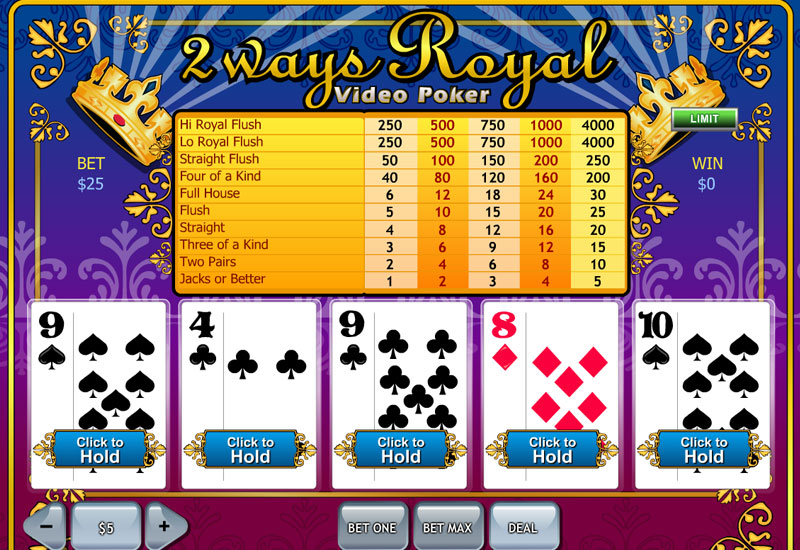 Tens or Better
For the most part, Tens or Better resembles its predecessor Jacks or Better because it is played with a full deck of 52 cards where no wilds and no jokers are used. The ranking of the hands in the two variations largely coincides. The only exception is the weakest hand that earns players even money – in this case, one is required to complete a hand of at least tens or above to receive a payout. Players are recommended to wager the maximum of five credits if they wish to collect the bonus payout of 4,000 coins, awarded to those, who hit the Royal Flush. After a winning hand, players are automatically offered to use the Double or Double Half features. It is possible to double up your winnings until you reach the allowed limit.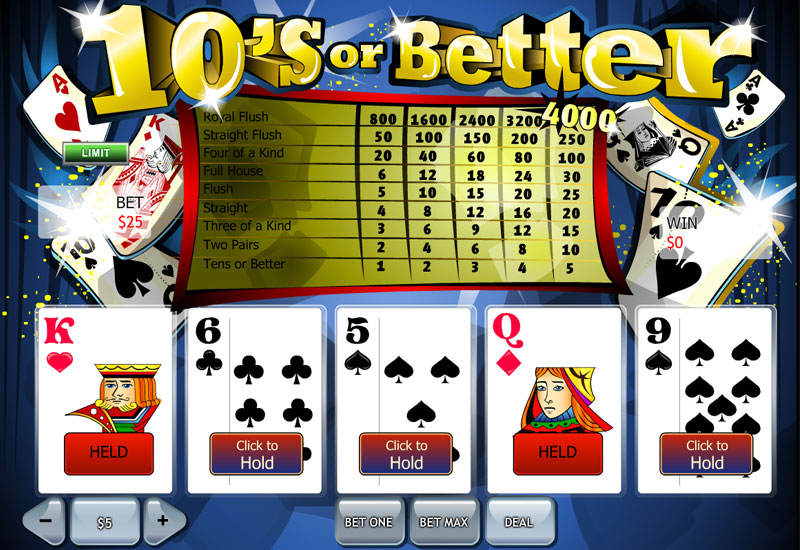 Mega Jacks
Playtech's Mega Jacks utilises the same rules and hand rankings as those in Jacks or Better. There are no wild cards or additional winning hands in the paytable as the game pays on pairs of at least Jacks. Yet, this Playtech variation enjoys a massive popularity among video poker fans which can be attributed to the progressive jackpot it comes with.
In Mega Jacks, a Royal Flush with a maximum bet of five credits will earn you the progressive prize instead of the fixed amount of the usual 4,000 credits. What further adds to the appeal of Mega Jacks is the fact the pools for the jackpot accumulate across all online casinos which run on Playtech's software so the amount one can win with a Royal Flush climbs up at a rapid pace.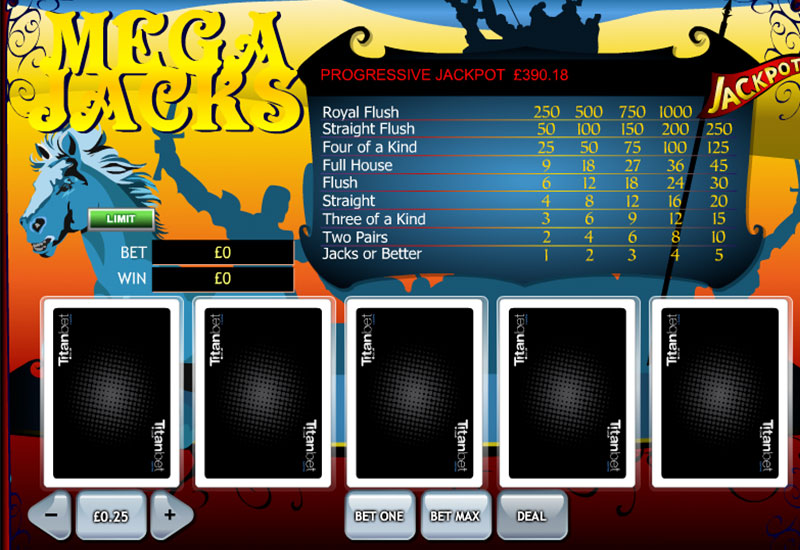 All American Poker
Similarly to other Playtech video poker variations, All American Poker grabs the attention with a sleek design, intuitive interface, and colourful visuals which correspond to the American theme of the game. Other than that, the variant is a derivative of Jacks or Better as becomes evident by the ranking of the hands, enumerated in the paytable.
The Royal Flush is the highest ranking hand, followed by the Straight Flush, Four of a Kind, Full House, Flush, Straight, Three of a Kind, Two Pair, and Jacks or better. The Double Up limit in this case is set to £100 or the currency equivalent. There is also the option to double only half of your profits or simply to collect what you have earned.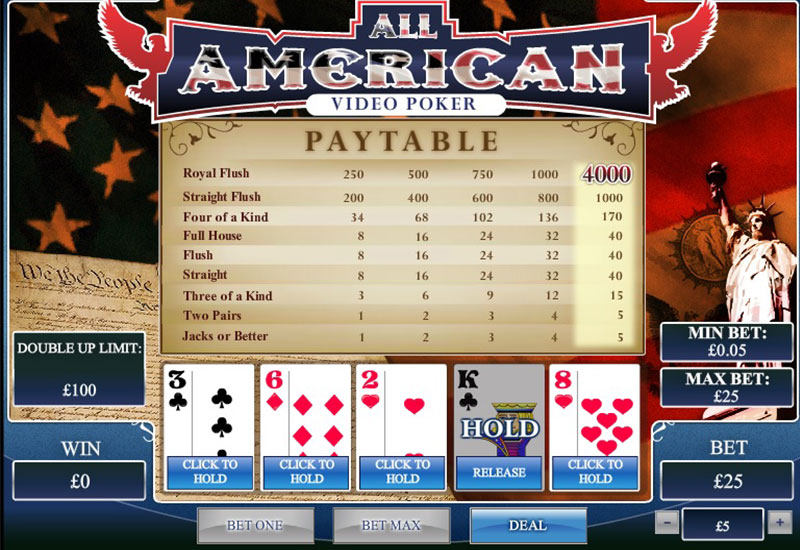 Where to Play Video Poker Games by Playtech
With over fifty online casinos running on Playtech's software, fans of this developer have plenty of options to make a pick from. To facilitate players in making a decision, we have selected five trusted Playtech casinos which are held in great esteem by video poker fans because of their prompt withdrawals, a broad range of dependable banking methods, and appealing bonuses with reasonable playthrough.
Gala Casino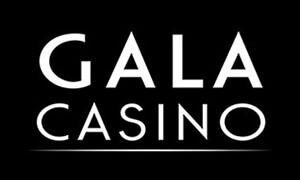 Gala Casino is committed to providing the ultimate online gambling experience to its players, offering them a large collection of authentic casino games, many of which bear the brand name of software giant Playtech. There are video slots aplenty as well as numerous realistic table classics, the likes of roulette, baccarat and blackjack. Many of the titles carry huge progressive jackpots that can transform players' lives overnight.
Players can boost the balance of their casino accounts via a range of reliable payment methods, but the best part of all is the bonuses at Gala Casino are tailored according to the needs of newcomers since new members of the casino get to choose between several lucrative offers, depending on the type of game they prefer to bet on.
Video poker fans, in particular, can pick from several Jacks or Better variations. It is possible to play the 4-line and 50-line versions of the game but the progressive variety is the most popular among players. The progressive Mega Jacks has also made it on the list. Other options include Deuces Wild, 10's or Better, All American Poker, and Aces and Faces.
William Hill
With over seven decades worth of experience in the gambling industry, William Hill is one of the most easily recognisable brand names which stands for quality, fair play, innovation and last but not least, diversity. There are literally gaming options to suit any player's taste as the online casino is swarming with premier, action-packed slots, table games, and progressives.
The video poker selection is also rather comprehensive and features a nice range of popular variants, such as single-hand, 4-line and 25-line Aces and Faces, 2 Ways Royal, All American Poker, and multi-hand Jacks or Better.
New members of the casino receive a generous Welcome Bonus straight off the bat and can also earn additional free casino credits on each deposit they make with their preferred method of payment. The courteous support team at William Hill is always ready and willing to come to players' aid and provide information and assistance as the live chat functionality is up and running at all times.
Ladbrokes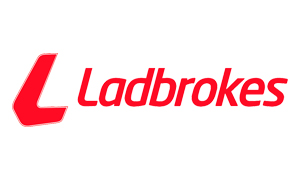 Ladbrokes is a world leader in online gaming which is anything but surprising, considering the operator boasts substantial experience in the landbased betting field which, believe it or not, can be traced back to the 1880s when the company began operations. Today, Ladbrokes boasts an impressive product portfolio, which comprises a sports betting platform, live dealer games, a bingo room, a poker portal, and of course, a virtual casino. The latter stands out with a variety of over 290 fantastic titles ranging from table and cards staples, casual games, progressives, and slots.
Ladbrokes' video poker selection will please even the most demanding fans of the game as it encompasses a wide range of titles, such as the progressive Jacks or Better, Deuces Wild, 25-line Aces and Faces, and 2 Ways Royal, all courtesy of leader Playtech. Other than that, players will benefit from courteous customer service, lots of generous promotional offers, secure and efficient payment solutions, and the possibility of playing their favourite games on iOS and Android devices.
Eurogrand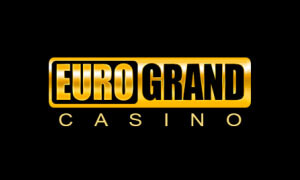 Eurogrand has built an enviable reputation among players and industry insiders alike and operates as part of the prestigious William Hill Group. The virtual casino has plenty of options to offer as it features an extensive selection of Playtech games, available in instant play or via the free downloadable client.
There is something to meet the needs and preferences of all players, from classic traditional table games and the hottest slots to numerous video poker variants, each one impressing with its stylish and thrilling feel. Some of the games video poker fans can enjoy at Eurogrand include the progressive Mega Jacks, 4-line Jacks or Better, Pick'em Poker, and Aces and Faces. Betting limits are rather flexible which renders the games suitable for all bankrolls, big and small.
Paddy Power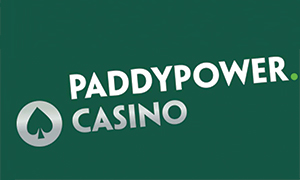 Paddy Power ranks high in popularity among gambling enthusiasts from Ireland and the UK and there is a good reason why. The brand offers a premium gaming experience that is tough to match. There are various perks of joining the Paddy Power casino with a real-money account. For starters, the games are powered by Playtech which can only mean one thing – the visual and sound quality will be exceptionally high. Diversity is also at hand, with over a hundred premier slots and a broad range of table games, including roulette, craps, Sic Bo, baccarat, and blackjack.
The video poker catalogue consists of eleven thrilling varieties, which are conveniently divided into categories, depending on the number of hands you can play per round. There are four variations of Jacks or Better, including the 10-line progressive version. If winning a huge progressive pot is your goal, you can also try Playtech's Mega Jacks game. Your other options are Joker Poker, Pick'em Poker, and 10's or Better, among others.
New players can test the video poker games totally risk-free as Paddy Powers greets newcomers with a tempting No Deposit bonus of £10. If you need assistance with claiming your bonus, the cordial support representatives will gladly lend you a hand – they are at players' disposal day and night.