Canadian Celebrities with the Highest Number of Fake Instagram Followers
With more than 1.3 billion active account holders, Instagram is the world's fourth most-used social platform. As it focuses solely on unrivaled visual experience, its content is considered by many to be more engaging than the content published on Facebook, YouTube, and TikTok. A good example is Canada, where the photo and video-sharing social network ranks second in popularity with 14.9% of respondents in a Statista survey.
Due to its great target market penetration, Instagram is a top choice when it comes to building a brand or staying in touch with your fan base. Canadian celebrities use the platform to promote themselves, sell their merchandise, and share their thoughts with the audience. Such online presence can produce incredible results, and it is no surprise that both rising stars and well-known celebrities do their best to reap the benefits that Instagram offers.
The number of followers a celebrity has is directly related to the perceived influence of his/her personality. Unfortunately, fake online following is a common phenomenon, so numbers should never be taken at face value. CasinoGuardian decided to delve deeper into the matter, and scrutinized the Instagram accounts of the top 15 Canadian celebrities. The percentage of fake followers ranged between 14.4% (Brooke Lynn Hytes) and 30.9% (Carly Rae Jepsen).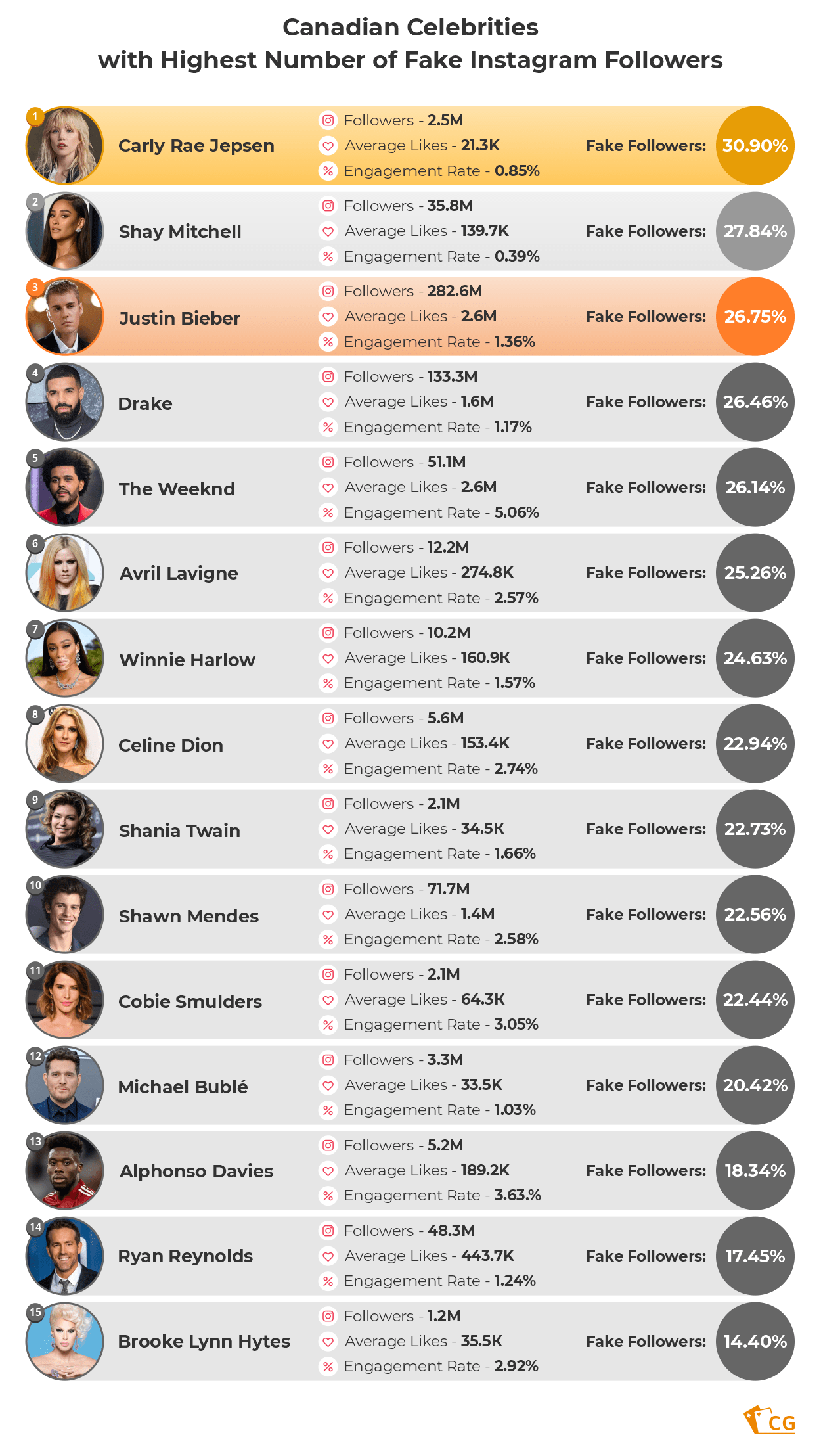 Methodology
Although fake Instagram followers are not always distinguished by the same characteristics, there are
a number of indicators to watch for when determining whether an account is real or not
. These include, but are not limited to, an unbalanced following/follower ratio, incomplete profile information, few or no genuine posts, irregular comments, among others.
However, these are just warning signs, and when checking celebrities' posts, it's easy to miss fake follower engagement. That is why our team backed up its research with Modash, a trusted online Instagram fake follower checker tool. Only celebrities with at least 1 million followers have been ranked with information about average likes, and engagement rates are also provided. This data is current as of March 2023.
15 Canadian Celebrities Ranked by Fake Followers Percentage
When we compiled our selection, it turned out that the majority of the ranked celebrities are popular names from the music industry. This is understandable given that they have more communication channels at their disposal than anyone else. A few notable exceptions are Shay Mitchell, Ryan Reynolds, Cobie Smulders, Winnie Harlow, Alphonso Davies, and Brooke Lynn Hytes.
Carly Rae Jepsen – 2.5 Million Followers (30.9% Fake)
Carly Rae Jepsen is one of many artists who rose to fame thanks to a reality music show. Her road to success began in 2007 when she came third in the fifth season of Canadian Idol, but it took her 4 years to make a full breakthrough. She released the Call Me Maybe single in 2011 and it reached №1 in the Canadian Top 100 and charts all over the world.
Jepsen's Instagram account is followed by 2.5 million fans. 30.9% of them are considered fake, which is the highest percentage in our ranking.
Shay Mitchell – 35.8 Million Followers (27.84% Fake)
Shannon Ashley Garcia or as we all know her, Shay Mitchell, comes next in our selection of the Canadian celebrities with the highest number of Instagram followers. Apart from her acting and modeling career, Mitchell is known as a passionate anti-racism activist. One of the organizations she cooperates with is WE Charity, which works on developing educational resources.
What makes an impression here is not so much the percentage of fake followers (27.84% out of 35.8 million) but the markedly low engagement rate of just 0.39%. While the two indicators are inevitably related, a score below half a percent is very unusual.
Justin Bieber – 282.6 Million Followers (26.75% Fake)
The Canadian celebrity with the largest Instagram fan base on our list is Justin Bieber – 282.6M followers. This is higher than all other celebrities on our list combined, excluding The Weeknd. With such an immense number of account holders, 26.75% of whom are assessed as fake, an engagement rate of 1.36% is an excellent score. A lot can be said about the grounds for Bieber's success, but we will mention just two – exceptional talent and openness to the public.
Drake – 133.3 Million Followers (26.46% Fake)
Fourth in the ranking, with 26.46% fake followers out of 133 million, is the world-famous rapper Drake. He is one of the most acclaimed artists in the selection, with 5 Grammy Awards and 34 Billboard Music Awards (an all-time record).
The Weeknd – 133.3 Million Followers (26.14% Fake)
When he was a teenager, The Weeknd left school and started using hard drugs. However, he managed to overcome his problems and transformed his difficult past into beautiful art. Today he owns a record label called XO, has more than 133 million Instagram followers (26.14% fake), and his After Hours Til Dawn world tour begins in three months, on June 10, 2023.
Avril Lavigne – 12.2 Million Followers (25.26% Fake)
Let Go, Avril Lavigne's debut album released in 2002, is still the best-selling album by a Canadian artist in the twenty-first century. Twenty one years later, she has a tour coming up, with most of the dates already sold out. 25.26% of her 12.2 million Instagram followers are considered fake and the current engagement rate is 2.57%.
Winnie Harlow – 10.2 Million Followers (24.63% Fake)
Winnie Harlow is not just one of the contestants in the America's Next Top Model TV series, but an ardent supporter of alternative beauty in the fashion industry. She is an inspiration for millions of people diagnosed with vitiligo, a skin disorder that affects between 0.5% and 1% of the population worldwide. Currently, Harlow has 10.2 million Instagram followers, with 24.63% of them fake.
Celine Dion – 5.6 Million Followers (22.94% Fake)
From winning Eurovision in 1988 to spending 16 years in Las Vegas, where she performed in over 1,100 concerts, Celine Dion is undoubtedly one of the most successful Canadian singers of all time. Who can forget her signature song from the movie Titanic, My Heart Will Go On, released in 1997 and on the Billboard Hot 100 for 20 weeks.
Although she is no longer performing due to a stiff person syndrome, she is adored by millions of fans around the world. As regards Instagram, Celine Dion enjoys a 5.6 million following, 22.94% of which is considered fake.
Shania Twain – 2.1M Followers (22.73% Fake)
With nearly the same follower percentage (22.73%), Shania Twain comes next in our selection. The best-selling female artist in country music history has won 5 Grammy Awards, 39 BMI Songwriter Awards, 2 World Music Awards, and has received stars on both Canada's Walk of Fame and the Hollywood Walk of Fame.
Shawn Mendes – 71.7 Million Followers (22.56% Fake)
Shawn Mendes, who works in both the music and fashion industries, is one of the best-known Canadian celebrities, particularly among the young generation. His photo session showing Tommy Hilfiger's latest collection has probably added more accounts to his Instagram fan base, which now stands at 71.7 million. Our study shows that 22.56% are fake, which still gives Mendes more than 55.5 million genuine followers.
Cobie Smulders – 2.1 Million Followers (22.44% Fake)
Jacoba Francisca Maria Smulders or just Cobie Smulders is widely known for her roles as Robin Scherbatsky in the CBS sitcom How I Met Your Mother and agent Maria Hill in the Marvel Cinematic Universe superhero films and series. With 22.44% fake followers out of 2.1 million accounts, she ranks 11th in our selection.
Michael Bublé – 3.3 Million Followers (20.42% Fake)
We are back on the music scene for Michael Bublé, the singer who has melted thousands of hearts with his beautiful voice. He is also an avid hockey fan, and when he was asked to join the Ownership Group of the Vancouver Giants in 2008, Bublé was happy to accept the proposal. The artist enjoys a 3.3M Instagram following of which 20.42% is considered fake.
Alphonso Davies – 5.2 Million Followers (18.34% Fake)
The professional soccer player is the only athlete in our ranking of Canadian celebrities with the highest number of fake Instagram followers. With 3.63% Alphonso Davies takes the second position in terms of engagement rate, only behind The Weeknd (5.06%). As for the fake following percentage, it is 18.34% out of 5.2 million Instagram accounts.
Ryan Reynolds – 48.2 Million Followers (17.45% Fake)
Ryan Reynolds comes 5th in terms of total Instagram following (48.2M) and 14th when it comes to a fake following percentage (17.45%). He excels not only as an actor but also as an entrepreneur. Earlier this month, the BBC announced that a big US telecom company has offered to buy the small mobile virtual network co-owned by Reynolds. The deal is expected to add more than $300 million to his bankroll.
Brooke Lynn Hytes – 1.2 Million Followers (14.4% Fake)
With 1.2 million Instagram followers, 14.4% of which are considered fake, Brooke Lynn Hytes ranks 15th in our selection. Hytes is the first contestant in Canada's Drag Race series to become a full-time judge in the reality competition.
Conclusion
Having fake or suspicious Instagram followers does not always imply that a celebrity is paying to appear more influential. Success and envy are inevitably related, and many popular figures are targeted by bots in an attempt to harm their reputation. Our study just proves that you should not take numbers for granted, and that the follower count does not fully reflect a person's popularity. While a misinterpretation may not be important to fans, for brands looking for a celebrity partner, it could mean the difference between campaign success and failure.