Luxury brands with the most fake Instagram followers
Fake news, fake likes, and fake social media followers – FAKE has been one of the hottest words over the past couple of years. Fake accounts on social media are not only used to spread misinformation but also boost the reach of certain influencers. It turns out that luxury brands do not differ but are rather among the most affected by this phenomenon.
The team at CasinoGuardian decided to check which luxury fashion brands have the largest percentage of fake followers on Instagram. We picked the 20 most popular brands across industries such as fashion, cosmetics, jewellery and watches. According to the fake account checker tool we used, 19 of the 20 most prominent fashion brands have at least a quarter of their followers flagged as fake or suspicious at minimum. Furthermore, with the leading brands in our ranking the fake-follower percentage is nearing a third of all followers.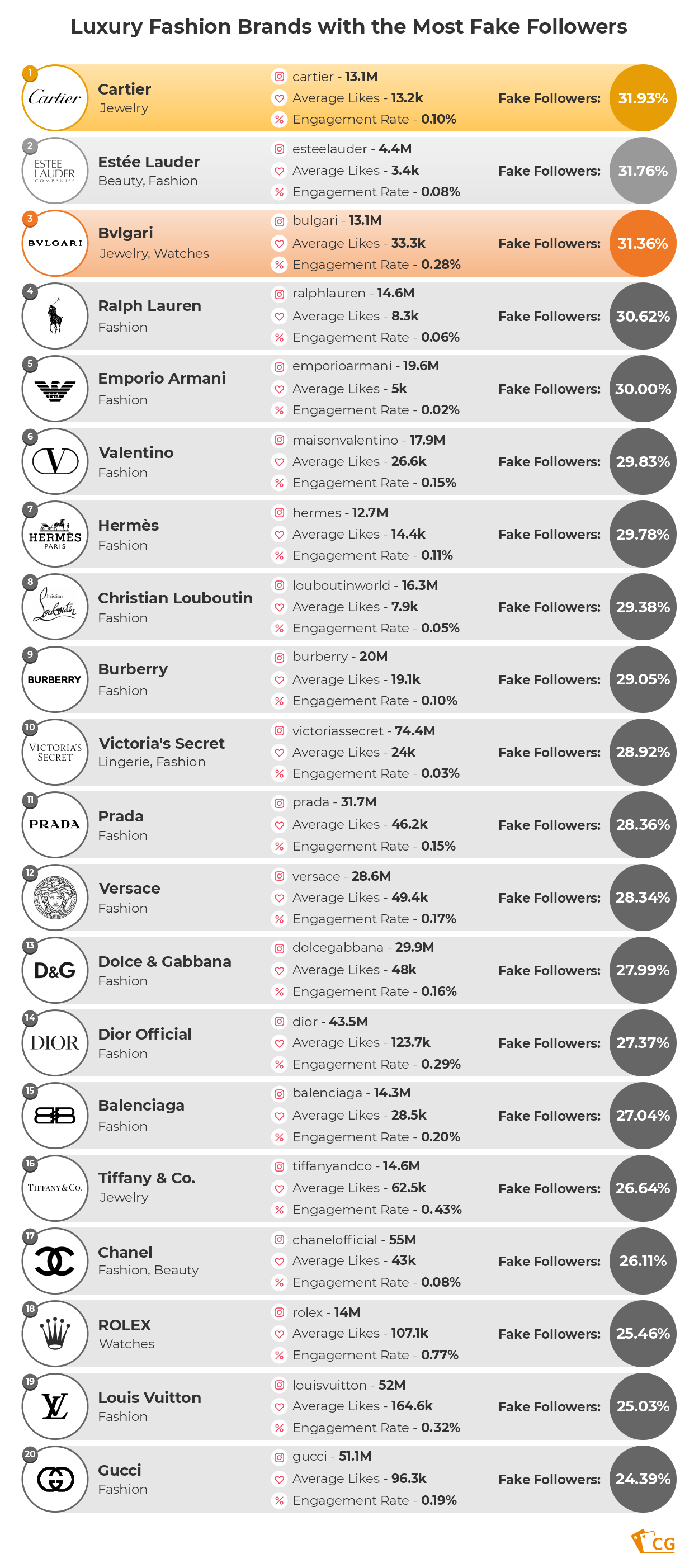 Fashion Brands with the Highest Percentage of Fake Followers
Fake Instagram accounts – possibly in the millions – are being created every single day. Consumer brands, popular influencers, famous actors and singers are the most likely to have fake followers. A significant percentage of the followers of top fashion brands are also fake.
According to research conducted by CasinoGuardian, 30 percent or more of the followers of Estée Lauder, Bvlgari, Ralph Lauren, Cartier and Emporio Armani (the most popular brand within Armani) are not real people. It is possible, but highly unlikely, that these companies have bought influence on the platform, as they are among the most recognised luxury brands in the world. A more plausible explanation is that bots purchased to increase fashion and beauty influencers' reach will often automatically follow widely popular brands.
Fake Accounts: What They Are And What They Are Used For
Fake accounts have plagued social media websites for years. These are accounts created either by scammers or bots run by algorithms – either way, they are never owned by a real person. Some of these accounts are used to trick social media users and scam them into giving away money, while others are used to steal personal information. The majority of fake accounts, however, are created to increase a user's follower count.
On Instagram, some influencers try to build credibility by buying fake likes and followers. These accounts can be spotted very easily through their lack of posts, missing bio, and none or very few followers. At the same time, they usually follow hundreds or thousands of people on the platform. Due to the algorithms behind them, they will follow famous people, companies and brands – often within the same niche. As a result, most of the top influencers and popular brands on Instagram end up with a huge fake following through no fault of their own.
For years, platforms such as Facebook, Twitter, and Instagram have been trying to handle the millions of bots or fake accounts that are being created every day. So far, they have not been able to stop the phenomenon and have instead focused on removing those accounts that are deemed suspicious.
Back in 2021, Facebook, which along with Instagram is now part of Meta, said it disabled 1.3 billion fake accounts within the last three months of 2020. In the second quarter of 2022, the company deleted 1.4 billion such accounts, while in the third quarter, it identified and disabled another 1.5 billion. While it did not provide data for Instagram, it is safe to assume that a similar number of all accounts on the photo-sharing network are also fake.
Methodology
While it is not difficult to identify individual fake accounts, it becomes impossible when considering the thousands of bots that "live" within Instagram. For this reason, in order to audit the pages of luxury brands, we used a free online
tool by Modash
. This fake account checker automatically assesses user accounts by calculating the average number of likes on their posts as well as their overall engagement rate.
The engagement rate is an important metric, as it shows how much the audience is actively reacting to a post, whether that is a promotional campaign, a new product or a social cause. It compares the number of all posts by an account to the total number of likes and comments and is represented as a percentage. An engagement rate of 1% to 5% is fairly common and demonstrates a healthy relationship with the audience. A rate of less than 0.5%, however, is a strong indicator that the account has a large percentage of fake followers.