The Most Viewed TikTok Videos and the Revenue They Generated
With 1.05 billion monthly active users in 2023, TikTok is the fastest-growing social media platform globally. The app has managed to bridge the gap between users and content creators by providing a user-friendly platform and a varied set of content-making tools. This has given TikTokers the opportunity to create some astonishingly popular videos, and it seems that they have made a pretty penny as a result. With 2.2B views and an estimated revenue of $88,000, it is Zach King's Magic Broomstick video that triggered our interest to compile a list of the top 10 most viewed TikTok videos. CasinoGuardian set off to find out how much money the said shorts have generated since they were posted. Read on to find out more about the platform's most lucrative videos as of April 2023.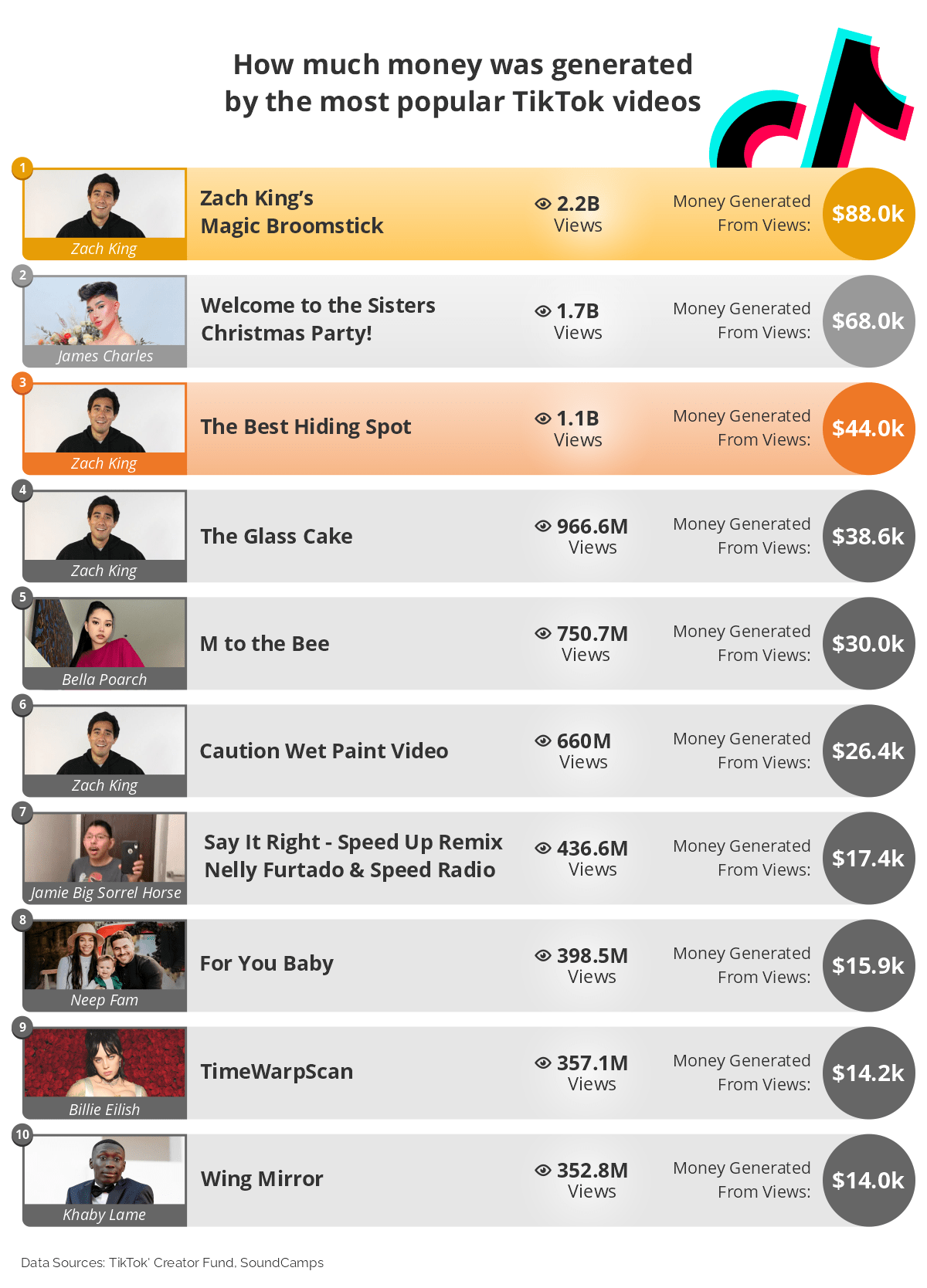 Methodology
According to reports from TikTok creators, who presented this information to the news blog Tubefilter, a TikTok user can earn up to 0.04$ for every 1000 views a given video accumulates if they have joined the platform's Creator Fund. By inputting the said data and the view count of each video into SoundCamps' TikTok Money Calculator, we estimated the amount of money TikTok's most popular videos have generated. Each video's view count and publishing date were taken straight from the TikTok application.
10 Most Viewed TikTok Videos
Zach King's Magic Broomstick
Many a Harry Potter fan has dreamed of taking to the skies with their very own magic broom one day, and Zach King's legendary Hogwarts-themed TikTok video made it seem as if he had achieved just that. It was posted in December 2019, and throughout the years, it has garnered over 2.2 billion views and counting. According to our estimates, this translates into earnings of up to $88,000.
Welcome to the Sisters Christmas Party!
In 2019, James Charles celebrated Christmas with 25 of his fans in what he affectionately called the "Sisters Christmas Party". To mark the occasion, James Charles posted a TikTok video in which he "detonated" a Christmas bauble to adorn his home with lavish Christmas decorations. This would become TikTok's second most viewed video, and our calculations suggest that the makeup star has made $68,000 from this short.
The Best Hiding Spot
Zach King's hide-and-seek video starts out as relatively mundane, as we witness the illusionist having trouble finding a hiding spot that is not already taken. Things quickly take a mind-boggling turn, however, when Zach King is helped into a mirror by what appears to be his double. We will not spoil the ending for those who wish to see the final twist for themselves, but suffice it to say that it is easy to see why this short has been watched over 1 billion times. The estimated earnings from this video are $44,000.
The Glass Cake
In themselves, a glass of water and a piece of cake are relatively unremarkable. But what about a glass of water that is actually a cake? This is the subject of one of Zach King's most beloved shorts, and it showcases the creator's ability to take relatively simple parts of our daily lives and turn them into something extraordinary. The video became an instant hit, and as of April 2023, it has accumulated nearly 1 billion views. This suggests that Zach King has earned around $38,000 from the short.
M to the Bee
The trend of lip-synching to catchy songs has always been one of the most popular types of content on TikTok, and, as one would expect, such a video has made it to our list of most viewed videos. The person starring in the said short is Bella Poarch, while the featured song is the then viral Soph Aspin Send by Millie B. Bella's charming expressions won over TikTok's user base, seeing as the video has 750.7 million views and proceeds of $30,028 as of April 2023, according to our calculations.
Caution Wet Paint Video
Zach King is behind yet another viral TikTok video that brings forth his talent for creating unique illusions. Posted in October 2019, his Caution Wet Paint video has amassed 660 million views and counting. As he paints a wall, he uses optical effects to make viewers doubt what they are looking at – a wall or a passageway. Оur calculations suggest this has generated revenue of $26,400 for the talented TikToker.
Say It Right – Speed Up Remix – Nelly Furtado & Speed Radio
In the next video from our top-ten list, we see Jamie Big Sorrel Horse, also known as Jamie32bsh, dancing to the beat of Nelly Furtado's song Say It Right, comfortably situated in front of the mirror in his bathroom. Posted in January 2022, the video received 436.6M views and turned into a dance trend. This brought its creator proceeds amounting to $17,464. Ever since, his TikTok fan base has continued to expand, and he now has 7.5M followers.
For You Baby
An endearing, big-eyed baby grins from ear to ear in the next video. The little girl is the focus of attention of her mother's TikTok account, known by the name of Neep Fam. From her positive pregnancy test to Demi Rose's adorable toddler adventures, the TikToker has amassed an impressive count of 3.1M followers. The video itself has garnered 398.5M views over time, which equates to a $15,940 profit.
TimeWarpScan
At the young age of just 21, American singer-songwriter Billie Eilish has assembled an awe-inspiring set of accolades from the music industry. Her first-ever TikTok video, TimeWarpScan, also did not go unnoticed by TikTok users once it was posted in December 2020. With more than 357.1M views and 40.6M likes, the short using the trendy Time Warp scan filter has yielded a revenue of $14,284.
Wing Mirror
Although occupying the tenth position in our ranking, the 21-year-old Senegalese-born Italian Khabi Lame is among the most popular social media personalities in the world. He catches viewers' attention every time he posts a short, silently making fun of some overly sophisticated gadgets and routines from daily life. His amusing facial expressions and gestures are the centerpiece of his Wing Mirror video, where he simply pushes a button and looks through the window, instead of installing a wing mirror to check for approaching cars. The short has accumulated over 352.8M views and, as suggested by our data, $14,012 in less than two years.
Conclusion
Over the years, TikTok has become many people's favorite way to escape reality and spend time online. With this in mind, it is no wonder that humor seems to be what most of the videos we ranked have in common. Zach King stood out, as four of his videos made it to the top ten. Our estimations suggest that the said videos have earned the creator $197,064 in total. Evidently, it seems that TikTok can be quite generous to users who become viral. Even the video in the tenth spot has created a profit of over $14,000 for its creator, Khaby Lame. As for the total earnings of all videos we examined, our study points towards $356,792 as the final figure.