Anyone who has ever placed a few bets on video poker is well familiar with the game of Deuces Wild. This variation, along with the all-time classic Jacks or Better, is one of the most popular video poker games in the world and an absolute must for any casino, be it an online or a landbased one. Similarly to all video poker variants, Deuces Wild is not that difficult to learn as far as rules and gameplay are concerned. Then again, learning the rules only will hardly suffice for one to emerge a winner as the key thing to do is to adopt a suitable strategy that corresponds to the specifics of Deuces Wild.
If you are unfamiliar with this video poker game, we suggest you take the time to read the following article. We will touch upon the basic rules of play in Deuces Wild, explain the full-pay paytable, the order in which the hands are ranked and outline a beginner strategy that will boost your chances of generating satisfactory profits.
Top Online Casinos
The Basics of Deuces Wild Video Poker
Deuces Wild is the most popular form of video poker which is not based on the commonly played Jacks or Better. One of the compelling features of the game that attracts the interest of players is its very volatility. In Deuces Wild, winning streaks are a frequent occurrence but unfortunately, the same is valid for losing streaks as well.
Nevertheless, Deuces Wild appeals to video poker fans because it is among the few options that can actually offer a positive expectation, at least in the long run. In fact, it is possible for players to gain a 0.76% edge over the house if they use a perfect strategy when playing the game. A full-pay version of Deuces Wild actually comes with an exceptionally high theoretical expected return that can reach 100.76%. When optimal play is at hand the house edge is practically non-existent. We will provide more extensive information on the full-pay Deuces Wild return and payout rates in the next section. Now, let us go back to the basic rules of play that apply to Deuces Wild.
The game is similar to other video poker variants in many respects because it utilises a full French deck, containing 52 cards where the jokers are removed. There is one major peculiarity, however, which sets Deuces Wild apart from all other video poker variants. The four deuces (or the cards that have a face value of 2) are assigned the role of wild cards. As such, they can substitute for all other cards in the deck, which naturally would enable players to complete winning hands in near-miss situations.
Other than that, the game is hardly any different than most video poker variations. Players are again allowed to wager anywhere between one and five credits per hand and can choose what coin denomination to use. The upper limit is typically set to 1.00 while the lowest coin value is normally 0.01. When the bet is placed, you receive five cards on the deal at random and are required to make the right choice of discards to improve your chances of collecting a payout. Wild cards are normally held since they can potentially substitute for missing cards in qualifying hands.
Once players have selected what to hold, the discards are replaced with some of the remaining 47 cards from the deck. If a winning combination is completed after the draw, players are paid in accordance with the game's paytable. As is the case with all video poker games, Deuces Wild players are advised to always bet the maximum number of credits per hand because this will ensure they collect a hefty bonus of 4,000 coins should they happen to hit a natural Royal Flush. The latter is a Royal where no wild cards are used to complete the hand. Continue reading to learn more about what the paytable of a full-pay Deuces Wild game has to offer as well as what the differences in terms of hand ranking are.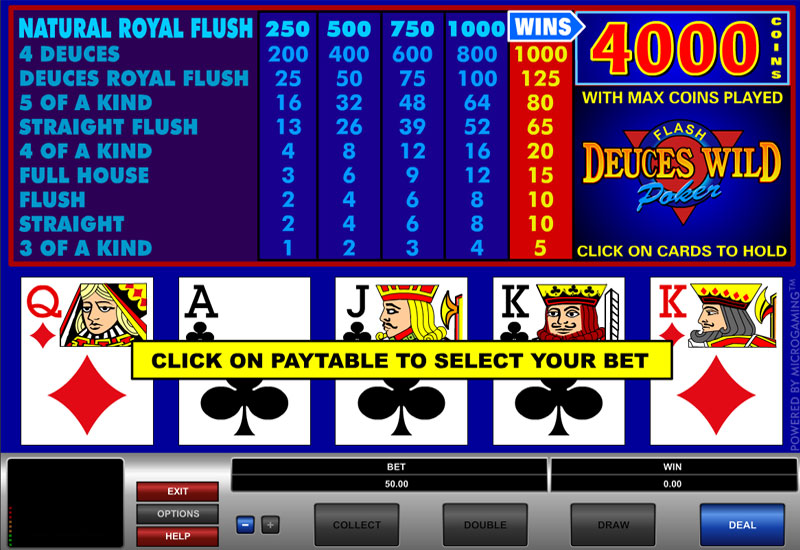 The Paytable and Hand Rankings of Full-Pay Deuces Wild
Since in this variation the Deuces in the deck are wild cards, there are some minor deviations from the way hands are usually ranked in video poker. Some hand rankings are, in fact, completely omitted, which is to say if you are hoping to secure a payout with a high pair or Two Pair, you will be bitterly disappointed.
The payouts in Deuces Wild start at Three of a Kind which earns players an even-money reward. As usual, the hand that is the highest in rank is the natural Royal Flush which renders a top payout of 4,000 credits if the hand contains no wild cards. The second best hand is unique to Deuces Wild and consists of four deuces, with a payout of up to 1,000 for maximum-credit bets.
Next in rank is the Deuces Royal Flush where a wild card is used to complete the winning hand, which translates into a lower payout of 125 credits if you stake the maximum. The next hand in rank, Five of a Kind, is also unique to Deuces Wild and offers a payout of 75 credits for maximum bets. This is followed by the Straight Flush which pays 9 to 1 in full-pay games.
The payout of the next hand, the Four of a Kind, is of essential importance since it acts as an indicator whether or not the Deuces Wild variation you are playing is full-pay. In full-pay Deuces Wild, the Four of a Kind pays 5 to 1 while maximum bets can secure players 25 credits. This is followed by the Full House (3 to 1), the Flush (3 to 1), the Straight (2 to 1) and Three of a Kind, which offers even money for one-credit stakes.
Some players may ask themselves why are the payouts of the Four of a Kind so important or whether a one-unit difference is really such big of an issue. In fact, this reduction is indeed an issue, especially in the long run.
If you wish to benefit from a higher expected return throughout time, you need to look for three key numbers in a Deuces Wild paytable – the payouts for Five of a Kind, the Straight Flush, and the Four of a Kind, which are the following in the full-pay version of the game – 15/9/5. This is where the house practically holds no edge over the player and the game offers a positive expectation as well as long-term RTP of 100.76%.
Also, one should bear in mind the variance of Deuces Wild games is generally higher than that of other popular video poker variations, which on its own translates into a greater volatility. Because of this boost in volatility, Deuces Wild players need more substantial bankrolls which would prevent them from going broke before they hit a lucrative payout.
Deuces Wild Paytable
Coins
1
2
3
4
5
Royal Flush
250
500
750
1000
4000
Four Deuces
200
400
600
800
1000
Wild Royal w/2
25
50
75
100
125
Five of a Kind
15
30
45
60
75
Straight Flush
9
18
27
36
45
Four of a Kind
4
8
12
16
20
Full House
4
8
12
16
20
Flush
3
6
9
12
15
Straight
2
4
6
8
10
Three of a Kind
1
2
3
4
5
The "Not So Ugly" Deuces Wild Variation
Not So Ugly (often abbreviated NSU) Deuces Wild is a variation of standard Deuces Wild which sticks to the same basic rules. A full 52-card deck is used and the deuces are wilds, meaning they can substitute all other cards to complete winning hands. The hand rankings coincide with those in the regular version of the game. We will not go into further details as far as strategy is concerned, but one pivotal thing to remember is that in NSU Deuces Wild, players should always hold all deuces they receive on the deal.
The only difference is that there is a one-unit increase in the payouts for Five of a Kind (16 to 1) and the Straight Flush (10 to 1). Do not interpret this as a huge advantage! If you proceed further down the paytable, it will immediately strike you this increase is "atoned" for with a one-unit reduction in the payouts for the Four of a Kind which now offers a 4 to 1 reward. This causes a good, positive expectation game to become a negative expectation game over the long run.
The reasoning of many inexperienced video poker players is that the NSU version is better because they are offered higher payouts on two hands in exchange for a one-unit reduction in the payout of one hand only. Such line of reasoning is entirely deceptive because the frequency with which players complete these hands also matters. Five of a Kind and Straight Flushes may come with higher payouts but they occur on rare occasions only. For example, you only get Straight Flushes once per every 1,950 hands.
Compare this with the frequency with which the Four of a Kind occurs – once per every 423 hands and you will understand why the 16/10/4 paytable is working against you. The meagre one-unit increase in the payouts of the other two hands is not enough to offset the reduction in the prize for the Four of a Kind. The result will be greater losses in the long-term.
Although the house edge on such games is small, it still exists and works to the disadvantage of players. Despite that, the 16/10/4 variant of Deuces Wild is not so "ugly" after all since the house holds an advantage of 0.27% only. From this it follows the NSU Deuces Wild has a theoretical expected return of 99.73% – not too shabby, but still, players would profit more from the full-pay variation of the game with a perfect strategy.
Beginner Strategy for Deuces Wild Poker
As was mentioned earlier on, Deuces Wild provides positive expectation but there are two conditions players need to meet in order to benefit from this. First, they need to adopt an optimal playing strategy, and second, the maximum number of credits should be used. As this article targets predominantly less experienced Deuces Wild players, we will tackle the basic strategy of play which is suitable predominantly for beginners. Despite it is simpler, it will still increase your chances of generating a good profit and will tip the odds in your favour.
The number one advice we can give players is to never keep any Two Pairs dealt on the initial draw. These are not listed among the qualifying hands in the Deuces Wild paytable and will not earn you a payout. All the while, the odds of drawing to a Full House are not that substantial.
Most novices will be surprised to learn that an opening hand containing only a pair is considered of a higher value than any Two Pair since the latter will not earn players any payout. In Deuces Wild, pairs do not pay either but at least, there are greater chances of forming Three of a Kind on the draw. Because of this, players should discard one of their pairs in such instances.
In Deuces Wild, a four-card Royal Flush is actually preferred over pat Straight Flushes or a pat Four of a Kind on the deal. This can be explained with the huge payouts the Royal Flush offers to players who bet five coins per hand. Because of this, the better option would be to attempt to draw to the Royal rather than settling for the smaller payout you will earn for a pat Straight Flush or Four of a Kind.
Four cards to an inside Straight Flush is considered a better alternative to pat Straights or pat Flushes, at least in Deuces Wild, the reason being the Straight Flush pays more lucratively at a rate of 9 to 1, which is preferable over the small payouts for the Flush and the Straight.
And finally, one of the most important things to remember is never to discard any deuces after the deal because these can be crucial in completing a higher ranking hand on the draw. If players literally receive no qualifying hand whatsoever, they should not favour any of the five cards, unless it is a deuce. The wiser decision would be to discard all five cards and keep your fingers crossed there will be some improvement on the draw.