Video poker is one of the most popular casino games in the world and is the game of choice of millions of players. There are several factors that contribute to its immense popularity. For starters, the game is quite straightforward as it shares a number of similarities with slot machines. The difference between the two is that in video poker, players have an impact on what happens as their decisions influence the outcome.
Many video poker fans prefer the game because there is no interaction with other people since players are not competing against each other as is the case in traditional poker – they are playing heads-up against the machine. Additionally, this is one of the few casino games which comes with a shockingly low advantage in favour of the house. In certain instances, there is practically no house edge at all as video poker can offer a positive expectation as long as players follow perfect strategy. Last but not least, it is possible to determine precisely what the house edge of a given video poker variation is by using the information that is readily available in the game's paytable.
The origin of the game is closely related to that of slots because video poker machines, for the most part, are like slot machines, only playing cards are used as symbols. The game made its entrance to the casino floors back in the 1970s but the original video poker machines were rather primitive as they resembled the TV sets of that period. The lowest winning combination at the time was the Two Pair but this was later improved to a pair of Jacks or better. Video poker truly took off in the 1980s and many different variations of the game were created. Interestingly enough, this also caused the popularity of slot games to skyrocket.
Today, video poker is readily available in hundreds of landbased, online and mobile casinos, with players being able to choose from a wide range of variants, each one offering a different paytable. Despite the impressive number of options, the forefather of video poker, Jacks or Better, remains the most commonly played variant of the game.
Video Poker Rules
The rules of video poker are rather straightforward and simple to learn which makes the game a suitable option for all kinds of players, no matter their skill level and experience. Video poker is based on the hugely popular five-card draw poker and largely utilises the same hand rankings as these in the traditional game.
A full deck, containing 52 cards is used which makes it possible for players to calculate the odds of forming a specific hand. The game starts with players choosing a coin denomination and there is the option to bet one to five credits per hand. Once the player hits the deal button, they are dealt five random cards from the deck which comprises their opening hand. They need to evaluate the strength of this hand and decide which cards to keep and which ones to replace. It is possible to hold all five cards or none of them.
The player then hits the deal button again and the cards they have selected not to hold are replaced with other cards from the top of the remaining deck. This ends the round and the game automatically determines whether players have completed a winning hand. If they have, the game will pay out depending on the fixed schedule, displayed in the paytable.
Most video poker games have an additional functionality, called Double Up. After each winning combination, players are granted the opportunity to double their winnings or collect their original profits. If they go for the former, they will be dealt five other cards but only the first one, which represents the house, is facing up. The player then needs to pick one of the remaining four cards and if it is of a higher rank than the house's, the winnings will be doubled. If not, the player loses what they have originally won.
Ranking of Hands and Paytables in Video Poker
Before you proceed to make real-money bets on video poker, it is important for you to learn all hands that qualify for a payout and to be able to differentiate how strong each one is since the payouts you collect are based on the strength of the hand you are holding.
The highest ranking hand in video poker is the natural Royal Flush which usually pays 250 to 1 when you bet the minimum. This is an Ace-high Straight Flush which comprises of five suited cards like this [A][K][Q][J][10]. Completing this hand is a rare occurrence as it happens roughly once per every 40,000 hands. Video poker players are generally recommended to bet the maximum of five credits because the game awards bonus payments of 4,000 coins for hitting the Royal Flush with maximum bets.

The second best hand is the Straight Flush which comprises five cards of sequential value and of the same suit. An example would be [10][9][8][7][6]. If you form this, you would collect a payout of 40 to 1.

The Straight Flush is followed by the Four of a Kind and as the name implies, it consists of four cards of equal value, such as [Q][Q][Q][Q][8]. This winning combination generally offers a return of 20 to 1.

The next best hand is called a Full House and comprises three cards of the same value, plus a pair of a different value as is the case with [Q][Q][Q][8][8] where the payout rate must be 9 to 1.

The next hand in rank is the Flush which contains five cards of the same suit. Their value is practically irrelevant in this case. An example of a Flush would be [K][J][5][7][A] and it pays out at a rate of 6 to 1.

The Flush is followed by the Straight, which is a hand consisting of five cards of sequential value but not necessarily of the same suit, like this [6][5][4][3][2]. The payout rate in this case would be 4 to 1.

The Three of a Kind contains three cards of the same value plus two irrelevant cards, for instance [K][K][K][5][8]. It offers players who complete it a payout of 3 to 1.

This winning combination is followed by the Two Pair and its name is pretty much indicative of what it is – one pair of cards of the same value plus another pair but of a different value as is the case with [Q][Q][K][K][4].

The lowest ranking hand that awards a payout is a pair of Jacks or higher and it returns even money.
Full-Pay Video Poker
The above-listed payouts are typical for the game of Jacks or Better that most video poker variants are based on. In video poker, we can distinguish between two types of games, depending on their paytables. Those that offer players optimal return are referred to as 'full-pay'. The full-pay games are easy to recognise as all it takes is a single glance at the paytable and the return on the Full House and the Flush, to be more precise. In full-pay games, the Full House returns 9 credits for one-credit bets while the Flush awards players a payout of 6 credits per credit wagered.
Anything lower than that indicates one is playing a short-pay game. Do keep in mind that even a reduction of a single unit in the return of these two hands leads to an increased house edge and a drop in the game's overall potential return to the player. Of course, full-pay differs from one variation of video poker to another. For instance, the full-pay in another hugely popular video poker variation, Deuces Wild, is determined by the payout for Five of a Kind and Four of a Kind, which should be 15 and 5 credits per credit wagered, respectively.
Playing Multi-Hand Video Poker
Multi-hand video poker is a great alternative for players looking for greater dynamics and extra action. Most common variants like Bonus Poker, Deuces Wild, Jacks or Better and Tens or Better are available in a multi-hand format where one can choose from playing 5, 10, 25, 50, and even 100 hands at a time.
The gameplay coincides with that in single-hand video poker. You are dealt five cards and need to decide which ones are worth keeping. The cards you choose to keep are automatically held in all duplicate hands you play. Each duplicate hand is dealt out of a separate deck. Similarly to multi-line slots, each of the hands you play simultaneously requires a separate bet. For instance, if you play ten hands and bet five credits of £0.25 denomination, your overall stake per round will amount to £12.50.
Players need to keep in mind that the odds of forming a given winning combination in multi-hand games coincide with those of winning with the same hand in single-hand variants of video poker. Also, multi-hand games are considered more volatile. Many video poker fans have noticed there are greater swings when it comes to win rates in multi-hand variations, which is why having a big enough bankroll is a requirement if you wish to weather out a string of bad beats. Another recommendation is to make smaller bets per hand – you can still stake the maximum of five coins to qualify for the bonus payout for the Royal Flush, but may use a lower denomination.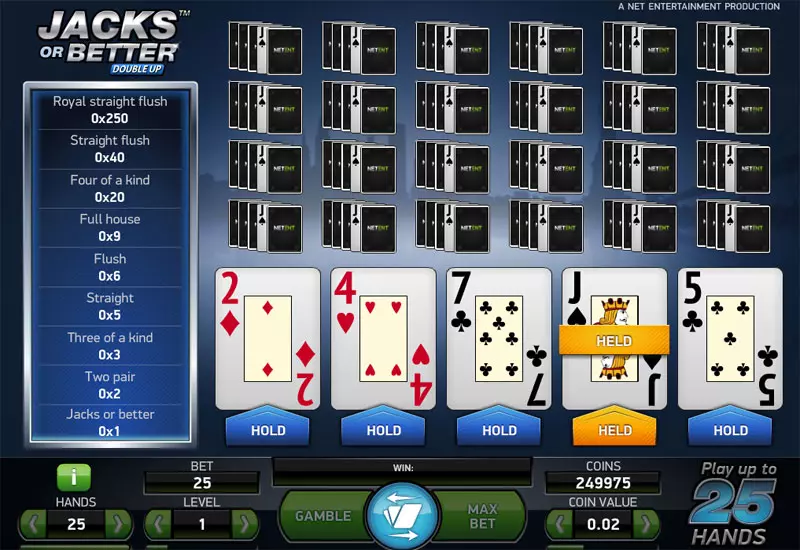 Video Poker Games with Progressive Jackpots
Similarly to slots, some video poker variations have progressive jackpots attached to them, with the pools growing with each bet made on the game. With progressive Jacks or Better, there is usually a one-unit reduction in the payouts for the Full House and the Flush where the two hands return 8 to 1 and 5 to 1, respectively. This is done to compensate for the huge jackpot and the result is an increased house edge of around 2.70%. However, when the pool escalates to a specific amount, the game offers a positive expectation of over 100% theoretical return.
There are several ways to walk away with the massive pot, depending on the progressive game you play. Some progressive video poker variants require players to form a Royal Flush on the initial deal – this hand will pay its fixed jackpot amount if it is completed on the draw. In others, the players need to hit a sequential Royal Flush which is to say the cards should align either as [10][J][Q][K][A] or as [A][K][Q][J][10]. No other sequence will do.
There are even some games where the Royal Flush must consist of cards of a specific suit, hearts for example, and Royal Flushes of a different suit will not earn you the jackpot. Last but definitely not least, players are required to bet the maximum of five credits if they wish to qualify for the progressive prize.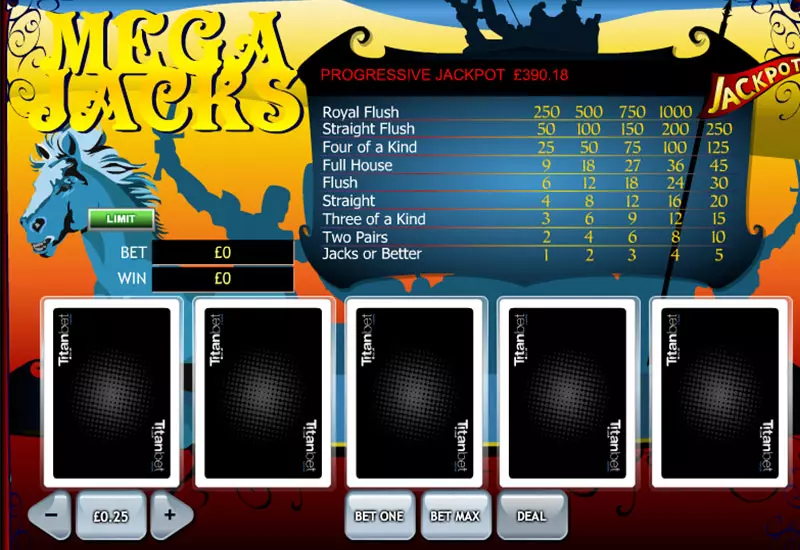 Popular Video Poker Variations
The massive popularity video poker has been enjoying for the past three decades has led to the creation of many different variants of the game, with discrepancies in the paytables, the qualifying hands, and the rules. The majority of those originate from Jacks or Better, which is, in fact, the forerunner of all video poker games. The game poses as a good alternative for those who are just making their first steps in learning video poker.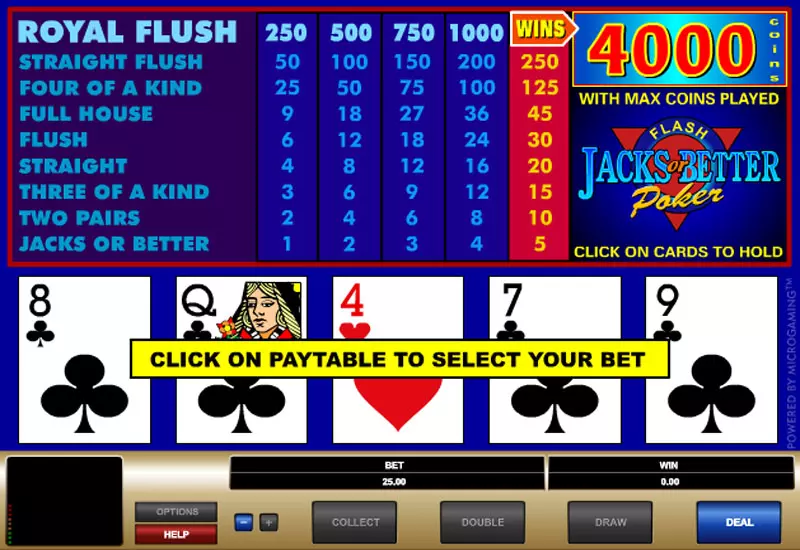 This variation follows the standard ranking of video poker hands, and the weakest hand listed in the paytable is a pair of Jacks or other face cards. Furthermore, Jacks or Better offers a very low house edge and high return percentages if one follows the best strategy and plays the 9/6 full-pay version. The rules of Tens or Better are the same, only the lowest hand that rewards players with a payout is a pair of Tens or above.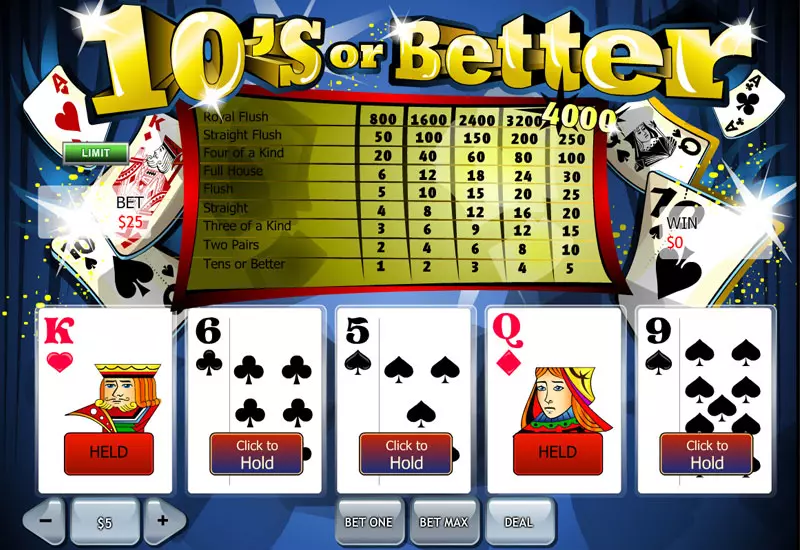 Bonus Poker is another popular form of video poker which has its beginning in Jacks or Better. The only difference there is the additional payout for Four Aces. The payouts for the Full House and Flush are reduced to 8/5. In Double Bonus Poker, players can also earn extra payouts of Four of a Kind hands but the Two Pair returns even money instead of the usual 2 to 1 payout.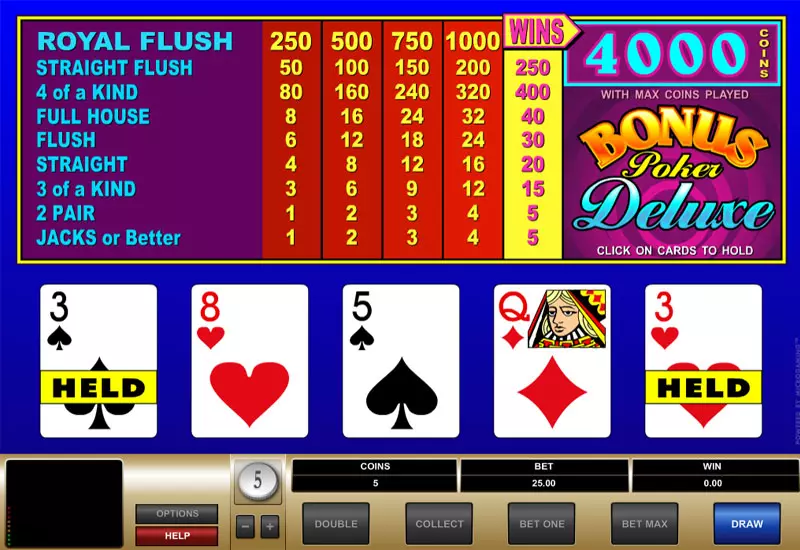 The same applies to Aces and Faces, where players collect extra high payouts for Four Aces, Four of a Kind with face cards, and Four of a Kind with 2s through 10s. All of these games are played with a standard deck, containing 52 cards and no jokers. There are no wild cards in play.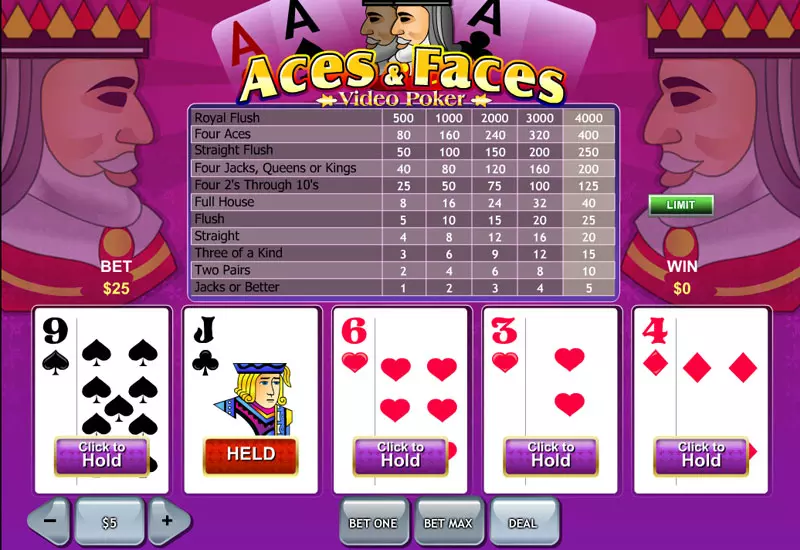 This is not the case in Deuces Wild where all cards that have a face value of 2 (these are called Deuces) are wild and as such, can be used as substitutes for other cards. This enables players to hit winning combinations more frequently. For example, if you are dealt [J][J][J][2][8], it will count as a Four of a Kind instead of Three of a Kind.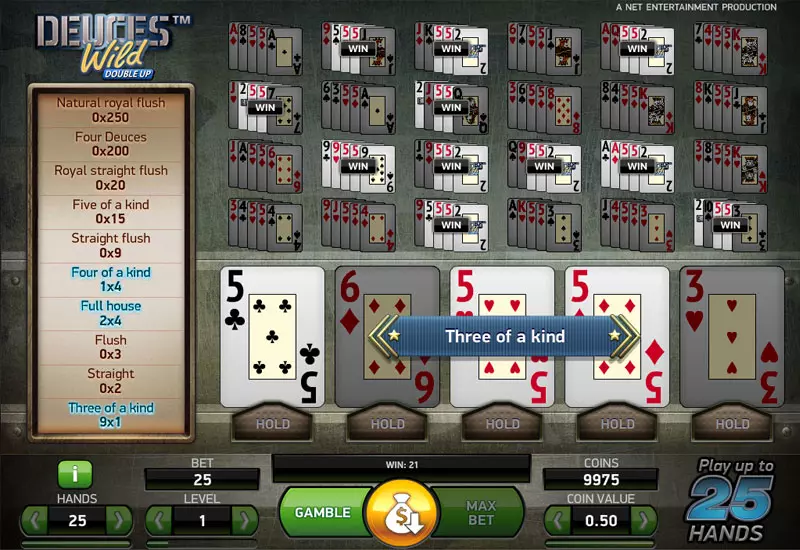 Pick'em Poker differs wildly from other widespread video poker variations. The lowest ranking hand there is Nine or better. Players are initially dealt only two cards and have to choose from two stacks, each one containing three cards, but only the topmost card is visible. When one of the stacks is selected, the two cards at the bottom are revealed – if the player has succeeded in completing a winning hand with their two initial cards and the three cards from the stack, the game pays out on the basis of the combination's strength.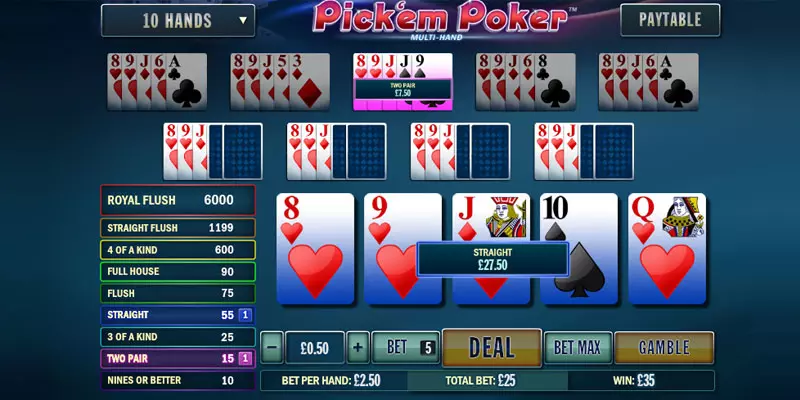 Playing Video Poker on Mobile Devices
The great technological progress we have witnessed in the past decades has resulted in various benefits for video poker fans. To start with, one is no longer required to drive for miles to reach a gambling venue where they can play their favourite game. The game is available at hundreds of online casinos allowing players to enjoy it on their desktop computers.
More importantly, mobility is everything these days so it makes sense that most interactive operators provide registered customers with the option to play as they go, on their smartphones and tablets. Many casinos offering video poker games are compatible with mobile devices and their websites provide an app-like experience in one's phone browser without the need of downloading and installing additional, third-party software. Many interactive casinos have already made a transition to the HTML5 language so itmatters not whether you want to play video poker on your iPhone or on a Sony Xperia, either way, you will be able to load the games.
Another option is to download and install a casino's native mobile application, if one is available. Many mobile casinos offer free apps for iOS and Android, which feature some of the most well-known video poker variants. The iOS applications can be normally downloaded directly from the App Store. Players who own Android-based smartphones or tablets, however, will not be able to find real-money gambling apps in the Google Play Store, because of the policies the company has adopted. Such video poker players will be able, however, to download the Android app directly from the casino's site by scanning the QR code there or requesting a download link as a text message or via email.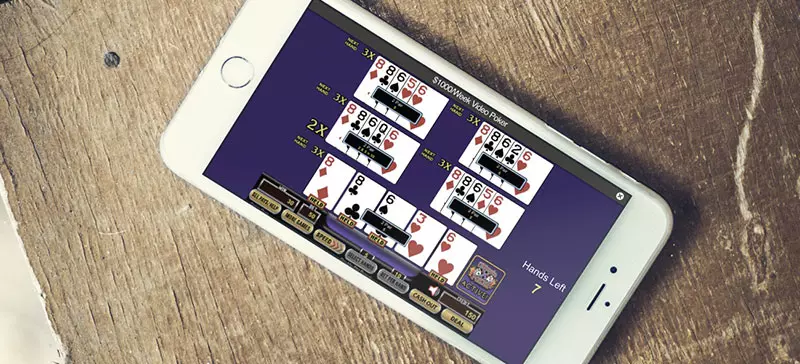 Top Software Developers of Video Poker Games
The vast majority of providers of online casino software have introduced video poker to their catalogues of games. There are three names, however, which enjoy the greatest esteem on behalf of video poker fans because the variations they have developed are next to impossible to match in terms of gameplay, functionalities, sound effects, and animations.
Microgaming is considered the pioneer of interactive gaming as this is the first developer to create casino software and launch an online gaming site. The company was founded back in 1994 but its portfolio has grown to an impressive size with over 600 casino games ranging from table classics and slots to video poker, bingo, and arcades. Microgaming has set up one of the most comprehensive video poker collections ever, with over twenty variants, available in single-hand and multi-hand mode. The Level-Up selection of games allows players to bet on up to four hands at a time, but it is necessary to win the first hand to advance to the subsequent ones. Popular titles from the portfolio include Deuces Wild, All Aces, Jacks or Better, Bonus Poker, and Deuces and Joker, among many others.
Playtech is another highly esteemed developer of casino software, which currently offers around seven superb-looking varieties of video poker. The selection spans traditional games the likes of Jacks or Better, Deuces Wild, and Aces and Faces. Some of the games are available for a multi-hand play. Others, like the 10-line variant of Jacks or Better have lucrative progressive jackpots. Playtech has also created one rarer variation of the game called 2 Ways Royal where there is a differentiation between two Royal Flushes, Hi and Lo, that can earn you the fixed-jackpot.
Another name that shines brightly is that of Swedish software developer NetEnt. The company is currently offering only Jack or Better variation. The superior quality of the graphics and animations, however, well compensates for the lack of greater diversity. These games all offer the Double Up feature but the difference is the goal here is to pick the correct colour of a card's suit in order to increase the profits on the last hand, instead of selecting a card of a higher value than that of the virtual dealer. Players can conveniently adjust the number of hands they play per round, with the options being 1, 5, 10, and 25 hands at a time.