Since the popularity of video poker has greatly increased in recent years thanks to the game's availability in a large number of online casinos, players are continually looking for more exciting variations which come with a twist. Naturally, online gambling operators have responded to this increase in demand and have added a range of video poker variations which allow players to bet on multiple hands simultaneously. There is the option to play 5, 10, 25, 50 and even 100 hands at the same time.
Furthermore, some of the most commonly played variants of the game such as Jacks or Better, Deuces Wild, and Joker Poker are now available in multi-hand mode. Many seasoned players decide to make a transition from single to multi-hand video poker because the latter enables them to maximise their profits.
Playing Multi-Hand Video Poker Variations
If you have ever played single-hand video poker, you will find that the multiple-hand variation of the game follows the same rules and principles, at least for the most part. The standard hand rankings are utilized in multi-hand games as well. The biggest difference here is that the starting five-card hand players receive on the initial deal are duplicated on a given number of hands, often between five and a hundred. Whatever cards players have chosen to hold on their starting hand will automatically appear and be held in all the duplicate hands.
One of the biggest peculiarities of multi-hand video poker is that each duplicate hand requires a separate bet, similarly to the individual paylines on multi-line video slots. Because of this, bankroll management should be a major priority of players who are interested in betting on multi-hand video poker variants. Another thing that will draw players' attention is the fact sometimes they will be dealt cards of the same rank and suit in two, three or more hands. The reason for this is simple – in multi-hand video poker, the cards for each hand players have bet on are dealt from individual decks. In other words, if you opt for 50-hand video poker, as many as 50 decks will be in play on each wager you place.
For example, if you receive a starting hand of [7][2][9][7][9] on the initial deal and decide to hold the sevens and the nines, these four cards will be automatically held in all duplicate hands you play. If Two Pair is listed in the paytable, you will collect profits on each of the duplicates as well as on the original hand regardless of the cards you are dealt after the draw. On that note, it is important to remember that on each duplicate hand, the cards players receive as replacements after the draw are dealt independently, and above all, at random, so that the outcomes on every duplicate may be completely different.
The same amount is wagered on all hands you play at once. However, it is possible to come across multi-hand variations where it is allowed to make one bet on the initial hand and different bets on the duplicates. Such is the case with some multi-hand variants of the popular Jacks or Better where players can bet one credit in the original hand and up to five credits on every duplicate hand.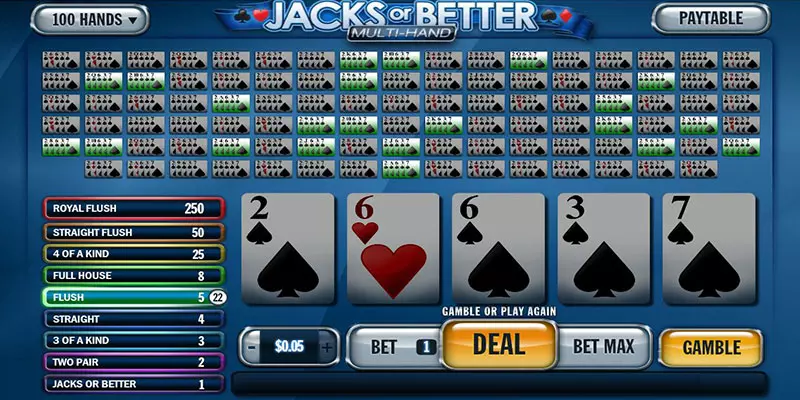 Gameplay on Multi-Hand Video Poker
The gameplay on multi-hand video poker variants largely coincides with that on single-handed games. Once your preferred multi-hand video poker game loads, you will be asked to select the number of hands you wish to play simultaneously.Games with 5, 10, 25, 50, and 100 hands are among the most widespread options to choose from. Usually, it is possible to bet anywhere between one and five credits per hand.
If you want to bet a single credit on each hand, you need to click on the button that reads Bet One. Then again, if you intend to wager three credits per round, you hit the same button three times. It is also possible to adjust the value of the virtual coins/credits you bet with, with the most common denominations being 0.02, 0.05, 0.10, 0.25, 0.50, and 1.00. Players can also conveniently bet the maximum number of credits per hand with a single click of the Bet Max button.
After you have adjusted the size of your wagers, you simply need to hit the Deal button in order to receive the five random cards your original hand will consist of. Let us imagine your original hand contains [K][4][10][J][9] and you wish to keep the King and the Jack. You simply are required to click on the cards you wish to hold. Once you do that the King and the Jack will automatically be dealt in all duplicate hands you play. Then, you hit the Deal button again to replace the three discards and that is it – if you have succeeded to form qualifying hands on your duplicates as well as on the original hand, you are paid out according to the game's paytable, depending on the hands' ranking and the number of credits you have wagered.
In some multi-hand variants of the game, like those created by software developer Betsoft, players can change the number of hands they play at once without having to exit the main game and load it again. This is possible by clicking on the Change Hands button which will take you back to the starting menu where you can again choose from 5, 10, 25, 50, and 100 hands. This is not the case with some Playtech variations, like the 50-line Jacks or Better, where the number of hands remains fixed at 50 and there is no way to modify it – you either play all hands simultaneously or you play none.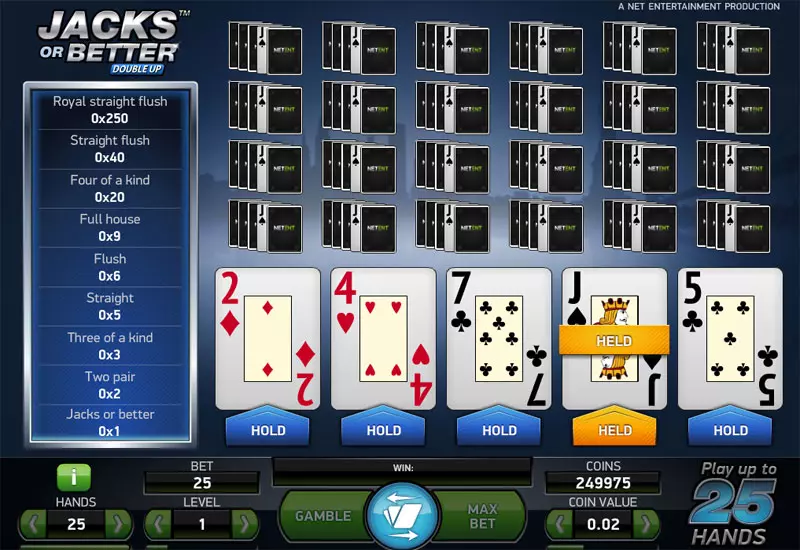 The Double Up Feature
Almost all multi-hand and single-hand variants of video poker have an additional feature, called either Double Up or Gamble. Do have in mind this functionality is activated only after players have managed to form qualifying winning hands, though. For example, you play ten hands simultaneously and win with all of them. You will leave the base-game and will be taken to a separate screen where the amount you have won is stated – you will be offered to double it up. Five cards will appear on the screen face-down – the first one is the virtual "dealer's" card.
You can choose to either settle for the amount you have initially won or try to double it. If you opt for the latter, the dealer's card will be flipped over – your goal is to pick one of the four remaining cards and if it is of a higher rank than the dealer's, you will collect double the amount you have generated on all winning hands. If not, you lose everything. Also, if you draw a card that is equal in rank to that of the dealer's, it will be considered a draw but your winnings will be doubled. It is possible to try and repeat this stunt and triple your initial profits. In some online variations of multi-hand video poker, players can risk only half of the amount they have won, thanks to the Double Half functionality.
Even though doubling or even tripling your winnings may sound fun, keep in mind that this is a risky bet. If you double your win but decide to continue with another round of gamble, you might end up losing all of your winnings.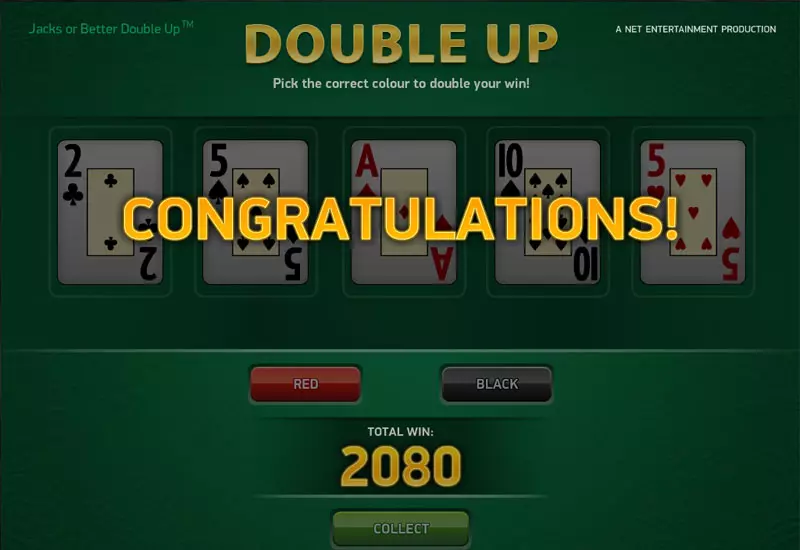 Important Factors to Consider when Playing Multi-Hand Video Poker
Video poker may be a relatively easy game to play, especially when compared with standard poker, but this is not to say skill and decision-making are completely absent from the gameplay. On the contrary, players can achieve impressive results as long as they incorporate a suitable strategy into their betting session.
There are several factors less experienced players need to consider before they start playing video poker in multiple-hand mode. The first thing to remember is the number of hands you play simultaneously does not affect the odds of turning a profit in any way. The probability of winning does not change regardless of whether you play a single hand or one hundred hands.
Some players switch betting strategies whenever they transition from single to multi-hand video poker variants. This is not necessarily always a smart idea, especially if there are no differences in the paytables of the two game variations. Many experts share the opinion that the odds of winning do not improve by changing the amount of the wager or the number of hands one plays.
Knowing which cards to hold and which ones to discard and replace from the original hand you are dealt is of essential importance, regardless of whether you are playing one hand or a hundred. It does not matter how many hands you have selected to play and what the size of your bet per hand is. The two most important things you need to factor in are the rules of the individual video poker variations you play and their paytables.
The paytables sometimes vary between single and multi-hand versions of the same game. For instance, a pair of Kings or Better is normally the lowest ranking hand in many multi-hand variants of Joker Poker but on occasion, this threshold may be boosted so that players would need to form a hand of Aces or Better in order to collect a payout. Needless to say, this would have a direct impact on the strategy they incorporate into their gameplay.
However, if there are no deviations in the paytables and the payouts of the single and multi-hand versions coincide, players are recommended to use the standard strategy for the given game. The probability of winning on duplicate hands is the same as this for players' initial hand. The only difference in multi-hand video poker is in volatility.
Nevertheless, switching to multi-hand games requires some adjustments to be made to a number of your bets. Staking ten credits on a hand is not the same as betting ten credits on your original hand and nine duplicates. Expert poker players have established that the overall variance on the initial deal and the draw increases proportionally to the number of hands one plays at a time.
The number of hands you play simultaneously has an impact on standard deviation (SD) or how swingy a given video poker variation is. In other words, the SD serves as an indicator of how big a shift you will see in your win rate per 100 hands played. The higher a game's standard deviation is, the higher its variance will be. The standard deviation of a single-hand in a full-pay game of Deuces Wild is estimated to be around 5.10 but when 100 hands are played simultaneously, this number increases to 18.35, which is a rather significant discrepancy.
It logically follows that the bigger the SD is, the more results would differ from what players have originally expected, which, on its own, translates into a higher volatility. The latter would result in players experiencing bigger wins but also more substantial losses. Because of this, multi-hand video poker players should make smaller bets per hand than they would normally do on single-hand games because this would help them to preserve their bankrolls for a longer period of time. The smarter thing to do would be to decrease your wagers from $1 on single hands to $0.10 or $0.25 when playing ten and five hands, respectively.
Variance in Multi-Hand Video Poker Games
To fully understand how the variance changes with the addition of hands, you can take a look at the different variants of some of the most popular video poker games.
If you have come across a 9/6 version of Jacks or Better with a single hand to bet on, the variance will be 19.5. In the same game, if you bet on 3 hands, the variance will increase to 23.4. The variance for 9/6 Jacks or Better with 5 hands is 27.4, and for 10 hands – 37.2. As the hands increase to 50, the variance becomes 115.8 and 100 hands will have a variance of 214, which is an increase of nearly 10 times the variance of the single-hand variant.
In an 8/5 variation of Bonus Poker, a single-hand version has a variance of 20.9. Increase the hands to 3 and the variance will gain to 25.1. A 5-hand version will have a variance of 29.4 and a 10-hand option – 40.0. A 50-hand play will mean the variance will be 124.8, while 100 hands will increase the level of variance to 230.8.
The last example is 10/7 Double Bonus Poker, which has a variance of 28.3 when it is played with one hand. When you decide to bet on 3 hands, the variance will increase to 35.0 and 5 hands will bring the variance up to 41.8. A 10-hand version will have a variance of 58.8, while a 50-hand option will raise the variance to 194.4. Lastly, a 100-hand version of 10/7 Double Bonus Poker will have a variance of 364.0.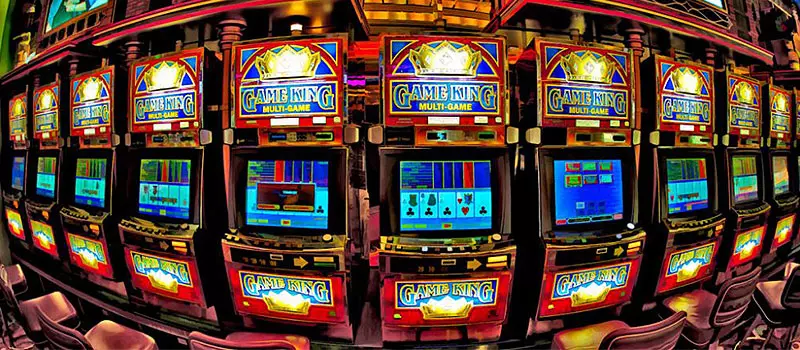 Pros and Cons of Playing Multi-Hand Video Poker
Many video poker fans tend to switch from single to multi-handed play in an attempt to diversify their gameplay a tiny notch. And indeed, the multi-hand variants of the game have plenty of excitement to offer as they allow for greater dynamics and provide players with additional chances to turn a profit. However, playing more hands at a time comes with certain drawbacks as well. Since players are practically required to bet one or more credits on each duplicate hand, this may result in greater losses. Those who have not mastered strategic play may end up exhausting their bankrolls rather quickly on multi-hand games.
As was said earlier, the deviation in the odds in single and multi-hand games is ever so slight. Yet, both the strength and the weakness of your main hand are magnified when you play it multiple times. Multi-hand games can boost players' earning potential when they receive a good hand on the deal but will also increase their losing potential on poor hands. This may cause less experienced players to deplete their bankrolls in a matter of minutes. Often they would find themselves investing five credits on each of their 100 bad hands to devastating results. Also, the greater the number of hands you play per hour, the quicker the house edge of the game will catch up with you.
The key to success is incorporating an optimal strategy, regardless of whether you are playing single-hand or multi-hand video poker variations. It is equally important to learn to "shop" for the best paytables and avoid wagering on games which offer you anything but full pay.
Should You Play Multi-Hand Video Poker
Multi-hand video poker variations are mostly fun for certain types of players. To decide whether it is a good idea to resort to betting on several hands or to stick to the single-hand version of your favourite game, you can compare the advantages and disadvantages of the multiplay versions.
If you have made up your mind on playing a multi-hand video poker game, you will have no issue finding a few options. Many software developers offer their video poker games in both variants and you can easily come across a suitable version.
In most cases, multi-hand variants have the same paytables as their single-hand counterparts. This allows players to utilise the same type of strategy when they play with 1, 5, 50 or 100 hands. If you have already mastered the right strategy, you will be able to tilt the scales in your favour, no matter how many hands you bet on.
While you are increasing your bet only according to the number of hands you bet on, some video poker variations will allow you to bet more on your initial hands. If you have a sufficient balance, you can dive into a different video poker adventure and bet on several hands at once.
Simply put, you should play multi-hand variants of your favourite video poker game only if you are enjoying making risky moves. While the way the game is played remains the same, adding more hands will increase the variance of the video poker option. This would mean that you might end up losing bigger amounts until you hit significant wins. Naturally, such games would require hefty amounts in your bankroll, which is not something that every player can afford. If you are willing to make bigger bets, however, you can give multi-hand games a try and stack up winnings much faster.