Paysafecard ranks among the most convenient and easy-to-use payment methods to fund one's online casino account. The payment system was introduced over fifteen years ago and has its headquarters in Vienna, Austria.
The method is available to players from over 50 countries around the world and provides them with a simplified, quick, secure and flexible way to fund their online casino accounts. More importantly, most reliable and established online gambling providers list Paysafecard among their accepted payment options.
Paysafecard at a Glance
Payment Method Type
Prepaid voucher, myPaysafecard e-wallet
Launch Date
Launched in 2000
Based In
Vienna, Austria
Supported Countries
51 countries, including the UK, Australia, New Zealand, the USA, Canada, France, Ireland, Germany, and Italy
Supported Currencies
31 currencies, including GBP, USD, EUR, AUD, NOK, SEK, CHF, TRY, CZK, PLN, DKK, CAD, BRL, MXN, NZD, ARS, PEN
Account Types
Private, business
Minimum Deposit
£10 min. voucher denomination
Minimum Withdrawal
Withdrawals with Paysafecard Mastercard vary based on ATM and bank
Top-Up Options
myPaysafecard accounts can be topped up with Paysafecard vouchers
Withdrawal Options
Paysafecard Mastercard
What is Paysafecard?
Paysafecard is a prepaid payment solution that resembles a voucher to a great extent. To use it, players are required to buy a Paysafecard at one of the 500,000 outlets or kiosks worldwide where the vouchers are available. Due to its popularity, the payment method supports 27 different currencies, including the widespread CAD, GBP, NOK, SEK, USD, AUD and EUR. This allows players to fund their online casino accounts in their native currencies and avoid incurring currency conversion fees.
Gamers, who are not sure where they can buy a Paysafecard can visit the payment solution's official website and use the search facility to find the Paysafecard retailers, located in their area. There is the option to choose between several denominations including £10, £25, £50, £75 or £100. Additionally, players can buy vouchers with £125, £150 and £175 denominations at PayPoint. Once they obtain a Paysafecard with a denomination that suits them, players will notice it has a 16-digit PIN code which is to be entered when they fund their online casino accounts.
Paysafecard is also a suitable deposit option for high-rollers who want to place more substantial wagers. Seasoned players can combine up to 10 Paysafecard PINs by selecting the "Enter additional PINs" option. This allows for deposits of up to £1,000.
Watch Paysafecard Video
Registering a My Paysafecard Account
Once they have registered a My Paysafecard account, players are no longer required to enter the 16-digit PIN code when depositing funds into their online casino accounts. Instead, they can pay by entering the username and password for their My Paysafecard account. Of course, prior to attempting a deposit, players need to top up their My Paysafecard using their purchased Paysafecard PINs.
Opening a My Paysafecard account is simple, quick and hassle-free. Players need to provide some personal information such as their name, permanent address, date of birth and a valid mobile number. Players will then receive a text message with a 4-digit code to complete their registration.
A My Paysafecard account has either Standard or Unlimited status. To upgrade from Standard to Unlimited, one is required to verify their identity and address by sending scanned copies of their ID card and a picture upon which their face is clearly recognizable.
Paysafecard Customer Support
Working Hours
Round the clock
Customer Support Languages
English, Swedish, Italian, Czech, German, Spanish, Portuguese, Greek, French, and more
Live Chat Facility
Yes, the virtual assistant Lara is available to chat 24/7
Email Address
techsupport@paysafecard.com, info@paysafecard.com, contact form
Telephone Lines
+44 0800 051 7162 for the UK, +61 1800 178 486 for Australia
Depositing in Online Casinos via Paysafecard
To fund their casino accounts, players should sign in with their log-in credentials and head to the Cashier menu where they must select Paysafecard as their payment method of choice, fill in the amount they wish to deposit, and select a currency.
They will be taken to Paysafecard's official website where they need to input the 16-digit PIN found on their vouchers. After the deposit has been confirmed, the money will be transferred instantly to the casino account's balance so players can place their wagers right away. You are required to use the same name and email address for your Paysafecard and casino registrations in order to make a successful deposit.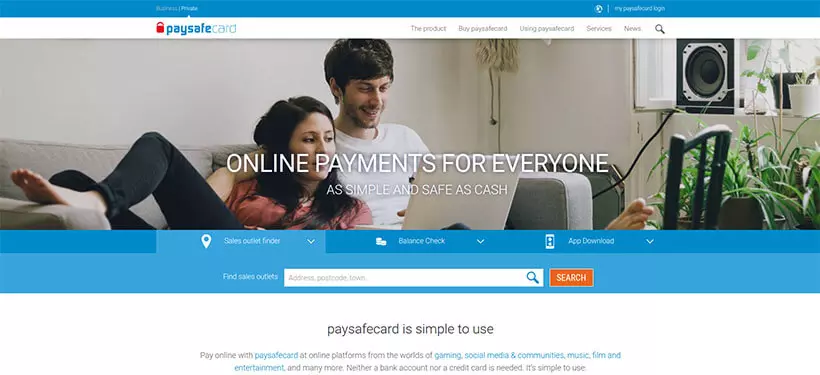 Withdrawing Winnings via Paysafecard
Things are not as simple when it comes to withdrawing one's winnings via this payment solution. In the fall of 2015, Paysafecard introduced the Payout service which allows online gaming operators to send money back to their customers. Players can request a withdrawal to their My Paysafecard accounts by entering the email address they have registered with.
Players can either use their My Paysafecard accounts' balance to make another deposit or withdraw the funds at the closest ATM using a Paysafecard Mastercard. However, many players opt for withdrawing their winnings using cheques or bank wire transfers as most online gambling operators do not support Paysafecard for withdrawals.
Online Casino Payments with Paysafecard
Supported for Deposits
Yes
Supported for Withdrawals
Sometimes
Deposit Processing Times
Instant
Withdrawal Processing Times
3 business days (varies across online casinos)
The Paysafecard Mobile App
Players can manage their My Paysafecard accounts on the go by downloading and installing the payment solution's mobile application on their portable devices. Two applications are available for a free download – one for iOS devices and another one for Android devices.
If players run out of money to gamble with while on the go, they can conveniently use the application to locate the nearest sales outlet where they can purchase another prepaid voucher. Once they have bought the voucher, they can top up their My Paysafecard account with their new PIN code, boost their casino balance and proceed with their gaming session. Those, who have opted for installing the app can easily manage their My Paysafecard accounts, keep track of their transactions, and check their balance at all times, from all places.
Paysafecard Mobile Compatibility
Dedicated Android App
Yes, requires Android 5.0 and above
Android App Rating
4.5 out of 5 stars
Dedicated iOS App
Yes, requires iOS 12.0 and above
iOS App Rating
3.9 out of 5 stars
Android App Size
40.9 MB
iOS App Size
61.5 MB
Android App Languages
English, Czech, French, German, Danish, Spanish, Italian, Polish, Portuguese, and more
iOS App Languages
English, Polish, French, Greek, German, Italian, Spanish
Browser Access
Yes, Safari, Chrome, Firefox, Opera Mini, Opera Touch, Dolphin Browser, Firefox Focus, Microsoft Edge, Puffin
Paysafecard Fees and Limits
Paysafecard is regarded as one of the most affordable methods to deposit funds at online casinos. Most web-based gambling providers do not charge any fees on deposits carried out via the prepaid payment solution.
Players, whose My Paysafecard accounts remain dormant for a period of twelve months, will have a monthly maintenance fee of £2 deducted from their remaining balance. Paysafecard charges a 4,04% fee for all transactions involving a conversion from one currency to another.
As far as limits go, players who use the payment solution as a deposit method can top up their casino accounts with up to £250 via the prepaid voucher and £1,000 via their My Paysafecard Standard account. Those, who have upgraded to My Paysafecard Unlimited can load up to £4,000 into their accounts. Please note there are no annual top-up and spending limits on My Paysafecard Unlimited.
Costs of Using Paysafecard
Casino Deposit Fee
No
Casino Withdrawal Fee
No
Dormancy Fee
£3 per month for inactive vouchers, £5 for inactive myPaysafecard accounts
Top-up Fee
Free
Withdrawal Fee
Varies for Paysafecard Mastercard based on ATM and bank
Currency Conversion Fee
2.00%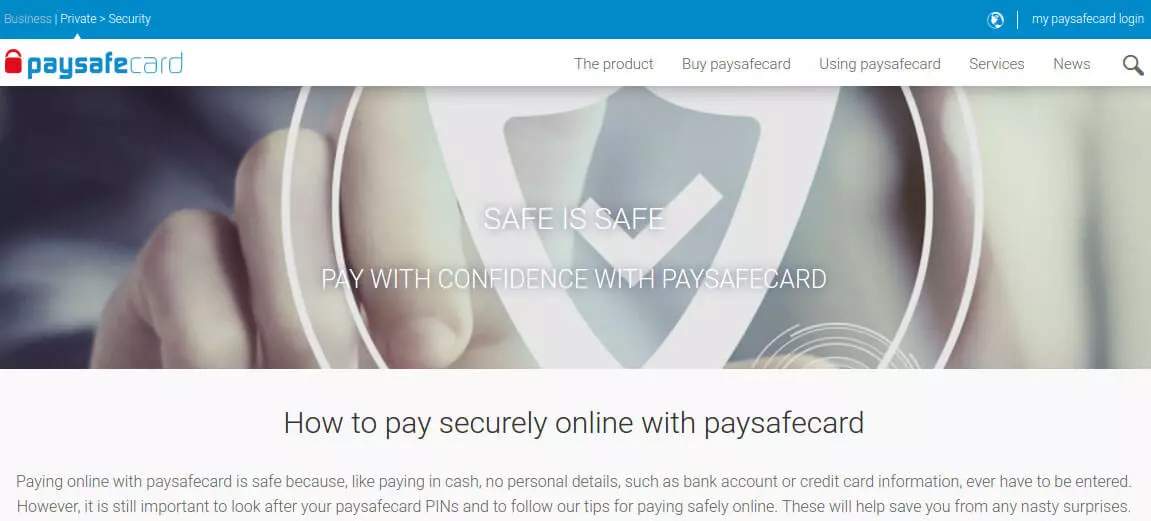 Security
Paysafecard is regarded as one of the safest methods to deposit funds into one's online casino account, which explains why so many players across the world decide in favor of using it. Players are not required to provide any sensitive personal or financial information when using the prepaid voucher. Having a bank account or a credit card is not a requirement, either.
To prevent fraudulent activities, players should never reveal their vouchers' PIN codes to third parties or use the vouchers to deposit at suspicious online casinos where security policies are not on point. If players notice any suspicious activity in their My Paysafecard accounts, they can have them disabled.
It is safe to say Paysafecard is practically unhackable as it is impossible to boost the vouchers' balance using the so-called generators. Players, who fear they have become the target of frauds, can protect their existing balance by locking their PIN codes so they can no longer be used to process payments.
Paysafecard Safety and Regulations
Parent Company
Paysafe Group Limited
Authorized By
The UK Financial Conduct Authority, the Central Bank of Ireland, the Swiss Financial Market Supervisory Authority
Payment Reimbursement
Yes
Two-Factor Authentication
Yes
Benefits of Using Paysafecard in Online Casinos
It certainly is not difficult to see that using Paysafecard as a means to fund your online casino account comes with a great number of advantages. Above all, Paysafecard is considered one of the safest methods to deposit since players are not expected to furnish any of their personal details and banking information. This also allows them to preserve their anonymity.
Apart from safety, Paysafecard offers great flexibility as deposits are transferred immediately. Most online casinos do not charge fees on deposits via this prepaid payment method. Finally, being a prepaid payment solution, Paysafecard minimizes the risks of overspending.
| Main Benefits of Using Paysafecard | Main Downsides of Using Paysafecard |
| --- | --- |
| Full control over your gambling expenditures | Unfit for high-roller players due to low voucher denominations |
| Does not require a bank account or card | Unavailable for withdrawals in some cases |
| Perfect for small-scale gamblers | Maintenance and currency conversion fees apply |
| Supports multiple currencies | Users have to enter 16-digit codes for each payment |
| Accepted by most reliable UKGC-licensed casinos | Players have to combine several vouchers for larger deposits |
Conclusion
Paysafecard ranks as one of the most convenient, hassle-free, secure and simplified payment solutions available and is accepted by a great number of reputable and legitimate online gambling operators. Players, who opt for depositing via this method are guaranteed to enjoy quick processing times, security and hassle-free transactions.
Paysafecard Casinos FAQ
Is there any difference between Paysafecard, Paysafecard Mastercard, and a Paysafecard account?
As a matter of fact, there is. Paysafecards are physical vouchers you can purchase at many landbased outlets worldwide. The vouchers are available in different denominations, and each one has a unique 16-digit PIN code you use to initiate payments.
The Paysafecard Mastercard is similar to a standard debit card and is prepaid. This prevents you from spending more than you initially planned at online casinos.
A Paysafecard account enables you to make online payments with your unique username and password rather than entering the 16-digit PIN codes. You can store your vouchers in the account which also comes with higher payment limits.

I am a British player. Where can I buy a Paysafecard voucher?
Paysafecard vouchers are available at over 650,000 sales outlets worldwide. You will find them at many large-chain convenience stores, newspaper stalls, and post offices. Just open the official Paysafecard website and navigate to the Find Sales Outlets.
Then simply type an address, zip code, and town into the search tool to find the nearest Paysafecard outlet in your neighbourhood. Over 20,000 sales outlets in Great Britain sell such vouchers. Of course, purchasing your Paysafecard online is also an alternative.

What voucher denominations does Paysafecard support?
Paysafecard is the perfect payment solution for casino players who gamble recreationally for small amounts. It is also suitable for gamblers who want to prevent themselves from overspending. The available voucher denominations are country- and currency-specific.
Open the method's website and select your country from the drop-down menu to see the supported denominations. Players who purchase a Paysafecard from Great Britain have a choice from £10, £25, £40, £50, £75, and £100.
They can also visit their local PayPoint to purchase vouchers with higher denominations of £125, £150, and £175. Players from Australia can buy Paysafecard in these amounts – AU$ 10, AU$20, AU$50, and AU$100.

Is Paysafecard safe to use for online gambling?
Well, it all depends on what online casino you gamble at. If you deposit at a UKGC-licensed website you have nothing to worry about. UK-regulated casinos adhere to the highest industry standards when it comes to player protection, fairness, and security.
Paysafecard is safe to use because it does not require you to expose any of your financial or personal data to risk. All you need to make a casino deposit is your 16-digit code. If you happen to lose your voucher or have it stolen, they will refund its balance within eleven business days.

Do all online gambling operators accept Paysafecard?
Unfortunately, not all UKGC licensees work with this convenient prepaid solution. The method is commonly available at reliable online casinos but you will have to check your chosen gambling site's cashier to ensure it works with Paysafecard. Some of the biggest betting brands in Great Britain support the method, including the likes of 888, William Hill, Betfair, Ladbrokes, Mr Green, bet-at-home, and PokerStars.
Are there payment alternatives similar to Paysafecard?
Yes, there are. British players can use Neosurf if they insist on depositing with a prepaid method. Neosurf is rather similar to Paysafecard and only the available voucher values differ (they typically range from £10 to £150). You can purchase your Neosurf voucher in cash from more than 130,000 sales outlets worldwide. Another alternative for small-scale players is to deposit with the mobile-billing service Boku.
Paysafecard
Average rating:
4 reviews
Jul 14, 2017
When I gamble online I need a service that will guarantee me fast deposits, so I can start playing right away. This is one of the reasons why I use Paysafecard. Also, I think it's probably the most secure way to make payments online, as you are not required to link your Paysafe account with a credit card or a bank account, which eliminates the risk of fraud or stolen data. The only issue I've ever encountered with this service was a few months ago when I tried to register the PIN code of the prepaid card I just purchased. The site just didn't accept it, so I had to call the customer support. They were very polite, but unfortunately, weren't able to help me at all. In the end, I lost £50, as this was the value of the card I had bought.
Jul 14, 2017
I often use Paysafecard for making deposits into online casinos and I've never had any problems. As long as the casino I'm playing at accept it as a payment method, I am able to transfer money immediately to my balance. Usually, there are no processing fees and the account where I register my voucher is also free of charge. Of course, I can't use it when withdrawing my winnings, but there are good alternatives. What is really disappointing is that most casinos don't give first deposit bonuses if you are using Paysafecard. Other than that, it's a convenient and totally secure way to make a deposit into online casinos, as you can purchase the cards from anywhere and you don't need to have a bank account, a credit card, or anything else.
Jul 8, 2017
I have a great credit card which I use for withdrawing my winnings when I play at casinos online. But when it comes to depositing, I prefer not using the credit card, as I may spend more than I originally planned. That's why I purchase the prepaid Paysafecard and I deposit only what is in the voucher. In the past, I have made the mistake to use my credit card for everything and I ended up with a huge credit that I struggled to pay out. And this is extremely important when gambling online – you may easily invest and lose hundreds of pounds without realising it. The transfer from Paysafecard is almost immediate and there are no fees, as there would be with wire transfers or some other payment methods.
Jul 2, 2017
Paysafecard is my preferred method for loading my casino balance with funds. It is instantaneous and very easy, as I need to enter only my user name and password when depositing. The 16-digit pin code is required only when I register the voucher I've purchased, topping my Paysafecard account. What I like the most about this kind of payments is that I don't need to share any personal or banking information with the casino or with any financial institution. My account is not linked to a bank account or a credit card, which is great. There is one disadvantage, however – that I cannot withdraw funds from my casino balance to my Paysafecard account. In this case, I need to register either a debit card or an e-wallet in the cashier page of the casino site.