Instant Banking by Citadel is an online payment solution that is both very secure and reliable. It was launched in 2000 and since then it has been constantly developing and improving in order to meet the payment industry demands. Because of its commitment to always provide high quality services, Citadel Commerce is one of the most trustworthy and convenient payment processing companies on the online market.
The company is a member of the Electronic Money Association in the United Kingdom and it is a registered Payment Institution there as well. The head office of Citadel is located in Vancouver, Canada and as a successful online payment method. It is used by hundreds of people in more than 20 countries.
Overview
Citadel so far has proven to be very adaptive to the fast growing world and it manages every time to provide world-class payment solutions to its customers. Instant Banking gives them the chance to arrange the payment online with zero efforts from their side. It is accepted by many online casinos which makes it the perfect online payment solution for every gambler.
Instant Banking allows its customers to pay for online services and products directly from their bank account. To take advantage of this reliable payment method is very easy as all that is required is to be at least 18 years old and to have a bank account in any of the 300 supported by the company financial institutions. Its users don't have to create an Instant Banking account which makes the whole payment process extremely simplified and easy. Online casino players can now enjoy their favourite games, knowing that the payment can be arranged in the blink of an eye.
Watch Citadel Instant Banking Video
Security
Citadel's first priority is to make sure that their online payment method provides high level of protection to its customers all the time. The company knows how important is to keep their client's sensitive information secured when they arrange the payments online. This is the reason why it has taken a number of measures in order to secure its customer's transactions greatly. When using Instant Banking, its customers' banking credentials are never kept in the company's system under any circumstances.
In many occasions the users of this payment method have to provide answers to multi-factor questions asked by their bank in order to verify that they are the rightful owner of the bank account. This is a great risk-management feature as it prevents it customers from fraud or unauthorised purchases. Passionate gamblers can now enjoy playing their favourite online games without any concerns that their personal data might be exposed publicly. Moreover, Instant Banking gives them the unique opportunity to arrange payments online efficiently and easily.
As Instant Banking aims at providing nothing but complete security for its customers, it follows the same privacy protection standards as their supported banks. The company adheres to the Know Your Customer and Anti-Money Laundering policies used by most well-established financial institutions. All of its customer's information is highly protected as the communication between them and the company is encrypted. Instant Banking has a sophisticated software development design which plays a crucial role for the customers' data protection. Thanks to its data centres and advanced security technologies, Instant Banking is capable of preventing its customers from intrusions and fraud. As the company takes to heart the responsibility to protect its customers' information, Instant Banking is the perfect online payment solutions for gamblers who like to arrange the payment online easily and efficiently.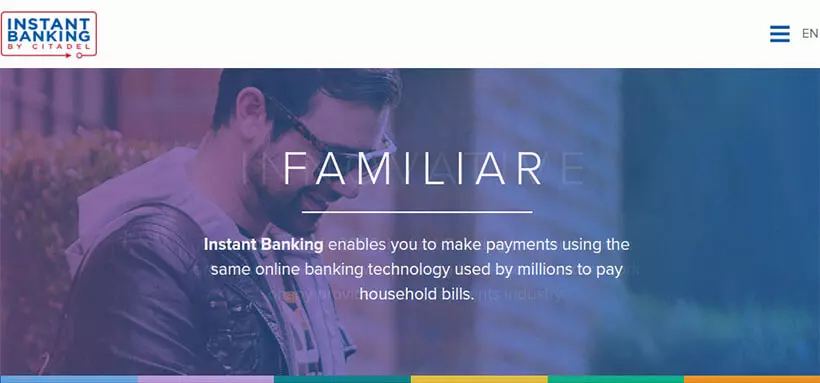 Pros & Cons
Instant Banking is a very successful online payment method as it offers its customers a number of advantages. As already mentioned, the company's risk management technology provides high level of protection to its clients' financial data at any time. With Instant Banking, paying online is not only safer but also easier which is why so many people use it on a regular basis. Another very convenient feature is that customers can arrange the payment whenever and wherever they like, using desktop computers, tablets or mobile phones. There is no need to register in the website in order to use the service.
A wide range of the most recognised merchants in the world use Instant Banking as it is mobile-friendly and it is available on many websites. This is fantastic news for gamblers who like to play on the go as they can now pay online instantly and easily. Instant Banking gives them the opportunity to access their bank account funds at any time they like and to make the needed payment efficiently. Hundreds of customers rely on this payment method because of its efficiency and strict measures of banking security.
Something that might be considered as a drawback is that it is not available in all countries and banks all around the world, therefore customers should check whether Instant Banking is supported by their bank first. Some of the countries that accept this online payment solution are the United Kingdom, Germany, France, Canada, Sweden, Italy, Austria, Japan and others. Another thing is that the web-based version of the service is under development and it is still not supported for some bank and it requires the installation of a small application.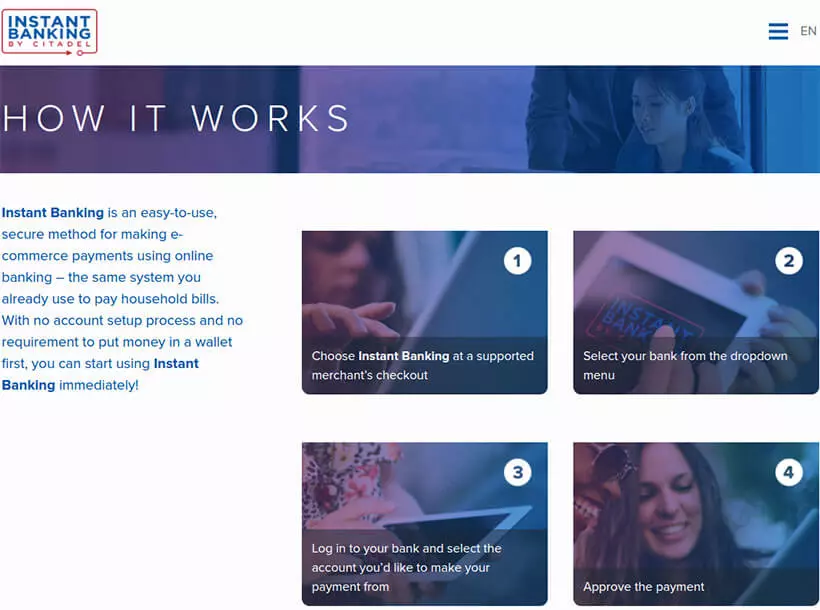 Support
Citadel offers its customers the chance to get in touch with a representative of the company in case of any inquires. Before dialling the company's number, it is recommended for its customers to have a look at the FAQ section of their website as there they might find the answer of their question even quicker. If a client prefers to contact the company in a written form, they can send an email to the relevant department.
Conclusion
Instant Banking is one of the most reliable online payment method and its many users are the proof that the company is trustworthy and professional. It is the perfect solution for gamblers who like to make payments securely and instantly. Instant Banking will provide them with the needed peace of mind that their sensitive information is greatly protected. It has never been so easy and effortless to pay online for their favourite casino games.
Company Contact Details
Website: citadelcommerce.com
Telephone Number: +44 (0) 1689 885 022 /for UK residents/
Registered Office: Citadel Commerce UK Limited, MS House Cray Avenue, Orpington, Kent, BR5 3QB United Kingdom
Citadel Instant Banking
Average rating:
0 reviews