InstaDebit International Solutions Ltd. is a developing company which offers different kinds of payment services. iDebit is a considerably new and reliable online payment method which gives its users the chance to arrange the payment through online banking and it doesn't require using a credit card. iDebit, previously known as InstaDebit, is a suitable payment method for consumers as well as merchants.
Payments are made directly from the user's online banking account which makes the system extremely efficient and at the same time simplified. This is great news for online casino players as iDebit allows them to process funds and make deposits safety and securely.
iDebit at a Glance
Payment Method Type
Online banking processor
Launch Date
Operating since 2006
Based In
Toronto, Canada
Supported Countries
Canada
Supported Currencies
CAD, USD
Account Types
Personal
Minimum Deposit
$10 at most online casinos
Minimum Withdrawal
$10 at most online casinos
Top-Up Options
Bank transfers
Withdrawal Options
Bank transfers
Overview
iDebit is used by people all over the world as it is a very secure and straightforward online payment method. Its customers trust the company due to its high level of protection and trustworthiness it provides them. iDebit doesn't share any financial data and information to third parties which assures that its customers details are in good hands.
There is a significant number of companies on the current market that provide online payment services as this type of payment is becoming more and more popular among people from all spheres. The online industry is growing rapidly and along with it, new potential threats regarding online payment methods are emerging. The leading companies know that in order to adapt to the fast growing world they need to develop an inner system that assures high level of security and protection. It is especially convenient for gamblers who prefer to play online as this type of payment method allows them to pay whenever and wherever they want securely.
Online Casino Payments with iDebit
Supported for Deposits
Yes
Supported for Withdrawals
Yes, at some casinos
Deposit Processing Times
Instant
Withdrawal Processing Times
Up to 48 hours processing timeframes (may vary between casinos)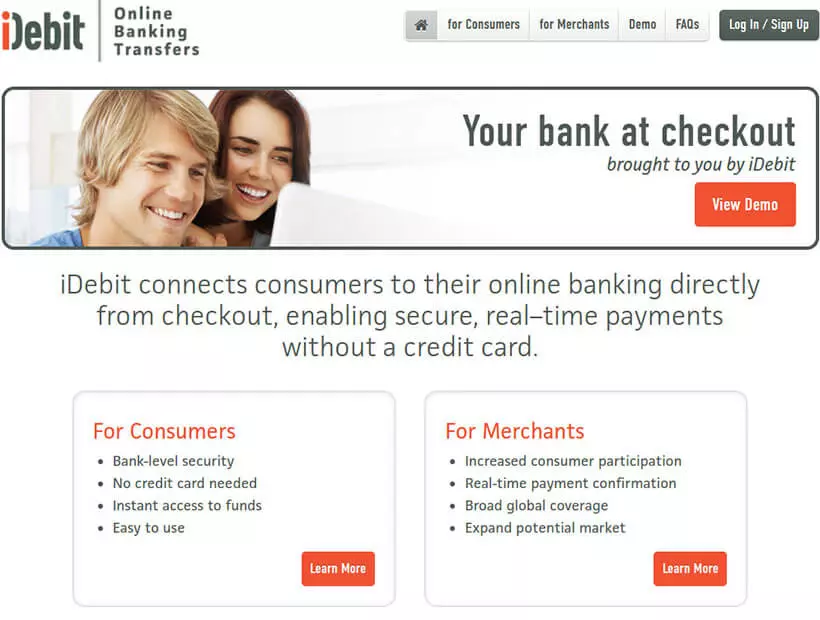 Security
After all, security remains the most important advantage a company can offer its customers when it comes to paying online. iDebit has developed a reliable inner system which assures high of level of security for its customers' financial information and personal details. Moreover, their data is never shared with merchants and it is strictly protected by the company. iDebit also offers a very useful feature – Identity Verification which requires from its users a birth date and the last 4 digits of their Social Insurance Number when they sign up. This greatly protects not only their payments but also their identity. For even greater security, all of the transactions are strictly checked and monitored by the reliable security certification firm VeriSign and TRUSTe. A 128-bit encryption technology used for transmitting information is one of the most advanced and reliable ways to protect their customers from fraud. With iDebit, gamblers have the needed peace of mind as their sensitive information is strictly protected and secured.
iDebit Safety and Regulations
Parent Company
iDebit Payments Incorporated
Authorized By
Does not provide regulatory information
Payment Reimbursement
No (users must directly contact their merchants)
Two-Factor Authentication
Yes
Advantages
One of the most significant advantages iDebit offers is that it enables its customers to arrange payments directly from their online bank account which saves them a lot of times and efforts. Also, with iDebit its users' funds stay secure between them and their trusted bank and can be used at any time. Knowing that their personal data is never shared or stored brings its users the needed peace of mind and security. This is good news for online players too as usually their data and information is more likely to be exposed publicly and it is really important for them to choose the most reliable payment method in order to avoid such threats. iDebit is certainly such a method and it provides its customers with a high level of protection. Gamblers can now focus on playing their favourite games without any concerns as their financial data is strictly protected all the time. iDebit makes online paying an extremely easy and secure process which is good news for every passionate gambler.
iDebit is an unique payment method because it gives its users the chance to arrange payments online effortlessly. The system allows its users to pay online securely and directly from their trusted bank and all that is needed is to sign up. For new users it is very easy to create an account at any time or also there is an option to check out as a guest and create it later at the end of their first payment. The signing up process is extremely straightforward and it saves its users time and efforts. This is extremely convenient for gamblers as paying online now can happen within a matter of minutes which gives them more time to enjoy their favourite games. If they feel like playing and they don't have an account, they can easily check out as a guest and arrange the rest later.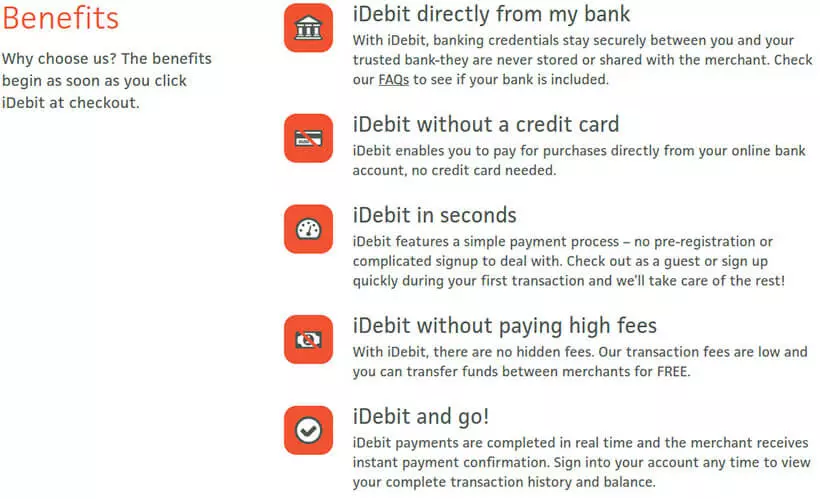 Disadvantages
Even though, iDebit is growing in popularity and many casinos have interest in using its services, up to the present the number of the casinos that accept it is rather small. However, there are famous casinos in Canada and Europe that accept this kind of payment so gamblers can always check whether their favourite place works with iDebit.
| Main Benefits of Using iDebit | Main Downsides of Using iDebit |
| --- | --- |
| Bank-level safety and protection | Some casinos do not support it for withdrawals |
| No need to own credit cards | Requires an account to unlock all iDebit capabilities |
| Accepted at all reliable Canada-friendly casinos | Payments are irreversible |
| Simple to implement | No refunds |
| Round-the-clock access to one's money | Local method available only to players from Canada |
Support
iDebit can be contacted in the standard ways – over the phone, via email or using the live chat feature. It is recommended to all users before they turn to the customer support representatives, to check the website's FAQ section. Many people underestimate this kind of help and often in case of any questions call the representatives straight away. In order to save its customers time and to help them in the fastest possible way, the company has created the FAQ section. However, for any urgent matters, do not hesitate and contact iDebit as soon as possible.
iDebit Customer Support
Working Hours
24/7
Customer Support Languages
English
Live Chat Facility
Yes
Email Address
support@idebitpayments.com (private customers); merchants@idebitpayments.com (for merchants)
Telephone Lines
+1 855 443 3248 (toll-free)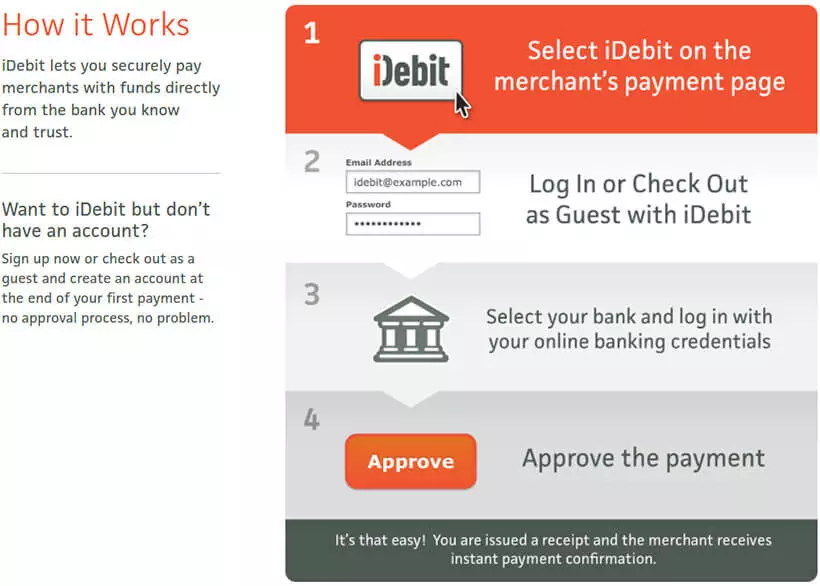 iDebit Mobile Compatibility
Dedicated Android App
N/A
Android App Rating
N/A
Dedicated iOS App
N/A
iOS App Rating
N/A
Android App Size
N/A
iOS App Size
N/A
Android App Languages
N/A
iOS App Languages
N/A
Browser Access
Yes, accessible on Google Chrome, Mozilla Firefox, Microsoft Edge, Opera, Safari, Explorer
Conclusion
iDebit undoubtedly is one of the most reliable and efficient online payment methods which makes it first-choice to many people globally. Its inner system has been developed significantly in order to assure its customers data is protected all the time. This is very convenient for online players as iDebit gives them the opportunity to enjoy their favourite games without any concerns regarding the security and protection of their bank account funds and personal information. Even though this payment method is not so widespread, it offers its customers everything needed in order to arrange the payment online – data protection, secure transmission, privacy control and identity verification.
Costs of Using iDebit
Casino Deposit Fee
No
Casino Withdrawal Fee
No
Dormancy Fee
iDebit forfeits pending refund amounts after 24 months of inactivity
Top-up Fee
$1.50 to pay from online banking account
Withdrawal Fee
$2.00 to transfer money from iDebit balance to bank account
Currency Conversion Fee
Not specified
Company Contact Details
Website: www.idebitpayments.com
Telephone: +1 855 964 2184
email: support@idebitpayments.com /for customer support/; merchants@idebitpayments.com /for merchant support/
Registered Office: iDebit Payments, Inc., P.O. Box 301 157 Adelaide Street West, Toronto, ON M5H 4E7
iDebit Casinos FAQ
Does iDebit offer a customer care service for users' issues and enquiries?
Yes, this payment services provider offers a continuous support service to its customers. Users can reach out to the support personnel by sending an email to support@idebitpayments.com. The company provides telephone support via its dedicated hotline. Consumers can contact a representative by calling +1 855 443 3248.
A live-chat service is also available to customers who have urgent complaints or enquiries about using the method. Additionally, the iDebit website features a dedicated FAQ page where you can find general information about using the payment method.
What are the requirements to use iDebit and who can pay with it?
For the time being, iDebit is only available to casino players based in Canada. The method requires you to have a bank account at one of the Canadian banks it works with. You also have to subscribe for your bank's online banking service before you can use iDebit.
The method enables you to initiate casino deposits straight from your online banking account without exposing any of your financial information to risk. Your financial credentials remain private since you share no personal data with the merchants, or in this case with the online casinos.
You can use iDebit as long as you are at least 18 years old and hold an account with one of the following banks – Bank of Montreal, Canadian Imperial Bank of Commerce, Desjardins, the National Bank, Royal Bank of Canada, Simplii Financial, Scotiabank, and the TC Canada Trust.
Do I have to register an account to deposit with iDebit?
Not necessarily. You have the option to finalise the transaction as a guest by logging into your online banking account. Nevertheless, setting up an iDebit account comes with several advantages. For example, it will enable you to keep track of your entire transaction history.
Adding several bank accounts to your iDebit account is possible as well. You can always discontinue your subscription by writing them at support@idebitpayments.com and asking them to terminate your account.
Does iDebit allow for withdrawals?
Players can use iDebit to withdraw their casino profits at some gambling sites. The availability of iDebit for withdrawals is pretty much site-specific. Some online casinos allow for iDebit withdrawals, while others prefer to pay out your profits via bank transfers if you have used the method for deposits. One requirement worth mentioning is that you must register an iDebit account to take advantage of the withdrawal option.
Can I cancel my deposit if I have a change of heart?
We are afraid payments initiated via the iDebit platform are irreversible. Users must get in touch with their merchants to request a refund or solve payment-related issues. If you have suspicions that money has been withdrawn from your account in error, you should send iDebit an email to security@idebitpayments.com right away.
Can I split my iDebit deposit between two separate bank accounts?
No, players cannot combine the funds from two different bank accounts for the same iDebit deposit. You must pay for each deposit in full from the same bank account. Players can, however, pick which online banking account they want to remove the money from as long as they have linked it to their iDebit account.
iDebit
Average rating:
0 reviews