If you ever visit Sweden, you will probably be surprised by the huge popularity of Swish which is a payment method used by over 50% of the population in the country. It is an extremely convenient service that allows you to send anyone money as long as you know their phone number.
It was back in 2012 when the service of Swish was launched with the purpose of allowing faster and easier money transfers between individuals. In order to be able to use Swish, you have to be a client of one of the service's supported banking institutions. Luckily for the majority of the Swedish population, Swish works with major banks in Sweden, including Danske Bank, Handelsbanken, Länsförsäkringar, Nordea, SEB, Sparbanken Syd, Swedbank and Sparbankerna. Since numerous people in Sweden have decided to trust one of these big banks, a lot of Swedish citizens have the opportunity to utilize Swish for their payments.
Thanks to the popularity of the payment method, many virtual casinos have also started accepting transactions processed via Swish. This way Swedish players can easily top up their gaming balance and play their favourite games instantly.
How Does Swish Works?
Before you can start using Swish for your casino deposits, you have to complete a few steps. You will need to download the Swish app, as well as, the Mobile BankID app on your smartphone. As long as you have an account at a Swedish bank, you will be able to request a BankID which is used for easy logging into one's online banking profile.
As it was mentioned before, you will have to be a client of one of the banks that work with Swish. The same also applies to the web-based casino where you play as this will be the only way that you can make payments there via Swish. After installing the app, you will have to use your BankID in order to activate your Swish account. It is possible to switch between Swish accounts connected to several of the banks you work with. However, you will have to use a different phone number for each Swish account. In order to make the Swish app as accessible as possible, Android, iOS and Windows Phone users will all be able to download the application on their smart devices.
In order to be able to use Swish at the online casino of your choice and across numerous merchants, both land-based and virtual ones, you will need to create your Swish account. For this purpose, you will need to use your Mobile BankID when you open your virtual casino profile. Later on, this will allow you to use the Swish app for your casino deposits.
Since it is a mobile app, it is natural that Swish can also easily be used at mobile casinos, as well. If you have saved your Mobile BankID at the mobile casino where you play, the process of depositing via Swish will be just as easy and fast.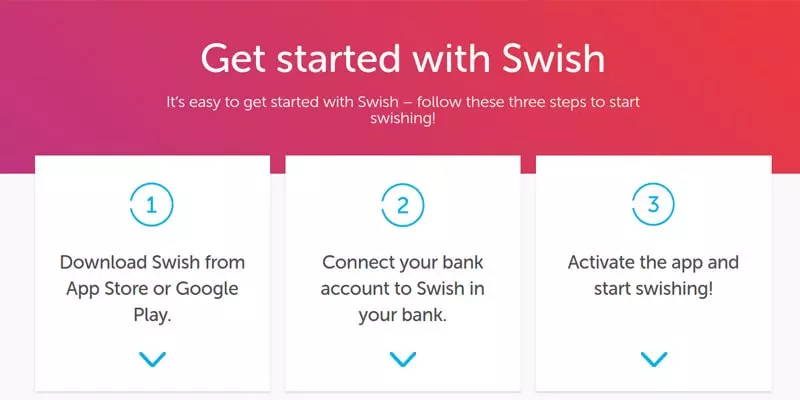 Watch Swish Video
Swish QR Codes
To further simplify the payments of users, Swish also provides the option to use a personal QR code which can be used when someone is trying to send you money. Thanks to the scanner in the app, you can also scan the QR codes of other Swish users and transfer money to them in a much easier and faster manner.
Your QR code is automatically generated within the mobile application and you can easily find it by tapping on the profile icon which can be seen on the main page of the Swish app. The payment application can scan only one QR code at a time. However, you do have the option to generate more QR codes by visiting the company's website. You can also select whether your code should contain a fixed sum or a specific message.
When you wish to pay with a QR code, you simply open the camera on the app or select the option "Pay" and swipe down the camera icon. Hold the camera in front of the QR code of the receiver and all it is left to do is to approve the payment by using your Mobile BankID. Your personal QR code does not have an expiration period and it can be scanned an unlimited number of times.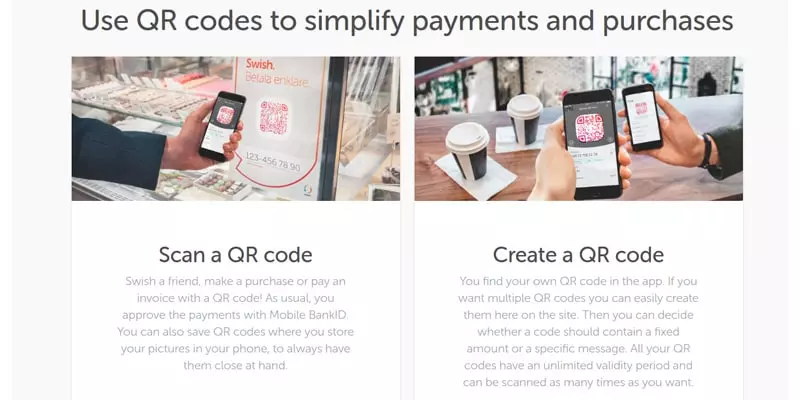 Making Deposits at Online Casinos via Swish
One of the biggest advantages of using Swish is making fast and hassle-free casino deposits, using the app. As it was previously mentioned, you have to save your Mobile BankID at the interactive casino where you play. You will also need to install the Swish app on your smartphone, as well as the Mobile BankID app which will allow you to verify your payments.
To initiate a deposit, you will have to head to your Cashier and pick Swish as your preferred payment option. The casino will provide the needed information and the next step will be to select the "Input" button. After selecting Swish as your deposit method, you might also be provided with a QR code which you can scan via the app. When you open the Swish app, you will have to confirm the details about the transaction. Once you are sure that you are sending the right amount to the web-based casino, you will need to verify your deposit via Mobile BankID. After you have confirmed the transaction, your money will appear in your gaming balance right away.
Swish allows you to save certain receivers as "favourite" which will allow you to make any future payments faster and easier.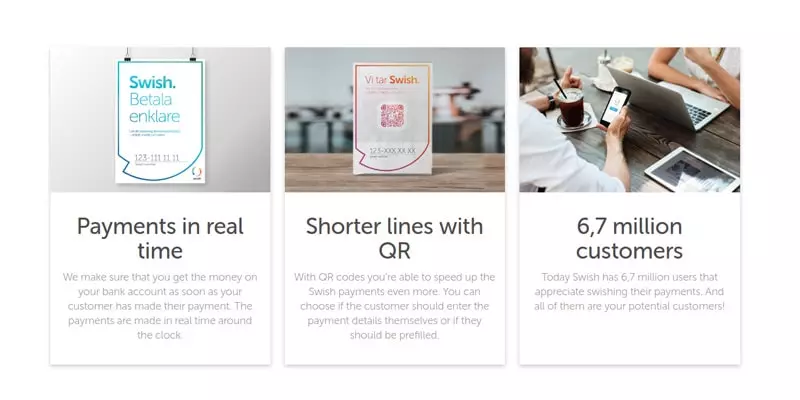 Fees that Apply to Casino Deposits via Swish
The reason why Swish is such a popular payment method among Swedish people is the fact that it does not cost them anything. The app can be downloaded for free from the app stores of Google, Apple and Windows. Connecting your bank account to Swish is also free of charge, although there have been some speculations about a few of the banks introducing some service fees for users who utilize Swish for their payments. As of now, however, you do not have to worry about any additional charges for using Swish.
While it is possible to use a certain payment solution which will not impose any surcharges, often online casinos may have you pay certain fees for making deposits via your preferred method. However, this is definitely not the case with Swish, as the casinos which accept payments via this option do not charge their members any extra fees.
When it comes to using the QR codes of Swish, you can also be sure that this service will not cost you any fees as well. Even if you decide to generate more codes, you will be able to do that without paying any surcharges.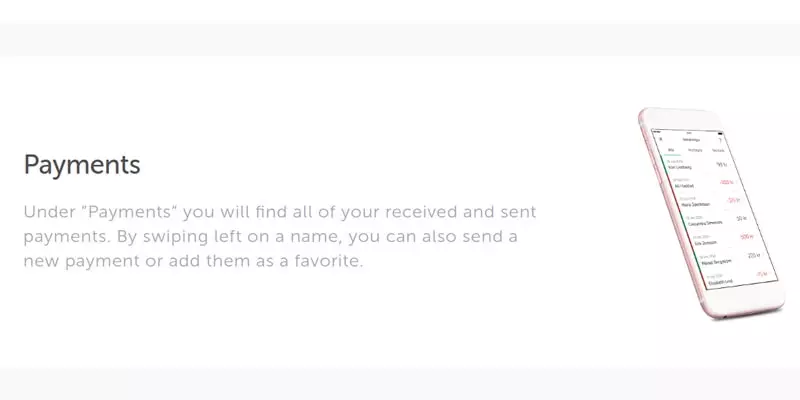 Security Measures Taken by Swish
Even though having access to your money through your phone may sound a bit risky, you can rest assured that Swish is actually a very secure payment solution. The reason for that is the Mobile BankID verification that users are required to use whenever they pay via Swish.
You can consider Mobile BankID as your virtual ID which makes sure that no one else but you can verify your Swish payments. By installing the Mobile BankID app on your smartphone, every time you initiate a payment via Swish, you will be able to make safe transfers.
In addition to this verification method, iOS users will also be able to confirm their Swish payments using either the Touch ID or Face ID features of their devices. You have to make sure, however, that your banking institution is accepting these iPhone options as valid verification methods.
You can be sure that Swish is offering a great sense of security since the company works only with major Swedish banks. This proves that the payment service is very trustworthy and its users can feel safe when handling their money. And since Swish is just a mediatory company that links your bank account with the merchant you are paying to, it does not save your bank details. This ensures even higher levels of security for your personal details and money.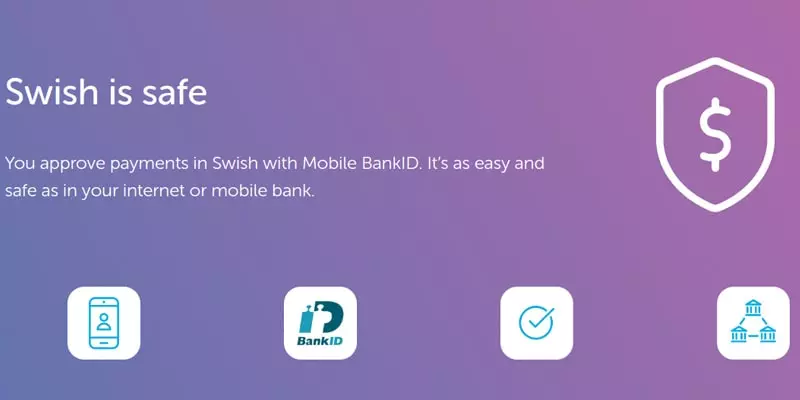 The Disadvantages of Using Swish
One of the biggest disadvantages of Swish is that casino players will not be able to use the service for their withdrawals. This is why they will have to look for an alternative method when they wish to cash out their winnings. What is more, the casinos that support this deposit solution are not that many which leaves not that big of a choice for Swedish players when it comes to gaming websites.
Despite a couple of lacking points, Swish is still a very secure, hassle-free and fast deposit option for casino enthusiasts who enjoy playing online for real money. Since this method allows instant transactions, you can enjoy your favourite games immediately after topping up your gaming balance.
Conclusion
Swish is one of the most popular payment solutions in Sweden. And while it was created with the purpose of allowing an easier way to send money between individuals, nowadays, it is one of the commonly used payment methods at both offline and online merchants. Thanks to the secure and instant transactions that the service is offering, some virtual casinos have started also accepting deposits carried through Swish. This allows Swedish casino devotees to top-up their gaming accounts in no time and in a safe manner.
Company Contact Details
Website: www.getswish.se
Phone Number: +4670-696 00 51
Email: tekniksupport@getswish.se