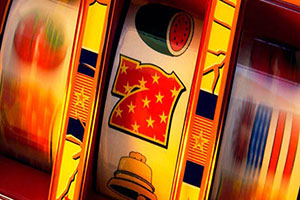 Slots easily claim the title of being the most sought-after game in both landbased and online casinos. This is anything but surprising since the rules of play are quite easy to master, so practically anyone can join in for a few spins of the reels and potentially hit a lucrative cash prize. Being an extremely dynamic type of game, slots attract both seasoned and inexperienced players with their high entertainment value and have a plethora of exciting features to offer.
The history of slots can be traced back to 1895 when American car mechanic Charles Fey devised the prototype of the first slot machine in his San Francisco workshop. The machine was named the Liberty Bell after one of the symbols Fey used on the three spinning reels. A few years later, Chicago entrepreneur Charles Mills teamed up with Fey to make a few improvements to the Liberty Bell and introduced the vibrant fruit symbols we are familiar with today. And the rest, as the saying goes, is history. Slot machines quickly gained popularity and became the most widespread game in brick-and-mortar gambling venues throughout the world.
Thanks to the rapid advent of technologies, slots made it to the portfolios of hundreds of web-based gambling operators, allowing enthusiastic players to spin the reels on their desktop computers from the comfort of their homes. What is more, there is a mind-blowing variety of quality slot titles to choose from, and each one offers a range of great features which aim at rendering players' gaming experience even more rewarding.
Some of the available slots even offer colossal progressive jackpots that can truly change players' lives. Furthermore, leading casino software developers have made it possible for slot fans to bag a prize while on the go since many of the games have been adapted for mobile play.
Basics to Online Slots
Prior to betting on any online slot, players should first learn the basic rules of play, which, thankfully, are quite simple to master. The first thing you need to do is adjust your coin value, which usually ranges between 0.01 and 1.00 but it all depends on your slot of choice. Then, you need to adjust your multiplier, or how many coins to bet per active payline. So if you choose to bet 2 coins of 0.05 value on 20 paylines, you are practically betting a total of 2 credits per spin.
The number of paylines corresponds to the number of ways players can win in a given slot. Modern online slots typically have multiple paylines that sometimes can exceed 50 in number. These paylines run across the reels horizontally, diagonally, vertically, or even take on zigzagging or V shapes. The greater the number of active paylines, the bigger your chances of landing a winning combination on the reels. The available paylines are usually explained in the slot's paytable alongside the payouts for different winning combinations.
Top Online Casinos