Established in 1998, PayPal is among the pioneers of the online payment industry reaching over 192 million customers from a total of 202 countries across the world. The payment solution enjoys a great popularity among customers in Great Britain and ranks as the number one online and mobile payment method in the country.
As online gambling is fully legal in the UK, a staggering number of players opt for using PayPal to deposit funds into their casino accounts or cash out their winnings. What's more, this convenient, secure and flexible payment solution is accepted by most legitimate and established gambling providers on the web. How PayPal Works
It is hardly surprising so many players decide in favor of using PayPal as a payment method at their preferred web-based casinos. The method is exceptionally simplified and efficient.
PayPal is a third-party online payment processor and an e-wallet, which allows players to send or receive funds to and from their online casino accounts without disclosing sensitive personal or financial information in the process.
Of course, in order to use PayPal as a deposit and withdrawal method at online casinos, players need to register with a PayPal account, connect it to their bank account or one (or more) of their credit/debit cards, and successfully complete the account's verification process.
Once the verification process is complete, all players are required to do is top up their PayPal account from the card or bank account they have linked it to and make their first casino deposit with this convenient e-wallet. Read on for more information on how to open an account at PayPal.
Watch AstroPay Card Video
Registering a PayPal Account
Registering a Personal account at PayPal is rather simple, prompt and hassle-free so players are unlikely to experience any difficulties, even if they are not very experienced in using e-wallets. To open a Personal account, one needs to visit the official PayPal website and fill in some personal information in the registration form. Opening an account does not involve any fees.
Upon completing the registration, players need to verify the account in order to lift its withdrawal limit. There are two ways to complete the verification and the first one is to link the PayPal account to your bank account. In this case, players should answer a confirmation call from PayPal's authentication service to validate their personal information.
The second way is to connect the newly opened account to your credit card. PayPal will make a small refundable charge to the card to generate a 4-digit code for verification. The code is displayed in players' bank statements. When the player logs into their PayPal account and enters the code in the "Confirm my debit or credit card" field, the deducted sum will be reimbursed, so that the account is verified. Once you top it up, you are ready to make your first PayPal deposit and start gambling for real money.
Depositing at Online Casinos via PayPal
Depositing at online casinos via this payment processor is exceptionally simple. All you need to do is sign into your casino account with your log-in credentials and head to the Cashier menu where you need to select PayPal as your preferred deposit method.
Then, you simply fill in the amount of money you wish to transfer to your online casino account and follow the instructions to confirm the transaction. Deposits carried out via Paypal are typically processed within minutes, so you will be able to place a real-money wager on your favorite video slot or blackjack variation shortly after.
Please note, PayPal supports a wide range of currencies, 25 to be exact, including GBP, CAD, EUR, USD, SEK, CHF and HKD, among others. Besides, some leading online gambling operators grant players special reload bonuses on deposits carried out via PayPal.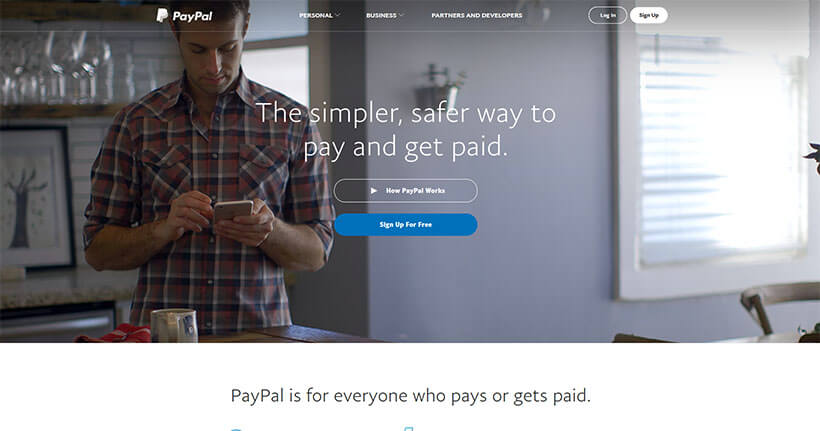 Withdrawing Your Winnings with PayPal
With PayPal, cashing out the winnings you have accumulated at your favorite web-based casino is just as simple as making a deposit. While the procedure is almost the same, there is one important factor to consider.
Unlike deposits, which are transferred instantly, withdrawals might take some time to complete due to the casinos' processing times. Depending on the withdrawal amount, a verification may be required for security reasons. Withdrawals via PayPal and other e-wallets are typically processed within one or two business days, but of course, it all depends on the policies of the casino you are playing at.
The PayPal Mobile App
PayPal gives players the opportunity to boost their casino accounts while on the go. If you happen to run out of funds to play with but do not have access to a computer, you can easily top up your casino account in seconds by using PayPal's mobile application. The payment processor offers two applications for free download – an iOS app and an Android app, available in the Apple Store and the Google Play store, respectively.
What's great about using the mobile apps is that you are instantly notified whenever you receive money, so if your casino winnings are processed to your bank account or credit card, you will find out right away.
Fees and Limits
Many gambling enthusiasts choose PayPal as their payment method because it is quite affordable. Most web-based casinos do not charge players for depositing via PayPal. It is the gaming operators that cover the transaction expenses.
Generally, it is free to process payments with PayPal unless currency conversion is at hand in which case a fee of £0.20 will apply.
When players first register a PayPal account, they will notice it has an annual receiving limit of £1,700. To lift these receiving restrictions, players are expected to complete their accounts' verification by logging in with their PayPal usernames and passwords and following the instructions.
Security
It is no coincidence PayPal is so popular among online casino players. The payment processor is regarded as one of the safest methods to deposit and withdraw funds to and from one's online casino account.
To make a deposit, players are required to use only their PayPal username and password without having to disclose any sensitive personal or financial information. Additionally, all transactions to and from their PayPal accounts are encoded with heavy SSL encryptions.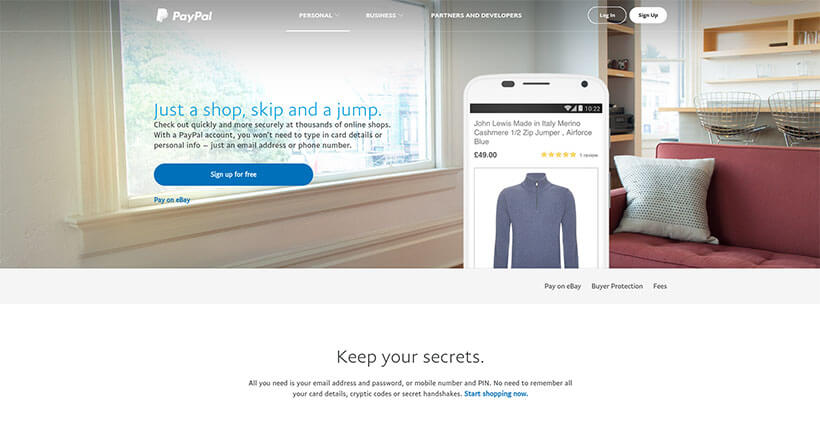 Advantages of Using PayPal at Online Casinos
PayPal is rightfully considered one of the best payment methods to use when gambling on the web. First and foremost, PayPal is regarded as one of the safest online banking solutions as all transfers are encrypted heavily and no sensitive financial information is disclosed to third-parties.
Additionally, players are able to retain their anonymity as they only need to enter their PayPal password and username to process a deposit to their casino account. The payment processor is quite easy and convenient to use, not to mention payments are usually transferred in a matter of minutes. Finally, when no currency conversion is involved, players will not be charged any fees when using this online payment solution to deposit or withdraw in web-based casinos.
Conclusion
From this, it follows gambling enthusiasts simply cannot go wrong if they decide to use PayPal as their preferred method of payment. PayPal is regarded as a time-efficient, secure, convenient and easy-to-use online payment solution, allowing players to manage their casino funds in a hassle-free manner. But most importantly, players will see PayPal is listed in the Cashier sections of most established and reliable online gambling providers.