Hardly there is another casino game, which can bring the same thrill as betting on slots does. What further adds up to their appeal is that learning how to play slots is quite simple, which makes them suitable for players who lack previous experience and adept casino enthusiasts alike. There are hardly any deviations in the basic rules of play from one slot variant to another, meaning that players are unlikely to have a hard time switching between the different titles available across the Internet.
All players are expected to do is adjust the size of their wager by selecting their preferred coin value and choosing how many coins they want to bet per active payline on each spin. Since the outcome of the spins is determined by a Random Number Generator, and no skills are involved, players simply have to wait and see whether or not their spin will result in a winning combination.
Despite that, choosing the right type of slot to play might be instrumental in getting a much more enjoyable experience and can increase one's chances of turning a profit. It is highly recommended to opt for titles that have more lucrative special features in order to make sure that you will be closer to the profit you are after. Two of the most important features players are advised to look for when choosing an online slot are the wild and the scatter symbols.
Many fans of the game refer to these symbols as "slot players' best friends". This nickname is entirely justified as wild and scatter symbols can sometimes work miracles for players' bankrolls and enable them to collect more substantial profits, rendering their gaming session even more entertaining and rewarding.
Wild Symbols in Online Slots
It turns out that many gambling aficionados, experienced ones included, tend to jump right into betting on slots without inspecting the bonus features their chosen game is furnished with.
Wild symbols are among the most important features to look for in online slots, no matter what goals you have set for your betting session. As a matter of fact, wilds play a similar role to that of the joker in a deck of cards. Typically, the wild symbols can substitute for any other symbol on the reels, with the exception of the scatter and the bonus symbols. Thus, wilds help players complete winning combinations even when players do not have a sufficient number of icons in order to get paid out. For instance, if you get four identical symbols on the first, second, third and fifth reels and a wild appears on the fourth reel, this will still count as a winning combination, and you will be paid out for getting five of a kind.
In some slots, the wild symbols are void of individual value, while in others, wilds function as the highest-paying symbols on the reels. However, players must bear in mind that there is no way for them to control the appearance of these lucrative symbols. Wilds appear on the reels at random and whether or not they make an appearance depends solely on players' luck. With some online slots, wild symbols can appear only on specific reels, like the second, third and fourth reels, but this should not necessarily be the case.
The more wild symbols a given player lands on the reels, the greater the profit they will collect on that particular spin. Those who are lucky enough to land wilds on all five reels might be in for a hefty prize. Depending on the slot variety you have chosen, wild symbols can sometimes reward lucky players with free re-spins or multiply their winnings by a predetermined number. With some slots, wilds can make an appearance in both the base slot game and the bonus in-games, but this might not always be so.
Players are always recommended to check their preferred slot's paytable in advance in order to see which symbols function as wilds, which symbols the wilds can substitute for, and what types of wilds are available. On that note, it is worth mentioning that software providers have grown to become hugely imaginative when it comes to the special symbols the slots they create are equipped with.
Leading software developers the likes of NetEnt, Playtech, and Microgaming among others, have introduced an abundance of slots where wild symbols come in all shapes and sizes as gambling enthusiasts can stumble upon games with stacked, expanding, sticky, shifting, transferring, and walking wilds. Read on to find more detailed information on the different types of wilds.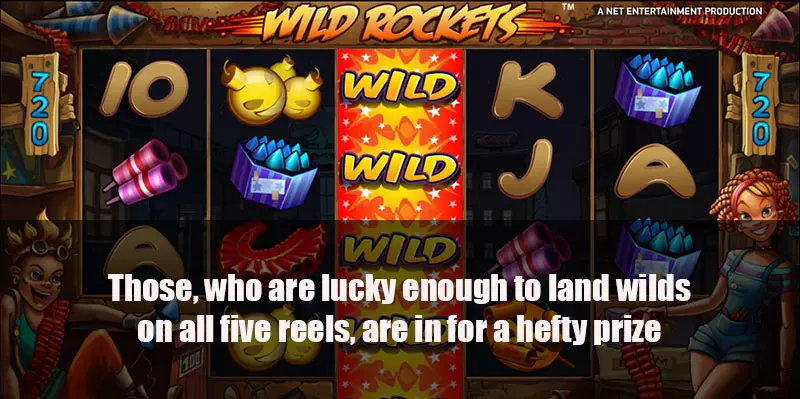 Stacked Wilds
Stacked wilds rank as one of the most lucrative features in online video slots. They are easy to recognise as they usually look as if several symbols are stacked on top of each other, covering a part of the reel or even the entire reel. In fact, stacked wild symbols are unlikely to go unnoticed by players due to the fact that most of the time, they come in bands of 2, 3, 4, or even 5 icons.
Needless to say, hitting a stacked wild might result in completing multiple winning combinations on several paylines. Thus, stacked wilds carry a greater winning potential than ordinary wilds because they cover a larger section of the reel or the entire reel.
Normally, slots that have stacked wilds appearing on every reel are said to have a high variance as players can hit more winning combinations. Then again, some slot titles have wilds appearing only on specific reels while on others, these lucrative symbols appear during the rounds of free spins and are combined with multipliers to boost players' winnings. Some of the popular slot titles that feature stacked wilds include Playtech's Thor and Iron Man, IGT's Western Belles and Wolf Run, Relax Gaming's Money Train, Yggdrasil's Cazino Cosmos, and NetEnt's Jack and the Beanstalk, among others.
It should be noted, however, that stacked wilds bear much resemblance with their expanding cousins. Yet, the most obvious dissimilarity between these two types of wild icons stems from the fact that with stacked wilds, a single wild symbol needs to pop up on the reels before it stretches in order to cover the specific fields.
Shifting Wilds
Introduced by the well-known software developer Playtech, shifting wilds remain on the reels for a predetermined number of spins after they have first made an appearance. Unlike sticky wilds, shifting wilds move to other areas of the reels.
In most cases, shifting wilds land on the rightmost or fifth reel of slots. Still, there are also slots in which gambling enthusiasts are allowed to decide where on the reels to pin the shifting wild icon.
Once they have appeared, they will move to the next position on the reels during the spins that are to follow. The wilds will remain on the screen for a predetermined number of spins and will gradually shift to the first reel and disappear after the next spin.
It goes without saying that while betting on online slots that feature shifting wild symbols, players can enjoy a very nice boost of their bankrolls due to the fact that such icons can combine with multiple other symbols on the screen during the next few spins of the reels. Some of the popular titles with shifting wilds to look for include Dolphin Cash and Man of Steel by Playtech.
If you are interested in playing slots where shifting wild icons can show up on the reels, titles the likes of Divine Forest, Zombie Circus, Robin Hood's Shifting Riches, and Egyptian Emeralds, among others, are certainly worthy of attention.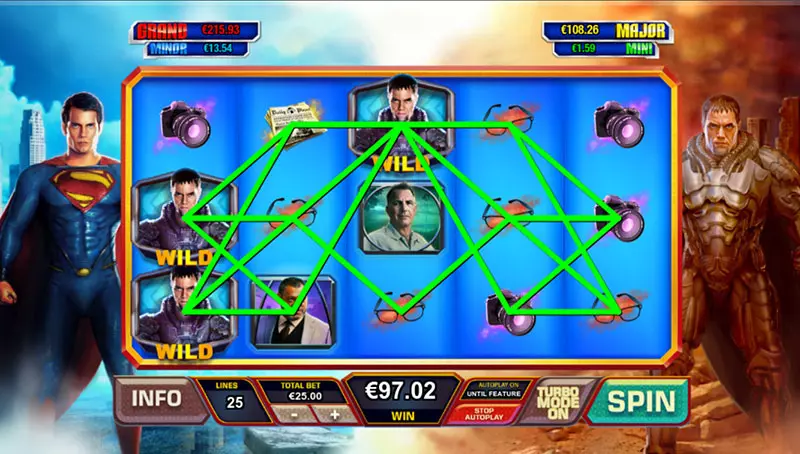 Expanding Wilds
Similarly to the standard type of wilds, the expanding wilds can substitute for missing symbols on the paylines in order to facilitate the creation of winning combinations. The only symbols they cannot replace, however, are the scatter and the bonus symbols. As the name of this feature suggests, this type of wild symbol expands across the reel on which it has landed. This increases players' chances of getting a payout and enables them to complete more winning combinations because whenever the wild symbols expand, the entire reel practically becomes a wild.
Typically, expanding wild symbols are brilliantly animated in accordance with the overall theme of the slot. Lucky Lager created by the software provider NYX, poses as a great example of a game where expanding wilds can be found, and there, the wild symbol is a mug of beer. Whenever this symbol completes a winning combination, the brew will start overflowing over the brim of the mug, thus covering the entire reel.
On some slots, the expanding wilds can appear throughout the base game, while on others, players can land these symbols only during a round of free spins. Other notable titles that feature expanding wild symbols include Beowulf, available via Microgaming's Quickspin platform, NetEnt's Thief slot, and the titles from Playtech's Age of the Gods series. Other fan-favourite slots in which gambling aficionados can make the most out of expanding wilds include NetEnt's Hall of Gods, Play'n GO's Wild Blood and Enchanted Crystals, to name just a few.
What is important to note about expanding wild icons is that since they can be the key to decent payouts, occasionally, the volatility of slots in which such symbols can be found is in the upper end of the spectrum.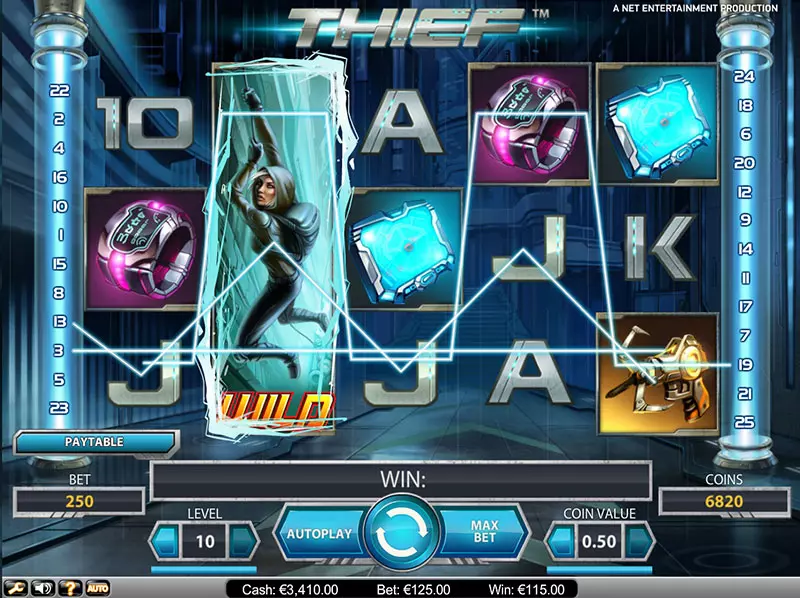 Sticky Wilds
Sticky wilds are among the favourite features of slot fans simply because they also have the capacity to make their betting session much more lucrative. Similarly to other wild symbols, sticky wilds appear on the reels at random and act as substitutes for all other symbols with the exception of scatters and bonus symbols. The difference lies in the fact that once sticky wilds make an appearance, they do not disappear but remain or "stick" on the reels for the consecutive spins. This will enable players to create more winning combinations and collect greater profits.
With some slots available out there, gambling enthusiasts will see sticky wild symbols that remain in place until a win is scored or until some kind of bonus symbol shows up on the reels, thus removing the sticky wild. There are also slots in which when a sticky wild character pops up on the reels, players will get to enjoy one spin of the reels that comes at no cost.
On many occasions, this re-spin is triggered when the player clicks on the Spin button, although sometimes the sticky wilds have their own built-in programme that automatically sets the reels in motion for the re-spins and players are not required to make an extra wager. In many cases, the sticky wild feature is available in the base game. On some slots, however, the sticky wilds appear during free spins, in which case they remain on the reels for the entire duration of the free spins round.
Some of the most popular online slots that allow players to benefit from the sticky wild feature include NetEnt's South Park, Creature from the Blue Lagoon, and Dead or Alive slots, Microgaming's Girls with Guns where the feature is called "magnetic wild", and Playtech's Fantastic Four slot. The variety of slots in which sticky wild characters can be found is huge, and gambling enthusiasts might also enjoy titles such as Hellboy, Sam on the Beach, Rapunzel's Tower, Tower Quest, and Mamma Mia, among others.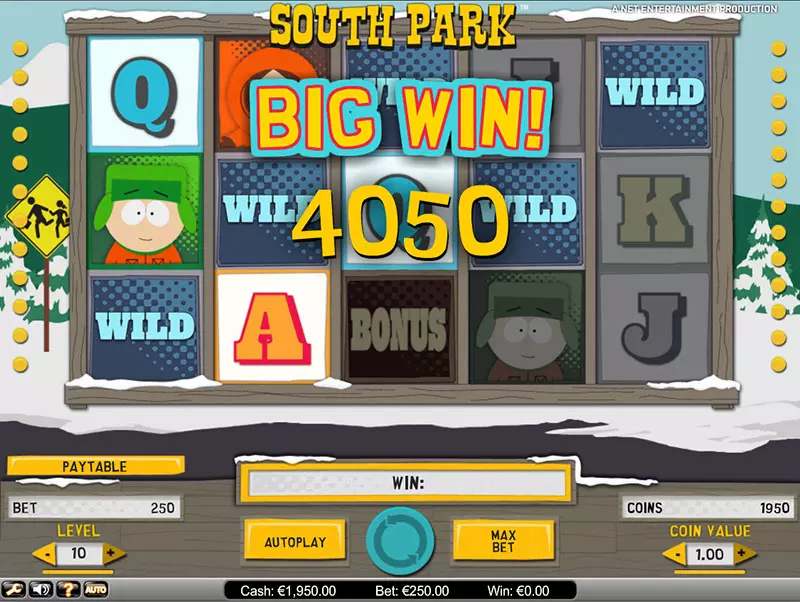 Walking Wilds
As soon as players have set the reels in motion and a walking wild symbol ends up on the reels, their winnings are paid out accordingly and the walking wild moves one position to the right or to the left from the position on which it has initially appeared. What players should be aware of is that most of the time, when a walking wild icon shows up on the reels, they should expect to get a free spin. This process repeats itself again and again as the walking wild symbol continues to shift in the same direction until it eventually disappears from the screen and the player returns to the base game once again. So, in practice, the role of walking wild symbols is almost the same as the role shifting wilds play.
Depending on the slot players have opted for, the wild symbol might "walk" to the right, to the left or even in both directions on some occasions. The duration of the free spins round also differs from one game to another. On some slots, if the player lands another walking wild symbol during the free spins round, they will continue to receive more free spins as the walking wilds shift across the screen.
It becomes evident that the walking wild feature can be exceptionally lucrative. Because of this, walking wilds do not appear on the reels that often but when they do, they can guarantee greater profits for the player. You can find this beneficial feature on titles such as Jack and the Beanstalk and the Invisible Man by leading software supplier NetEnt, Yggdrasil's Tut's Twister, Thunderstruck's Riders of the Storm, Dr Jekyll and Mr Hyde, Reel Keeper, and Halloween Jack, among others.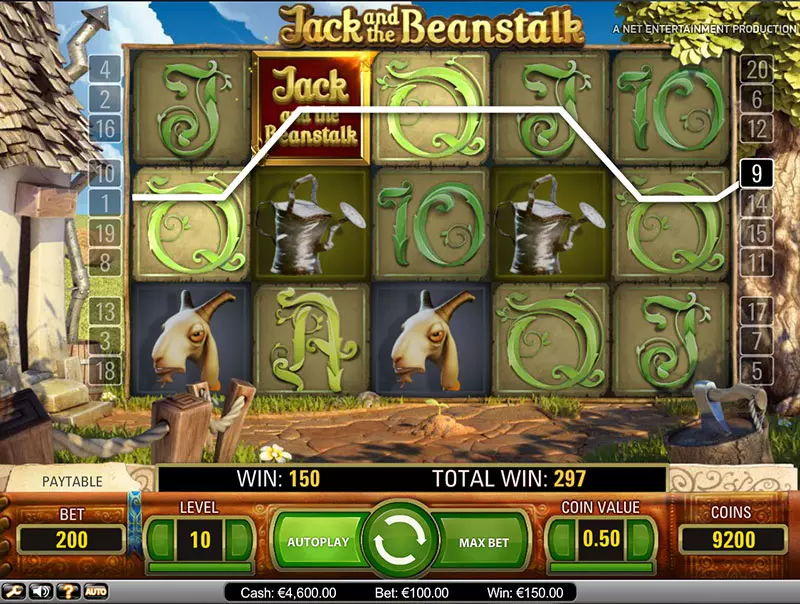 Transferring Wilds
Transferring wilds are another great feature that can potentially render your gaming session more rewarding and entertaining. They work roughly in the same manner as other wild symbols do because they can help players form winning combinations on the paylines and substitute for other symbols.
However, transferring wilds spread across the reels in a different manner. You may notice that typically, slots with transferring wilds typically feature larger reels. To be more precise, the reels in the first two positions in such slots are larger, while the remaining three reels are much smaller in size. Whenever players land a transferring wild on the first two reels, the symbol will be transferred to the other three reels, providing them with more wild symbols on subsequent spins. In other words, whenever gambling enthusiasts notice that a wild icon has popped up on the main reels, they will get to enjoy the benefit from it four times.
This feature appears in a great number of slots developed by WMS, but also in games that are designed by Novamatic, Yggdrasil, and EGT, among others.
What slot mavens should be mindful of about transferring wild symbols is that most of the time, they appear stacked on the reels. In addition to this, players should expect to see such wild icons when the special features of the chosen slot are kicked off. Yet, it is important to note that this might not always be so, which is why casino enthusiasts should always inspect the paytable of the slot they are about to play with a fine-tooth comb.
Some of the most popular titles to feature transferring wilds include the KISS slot, Bruce Lee Dragon's Tale, Fire Queen and Spartacus. The screen in such slots is divided into two sections – the main reel set and the colossal reel set.
Please note that due to the fact transferring wilds carry enormous winning potential, they do not land on the reels very frequently because this would give players a massive advantage. Because of their infrequent appearance, transferring wild symbols are said to increase volatility. Players will typically get more losing spins on slots that feature such symbols, but the lucrative payouts transferring wilds tend to unleash will serve as a sufficient compensation.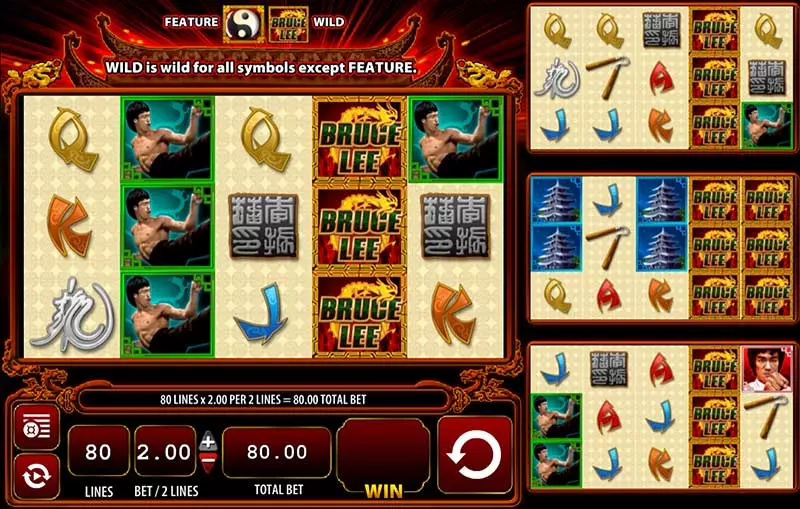 Multiplier Wilds
While exploring the profusion of slots available out there, gambling enthusiasts might come across games in which wild icons double as win multipliers as well. Aside from the ordinary functions of the wild symbol that include replacing regular icons, sometimes, wild symbols can bring players a boost of their winnings that can exceed x100.
Players should take into account the fact that such wild symbols can land not only during the base game, but also while bonus rounds last, which is the more likely occurrence. Additionally, if the preferred slot comes with such wild symbols, players are advised to make certain whether the multiplier applies solely to the winnings they have managed to earn or the increase in their balance will be based on their line or total bet. In order to figure this out, players should simply look through the paytable of the slot they are playing.
Some of the titles players should consider trying their hand at if they want to check out how wild multipliers function include Deadwood, Eastern Emeralds, Gold Volcano, Buffalo King, and Wild West Gold, among others.
Random Wilds
With some slots, regular symbols can also be given the role of wild icons. Typically, regular icons become random wilds as soon as the bonus game of the slot is triggered, and as it can be expected from their name, the symbol that will play the role of a wild one is chosen haphazardly. Such symbols are popular with players also as duplicating wilds.
As additional wild symbols are added to the game, players will stand a much better chance to snatch heftier prizes. One of the slots in which such wild icons can be found is Microgaming's Immortal Romance.
Overlay Wilds
What is specific about overlay wild icons is that they appear on the reels as stacked ones, but unlike regular stacked symbols, overlay wilds do not have a specific shape. Occasionally, the symbols that are part of the stack will spread across the reels, thus helping players form a much greater number of winning combinations.
This is exactly the case with NetEnt's slot Gun N' Roses in which a cross-shaped overlay wild can pop up on the reels.
Contagious Wilds
Contagious wilds are quite interesting due to the fact that they transform their neighbouring regular icons into wilds as well. Although this might not always be the case, when such symbols are available, they might turn regular icons into wild ones by setting off fires or by making them explode. Another thing players should check out if the preferred slot features such wilds is whether they can transform regular icons that lie diagonally.
Scatter Symbols in Online Slots
Scatter symbols are another sought-after special feature when it comes to online slots. As a matter of fact, they can be even more rewarding than wild symbols, which comes to explain why they are so well-liked by avid casino fans. In most cases, scatters are the highest-paying symbols in the game, and most of the time are created to correspond to the overall theme and story of the slot. Much like wild icons, scatter symbols are also rather rare, which means that players should not expect to see them landing on the reels that often.
Back in the day, when only 3-reel slots were available at land-based casinos, the red cherries functioned as scatter symbols, but it is true to say that these symbols have come a long way since that time as currently, they are available in all shapes and sizes.
Aside from being visually-pleasing, what further increases the appeal of scatter symbols is the fact that they are not required to align on a specific payline in order for players to collect a payout. One more reason why scatter symbols have a ring to them is that when several such icons appear anywhere on the reels, they are likely to unlock some kind of a bonus game.
Please note that with most slots, gambling aficionados will be given access to the bonus games, on condition that at least three scatter icons have appeared on the reels at the same time. Depending on your slot of choice, the rewards you will enjoy will be streets ahead, provided that four or more scatter icons appear during the same round.
When several scatter symbols land on the reels, they can unlock a round of free spins or in some cases, an interactive bonus in-game, with guaranteed prizes for the players. For example, you might be required to pick from different treasure chests, containing additional monetary prizes.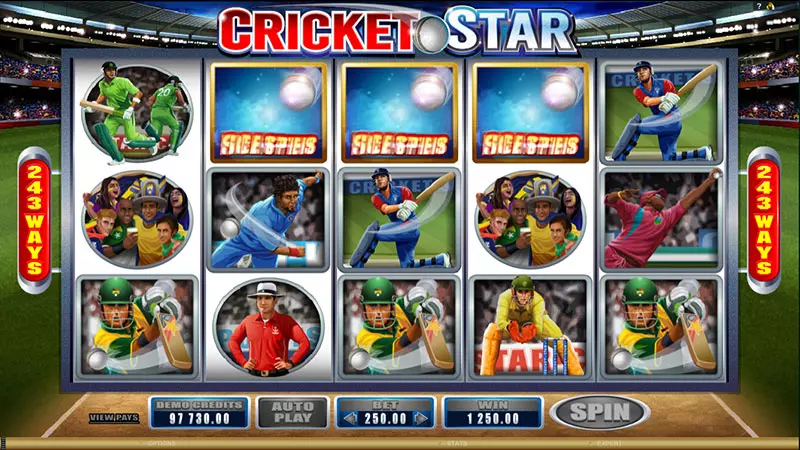 As far as free spins go, the number of bonus spins players are awarded often depends on how many scatter symbols they have landed on the reels. An example would be Microgaming's Cricket Star slot where players receive 10 free spins if they land three scatter symbols on the reels, while the bonus spins for four and five scatters are 15 and 25, respectively. In the event that players have won a specific number of free spins, they should be mindful of the fact that the winnings they might potentially accrue will be determined by the value of the bet they have chosen when the bonus feature has started off. What is even better is that sometimes, when a predetermined number of scatter symbols appears on the reels during free spins, this might mean that another bunch of free rounds will be awarded.
With some online slots, the scatter symbols might double up as multipliers, boosting the amount players will collect on winning combinations. Players need to bear in mind that much like wild icons, scatter symbols are also game-specific, meaning that the way in which they function will not be the same across the board.
Players should not be left under the impression that scatter icons are invariably the key to unlocking free spins or any other special feature. This is exactly the case with rather simple slots in which the scatter symbol is deprived of its special functions and simply awards a payout, which is normally higher than the payout regular icons grant.
Prior to placing real-money bets on a given online slot, players are recommended to take their time to read the information available in the game's paytable. This will help them understand which symbols function as scatters and how many of those should land on the reels in order to multiply winnings, trigger a round of free spins, or unlock the bonus in-games, if such are available.