Slots have earned the title of being the most popular game to bet on and even are said to account for roughly 70% of the overall revenue of gambling venues. Needles to say, this type of game has gained an enormous popularity among players who prefer to make their bets at online casinos as the latter offer a staggering variety of titles with diverse themes and features to suit all preferences.
Some players seem to consider playing slots a lost cause because they have been programmed to pay back a specific amount of the money they take in. Indeed, there is no full-proof strategy to guarantee you will win because slots are programmed to be random and the outcome of the spins is determined by Random Number Generators.
However, some slots are programmed to be looser than others. Such slots reward players with more frequent wins. Many players make the mistake to continue betting recklessly after they have already earned a good net profit, hoping that they will generate more massive profits on the spins that are to follow. Such players risk losing what they have already won to the casino since, at a given point, even loose slots might fail you on a spin and gulp up the profits you have succeeded in generating. Then again, there are players who quit the game immediately after they have scored a larger win which prevents them from reaching their full potential and maximising their profits.
Below, you will be able to find a suitable course of action which would help you keep and maximise your profits when playing looser slots.
The Guarantee and Excess Approach
It is always recommended to set win goals and loss limits regardless of whether you are playing slots or any other casino game for real money. Of course, when you reach the loss limit you have set for yourself, you need to call it quits and refrain from betting on more spins as chasing your losses is likely to result in the depletion of your entire bankroll.
Please note that your losses for a given betting session should never exceed 50% or 60% of your starting bankroll. Some experienced players recommend that you should quit playing a given slot after it had spun a specific number of losing combinations.
The spins that render no payouts are called "naked pulls". Thus, apart from choosing a loss limit, players are recommended to choose a number between 7 and 14. For example, if you choose the number 8 and hit the Spin button eight times, this will serve as an indication that particular slot is "cold" and you should consider choosing a different one. Sticking to a predetermined number of "naked pulls" and a specific loss limit will prevent you from losing your entire session's bankroll.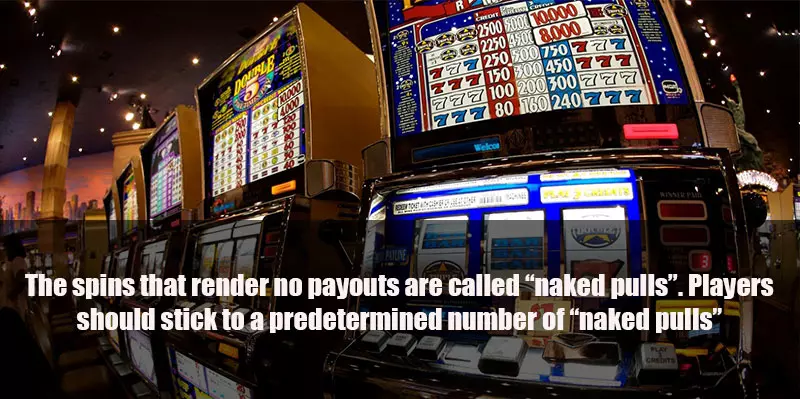 What you do when you reach your profit goal when you play a winning slot is equally important. Players can wrap up a profit for their betting session by implementing the so-called "guarantee and excess" strategy whenever they hit several lucrative combinations on a winning slot.
This is how the "guarantee and excess" strategy works. You decide on the size of your bankroll for the betting session and determine your winning goal that corresponds to a specific percentage of the starting bankroll. You experience a nice run on a loose slot thanks to a bonus round of free spins with multipliers and thus, reach your winning goal.
Let's assume your net profit amounts to £50. At the point when you are ahead, you are recommended to take your net profit of £50 and divide it in half. In this example, you need to put £25 aside as this sum will be your guarantee. Do not use this half of the profits for more bets. By doing so, you ensure you will end this betting session with a profit of at least £25 even if you fail to collect substantial winnings on the next spins.
The second half of the £50 net profit will serve as the so-called "excess". You can continue spinning the reels by betting with this excess on the next spins. Using only the excess will also allow you to make more aggressive wagers on the next spins. Adopting this technique will enable you to minimise the risks for your bankroll, it will guarantee you a profit for that session and will enable you to quit playing that loose slot with more money than you have started with. With slots, the recommended winning goal should amount to about 60% of your starting bankroll for the betting session.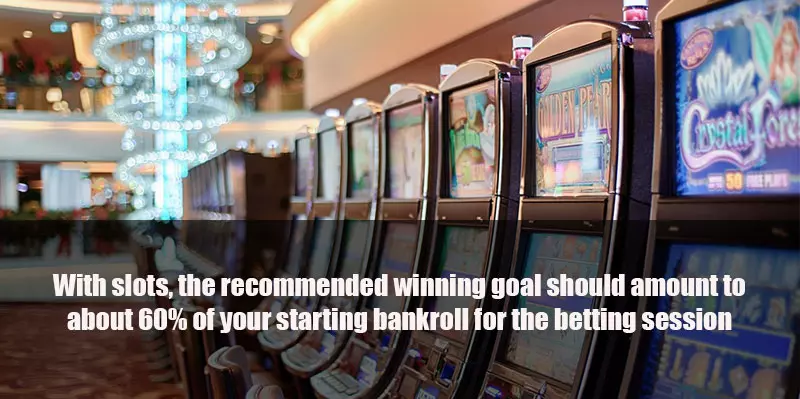 Do Not Quit Immediately After Winning
There is a common misconception among players that when they hit a lucrative prize on a loose slot thanks to a larger multiplier, for example, the said slot is bound to grow "cold". This misconception causes such players to quit betting immediately after winning. However, this decision is not always wise since it prevents players from maximising their profits.
Adjusting the Bet Size On a Good Roll
Some experienced slot players recommend novices to begin their betting session by placing smaller bets until they start winning. Once a lucrative win has occurred, players are advised to increase the number of coins they bet per payline as this would enable them to generate more substantial profits and take advantage of their good roll.
For example, if you start the session by betting two coins per line and you land a winning combination, you adjust the wager for the next spin to three coins. If you happen to win again, you bet four coins on the next spin and so on. Should you lose, you return to the original wager of two coins and continue betting two coins until you start landing the winning combinations on the reels again. Of course, you can use one coin per line on your starting bet, if your bankroll requires it.
The logic behind this practice is that by adjusting their bets in such a way, slot players are able to hold down their losses and increase their profits on winning spins because betting more coins on the active paylines will result in greater returns.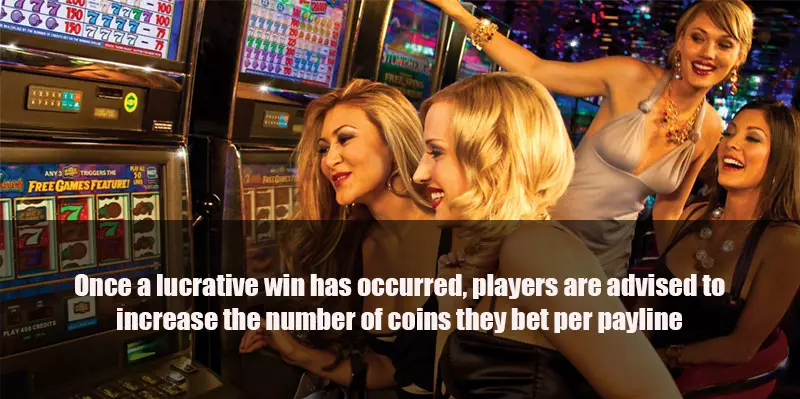 Making Maximum Bets
If you experience a good roll on a winning slot, you can also adjust your bets in accordance with the "High/Low" approach. You are again, expected to bet the minimum number of coins on your initial spins until you start winning. The difference here is that instead of gradually increasing the number of coins you bet, you are required to place the maximum number of coins allowed as soon as you land a winning combination. You continue betting the maximum number of coins until you lose, in which case, you drop back to your original low bet.
You can adjust your low bets to suit your preferences and bankroll, but choosing one or two coins as a starting point for your lowest bet is considered a good idea.
Another approach is to go up one coin after each winning combination on the reels until you reach the maximum number of coins allowed. If you lose on a given spin, you bet the same number of coins you have wagered on your last spin.
Once you reach the maximum number of coins, you should make one last maximum bet for one extra win and then start reducing the number of coins you bet per line until you reach your starting point of one or two coins per payline.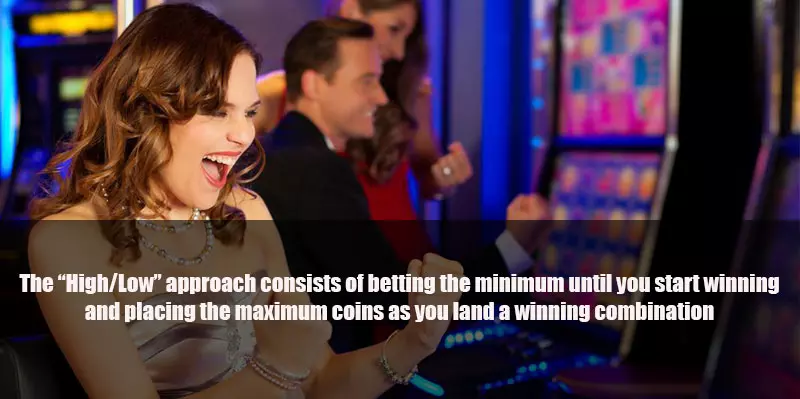 Cash Out When You Reach Your Win Goal
When it comes to slots, those who become way too greedy and covet colossal profits are often left empty-handed. It is important to quit playing no matter how loose the slot seems to be as soon as you have reached the win goal you have set for yourself. Otherwise, you might end up giving back the profits you have succeeded generating.
Less experienced slot players should learn to settle for smaller, but consistent profits because this approach might help them offset the built-in advantage of the house. At the same time, the Guarantee and Excess approach allows slot players to quit the game on a guaranteed profit.