Video poker may be one of the few casino games where players can benefit from a very low house edge and positive expected value. Yet, there are thousands of players who lose money betting on video poker on a daily basis and more often than not, the reason for their poor performance is inadequate money management.
One cannot help but admit that money management is hardly fun – on the contrary, it can be rather tedious. At the same time, managing your bankroll smartly and therefore, protecting your funds is essential, at least for players who intend to emerge winners not only at the end of their betting session but in the long term as well. Money management may not be as exciting as playing the game itself as it is a process that requires a lot of dedication, patience, discipline, and preparation.
Top Online Casinos
You are probably asking yourself the following question – "Why is money management so important in video poker when it offers such a low house edge?" The answer to your question is simple enough. Video poker is a game which involves a completely random process so practically it is not possible to predict with certainty what would happen on the very next hand. Most video poker variations offer a payback that comes very close to 100% but around 2% of this return is based solely on players collecting huge profits with Royal Flushes.
Now, if we consider the fact that Royal Flushes appear once every 40,000 hands, on average, in most cases players have an approximate disadvantage of about 0.50% to 2%. Because of this, smart players tend to think of video poker as a "grind" game where one needs to have a staying power in order to profit. Video poker may offer the lowest house edge out of all casino games, yet players' bankrolls should be well managed to carry them through until an advantageous trend comes their way.
Also, consider it from this perspective – gambling establishments have invested decades in figuring out various clever ways to protect their profits, so it certainly makes sense players should do the same thing. If you want to be a successful video poker player, you should definitely consider covering the few steps of good money management we have recommended below.
Set a Separate Bankroll Aside and Split it into Equal Parts
Determining the amount of your bankroll for a given session is the best way to start, at least if you wish to see your funds last longer. Before you even start playing video poker, you need to learn the number one rule of gambling and abide by it – never gamble with money you cannot afford to lose. Which leads us to the second most important rule – it stipulates to never gamble with money you need to live by, such as the funds you use to pay your rent, car insurance, or utility bills.
Decide how much money you are comfortable investing in video poker with and stick to that amount come what may. Should you experience a bad streak and lose your entire bank, do not add more money into it in futile attempts to recoup the losses. This is where discipline kicks in. In such cases, the smartest thing to do would be to quit for the day, collect your thoughts, and evaluate your gameplay in order to find out what the weak spots in your strategy were.
So how large your video poker bankroll should be? As we have said, video poker calls for some staying power, which is to say your bankroll should be of sufficient size to carry you through until you hit a lucrative high-ranking hand. The denominations of the machine also need to be taken into account but the general rule of thumb is that the session's bankroll should be 50 to 100 times the stake players plan to make per hand. In other words, if you wish to play five coins of a 0.50 denomination per hand, your bank should be no less than £125 for this session or 50 times the base betting unit of £2.50.
When your budget allows it, you may plan to engage in several betting sessions in a single month. If this is the case, it would be wiser to split the overall monthly bank into several equal parts depending on the number of sessions you plan. To proceed with our example, if you plan four betting sessions this month, you will need a monthly bankroll of at least £500.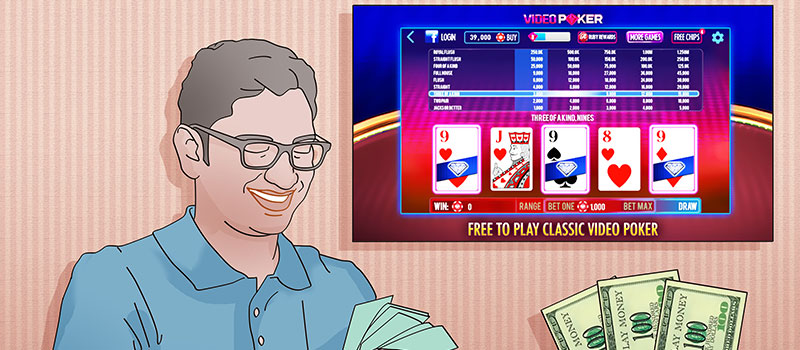 Set Win Goals and Loss Limits
Setting win goals and loss limits for your betting session is just as important as deciding on your bankroll size. It is always a good thing to know when to quit, regardless of whether you are winning or losing. We have already determined that you will need £500 per month and have broken down this sum into four betting sessions of £125 each. What follows next is setting a win goal for yourself, with the recommended percentage being around 30% of your session's bankroll. This corresponds to around £37 in our case.
In other words, you quit when you have generated about £37 in profits. Another suitable course of action if you feel a favourable trend is coming your way would be to follow the principle of guarantee and excess. In this case, you should split your profits into equal halves and use one half to keep playing. This is your excess. The other half of about £18.50 is your guarantee, so leave this money alone and do not touch it.
You then continue betting and with every subsequent profit of about £10 to £12, you set half of the sum aside as a guarantee and continue playing with the excess. This will enable you to reap the benefits of the favourable trend with a zero risk to your bankroll. You are now practically playing with the money of the house. You put an end to the betting session as soon as you have no more excess to play with.
Setting a loss limit for yourself is of equal importance. Expert video poker players recommend a loss limit of around 60% of the overall bankroll for the session. In our case, you need to quit playing as soon as you have lost £75 of your £125 bankroll. Whatever you do, do not chase your losses as this is the surest way to end up with empty pockets.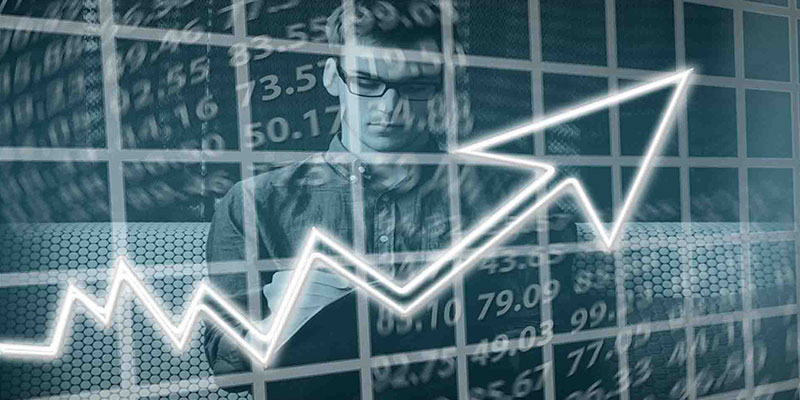 Adopt Optimal Strategy
The great thing about video poker is that the game is entirely beatable, i.e. provided that players have adopted an adequate strategy which furthers optimal play. Without one such strategy, you might as well transition from video poker to slots. Strategic play in video poker means that players should carefully evaluate the hand they receive on the deal and decide which cards to hold and which ones to replace.
It makes sense that strategy changes depending on the video poker variation you play, with Jacks or Better, Tens or Better, Deuces Wild, and Joker Poker being some of the most common options. In the beginning, it would be difficult for you to make good decisions after the deal. There is a solution to this problem, though – online you will be able to find free video poker charts with strategies for all levels of skill and competence.
Print one such chart for your preferred video poker game and use it while playing it from the comfort of your home. You can even play in Practice mode without risking your money until you get a proper feel of the game and learn to make your own decisions after the deal. Free play would also enable you to inspect your chart for inconsistencies without losing real money. Any charts with discrepancies in optimal play exceeding 0.10% are a no-go.
Keep a Journal with Your Betting Sessions' Results
Apart from convenience, online casinos provide players with the opportunity to make bets at a pace they are comfortable with. Video poker, in particular, can be a very dynamic game, but beginners should steer clear of playing at a very rapid pace. The best thing to do in the beginning until you get the hang of the game is to use a notepad and a pen when playing.
What you need to do is write down the results of each hand, regardless of whether it is a winning or a losing one. You may also write your win goal and the loss limit for the session on top of the page. This way, it would be easier to see how you progress throughout the course of the betting session. For each hand, you write down the cards you have received on the deal, those you have opted to hold, and the cards you have been dealt after the draw. The profits you have generated and the amount of the bet should also be included next to each result.
By doing so, it would be easier for you to evaluate your gameplay, see what your weak spots are, and where you have made mistakes. In addition, keeping one such journal would enable you to detect favourable trends and bad streaks during the betting session itself. If you notice an unfavourable tendency, you can always call it quits for the day.
Go for High Value Games
Video poker may offer the lowest house edge you can possibly hope to find in a casino, but it would be silly to reduce all variations of the game to a common denominator. Not all games ensure the same level of success and profitability, which is why the first thing players should look up when selecting a video poker variant is the paytable. In fact, this is among the most crucial pre-play decisions you can possibly make.
Whether or not a given game incorporates wild cards is also important since when these are introduced into a game, there are usually massive swings in the odds of each hand you play, which, needless to say, is reflected in the payouts for all winning combinations of cards. If you wish to increase your chances of turning a profit, you need to play only the so-called "full pay" machines.
It is easy to detect them as the only thing you need to do is check what the payouts of the full house hand and the flush are. A full-pay game of Jacks or Better offers payouts of 9 to 1 and 6 to 1 for the full house and the flush. One such variation is usually called a 9/6 game. Any Jacks or Better game offering you smaller payouts for these two hands is considered a "short payback" variation and should be avoided unless it is progressive. Each reduction of one unit in the payouts of these two hands results in an increase of the game's house edge.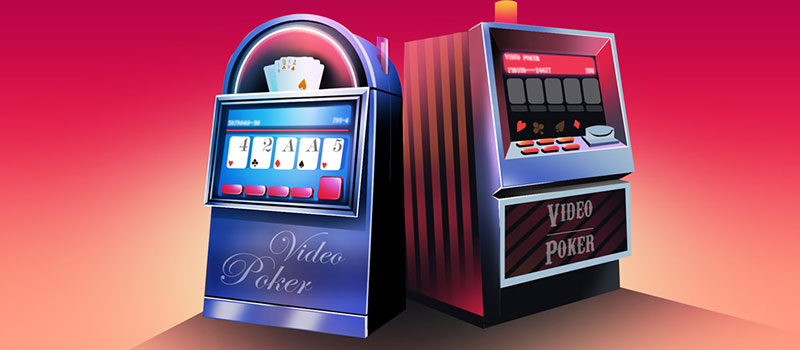 Use Bonuses to Boost Your Bankroll
One of the easiest (and the cheapest) ways to extend the duration of your betting session is to take advantage of the different promotional incentives online casinos host. There are all sorts of bonuses you can claim, starting with the Welcome Bonus new players are granted upon transferring their first deposit after registration. It makes sense that if you claim a £100 bonus after depositing the same amount and have a total of £200 to play with, your chances of increasing your profits by hitting a high-ranking hand are greater.
Slow Down Your Speed of Play
Video poker is an extremely dynamic game, where it is possible to play between 700 and 1,000 hands per hour. Of course, the levels of skill and experience also play a role here since less seasoned players would require more time to make a decision after the deal. Nevertheless, if you are a novice, the general recommendation is to play at a slower pace.
Slow play can offer two great benefits to video poker players. First of all, this would result is making more sensible decisions after the deal, which by itself translates into fewer diversions from your optimal strategy. Additionally, even if you are betting on a full-pay game, sooner or later the house edge will eventually have its say and you would end up losing money in the long run when you are playing as fast as you possibly can. Otherwise, the saying "The house always wins" would not have come into existence.
Also, if you slow down a tiny notch, you will lose money at a slower pace and your bankroll will last for a longer period of time since you simply would play fewer hands per hour. This indeed is common sense, yet there is a tendency among some players to overlook this line of reasoning.
The bottom line is you are not competing in a race, so make sure you take the time to make the optimal decisions, both in regard to the game itself and to the money management plan you have adopted.