Many people associate progressive jackpots with slots but this is not to say other casino games do not offer such life-changing prizes. Considering that video poker and slots do share a number of common traits, it is anything but surprising that plenty of online casinos offer video poker fans a range of progressive variations with huge winning potential.
It is true the jackpots on video poker games rarely reach several million like those on some wide-area slots, because the machines are usually linked to a local-area network so the pools accumulate across a smaller number of machines. However, this cannot be considered a major drawback due to the fact players can turn progressive video poker from a negative into a positive expectation game. This is achievable by calculating when the jackpot is large enough by using the respective game's paytable as a guideline.
Top Online Casinos
The Peculiarities of Progressive Video Poker
Before players try their luck at a progressive video poker variation, they should first familiarise themselves with the key aspects of the game, including the accumulation of the pools, the rules, the paytable, and the criteria for qualifying for the huge prize. Let us begin by explaining how the prize pools are generated.
Jackpot Pools Accumulation
In progressive video poker, the payout for the highest ranking hand, the Royal Flush, is not fixed to a specific sum but constantly grows. The prize pools on progressive video poker accumulate in precisely the same manner the pools on progressive slots do. The progressive jackpot normally starts at a predetermined amount or seed and continues to increase with every bet made on that particular game.
In other words, it is players who contribute to the pool's accumulation since a tiny percentage of each bet is subtracted and goes towards the overall prize. The percentage players contribute to the pools ranges from one progressive game to another, but the sum generally revolves around a dollar or the currency equivalent. It is possible to keep track of how the pot "progresses" as the current amount is displayed in the game's Jackpot metre.
There is no limit to the progressive jackpot's size – it continues to escalate until someone forms the coveted Royal Flush. Once won, the pot is reset to the original seed amount and starts growing all over again. In the majority of cases, the seed coincides in size with the highest payout of regular video poker, which typically is 4,000 credits on games like Jacks or Better.
Because of this, the pools continually escalate until someone is lucky enough to form the highest-ranking hand that awards the progressive prize. What furthers the speedy accumulation of these pools is the fact players are required to invest larger sums of money in order to qualify for the top prize. Then again, some of the progressive video poker games are sometimes linked between several casinos which also helps to boost the size of their pools. These are known as wide-area games and are preferred by most fans of the game because of their enhanced winning potential.
Playing Progressive Video Poker
The only difference between progressive and regular video poker is, in fact, the massive jackpot. If you have ever played standard video poker variations, you will hardly notice any deviations in terms of interface and gameplay.
The most popular type of progressive video poker is based on the Jacks or Better variation but there is a twist since the Royal Flush awards the jackpot instead of a standard, fixed prize. Progressive jackpot variants, however, rarely offer "full pay" which is to say there are adjustments in the payouts for certain high-ranking hands. Instead of paying 9 to 1 and 6 to 1 on full house and flush hands, progressive video poker variants usually offer 8 to 1 and 5 to 1 payouts for these two hands. This by no means should intimidate players and prevent them from trying their luck in such games.
As a matter of fact, progressive video poker can potentially become a positive expectation game as long as the jackpot has escalated to a specific amount and players incorporate an adequate strategy into their gameplay. As soon as the pot reaches a given figure, the progressive video poker game will start returning more than 100% to the player. Experienced players can easily identify precisely what the games' target value is.
The typical 8/5 video poker variants come with a payback percentage of 97.3% but when the jackpot reaches 8,665 credits on average, the return rate escalates to 100%, which is considered the break-even point. A pot exceeding 8,700 credits for a Royal Flush will result in a positive expected value for the players. The denominations of the coins also influence the cut-off point of the jackpot. Quarter machines typically offer positive expectation as soon as the pot grows to 2,166 credits.
Knowledgeable players can easily calculate the exact point at which a given progressive video poker game would offer them a positive expected value due to the fact a standard 52-card deck is in play. The number of cards of each suit and rank is known which enables players to accurately determine the probability of being dealt specific winning combinations as well as the payback percentage of the game. The probability of being dealt a Royal Flush stands at 45,000 to 1 and this is precisely what allows such seasoned players to calculate how high the progressive jackpot needs to be in order to tilt the odds in their favour.
There is another requirement players need to factor in if they are aiming for collecting the progressive pot on a video poker game. Such video poker variations are normally more expensive, so to speak, due to the fact players are required to bet the maximum number of credits in order to qualify for the jackpot. Other than that, the game follows the same rules and there are no differences as far as the ranking of the winning hands is concerned.
The jackpot is awarded to the player, who succeeds in forming the best-ranking hand, the Royal Flush, which is a suited Ace-high straight flush, such as [A][K][Q][J][10], for instance. On some variants, there is an additional requirement – the Royal Flush should be of a specific suit, diamonds for example.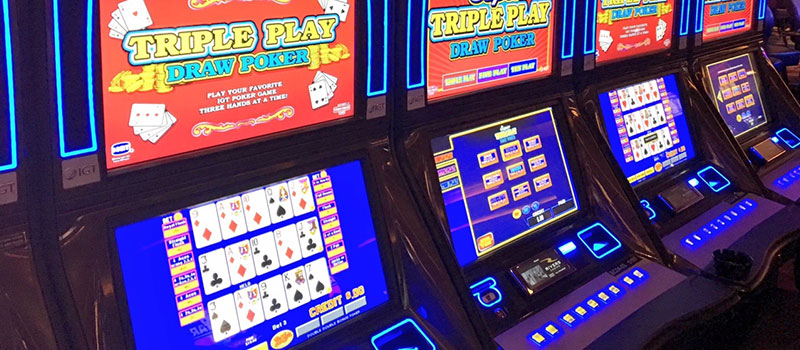 Tips on Playing Progressive Video Poker
Two traits advantage video poker players share are optimal play and being able to calculate when a given progressive variation becomes a positive expectation game. It is worth mentioning that the proper strategy on progressive games changes on the basis of the jackpot amount. When playing standard Jacks or Better, seasoned players would typically discard suited aces and tens after the deal but on progressive games, holding such two cards is the smarter decision to make, provided that the jackpot has escalated to a given amount.
One essential thing players need to remember is that the probability of hitting a Royal Flush does not increase because the jackpot has reached a specific sum. It only makes the game worth your time and funds. Another important thing to keep in mind is that players are recommended to incorporate a more flexible strategy as this would further increase their chances of collecting the pot. The decisions and moves you make should be based on the jackpot's current size. Aggressive play is recommended when the value of the Royal Flushes increase. In other words, players should make more attempts at drawing to a Royal Flush than they would otherwise do in non-progressive video poker.
Each time players incorporate changes into their strategy, their chances of forming the Royal Flush would increase, but it is also important to remember that you will lose money at a faster rate while waiting for the Royal Flush to hit. After all, a Royal Flush tends to hit once per every 45,000 hands, which is to say progressive video poker is not a suitable option for those who lack patience and a bankroll big enough to sustain them while they wait for the highest-ranking hand.
In that vein, it is worth mentioning that volatility increases proportionately to the jackpot. Incorporating changes into your strategy would indeed increase your chances of hitting the massive jackpot but at the same time, it would also decrease the odds of winning on lower-ranking hands. In other words, progressive video poker players may win less often and lose more frequently while they are waiting for the big jackpot.
Another thing to bear in mind is that progressive video poker does not automatically translate into positive expected value for the player. It is impossible to put a large-enough stress on the importance of checking a game's paytable. It all depends on the payouts for the flushes and the full house hands. A 6/5 progressive variation of Jacks or Better will give players a positive expected value only when the jackpot increases to 12,350 credits instead of the usual 8,665 credits on 8/5 games. This is to compensate for lower payouts but it also makes such game far more volatile.
Another thing to steer clear of are some variants of progressive Tens or Better. There are games which offer the full pay profits of 9/6 on full house hands and flushes. But the more you progress towards the bottom of the paytable, the more unfavourable tendencies you will notice. Such games pay even money on both two pairs and pairs of tens, which results in an increase of the break-even point to 4,600 credits on quarter machines. The expected loss rate on such variants while you are waiting to hit the Royal Flush is estimated to be around $75 which suffices to explain why these games drive seasoned players away.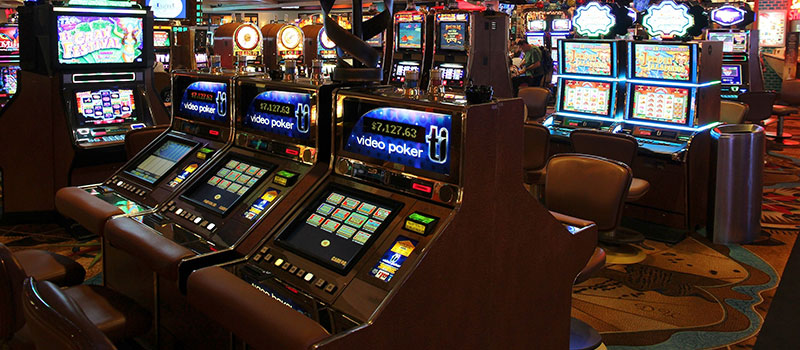 Advantages and Disadvantages of Progressive Video Poker Games
Like most things in life, progressive video poker has both its pros and cons. It is self-evident that one of the biggest perks of progressive video poker is that it offers a positive expectation at a given point. What further increases the game's appeal is the fact it is possible and fairly easy for players to calculate what the cut-off point of the jackpot is. This enables them to start playing and invest their money at the right moment when there are greater chances of collecting the pot with a Royal Flush.
On the downside, progressive video poker is not suitable for all types of players, especially those who have smaller bankrolls at their disposal. As was mentioned previously, a Royal Flush is certainly difficult to get and occurs only once every 45,000 times on average. Players with insufficient funds will find themselves bitterly disappointed as they most likely would end up with empty pockets before they hit the Royal Flush. What is more, one needs to bet the maximum number of credits to qualify for the large prize and not everyone has the funds to do so.
Progressive video poker games come with increased volatility which is to say players would lose more often but when they win, they would win big. However, some people consider this high variance a bit boring, which is to say, progressive video poker is not for those who lack patience.
Popular Video Poker Games with Progressive Jackpots
There are various progressive video poker variations which offer players the opportunity to end their betting sessions with a hefty payout, so often players are perplexed when it comes to choosing which variant to invest their funds in. If you experience the same difficulties, we recommend you to check the three progressive video poker variations below.
10-Line Jacks or Better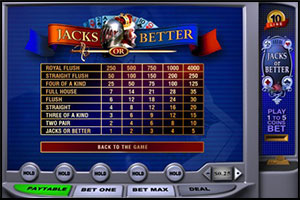 This sleek game is courtesy of top software developer Playtech, which can only mean one thing – players will certainly enjoy themselves to the fullest while waiting for that coveted Royal Flush that would award them the nice progressive payout. The game is indeed impressive when it comes to design, with strikingly rich graphics and easy-to-understand interface. Yet, this Jacks or Better variation has more to offer than just visual appeal – the game comes with a twist since players are enabled to bet on ten hands simultaneously.
The game comes with a number of great features including the Auto Hold functionality that automatically keeps the cards that make up winning combinations just in case players have failed to recognise them. The increasing jackpot and the profits of the player are displayed on the screen at all times. And finally, players will benefit from the popular Double functionality which gets activated on winning hands and enables them to choose from either collecting their profits immediately or attempting to double their winnings. In order to do this, one simply needs to pick a card of a higher value than that of the dealer.
SuperJax Video Poker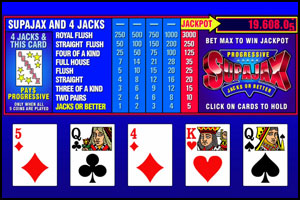 Video poker fans have the industry pioneers at Microgaming to thank for this enticing game which is based on the popular Jacks or Better variation of video poker. The game is less appealing in terms of visuals as Microgaming have opted for sticking to the old-school video poker style but this by no means should drive players away – SuperJax has plenty of excitement to offer.
One of the biggest peculiarities of this variation is that a 53-card deck is in play here since there is an additional card, the so-called SuperJax. Interestingly enough, this card has no contribution to forming all of the standard qualifying hands in the poker save for one single hand – four Jacks plus this particular card. The latter is practically the highest ranking hand in the game since it awards players the huge progressive jackpot. Do not forget that similarly to other progressive games, SuperJax pays the progressive jackpot only when all five credits are played.
Jackpot Deuces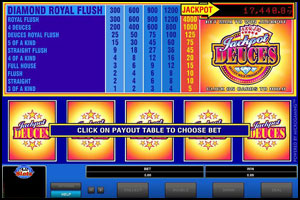 The name of this Microgaming video poker game pretty much reveals what players can expect – this variation borrows its rules from the well-known Deuces Wild and offers an appealing progressive prize. As is usually the case, the jackpot can be won only by those playing the maximum number of credits per hand.
All twos from the deck play the role of wild cards here which is to say players may use them to substitute for other cards and thus, create a qualifying winning hand. In order to collect the huge progressive prize, players are required to form not just any Royal Flush but the Royal Flush of diamonds, specifically. Royal Flushes that contain a wild card pay only 125 credits, while the remaining natural Royal Flushes of clubs, spades, and hearts pay a fixed jackpot of 4,000 credits.