Tens or Better is one of the most widely played variations of video poker, which to a great extent borrows its rules from the ever so popular Jacks or Better variant of the game. For the most part, the hand rankings of Tens or Better coincide with these of its popular cousin. However, the payouts for certain hands in the two video poker variations often differ.
The rules of the game are quite simplified so it matters not whether players have previous experience, even more so if they have already played Jacks or Better. The game offers a relatively low house edge, especially if one incorporates a strategy into their gameplay. The following article covers the key aspects of Tens or Better video poker, including the game's basic rules of play, its paytable, hand rankings, as well as the optimal strategy that can improve your chances of ending your gaming session on profit.
Top Online Casinos
The Basics of Tens or Better Video Poker
For the most part, the rules of Tens or Better coincide with those of Jacks or Better video poker. The game is played with a regular 52-card deck and does not utilise any jokers or wild cards. The game starts with players adjusting the size of the bet they wish to make and there is usually the option to bet one to five credits per hand. With most variations of Tens or Better, it is possible to pick from the following denominations 0.02, 0.05, 0.10, 0.25, 0.50, and 1.00. To bet one credit, you simply need to click on the Bet One button. Similarly, you can conveniently bet the maximum number of credits allowed in the game by hitting the Bet Max Button.
Once you have adjusted the size of the wager you want to make, you need to click on the Deal button, at which point you will be dealt your opening hand consisting of five random cards. You need to evaluate the strength of your opening hand and determine which cards it would be best to keep and which ones you should discard. To hold your preferred card, you simply need to click on them. Then, you hit the Deal button again (depending on the software provider the game is courtesy of, the button might read Draw) and you will receive random replacements for your discards.
If you have succeeded in forming a qualifying hand that is listed in the game's paytable, you will be paid accordingly. The lowest ranking hand that qualifies for a payout is a pair of tens or better. If you are successful, most Tens or Better variations will offer you the option to double your profits. You will be taken to a separate game screen and will be asked to collect your winnings or double them. If you opt for the latter, five random cards will appear on the screen but only the first one, that of the virtual dealer, will be dealt face-up.
Your goal is to pick one of the remaining four cards and if it ranks higher in value than that of the dealer, your profits will be automatically doubled. However, if you fail to pick a higher-ranking card, you automatically lose the winnings you have accrued on the last hand. This is practically all there is to it when it comes to Tens or Better video poker.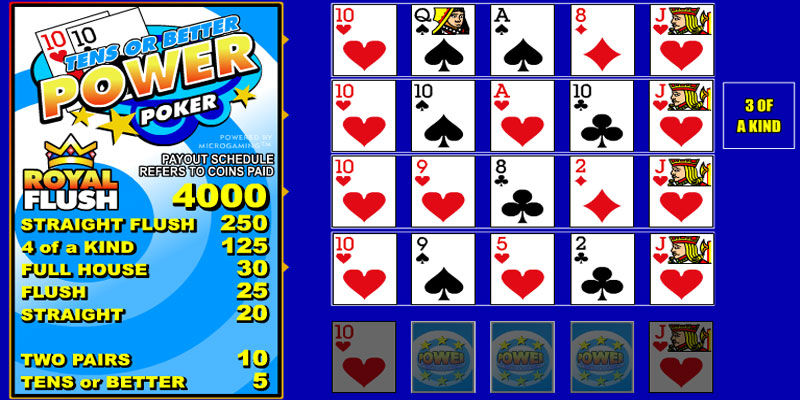 The Paytable and Hand Rankings of Tens or Better Video Poker
As was mentioned in the beginning, the hand rankings of Tens or Better largely coincide with those of Jacks or Better. The highest ranking hand you can possibly form is the Royal Flush which can award you with up to 4,000 credits provided you have bet the maximum of five credits. This is followed by the standard poker hand ranks in descending order, namely straight flush, four of a kind, full house, flush, straight, three of a kind, and two pair. The weakest hand is a pair of tens or higher which awards players with even-money payouts.
Before you place your bets on a Tens or Better game, you most definitely need to check its paytable as it will indicate whether or not the game will provide you with sufficient value. A Tens or Better variation which offers a full-pay comes with a relatively low house edge of 0.70% although it is not as low as that of Jacks or Better which stands at 0.46%. This means that players can expect a rather satisfactory average return on Tens or Better of around 99.3%, at least in the long run, if they play optimally and follows a good strategy.
One way you can tell whether or not a given Tens or Better variation offers full pay is by looking at the payouts for the full house, the flush and the two pair hands. You will immediately notice that the payouts of the full house (6 to 1) and the flush (5 to 1) in Tens or Better are lower than those in 9/6 Jacks or Better. This might put some players off but the truth of the matter is Tens or Better is not that far behind in terms of profitability since the lowest qualifying hand in the game consists of lower-ranking cards, the Tens as opposed to the Jacks in the other popular video poker variation.
The other thing you need to check in the paytable of Tens or Better is the payout for the two pair. A full-pay variation of the game would pay winners 2 credits per credit wagered for a two pair. However, you may happen to find variants of Tens or Better which pay even money for a two pair. This reduction is typically "compensated" for with an increase in the payouts of the full house, which in such cases pays 8 to 1. Do not be fooled by this – such variations are known as short-payback and may cause you to actually lose money in the long term.
Just think about it – two pairs are immediate winners and occur 5% of the time whereas the probability of forming a full house is much lower, which is to say the one-unit increase in the payout for this hand will hardly suffice to compensate for the reduction in the payout of the two pair. As a matter of a fact, this further reduces the payback of such Tens or Better variations with around 6%, which is why players should certainly ignore them and invest their money in full-pay variants of the game.
Tens or Better Video Poker Paytable
Coins
1
2
3
4
5
Royal Flush
250
500
750
1000
4000
Straight Flush
50
100
150
200
250
Four of a Kind
25
50
75
100
125
Full House
6
12
18
24
30
Flush
5
10
15
20
25
Straight
4
8
12
16
20
Three of a Kind
3
6
9
12
15
Two Pair
2
4
6
8
10
Tens or Better
1
2
3
4
5
Tens or Better Strategy
By incorporating a good strategy into their Tens or Better gameplay, players will secure the optimal theoretical returns at the end of their betting sessions. Here, the strategy resembles that in Jacks or Better to a great extent. Since a pair of Tens is the lowest qualifying hand in the game, players are recommended to usually hold the two Tens after the initial deal because this way they will at least be paid even money if they fail to improve their hand.
Also, it is recommendable to keep pairs of other high cards such as Jacks, Queens, Kings and Aces instead of attempting to draw to a flush or a straight. The only exception to this rule is when players have a Royal Flush draw. Keeping a low pair consisting of Deuces through 9s is not worth the effort and such cards should be replaced in favour of flush or straight draws.
If players have received poor cards at the initial deal, the wisest thing to do would be to keep only Tens or higher, as this might enable them to at least pair the card and receive an even-money payout.
Things are a bit different when one is dealt a pair of cards that are smaller in rank than a Ten. In some instances, it is a better idea to hold a three-card straight or a flush instead of keeping a low pair. Also, players should at all times hold onto a four-card Royal Flush – despite the fact they would have only one out of five cards replaced, the payouts for a Royal are so big, it is well worth the risk. There is one exception to this rule, however, when players are dealt straight flush with suited King-9. In this case, it would be smarter to keep the 9 and settle for the straight flush (which also pays quite impressively), instead of replacing the 9 and attempting to form a Royal.
Another recommendation is to go for more substantial payouts. Occasionally, it is better to attempt to improve your hand and aim for Royal or Straight Flushes instead of holding on to a qualifying pair or a made straight. Last but not least, one should always bet the maximum number of credits, which usually is five coins. The payouts on Royal Flushes for five-credit bets are indeed massive and if you succeed in hitting the Royal, but had not wagered the maximum, it would be a major let-down for you – after all, Royal Flushes are not something one would form every day.