Video poker is widely preferred among casino enthusiasts due to the fact it is a simplified take on traditional table poker, which renders it the perfect option for players lacking the necessary experience and knowledge, required to play the classic game of skill. The game resembles video slots to a certain extent, which is not to say it relies purely on chance.
Based on the well-known five-card draw variation of poker, video poker requires a certain degree of involvement on behalf of players because they can choose which cards to hold and which ones to replace in order to form a higher ranking hand. Furthermore, the game is beatable provided that players follow an optimal strategy during their gameplay.
Top Online Casinos
One of the main drawing attractions of video poker is the low house edge it offers to players. A large number of variations of the game can offer players a rather high payback percentage that usually exceeds 99%. It is even possible to find video poker games online which offer players positive expectation since their theoretical return exceeds 100%.
The good thing about video poker is that players can actually figure out whether certain variations of the game are worthwhile by checking the payouts on winning hands that are listed in the paytable. Paytables are good indicators of value in this case since all the payouts there are based on the traditional poker hands. The probability of getting a certain hand is completely calculable because it reflects that of a standard deck of cards.
That is why the only way for casinos to affect the edge of video poker games is by introducing adjustments to the payouts you collect on qualifying hands. Thus, not all video poker games are equally profitable and some offer a lower return than others. Even small modifications in a given video poker game's paytable can be of great consequence for the overall success and profitability of players. In the following article, we will explain how to make a distinction between full-pay and short-payback video poker games and will introduce our readers to four commonly played video poker variations which offer the highest payout percentages.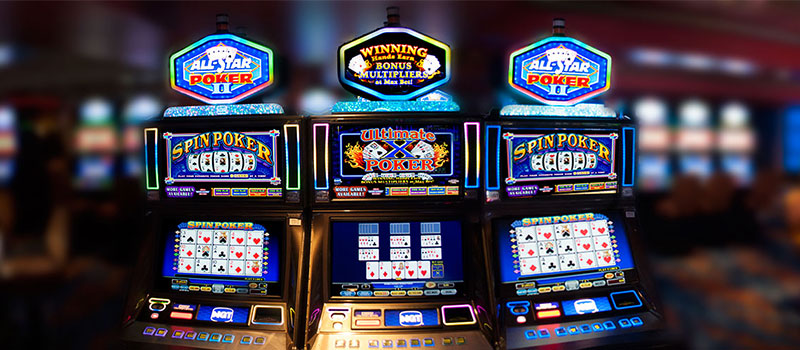 Full-Pay vs. Short-Payback Video Poker Games
It is possible to distinguish between two types of video poker games, full-pay and short-payback. A full-pay game is simply a game that offers the best odds to players. Whether or not a specific game is full-pay is determined by the payouts on certain hands in its paytable. In widespread variants of video poker, such as the popular Jacks or Better, players need to check the number of credits they can potentially receive for a full house and a flush.
Full-pay Jacks or Better games pay out 9 credits for a full house hand and 6 credits for a flush. That is if you have bet only one credit. These variations are often referred to as 9/6 games. Provided that players have adopted an optimal strategy and a sensible bankroll management, they will benefit from a rather high theoretical return of 99.54%, which means the tilt in favour of the casino is less than 0.50%.
You may come across variations of Jacks or Better which offer lower payouts for the full house and the flush, for instance, 8/6, 8/5, 7/5 or on occasions, even 6/5. It is recommendable to avoid such games because the payout modifications, as minor as they may appear, reduce the players' advantage with a couple of percents. Such games are called short-payback games because they offer a smaller theoretical return to players, even if perfect strategy is at hand. An example would be 7/5 Jacks or Better where the average payback percentage stands at only 96.15%, i.e. if optimal strategy is used. As you can see the discrepancy in the payback percentages of 9/6 and 7/5 is anything but insubstantial.
Apart from the payouts on the full house and the flush, players are recommended to also check the casino odds for the two pair hand on Jacks or Better variations. In a full-pay game, players receive two credits for two pairs when one credit is wagered. This is very important because two pair is among the hands that are instant winners after the deal and as such, will occur roughly 5% of the time in video poker. If a Jacks or Better game offers you even money on two pair hands, you should probably abstain from betting on it.
Another variation of video poker that enjoys a good amount of popularity among players is Deuces Wild. This game is also played with a standard deck containing 52 cards similarly to Jacks or Better but the key difference between the two is that all four Deuces are wild cards. In other words, the Deuces can substitute for all other cards and help players form a winning hand in near-miss situations.
A full-pay Deuces Wild game will reward players with five credits (per one-credit wager) on four of a kind hands. Payouts smaller than this, like four credits for four of a kind, indicate the game is a short-payback one. The one-credit modification of this particular hand leads to a sizeable reduction of the game's theoretical payback percentage to 94.30%. In comparison, full-pay Deuces Wild is a positive expectation game since its player return stands at 100.76%.
You may come across Joker Poker video poker variations when playing online. Such games are played with a deck containing 53 cards since there is an additional card, the joker, which is also a wild, helping players make a winning hand. Before players start betting on one such game, they should inspect the paytable to see which the lowest ranking hand is – if it is anything other than kings or better (i.e. a pair of kings), the game is not worth your while. Avoid Joker Poker variations where the lowest paying hand is Aces or better since these will not give you a good value.
A full-pay Joker Poker game is easy to spot. The only things you need to look out for are the payouts for four of a kind, a full house and a flush. The payouts on full-pay Joker Poker games should be the following – 20 to 1 for four of a kind, 7 to 1 for a full house, and 5 to 1 for a flush. On that note, it is also worth mentioning that reductions normally occur in the payouts for four of a kind, with some games offering players 17 or even 15 credits return per unit wagered. Logically it follows such games are a no-go. A 20/7/5 Joker Poker variation, on the other hand, gives you a positive expected value and a theoretical return percentage of 100.65% if optimal strategy is used.
Video Poker Games Offering the Highest Payouts
Below, we have provided brief overviews of four video poker games which will certainly give players a good value for their money in the long run. Three of them are actually positive-expectation games as long as you go for the full-pay variations. The other one, the full-pay Jacks or Better, is of interest because it offers extremely low house edge of about 0.50% or less.
Deuces Wild
Deuces Wild is one of the most common variations of the game and is preferred by many video poker fans because wild cards are in play, which helps to make qualifying winning hands. The game is played with a standard deck of 52 cards, only the Deuces (the twos) are wilds. The lowest-ranking qualifying hand in the game is the three of a kind, which is to say winning with two pairs or a pair is out of the question.
The full-pay version of the game offers 5 to 1 payouts for qualifying four of a kind hands as opposed to the 4 to 1 payouts for the same hand on short-payback variations. Players who opt for the full-pay version will benefit from positive expectation since the average player return in the game is estimated to be 100.76%.
One important thing to keep in mind is that Deuces Wild is among the most volatile variations of video poker, which is to say winning streaks are a frequent occurrence, but so are bad streaks. However, with four wild cards working to their advantage and the full-pay payouts, it is possible to weather a bad streak even without forming the Royal Flush. Also, it is precisely the more volatile nature of this video poker variation that many fans of the game find appealing – with high variety comes the element of surprise so one can play Deuces Wild for hours on end without getting bored.
Joker Poker
Many avid video poker fans prefer the Joker Poker variation of the game because it comes with an interesting twist – instead of the standard deck of cards, the game utilises 53 cards as there is an additional joker in play. The joker is, of course, used as a wild card which boosts the number of winning hands players can form per betting session.
The joker can also be used to help complete one particular hand, which is unique to this variation, namely the Five of a Kind. The latter ranks higher in value even than the Royal Flush. The best-paying combination in the game is usually the natural Royal Flush where the joker is not used to complete the hand.
The addition of the joker renders it easier for players to form higher ranking hands and sometimes, this reflects badly on the game's payout percentage because the payouts for certain hands may be reduced to balance off the players' advantage. When choosing a Joker Poker game, players need to check the payouts for four of a kind, the full house and the flush – a full-pay game offers 20, 7, and 5 credits per credit wagered for these hands, in which case, the theoretical return stands at 100.65% when perfect strategy is used.
Please note, you may also come across this game under the name of Joker Wild, but the rules and the qualifying hand rankings will coincide.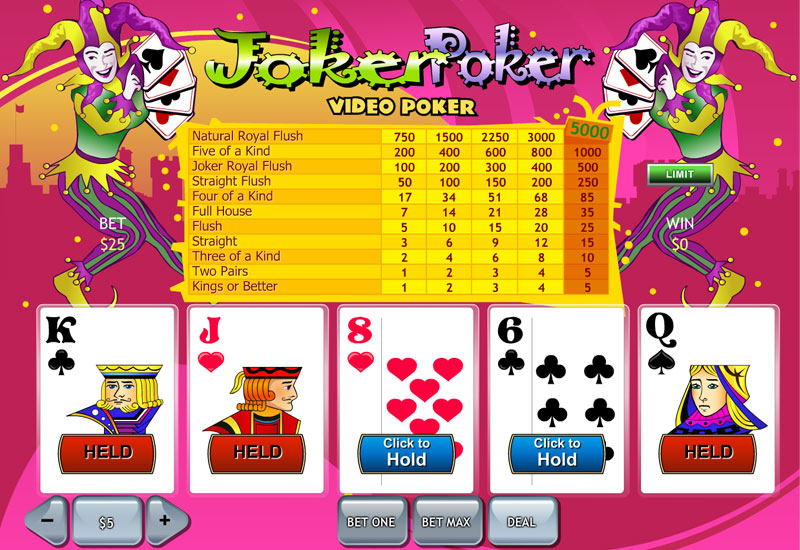 Jacks or Better
Jacks or Better must be the most popular member of the video poker variations family. It can give players a good value for their money as long as they opt for a full-pay game that rewards them with 9 to 1 and 6 to 1 payouts for forming a full house and a flush, respectively. If the paytables read anything less than that, do not bother with this game.
The game utilises the standard deck with 52 cards and no jokers are in play. It is possible to form nearly 2.6 million different combinations with a standard deck, with Royal Flushes offering the highest prize of 4,000 credits for five-credit bets. Games with 9/6 payouts on the full house and the flush come with a high average return of 99.54%. In comparison, 8/5 and 7/5 variations of Jacks or Better can offer players no more than 97.30% and 96.15% return in the long run.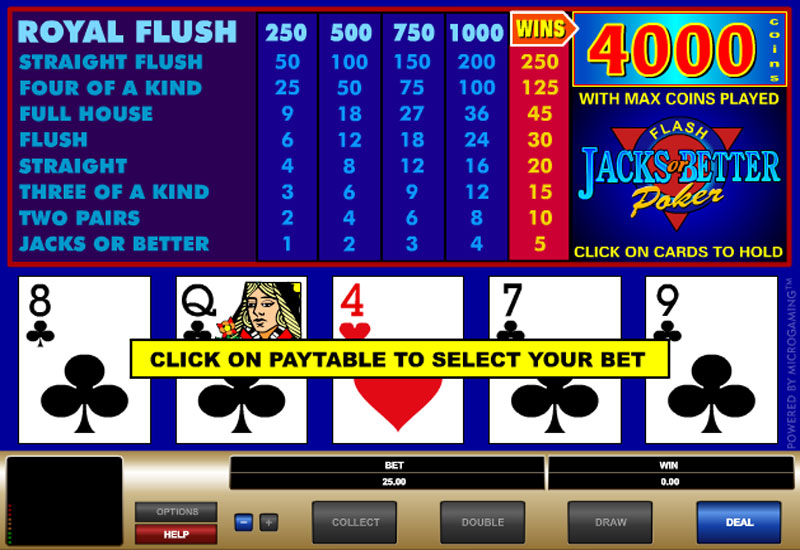 Double Double Bonus Poker
Double Double Bonus Poker resembles the Double Bonus Poker variation, with one essential difference – there is an extra bonus payout which is awarded to players, who succeed in forming a four of a kind with Aces and a kicker, ranking 2, 3 or 4 in value. The lowest-ranking hand in the game is typically Jacks or Better, but there may be differences, depending on the variation. Other than that, the game is played with a regular 52-card deck and no wild cards or jokers are included.
Since the additional bonus works to the disadvantage of casinos, some gambling operators have opted for lowering the payouts for the full house and the flush with one credit, which results in a higher house edge on such games. The full-pay variations of Double Double Bonus Poker you should look for offer players 10 credits for a full house and 6 credits for a flush. This payout schedule translates into a 100.07% theoretical payback percentage, provided that optimal strategy is at hand and you bet five credits per hand. In comparison, a 9/6 Double Double Bonus Poker variation comes with an average return of 98.98% which explains why players should stay away from such games.