The UK Gambling Commission revealed in a newly-published report that British people spent a total of £12.6 billion on gambling last year. According to the Commission's reports, the state of the gambling industry in the country, excluding the territory of Northern Ireland, has been improved regardless of the fears of the eventual impact of the June's Brexit.
The latest statistics provided by the Commission proved there has been an increase in the gambling industry of the UK since 2011. Still, the situation caused a lot of controversy, because there are people who are not happy with the results. There are some media as well as consumer groups that have shared concerns due to the fact that online gambling is becoming more popular among local residents.
The figures revealed in the UK Gambling Commission's report were a bit surprising for the local mainstream media, especially considering their opinion that the number of high street bookmakers sets some alarms, taking into account the fact that more than 200 of them have closed down lately.
As the reports showed, the increasing number of online players offset the decline that was registered in the local industry's retail side. As long as the latter is concerned, residents of the UK spent a total of £3.3 billion on the National Lottery and another £3.2 billion in the so-called betting shops. In addition, a total of £3.6 billion was spent by UK residents on online gambling venues, including casino, sports betting, poker and bingo websites.
Although there was a massive number of bookmakers shutting shops over the past two years, the profit generated from the fixed-odds betting terminals accounted for 56% of their overall profits, or £1.71 billion, in the period from October 2014 to September 2015.
The growth of the UK gambling industry in the above-mentioned period can not be ignored, especially when taking into account the increased gambling regulation, taxes and competition.
The Programme director of the UK Gambling Commission James Green commented on the figures, saying that the market share of Internet-based casino, sports betting and bingo sector amounts to 29% and the future trends would be interesting to see. He confirmed there had been a drop in the overall number of betting shops, bingo and arcades halls over the last couple of years, but also explained that both consumer participation research and market trends are issues of paramount importance when it comes to forming the regulatory policy of the Commission.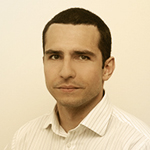 Daniel Williams has started his writing career as a freelance author at a local paper media. After working there for a couple of years and writing on various topics, he found his interest for the gambling industry.