The following infographic presents information about the English Premier League (EPL) Shirt Sponsorships and the gambling companies contribution and value over the 2015/2016, 2016/2017 and 2017/2018 seasons. Over the past few years, the EPL has seen an increasing number of gambling companies strike sponsorship agreements with Premier League football clubs, with the betting operators taking over electronics and beer companies on UK football kits.
The infographic and the report below are set to provide more details about these sponsorship deals, as well as to cast more light on the most recent trends on sponsorship agreements between EPL football clubs and betting companies, despite increased criticism.

Copy and paste the code below to embed this infographic on your website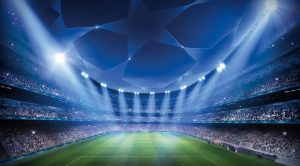 Some twenty years ago, not a single gambling operator was present as a Premier League kit sponsor, while currently there are nine of them displayed as EPL football clubs shirts sponsors. Lately, gambling companies seem to have spread their tentacles even more, with their influence growing stronger in different directions. Reportedly, the 2017/2018 season emerged as the first Premier League season without a beer brand as a football club sponsor, with betting operators having taken their place.
This trend can hardly surprise anyone, as British football clubs have seen sponsors come and go over the years. At first, it was electronics companies which reigned as major sponsors of Premier League teams. Then electronics got displaced by beer and alcohol brands. Now, more than twenty seasons later, the position of beer companies has been taken over by gambling companies.
The presence of betting operators as major shirt sponsors over the last few years is not surprising by itself. What is more striking is the fact that gambling companies seem to be flourishing as some of the major kit sponsors in the Premier League, in spite of the increased criticism from anti-gambling campaigners. A few months ago, the Labour Party joined the campaign and called for such sponsorships to be banned, not to mention the disclosures that many Premier League players suffer from gambling addictions.
No Beer Companies as EPL Sponsors in Season 2017/2018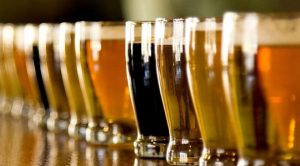 Sponsors come and go, and so do sponsorship trends in football. It seems that gambling companies have become even more prominent over the last few years, when their presence in the Premier League increased.
Before betting firms enter football as some of the major squad shirts' sponsors, it was electronics and beer companies which emerged in some of the largest sponsorship deals in the Premier League. However, alcohol giants also faced increased criticism, as under-aged individuals could easily get teams' kits which featured their logos.
The downfall of beer companies started several years ago. At the beginning of 2015, reports emerged that multi-million-pound sponsorship deals between Premier League football clubs and alcohol companies could suffer damnation, following a review ordered by the Labour Party. At the time the review was carried out, the then-Shadow Health Secretary Andy Burnham revealed it had been initiated as part of the Labour's efforts to tackle some of the most important health issues in the UK.
According to the Labour Party, promotion of alcohol, especially in relation to children, should not be allowed. Collaboration with sports governing bodies has been planned in order to further measures to be taken in terms of football kits sponsorship deals.
As mentioned above, beer and alcohol brands were not the only ones which suffered a decline in sponsorship deals over the recent years. Despite the fact that more aspects of people's everyday lives become digitised and closely related to technology, electronics and computer companies have paradoxically been left behind as major sponsors of the Premier League clubs, too. Since 2000, no sponsorship deal was signed between an EPL team and a computer manufacturer.
Consumer electronics companies were most popular as Premier League sponsors over the League's first season. At the time, 6 of the 22 teams having signed sponsorship agreements with such brands. However, these sponsorships suffered a sharp decline with the turn of the millennium, with currently none of them being present as EPL shirts sponsors.
EPL Clubs Gambling Sponsors Contribution 2015-2018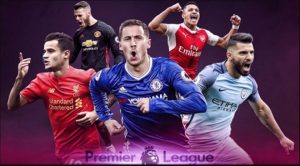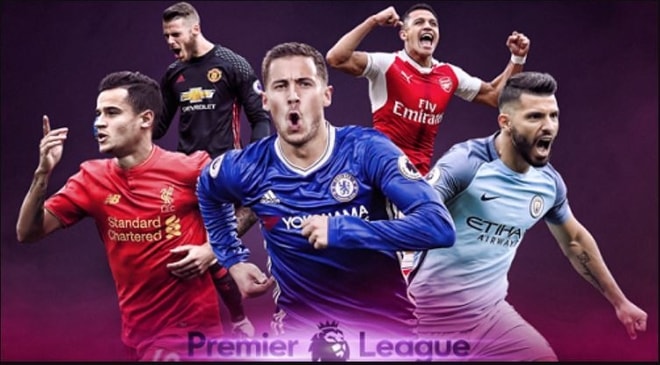 As mentioned above, most UK football kits sponsorship deals with gambling companies have been inked over the past few years. Twenty years ago, there was not a single gambling operator as a football quad sponsor in the English Premier League. A decade ago, four Premier League clubs had gambling or casino operators' logos displayed on their shirts, and in the 2017/2018 season nine Premier League clubs featured gambling companies as their jersey sponsors.
The first sponsorship agreement between a gaming and casino brand and an English Premier League football club was signed in the 2002/2003 season between Fulham F.C. and Betfair. And despite the fact that the deal was not to be renewed and lasted for one year only, the deed was done and gambling operators were given the chance to find their place among the EPL sponsors, slowly but surely taking over the positions of electronics and beer and alcohol brands as some of the largest and oldest squads' sponsors.
As displayed in the infographic above, the contribution of gambling sponsors to the total value of sponsorship deals in the Premier League has marked a stable increase. With only one gambling operator being present among the EPL sponsors in season 2002/2003, their number rose to ten in season 2016/2017. As mentioned above, there are nine betting companies that have sponsorship deals with Premier League clubs in season 2017/2018.
With the total value of EPL sponsorship deals rising over the last few years, the contribution made by gambling sponsors is proportionally increasing, too.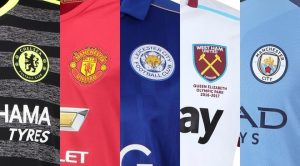 The total value of EPL sponsorship deals in season 2015/2016 was estimated to £222.9 million, with seven gambling companies being present as squads' sponsors, making an overall contribution of £22.35 million, or a little over 10% of the total sponsorship deals' value. In comparison, only one consumer electronics company was present as sponsor of a EPL squad over that season. Its contribution of £1 million represented 0.45% of the total sponsorships value. There was also one beer brand – Chang Beer – with its contribution to total value being estimated at £5.3 million, or 2.69% in percentage ratio.
On the following season, 2016/2017, the total value of EPL sponsorship deals rose to £226.5 million, while the ten betting operators contributed £35.2 million to the overall amount. The amount which was donated by the squads' gambling sponsors represented 15.54% from the total sponsorships value. No consumer electronics brand was available as sponsor of a Premier League club during the 2016/2017 season, while Chang was again the only beer and alcohol brand that sponsored an EPL team at the time, with a contribution of £5.3 million, or 2.34% of the total sponsorships value.
Over the latest Premier League season – 2017/2018 – the overall EPL shirt sponsorships value was estimated to £281.8 million. As mentioned above, nine gambling operators are currently present as Premier League shirt sponsors, with their contribution to the overall sponsorship value estimated to £47.3 million, or 16.78%. The current EPL season was also the first one in more than a decade which saw no beer brand among the squads' kit sponsors. No consumer electronics company was also present with a sponsorship deal.
Gambling Companies Sponsorship Deals Face Criticism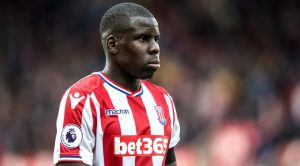 Despite the number of gambling companies that strike sponsorships deals with English Premier League squads has been constantly rising, betting operators were facing strong criticism lately. The constantly increasing number of gambling advertisements aired on TV during live matches have also raised a wave of discontent among local authorities and anti-gambling campaigners.
Back in September 2017, the Labour Party has urged the Government to suspend gambling operators from being displayed as football squads kits' sponsors as part of the authorities' efforts to reduce gambling-related harm inflicted to children and vulnerable individuals.
As revealed by the deputy leader Tom Watson at the time, a Labour Government would call for the Football Association to impose a ban on football teams sponsorships with gambling operators. According to the party, the spreading problem gambling behaviour among UK citizens has become a serious issue. Mr. Watson said that the sponsorship agreements between football teams and betting companies due to which the squad's shirts display gambling operators' logos make it seem like the EPL football clubs do not take gambling addictions seriously and even worse – do not care if gambling advertising materials reach under-aged individuals.
According to researchers and anti-gambling campaigners, the massive increase in sponsorship deals between football clubs and gambling operators has been noticed after gambling legislation became more relaxed in 2005. Before that, only four Premier League and Scottish Premier League clubs had signed sponsorship agreements with gambling companies.
The increased criticism made the local Football Association end its partnership with Ladbrokes in June 2017. The FA also banned youth teams from wearing any logos of gambling companies' products.
Gambling Companies Logos Accessible to Children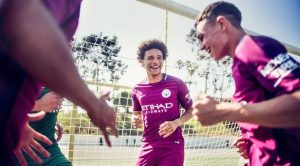 As Casino Guardian has previously reported, gambling operators got scolded on multiple occasions due to the fact that their logos are still accessible to young people, as thousands of children are able to purchase and wear replica EPL jerseys featuring gambling adverts.
In the current 2017/2018 season, there are nine Premier League squads which are being sponsored by gambling operators. The junior teams of these squads do not display the logos of the betting firms. However, according to media reports three of these clubs offer junior kits with a maximum size range to age 13. Five other teams have the children kits sized to age 14, while only one has a junior team jersey with a size up to 16. This findings came to prove that many under-aged individuals are actually able to reach adult football club shirts that have the gambling companies' logos.
For the time being, the legal age at which gambling is allowed in the UK, is 18. Gambling operators in the UK are not allowed to display their promotional materials and logos to children, under the existing code of The Industry Group for Responsible Gambling (IGRG).
On the other hand, anti-gambling commercials campaigners have raised the red flag, saying that the increasing number of TV betting adverts broadcast over live football matches could make gambling look as a normal everyday activity to children. GambleAware's Chief Executive Officer Marc Etches has said that the fact that so many gambling adverts were aired on TV could make young people think gambling as a regular part of everyday life, which could lure them to start betting at a younger age.
Children are considered more susceptible to the impact of TV commercials due to their young age, which makes them more vulnerable to possible gambling-related harm compared to adults.
Problem Gambling among Premier League Football Players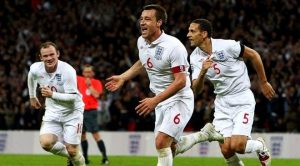 For some time now, rumours have emerged that a large number of British football players have been battling gambling addictions. Problem gambling behaviour of EPL football players have become one of the hottest topics earlier in 2018, when the former midfielder of Newcastle United and Manchester City Joey Barton made a statement saying that approximately half of the professional football players have been betting on matches, breaking the gambling laws of the Football Association.
After a confession made by Barton himself that he has placed more than 1,2560 bets on football matches in about ten years, he has been suspended from football.
Then, in February 2018, the former midfielder of England football team Kieron Dyer has also revealed that a large number of football players have been facing serious gambling addictions, which led to them losing massive amounts on money on betting websites. According to Dyer's autobiography, English football players have always been involved in betting activities, but their gambling habits got totally out of control during Euro 2004 in Portugal. The former midfielder revealed that the amount lost by some of the English national squad players reached more than £100,000-£150,000.
As claimed by Dyer, betting among English football players rose to huge levels at the time of the Euro 2008 qualifiers.
The revelations made the ex manager of the national football team of England – Sven-Goran Eriksson – to comment on the issue, saying that he was not aware of the fact that his players were involved in the schemes Dyer had described earlier. In an interview for The BBC, Eriksson said that he was completely unaware what had been happening at the time, and that he would have tried to stop the reckless gambling in case that he had known about it.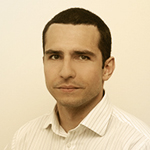 Daniel Williams has started his writing career as a freelance author at a local paper media. After working there for a couple of years and writing on various topics, he found his interest for the gambling industry.