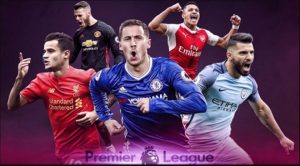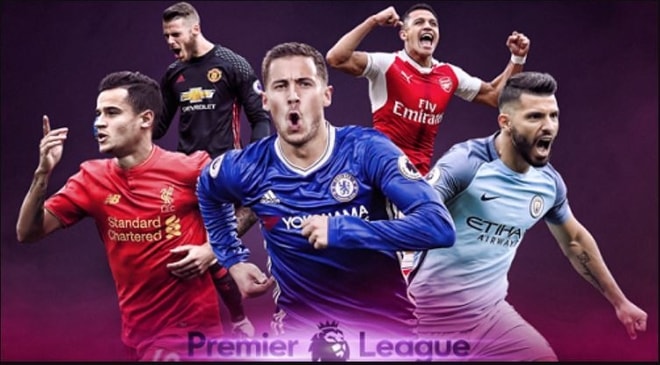 The beginning of September has seen a new wave of criticism to gambling operators that serve as English Premier League (EPL) kit sponsors. Local charity organisations have blamed these companies for doing literally nothing to keep local gamblers safe at a time when gambling addiction is getting more and more recognised as a public health issue.
As Casino Guardian previously reported, Simon Stevens, the Chief Executive Officer of the National health Service (NHS) revealed that eight of the nine gambling operators which have shirt sponsorship deals with Premier League squads have failed to make any contributions to help UK authorities and charity organisations tackle gambling-related harm and fight gambling addiction.
2018/2019 Season EPL Kit Sponsorships' Value Breaks Record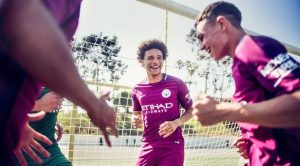 Apart from being widely criticised for the fact that they enter into sponsorship agreements with EPL teams on the first place, gambling operators have been also scolded for ignoring their duty to contribute to the UK gambling industry's battle against rising problem gambling rates in the country. The NHS England CEO Simon Stevens called for the Premier League to remind gambling companies that they are expected to make payments to help the industry fund public health services aimed at helping compulsive gamblers who are not able to deal with their addiction by themselves.
The new wave of criticism emerges at a time when problem gambling has been one of the major concerns of the UK gambling sector, as the number of gambling addicts in the country constantly rises.
English Premier League clubs have broken their own record for combined kit sponsorship deals in the 2018/2019 season, after the overall amount of the sponsorships rose by £33.8 million in comparison to the previous season, reaching a total of £315.6 million. And this amount is generated only by the club's main sponsors displayed on the fronts of the EPL squad's shirts. Sleeve sponsors' contribution has been estimated at a further £46 million for the 20 EPL clubs combined.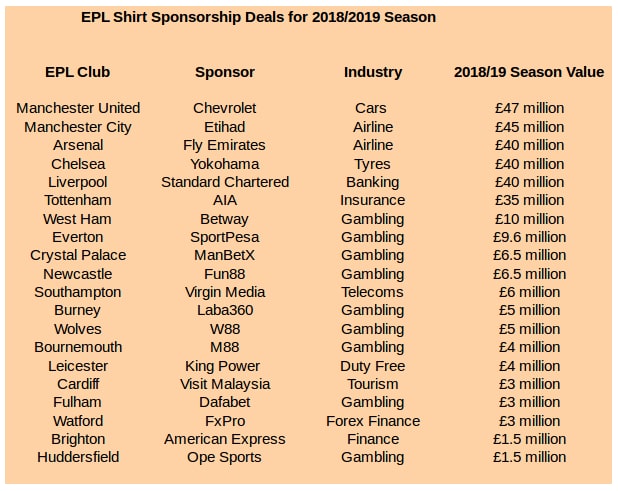 As far as the gambling operators presence to the shirt sponsors chart is concerned, the number of gambling companies which are to serve as EPL kit sponsors over the 2018/2019 season remains unchanged from the 2017/2018 season. However, their contribution has increased with more than £4 million combined, from £47.3 million last year to a total of £51.5 million over the current season.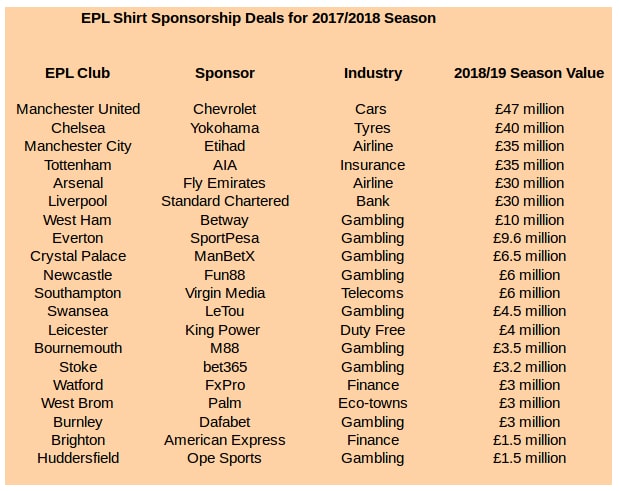 EPL squads have been already warned over their kit sponsorship deals with gambling operators. Both the teams and the gambling companies have faced some criticism, as opponents of such partnership agreements have claimed that they would create the wrong perspective that gambling is normal to more vulnerable individuals, including children. At the same time, the UK Gambling Commission (UKGC) has provided some estimates, according to which the number of problem gamblers in the UK has increased by 150,000, reaching a total of 430,000.
In addition, gambling operators in the UK have been blamed for their advertising campaigns which according to anti-gambling campaigners have been too aggressive for some time now. Reportedly, gambling advertising has risen to a record high at the time when live sports events are aired on TV, and has also spread even further thanks to various social media channels, reaching more people on a daily basis.
Gambling Categorised as Public Health Issue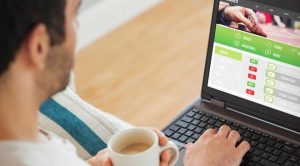 For some time now, compulsive gambling has been widely recognised as a mental health issue with massive impact on local communities. A few months ago, the World Health Organisation (WHO) announced that "gaming disorder" would be included in an update of the International Classification of Diseases (ICD-11). This basically means that gambling disorder is going to be officially considered a mental health issue.
By definition provided by the WHO, gaming disorder is "a clinically recognisable and clinically significant syndrome, when the pattern of gaming behaviour is of such a nature and intensity that it results in marked distress or significant impairment in personal, family, social, educational or occupational functioning."
According to studies, gaming disorders normally affect only a small proportion of people who are usually engaged in online or video gaming activities. Still, experts say that gamblers need to keep a close eye on the amount of time they spend on such activities.
For years, other types of additions have been the focal point of many surveys and funded in terms of treatment. Unfortunately, gambling addiction has not been paid so much attention, despite the fact it can lead to serious behavioural changes, and problems often go beyond mental and emotional issues, as it also involves cases of violence and, of course, financial problems. A new research has proven that gambling physically alters the structure of the human brain and makes gamblers more susceptible to anxiety and depression. According to scientists examining gambling addicts, the discovery could lead to new treatment for the problem.
GambleAware Responds to Consultation Regarding Problem Gambling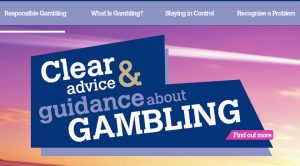 The end of August saw the independent charitable organisation GambleAware respond to the mental health consultation of the National Health Service (NHS) as part of its strategy to broaden public understanding of gambling-related harm as a public health issue.
The charity seeks more help for people diagnosed with pathological gambling. For the time being, it is exactly GambleAware that funds almost all the treatment for such addicts in the UK thanks to the donations received from gambling operators as required by the UK Gambling Commission.
At the beginning of August 2018, GambleAware also warned English football clubs that gambling is excessively "normalised" for children because of the increasing number of gambling companies that are being present as shirt sponsors of the squads. According to the organisation's experts, the constantly rising amount of gambling services advertising and shirt sponsorship deals make gambling look normal to more vulnerable people and under-aged individuals.
The truth is that the number of gambling companies which have emerged as sponsors of Premier League football clubs has significantly increased since the first sponsorship agreement between an EPL club and a gambling brand was signed in the 2002/2003 season. Two decades ago, there were no bookmakers among the English Premier League teams, while their number rose to nine in the current season.
UKGC Insists Gambling-Related Harm Is Public Health Issue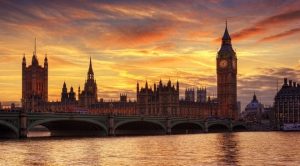 Earlier this year, the major gambling regulatory body in the UK – the UKGC – published a briefing paper for local authorities and local Public Health providers, insisting that gambling-related harm should be categorised as a public health issue.
At the time, the UK Gambling Commission shared that gambling-related harm is often not recognised as an actual health issue but insisted that it requires greater attention from the competent authorities. According to the UK gambling watchdog, a public health approach to gambling needs to raise the awareness of everyone involved in the gambling industry in order to address the effect it could have on minors and more vulnerable individuals.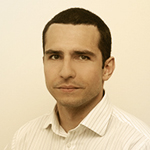 Daniel Williams has started his writing career as a freelance author at a local paper media. After working there for a couple of years and writing on various topics, he found his interest for the gambling industry.