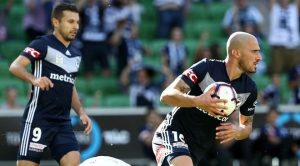 The Australian professional soccer club Melbourne Victory has disposed of its deals with its would-be shirt sponsor Kaishi Entertainment because of its links with online gambling.
Kaishi Entertainment would have been the kit sponsor of Melbourne Victory during the football club's Asian Champions League campaign. However, the club's bosses revealed that they have preferred to remove all existing arrangements with the Hong Kong-based company. According to an official statement, released by the football club, its concerns are primarily related with the Asian company's links to online gambling, which contradicts to the guidelines of the AFC Champions League as well as to the club's internal policies.
Sarge knows! It's #ELeague GAME DAY 👊 Catch all the action on @FOXFOOTBALL and @Twitch from 8:00pm #MVFC pic.twitter.com/JWQhPPlN01

— Melbourne Victory eSports (@mvfcesports) March 6, 2019
As explained by the Australian football club, it discovered that Kaishi Entertainment was a partner for an online gambling business called Kashbet.
The club further noted that it would not enter into any agreements with a company related to the gambling industry. Melbourne Victory further shared that a new AFC Champions League front—of-shirt partner was set to be announced later on Friday.
The Kaishi Entertainment's branding was removed by the Australian football club ahead of its ACL opener against Daegu FC earlier this week. Despite the fact that Kaishi Entertainment continued to represent to the club that it had no links with betting and online gambling, Melbourne Victory still decided to remove it as a shirt sponsor and wear a clean strip in their match against Daegu.
We opened our 2019 @TheAFCCL campaign with a loss to Daegu FC. #MELvDAE report: https://t.co/c8NKzmok7i #MVFC #OurVictory pic.twitter.com/ndJyxknD5P

— Melbourne Victory (@gomvfc) March 5, 2019
Melbourne Victory Signs TCL as a Shirt Sponsor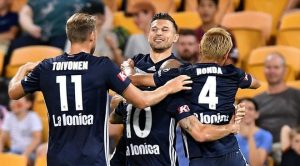 For the time being, the organizers of the Asian Champions League suspend sponsorships by betting companies in the League.
According to initial statements of Melbourne Victory, Kaishi Entertainment was specialising as a media agency and was involved with marketing and branding. As mentioned above, the company found out that its Asian would-be shirt sponsor was also involved with a betting business, which was against the rules of the Asian Champions League.
In its statement published today, Melbourne Victory explained that the club would like to have further consideration and investigation on the matter but it would not be entering into any more agreements with Kaishi Entertainment during the AFC Champions League.
As mentioned above, the football club had to move quickly in order to find a replacement for Kaishi. It later became clear that it has inked an agreement with the Chinese consumer electronics manufacturer TCL, which is to now take its place as a front-of-shirt partner for the remainder of this year's Asian Champions League campaign. The club shared that its relationship with TCL is based on "mutual respect and shared values", which made the consumer electronics manufacturer an excellent fit for the club.
Apart from that, TCL currently has significant business interests in Asia, which makes the sponsorship agreement between the two parties even more desirable for the Australian football club.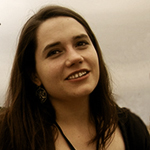 Olivia Cole has worked as a journalist for several years now. Over the last couple of years she has been engaged in writing about a number of industries and has developed an interest for the gambling market in the UK.