Due to its immense popularity among players, roulette has made it to the catalogues of all established online gambling operators. The roulette variations available online typically stand out with great authenticity and ambience. In fact, the only difference between playing online and playing at a brick-and-mortar venue is that players are not required to leave their homes in search of a casino to make their bets at. Read on to learn more about the advantage of online roulette, the most popular online variations of the game, and the best web-based casinos to play roulette at.
Benefits of Playing Roulette Online
Enjoying this game of chance from the comfort of your home has numerous advantages to offer. Undoubtedly, one of the biggest benefits of online roulette play results from its very convenience and flexibility. You can join the game with a few bets anytime, anywhere, without having to drive around town to find a landbased casino.
Top Online Casinos
What is more important, the websites of all reliable and well-known casino operators are fully mobile responsive, which means fans can load different roulette variations directly in the browsers of portable devices like smartphones and tablets. Applications for iOS and Android devices are often available for a free download.
Besides, if you are new to the game, you get to test its online variations in Practice mode prior to committing with real-money wagers. Compared to other traditional table games such as blackjack, baccarat and poker, roulette is played at a much faster pace. The good news is if you opt for one of the many online roulette variations, you can play at your own pace and even take notes until you decide which betting system works best for you.
Online roulette is suitable for both high rollers and more risk-averse players because there are tables with higher and lower minimum bets. In brick-and-mortar gambling venues, the minimum bets at the roulette tables usually range between £5 and £10. In comparison, you can find online variations of the game where minimum bets amount to £1.
One of the biggest advantages of playing online results from the fact players get to boost their bankrolls in a variety of ways. For instance, they are awarded Comp Points for each real-money wager they place at the online casino. These complimentary points can later on be exchanged for real money to play with. In addition, all established casino operators offer Welcome and Reload Bonuses to new and existing players.
In addition, roulette fans get to choose from a variety of reliable, convenient and quick methods of payment. Popular options include e-wallets like Neteller, Skrill and Paypal, prepaid vouchers by Paysafecard, and debit/credit cards by Visa, Maestro and Mastercard. Deposits at online casinos are usually carried out right away so you can start playing your favourite roulette variation immediately. Withdrawals, on the other hand, might take several business days to complete, depending on the payment solution players have opted for.
Popular Online Roulette Variations
Reputable web-based casino operators offer a wide range of roulette variations, which stand out with great authenticity in terms of visuals and sound effects. The games' intuitive interface renders them suitable for both seasoned players and roulette novices. Below, we have listed some of the most popular and lucrative roulette variations you can find online.
European Roulette
European roulette easily ranks as the most popular online variation among fans of the game. Its popularity can be attributed to the fact it is played on a single-zero wheel, hence the house edge is reduced to 2.70%. The rules and payouts of online European roulette coincide with those of the game, played in landbased casinos.
There is the option to make outside bets on Red/Black, Odd/Even, High/Low, Dozens and Columns or inside bets on individual numbers and combinations of numbers. Chips denominations and table limits vary from one variation to another. With some variations of the game, like European Roulette by NetEnt, players are able to place more exotic bets such as Orphelins, Tiers du Cylindre and Voisins du Zero, which cover specific sections of the wheel. In addition, statistics on hot and cold numbers are also available.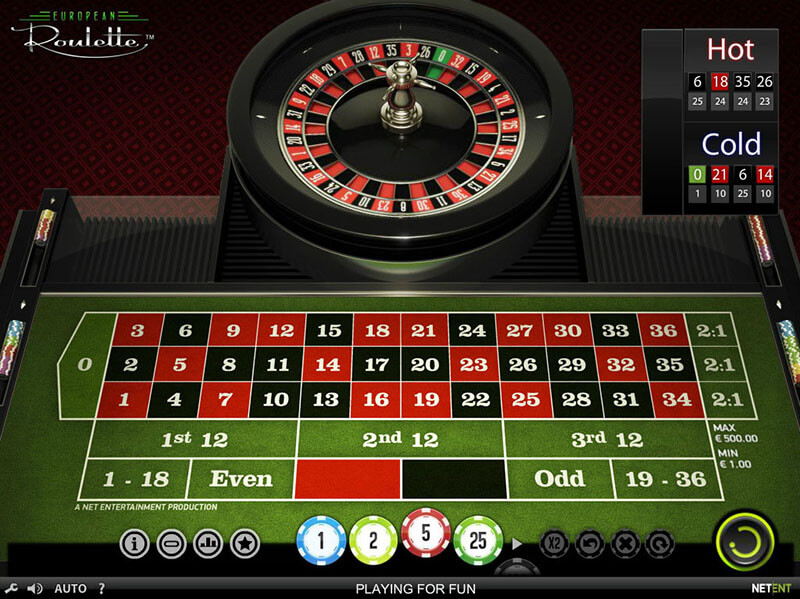 American Roulette
American roulette follows pretty much the same rules as its European cousin with a few small exceptions. One of the greatest differences between the two variants is that American roulette is played on a wheel containing 38 pockets. There are two zero pockets, marked 0 and 00. The addition of the double-zero pocket significantly increases the built-in house advantage which stands at 5.26%.
In addition to inside and outside bets, players can make the so-called Five-number bet which covers numbers 0, 00, 1, 2 and 3, but has a higher house edge of 7.90%. Placing Orphelins, Tiers du Cylindre and Voisins du Zero bets is not possible in American roulette since the numbers' arrangement on the wheel differs from that in European roulette. Statistics on numbers that have come up on previous spins are also displayed. Popular variations of the game have been developed by well-known casino software suppliers like NetEnt, Betsoft, Microgaming and Playtech.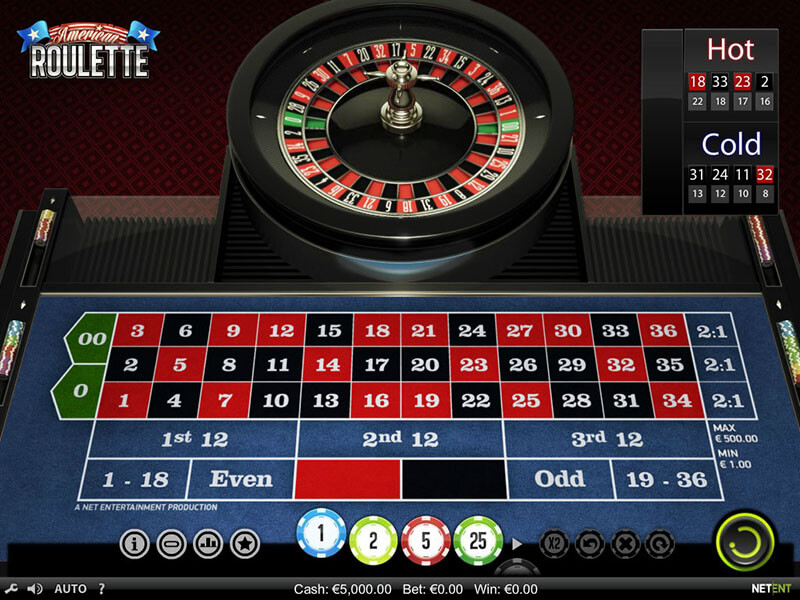 French Roulette
Similarly to European roulette, French roulette is played on a standard, single-zero wheel containing 37 pockets. The available types of bets coincide with those in European roulette only their French names are used on the layout. For example, High/Low bets are called Manque/Passe, Odd/Even bets are called Pair/Impair and so on. Making Four-number bets on 0, 1, 2 and 3 is also an option here.
The La Partage rule is applicable in the French variation of the game. Thus, even-money bets do not lose if the ball lands in the zero pocket. Players have half of their initial stakes returned to them, instead. Because of this rule, the house edge for the French variation is further reduced to 1.35%. When playing online, roulette fans can repeat bets they have placed on previous rounds by clicking the Rebet button. The Quick Spin functionality allows for playing at a faster pace.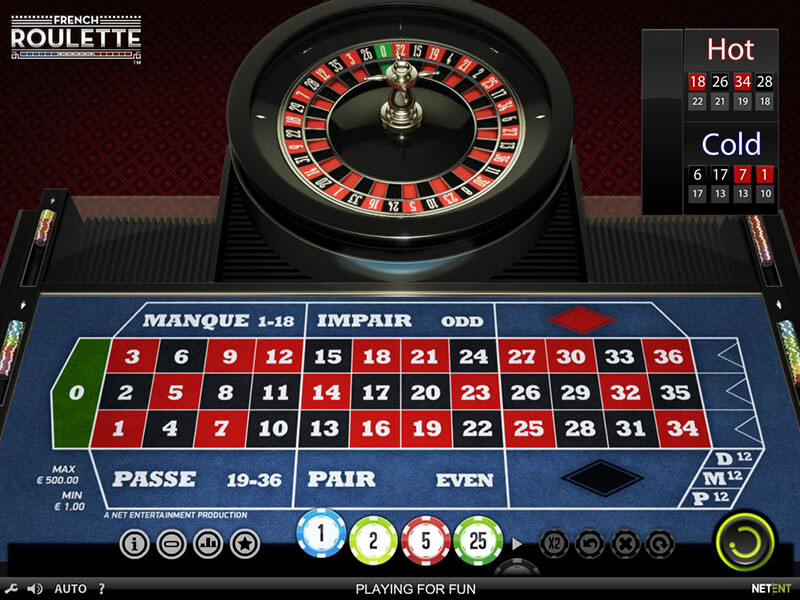 Multi-Wheel Roulette
Multi-Wheel Roulette poses as an interesting take on the traditional table game. Popular software provider Playtech has developed its own variant of Multi-Wheel roulette. The game features not one, but six single-zero wheels. Of course, if you do not want to play on all six wheels, you are presented with the option to deactivate some of them. Needless to say, playing on all six wheels significantly increases players' chances of winning. Other than that, there are no deviations from the standard rules of play. Another variation, offered by software developer Microgaming, is played on eight wheels.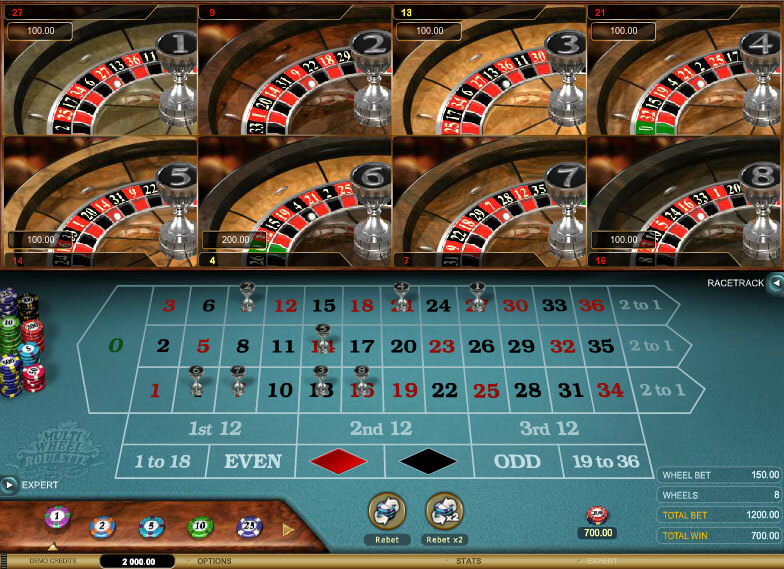 Common Draw Roulette
If you enjoy interacting with other roulette players, then Betsoft's Common Draw Roulette is just the thing you need. The game is played on a standard European wheel, containing only one zero pocket. The spins in this game are timed, meaning that the ball is spun automatically every 33 seconds. It is possible to keep track of numbers that have come up on previous spins in the statistics section. Information on hot and cold numbers is also available. Yet, the most appealing feature of Common Draw Roulette is the Chat functionality which allows players to interact with one another.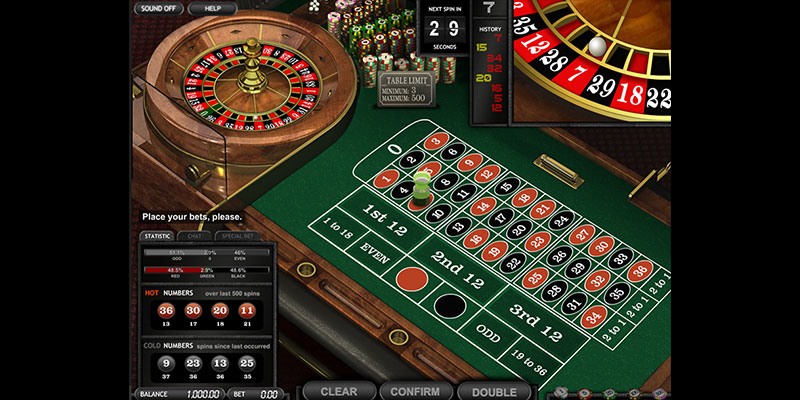 Mini Roulette
NetEnt's Mini Roulette is the perfect option for roulette fans who wish to diversify their gameplay a little bit and try something new. The game is a mini variation of European roulette since there is only one zero pocket on the wheel. One major difference results from the fact that both the table layout and the wheel contain only numbers zero through twelve. When the ball lands in the zero pocket, players get a refund and 50% of the bets they have placed on other numbers are returned.
Fewer numbers on the wheel means higher chances of winning, which is why the payouts differ from those in standard European roulette. For instance, winning Straight Up bets pay out 11 to 1, while successful Split bets have a payout of 5 to 1.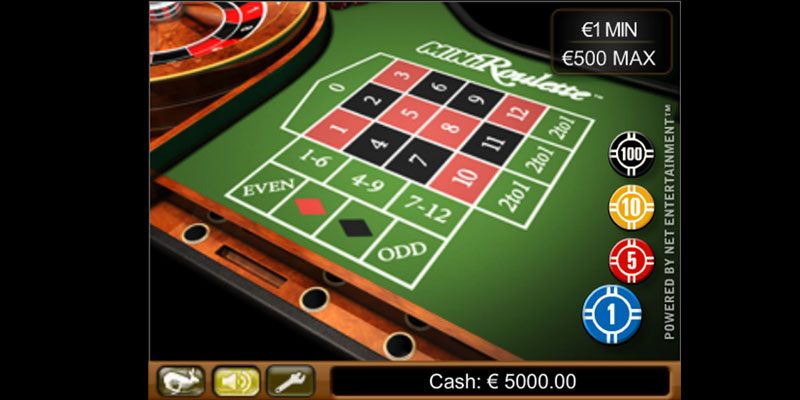 Roulette Royale
Roulette Royale, courtesy of software developer Microgaming, is also played on a standard, single-zero wheel. The payouts and the rules coincide with those in European roulette. What truly makes Roulette Royale unique is the life-changing progressive jackpot, attached to the game. Players are required to place a small, but obligatory side bet which goes towards the progressive jackpot.
In order to win the massive prize, you need to hit the same number five times in a row. Other than that, Roulette Royale impresses with crystal-clear visuals, smooth gameplay and intuitive interface, which makes it suitable for less experienced players as well.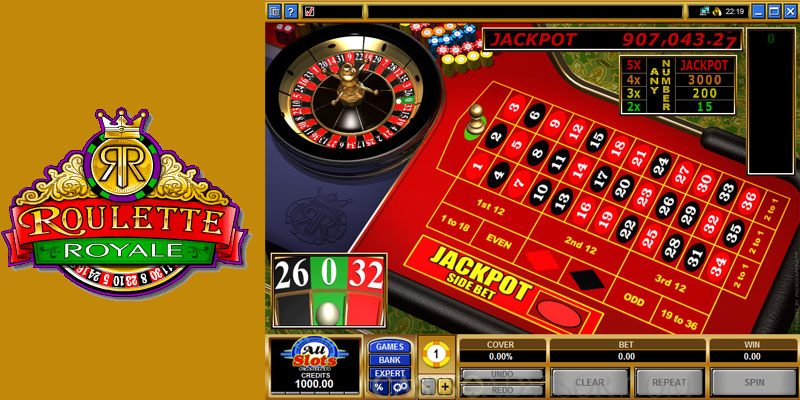 Best Online Casinos for Roulette Players
Prior to opening an account at a web-based casino, roulette fans are recommended to first make sure their online gambling operator of choice is reliable and above all, legitimate. We have compiled a short list of five established and licensed online casino operators where you can find different enticing variations of roulette.
888casino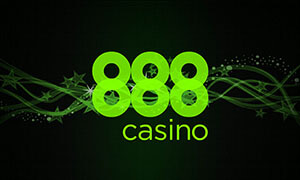 888casino is among the pioneers in online gambling as its website was launched nearly twenty years ago, in 1997. The casino is fully legitimate and operates under licenses issued by the UK and the Gibraltar Gambling Commissions. It runs on software, provided by leading developer NetEnt.
Players, who register at 888casino will benefit from an extensive portfolio of high-quality gaming options, including slots, blackjack, poker, and video poker. The games can be played on the go since the website is compatible with mobile devices running on iOS and Android. Players in need of assistance can rely on the casino's friendly support team via the Live Chat functionality.
Roulette fans can pick from a wide range of variations of the game, including French, European, American and 3D Roulette. There is also the option to play the game against a real, professional croupier in the Live Dealer section of 888casino, where you can find unique titles like Immersive, Dragonara, Spanish and German Roulette.
Hippodrome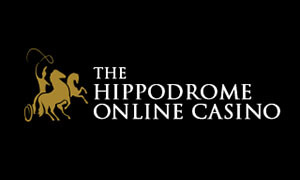 Established in 2013, Hippodrome Casino offers players over 450 first-class games, ranging from the latest video slots to various table classics like blackjack, baccarat, poker, craps and of course, roulette. The extensive gaming collection is courtesy of software provider Microgaming. The casino is a safe online gambling destination as it operates under licences, granted by the Maltese Gaming Authority and UKGC.
Other advantages of playing at Hippodrome include adequate and timely customer support via Live Chat, mobile compatibility and a comprehensive list of convenient and secure payment methods. New players are welcomed with a lucrative bonus of £1,000. The casino is home to several popular roulette variations, including American, French, European, Multi-Wheel and Multi-Player Roulette. A Live Dealer variation of the game is also on offer.
32Red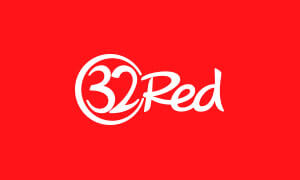 32Red is yet another established online casino provider which operates since 2003. The website is licensed and regulated by the Gambling Commissions of Gibraltar and the UK. Players are provided with the option to enjoy over 500 state-of-the-art slots, table games and video poker variations, developed by Microgaming. Playing while on the move is also an option since 32Red offers a bespoke mobile application, available for a free download.
Those of you, who are interested in playing roulette, specifically, will be able to choose from several high-quality variants of the game. Popular roulette titles you can find at this reputable casino include European Roulette Gold, Premier Roulette, American and French Roulette. Immersive, Auto (with the La Partage rule) and VIP Roulette are available in the Live Dealer section. You can also test the games without risking your own money since all newly-registered players at 32Red are awarded a £10 No Deposit Bonus.
BetVictor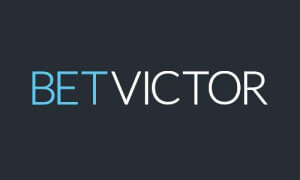 Players, who open an account at BetVictor Casino, will be able to enjoy a wealth of enticing games, ranging from slots and video poker to over fifty classic table games, developed by leading software providers the likes of NetEnt, Microgaming, IGT and Evolution Gaming. BetVictor may date back to 1946 as a brand but it succeeds in keeping up with the latest trends in the industry as it is compatible with portable devices running on iOS and Android. New players can boost their balance by claiming the lucrative £200 Welcome Bonus upon their first deposit.
If you are interested in playing roulette, in particular, you will find several first-rate variants of the game at BetVictor – French, European, Pinball and VIP Roulette. Playing Live Roulette is also an option. The online casino operator holds a license, granted by the Gibraltar and the UK Gambling Commissions.
Royal Panda
Royal Panda boasts over a decade of experience in the online gambling industry and is home to a comprehensive gaming catalogue which features a plethora of slots, video poker variations, and traditional table games like baccarat, blackjack, craps, and roulette. Players are given the opportunity to win a massive prize while playing on go since Royal Panda, too, is compatible with mobile devices running on iOS and Android. Newcomers are rewarded for registering with a nice Welcome Bonus of up to £100 in free play.
Players, who wish to put their luck to the test by spinning the wheel can make their pick from several authentic variations of this game of chance, including Slingshot Auto Roulette, Multi-Wheel Roulette, London and Immersive Roulette. Royal Panda is a reliable gambling destination as it operates under licenses, provided by the Malta Gaming Authority and the UK Gambling Commission.