Being one of the most recognisable casino games in the world, roulette enjoys a great popularity among players. Since the game is based predominantly on chance, it is suitable for both seasoned players and casino novices. Due to its immense popularity among players, the game has made it to the gaming collections of all established and legitimate online casino operators.
Thus, players are no longer required to leave their homes in search of a land-based gambling venue to play the game as they can take a seat at one of the many "virtual" roulette tables available online. More often than not, well-known online casinos are fully mobile-responsive allowing players to engage in their favourite roulette variations while on the go.
Most roulette fans opt for playing the 3D variations of the game since the latter impress with crystal-clear graphics and authentic casino sounds that often leave players with the impression they are sitting in an actual land-based gambling venue. Besides, the 3D variations of the game often have various special features that further add to the convenience of players.
How to Play 3D Roulette Online
In most cases, the 3D versions of the game feature the standard single-zero wheel used in the French and European roulette variations. Nevertheless, players will be able to find 3D American roulette variants where the wheels have an additional double-zero pocket. It is important to remember that the house edge in double-zero roulette is considerably higher and stands at 5.26% as opposed to that in single-zero roulette, which stands at 2.70%.
European Roulette House Edge and Payout
Bet Type
Bet Payout
Bet Probability
House Edge
Straight
35/1
2.70%
2.70%
Split
17/1
5.41%
2.70%
Street
11/1
8.11%
2.70%
Square or Corner
8/1
10.81%
2.70%
Six Line
5/1
16.2%
2.70%
Column
2/1
32.4%
2.70%
Dozen
2/1
32.4%
2.70%
Red / Black
1/1
48.64%
2.70%
Odd / Even
1/1
48.64%
2.70%
High / Low
1/1
48.64%
2.70%
American Roulette House Edge and Payout
Bet Type
Bet Payout
Bet Probability
House Edge
Straight
35/1
2.63%
5.26%
Split
17/1
5.26%
5.26%
Street
11/1
7.89%
5.26%
Square or Corner
8/1
10.53%
5.26%
Five Line
6/1
13.16%
7.89%
Six Line
5/1
15.79%
5.26%
Column
2/1
31.58%
5.26%
Dozen
2/1
31.58%
5.26%
Red / Black
1/1
46.37%
5.26%
Odd / Even
1/1
46.37%
5.26%
High / Low
1/1
46.37%
5.26%
French Roulette House Edge and Payout *
Bet Type
Bet Payout
Bet Probability
House Edge
Straight
35/1
2.70%
2.70%
Split
17/1
5.41%
2.70%
Street
11/1
8.11%
2.70%
Trio (0,1,2 / 0,2,3)
11/1
8.11%
2.70%
Four-Number (0,1,2,3)
8/1
10.81%
2.70%
Square or Corner
8/1
10.81%
2.70%
Six Line
5/1
16.2%
2.70%
Column
2/1
32.4%
2.70%
Dozen (P12, M12, D12)
2/1
32.4%
2.70%
Red / Black
1/1
48.64%
2.70%
Impair (Odd) / Pair (Even)
1/1
48.64%
2.70%
Manque (Low) / Passe (High)
1/1
48.64%
2.70%
* Whenever the La Partage and En Prison rules apply, the house edge is further reduced to 1.35%.
Typically, 3D roulette variations stand out with an intuitive interface, which renders them suitable even for those who have never played the game. Of course, prior to joining any virtual 3D roulette table, players need to become better acquainted with the betting options and their respective payouts. For instance, outside bets in roulette have higher chances of winning, but you can collect only smaller amounts of money with them. Inside bets, on the contrary, have smaller chances of winning but boast substantial payouts.
Playing 3D roulette online is rather easy as it follows the same rules as the games that are played in brick-and-mortar casinos. The only difference lies in the superb visual representation as the graphics and sound effects are extremely realistic.
Once you have deposited funds into your casino account, you simply need to load the game and choose your preferred chips denomination. To place your bet, you should click on its corresponding betting box on the table layout. You can bet on individual numbers or on combinations of numbers.
All 3D variants of roulette have comprehensive Help sections where you can find information on the payouts and the rules if you experience any difficulties. Once you have placed your bet in its corresponding betting box, you need to click on the Spin button. The ball will eventually slow down and come to rest in one of the pockets. If you win with your bet, the money will be credited to your casino account immediately. If you lose, the sum you have put on a stake will be forfeited from your balance.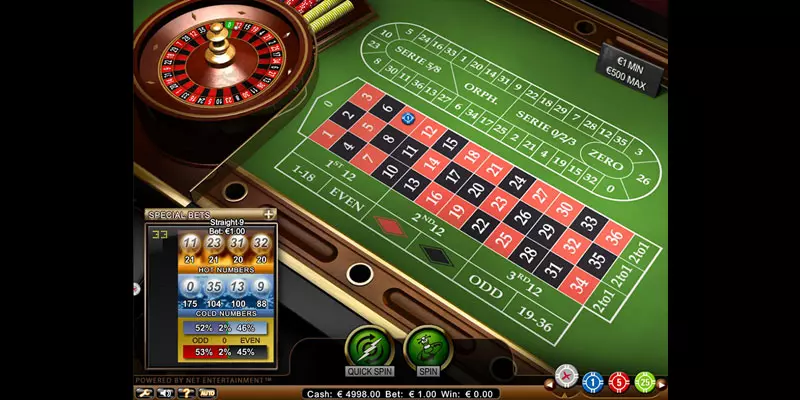 Features of 3D Roulette Games
One single glance will suffice to convince players that 3D roulette differs considerably from its 2D counterpart, especially as far as quality and graphics design are concerned. With this high-end version of the game, you get to play on a 3D table where the wheel and the ball look exceptionally true to life. With 2D roulette variations, the visual depth is one of their lacking points as everything is flat and two-dimensional.
3D roulette variations, developed by established software suppliers like Microgaming, Playtech and BetSoft, impress with life-like visuals, smooth gameplay and improved physics. Players often notice the ball reacts better when it bounces on the wheel and settles into a pocket. The metal sections of the wheel typically reflect the shining lights of the virtual casino and even gleam as if they had been polished before you joined the table.
The sound effects when the ball is in motion are much more authentic too. You can even hear the voice of the croupier urging you to make a bet or announcing the winning numbers. Typically, soothing jazzy music is playing in the background.
Yet, impressive sounds and visuals are hardly the only advantages of playing 3D roulette. The latter has plenty of handy features to offer. You can modify the table to suit your own preferences by changing the colour of the layout cloth, for instance. Additionally, you can keep track of previous winning numbers thanks to the History feature. Statistics on hot and cold numbers can help you make informed decisions and decide on a suitable betting strategy.
Most 3D variants of roulette allow players to place call bets, such as Orphelins, Voisins du Zero, and Tiers du Cylindre. However, sometimes, one is required to switch to Expert mode to make such wagers. You can place the same bet several times in a row by clicking on a button that says either 'Rebet" or "Repeat Bet", depending on the 3D roulette variation you play. Those who enjoy playing the game at a more dynamic pace can easily switch to Turbo mode.
It is important to mention that most 3D roulette variants have higher table limits but it all depends on the online casino you have registered at.
Unlike some of the other roulette variants that are available out there, most 3D roulette games players will come across out there do not come with any special rules. Yet, this is worth checking out before you get down to betting because the creators of the game might have decided to add a twist to the gameplay.
Playing 3D Roulette on Mobile
As software developers endeavour to live up to the expectations of lovers of casino games that have a rather busy daily routine or just prefer to wager wherever they are, they design games that work seamlessly on desktop and portable devices.
The same rings true also when 3D Roulette games are concerned as most of the time, gambling enthusiasts will have an easy time playing the preferred game on their tablet or smartphone. Fortunately, most creators of casino games have seen to it that their 3D roulette games will not be cramped when loaded on devices with smaller screens, thus guaranteeing supreme experience at all times, and no matter the location.
What roulette lovers might be satisfied to hear is that in most cases, when playing such roulette games through their touchscreen device, they will not miss out on the quality of the graphics and animations, which is if crucial importance as well.
Popular Variations of 3D Roulette
There are many different variations of 3D roulette to choose from, but few impress with their realistic visuals and ambient sounds more than the variants listed below. Read on to find out more about the superb 3D roulette variations, developed by industry leaders Playtech, Microgaming, Play'n Go, and Betsoft.
Playtech's 3D Roulette Premium
Playtech's 3D Roulette Premium follows the rules of standard European roulette, so it features a single-zero wheel. This renders it suitable for roulette fans who are looking for variations with a lower house edge. The game comes with realistic 3D graphics, exciting animations, and a number of handy features.
There is the option to make inside, outside, and call bets. Statistics are also available allowing players to keep track of previous winning numbers. In Turbo mode, the game can be played at a faster pace. Chip denominations range between £0.20 and £100 while the table limit is set at £1,000 or the equivalent in your currency of choice. The Repeat button may be useful for players who have adopted a specific strategy.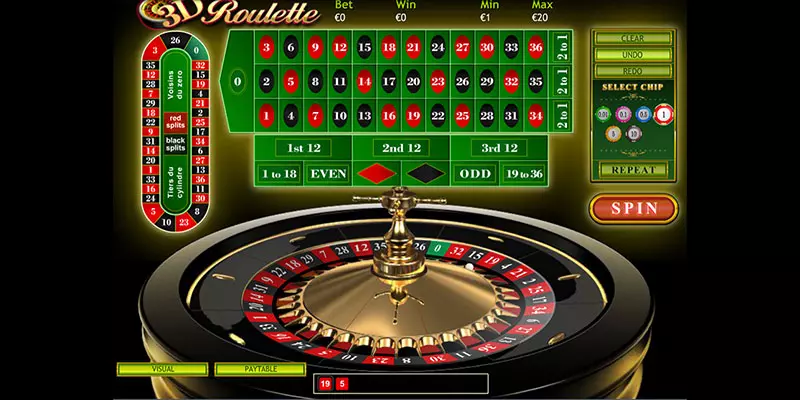 Microgaming's Premier Roulette Diamond Edition
Premier Roulette Diamond Edition, courtesy of the industry giant Microgaming, has plenty of benefits to offer to fans of the game. First of all, the visuals and sound effects are superb, to put it mildly. The game is played on a single-zero wheel and there is the option to choose from a variety of chip denominations ranging between £0.25 and £2,000, which renders the game suitable for both high-rollers and more risk-averse players.
Players can adjust the colour of the table cloth to suit their individual preferences. The game allows for call bets to be made, which can be laid on entire sections of the roulette wheel. One of the most exciting features of this 3D variation is that it allows one to play against other real players from across the world. Statistics on previous winning numbers are also displayed.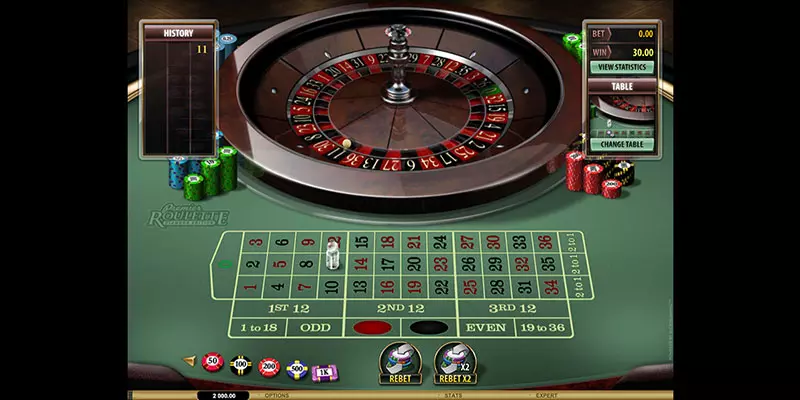 BetSoft's Common Draw Roulette
Common Draw Roulette ranks among the most engaging table games from Betsoft's catalogue. The game is played on a standard European wheel containing 37 pockets. Needless to say, this variation pleases the eye with superb 3D visuals and boasts a variety of helpful features. The game is played in multi-player mode and there is a chat facility, which enables players to communicate with each other.
In addition to inside and outside bets, players can make a number of call bets or special bets as they are called in this variation. Players have about thirty seconds to make their bets. If someone has not confirmed their bet when the clock reaches five seconds, the unconfirmed bet will be automatically removed from the table when the ball is set in motion. The wheel in this game spins automatically after all players have confirmed their wagers. Table limits may vary from one casino operator to another.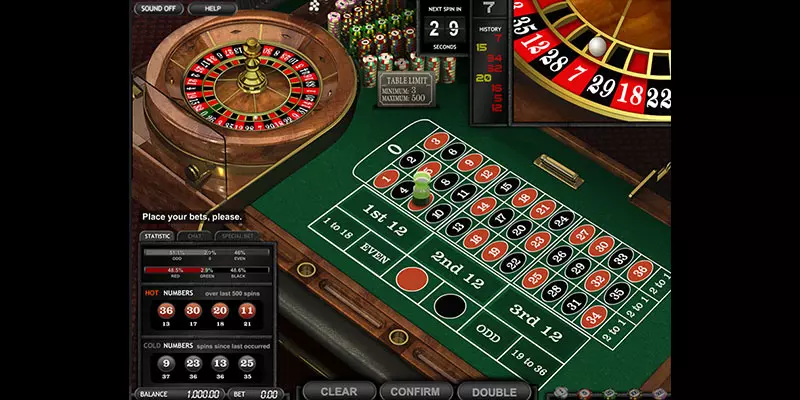 NetEnt's Roulette Advanced
NetEnt's Roulette Advanced is one more exceptionally thrilling game that has started to turn heads almost immediately after it was rolled out. This is anything but surprising considering the fact that it boasts first-class graphics. The betting layout and the wheel are almost lifelike, which players will undoubtedly appreciate. Thanks to the background music, players might get the feeling that they have just visited one of the land-based casinos.
Aside from its premium visual presentation, Roulette Advanced impresses with its betting limits as the least amount that can be staked is £0.10, while the maximum on wagers reaches £5.000. Roulette lovers will have a choice from several chip denominations, the smallest of which is £0.10, while the biggest is £1.000.
Naturally, the game comes with numerous useful features that players might wish to tap into. They are allowed to double the staked amount, opt for a quick spin, rebet, and can also see all available bet types once they hover the cursor of the mouse over the different areas of the betting layout. Additionally, once the winning number is determined, players will notice that a small window will pop up in the lower left corner of their screen where they can see their payout and learn more about the winning number.
While betting on Roulette Advanced, players can view the history of the winning numbers and statistics on the cold, hot, even, and odd numbers, which is a major plus. Gambling enthusiasts might also be pleased to find out that placing any of the special bets is possible as well.
Play'n GO's European Roulette Pro
If you are on the lookout for a roulette variant that stands out with the quality of the graphics, Play'n Go's European Roulette Pro might be the right option for you. As it seems, the creators of casino content have directed all their efforts towards providing players with a truly authentic experience by recreating the thrill players enjoy when they join the roulette tables in brick-and-mortar casinos.
The background music, together with the bet announcements will also aid players enjoy a lifelike casino experience.
The highest chip denomination in this roulette game is £100, while the lowest is £1. Players can easily find out what payoff they can expect to receive if their wager is resolved as winning one before they have even laid it as when they hover the cursor of the mouse over one of the numbers or a group of numbers from the betting layout, this information will immediately appear in the lower left corner of their screen.
Another thing players might be happy to hear is that European Roulette Pro comes with statistics and allows them to save their current bets. Call bets can be placed too, and to do so, players simply need to click on one of the fields from the racetrack.