Double Action Roulette is an interesting take on the traditional casino game, introduced by one of the world's most prolific roulette manufacturers – TCSJOHNHUXLEY. The company's wheels are offered in several styles, with the Saturn, Gemini and MKVII designs enjoying the greatest popularity among roulette players throughout the UK.
Turning a profit on Double Action Roulette requires a good amount of planning and persistence because the game offers players two winning numbers on each spin of the ball. As the name of the game suggests, there are the two sets of numbers in Double Action Roulette. The unique MKVII roulette wheel comprises an inner and an outer ring of numbers, situated in opposing order. The inner and outer rings spin in opposite directions.
There are 37 pockets on each of the rings of the Double Action Roulette wheel. Red and black pockets alternate and are marked with numbers 1 through 36. Low and High numbers also follow one after another so as to ensure that the roulette wheel is well balanced. The zero pockets are coloured in green as is the case with traditional roulette wheels.
One major deviation from the classic roulette game is the table layout of the Double Action Roulette variation. It consists of two identical betting sections. The first betting section accommodates bets on the outer-ring numbers, while the second one is where bets on the inner-ring numbers are placed. Betting section A, where the outer-ring bets are placed, is located in close proximity to the wheel. Betting section B, where the inner-ring bets are made, is positioned further from the wheel.
Another detail that might have commanded the attention of gambling enthusiasts is that the wheel sits in the left end of the table, while the betting layouts are positioned in the right-hand side of the screen.
Players will probably notice that the betting sections in this variation of the game consist of six rows with six numbers each as opposed to the classic roulette layout where there are twelve rows, each one comprising three numbers. The zero stands on the left-hand side of the grids and is typically coloured in green. There is also a racetrack betting section, where call bets like Orphelins and Voisins du Zero can be made. While exploring the layout of the table, players will notice that the racetrack is positioned right above the two betting layouts.
Bets on individual numbers or combinations of numbers can be placed on the inner ring, on the outer ring, or on both rings simultaneously. Then again, players, who are looking for more excitement and thrills can test their luck by making outside bets which offer different payouts.
The TCSJOHNHUXLEY's Double Action Roulette is available in single-zero and double-zero variations, thus accommodating the needs and preferences of all lovers of the table game.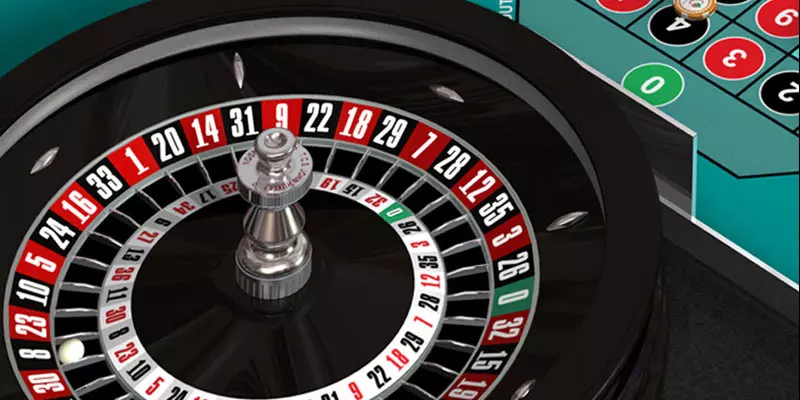 How to Play Double Action Roulette
Double Action Roulette follows the standard rules of play of the traditional game. There is a variation of the game with a lighted layout which helps accentuate the winning bets on each spin of the wheel.
As was mentioned above, it is possible for players to make inside bets on individual numbers or combinations of numbers. Winning inside bets have standard odds. Placing outside bets is also an option, but there is one important thing to consider. In Double Action Roulette, outside bets on Red/Black, High/Low, and Odd/Even do not pay even money. In order to collect a payout with an outside bet, it needs to win on both the inner and the outer ring of the wheel. Needless to say, in this way, it will be much more difficult for gambling enthusiasts to win when making an outside bet.
An outside bet on black, for example, will win only if the ball lands in the black pockets on both rings, in which case the payout is 3 to 1, with a built-in house advantage of 5.33%. The same is valid for High/Low and Odd/Even wagers.
What this means is that gambling enthusiasts can opt for an outside bet only when they bet on both circles at the same time. Still, this does not apply to inside bets because it will be up to players to decide if they would like to bet on just one or on both rings from the roulette wheel.
Since two roulette wheels are implemented in the game, gambling aficionados should take into account the fact that they will assume greater risk. Yet, what makes this roulette variant such an alluring option are the overwhelming payouts that can climb up to 1,200 times the staked amount.
Risk-averse players should not be left under the impression that they need to steer clear of Double Action Roulette because if they prefer, they can simply opt for betting on just one of the rings, instead of wagering on both of them at the same time.
With Double Action Roulette, it is possible to place bets while the ball is still in motion. When the croupier announces "No more bets", the ball starts to slow down. The winning numbers are automatically illuminated on the outer and inner betting sections to help prevent errors in terms of the slot on which the white ball has landed. On some Double Action Roulette tables, there is a separate display where players can keep track of the previous winning numbers.
Once the winning numbers are illuminated, the croupier will place a marker on them and move bets placed on both rings to the rim of the wheel. The chips are swept from the Double Action track, then from betting section B and finally, from betting section A.
Playing the game online is quite simplified. First, players needs to select their chips denomination at the bottom of the screen by clicking on their preferred value. It is possible to mix chips with different values on the same bet. When you hover your mouse cursor over the table layout, each type of bet will be illuminated and its payout will pop out.
To make a given bet, the player simply needs to click on its corresponding betting box on the layout. Once the chips have been placed within the betting box, the player should click on the "Spin" button so that the wheel is set in motion. Eventually, the ball will come to rest on two numbers, thus revealing the results for this particular round. If the player wins, the money will be credited to their casino account right away. If the bet loses, the respective sum will be forfeited from the player's balance.
Players, who have adopted the Martingale betting strategy, will surely appreciate the Rebet x2 button. The button's function is to double players' bets on the same numbers and re-spin both rings of the wheel.
Still, we cannot rightly say what the betting limits for this roulette variant will be due to the fact that they might differ significantly between the casinos where it is available.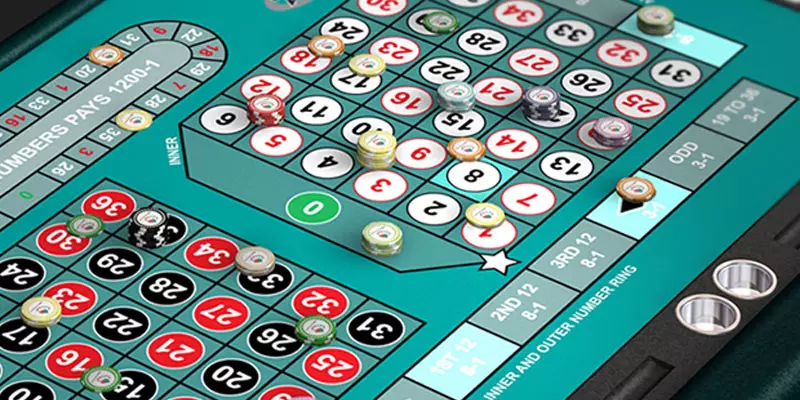 Types of Bets in Double Action Roulette
As was mentioned earlier, it is possible to bet on the outer ring, the inner ring, or on both rings simultaneously. Below, you will find the types of bets you can make in single-zero Double Action Roulette, along with their respective payouts.
Single-Ring Bets
Straight Up bets on individual numbers pay out 35 to 1.
Split bets on two adjacent numbers have a payout of 17 to 1.
Corner (or Square) bets are made on four numbers and pay out 8 to 1.
Street bets covering six consecutive numbers pay out 5 to 1.
Bets on seven numbers (0, 1, 2, 3, 4, 5 and 6) on single-zero wheels have a payout of 4 to 1.
Line bets covering twelve numbers have a payout of 2 to 1.
Double-Ring Bets
Double-ring bets on two black numbers pay out 3 to 1.
Double-ring bets on two red numbers pay out 3 to 1.
Bets on two even numbers on both rings have a payout of 3 to 1
Bets on two odd numbers on the two rings have a payout of 3 to 1.
Double-ring bets on two even numbers will pay 3 to 1.
Double-ring bets on two low numbers (1 through 18) will pay 3 to 1.
Double-ring bets on two high numbers (19 through 36) also pay 3 to 1.
Double-ring bets on two first, second or third dozens have a payout of 8 to 1.
Bets on two columns of numbers have a payout of 8 to 1.
Double-ring bets on seven numbers (0, 1, 2, 3, 4, 5, and 6) pay out 25 to 1.
Winning double-ring Straight Up bets on individual numbers will pay out 1,200 to 1.
As players can see, the payoffs they will get to enjoy when they place double-ring bets are truly handsome, which comes to explain why Double Action Roulette attracts such a great deal of attention.
As mentioned above, gambling enthusiasts should not get carried away by the massive prizes they will be given the opportunity to chase because the risk will be significantly higher. Bear in mind that the heftier payoffs the wager promises to deliver, the harder it will be for players to make an accurate prediction.
Single and Double-ring Bets Probabilities Comparison
It goes without saying that the payoffs players will be offered will be determined not only by the type of bet they have placed as if they are betting on just one of the rings or on both of them is also determinant.
This decision will have an impact on the probability of winning as well, which roulette mavens should take into account while making up their minds on how to approach the game.
It is worth mentioning that the numbers we will discuss refer to single-zero wheels. Let's first focus on the probabilities of the single-ring bets players are enabled to choose between.
First off, winning wagers that are laid on a single number have a payoff of 35:1, while their probability is 0.027. As you might already know, Split wagers cover two numbers at the same time, and a payoff of 17:1 is offered when such wagers are winning ones. Since there are two combinations the appearance of which delivers a payout, the probability of stakes placed on any two numbers at the same time to become winning ones is 0.054.
When gambling enthusiasts opt for betting on any three numbers, they can snatch a payout of 11:1. Such bets have a probability of 0.081, which can be easily calculated by dividing the total number of winning combinations, which in this case is 3 by the total number of combinations or 37.
With wagers laid on any four numbers, the payoff will be 8:1, while the probability of such wagers to become winning ones is 0.108. Wagers that are placed on any six numbers have a probability of 0.162 and pay out at a rate of 5:1. If the wager players have chosen covers seven numbers, the probability of winning will be 0.189, while the payoff will be 4:1. Finally, wagers that comprise twelve numbers have a probability of 0.324, and the awarded payout will be 2:1.
Things are a little different if players decide to go for double-ring wagers, not only in terms of payoffs but also when probabilities are concerned. If players decide to make a stake on two black or two red numbers, the probability of winning will be 0.236, and in the event that they have made a correct prediction, they will get a payout of 3:1. The probabilities of winning and the payouts will be identical also if players decide to bet on two odd or even numbers or make a bet on the numbers 1 to 18 or 19 to 36.
If gambling aficionados prefer to bet on the numbers 1 to 12, 13 to 24, or 25 to 36, the probability of winning will be 0.105, and when such stakes are settled as winning ones, players will be paid out at the rate of 8:1. When their wager covers seven numbers from the roulette wheel, the payoff they might get will be 25:1, and the probability of winning will stand at 0.035.
As we mentioned above, wagers that are made on two identical numbers deliver a staggering payout of 1,200:1. Needless to say, the probability of your wager to turn out to be a winning one is exceptionally small and stands at 0.000730.
Conclusion
Players are recommended to go for a single-zero variation of Double Action Roulette if they wish to turn a profit. Overall, it is advisable to abstain from placing outside bets, such as Red/Black, Odd/Even, and High/Low since their built-in house advantage is higher, even more so on the double-zero variation of the game.