Microgaming is among the forerunners of the online gambling industry. The company was established over twenty years ago, in 1994, and in fact, started out as an online casino, called the Gaming Club. Two years after its inception, Microgaming decided to go in a slightly different direction by focusing on expanding its gaming catalogue and offering its software to other web-based gambling operators.
The company quickly succeeded in cementing its key position in the ever-growing online gambling industry and has won multiple awards throughout the years. The software supplier's portfolio spans over 1000 quality titles, ranging from video slots and video poker variations to over 50 authentic classic casino games, such as blackjack, poker, baccarat, craps and of course, roulette. Over 200 of Microgaming's titles are available in a mobile format, allowing enthusiastic players to enjoy their favourite casino games on the go.
Each roulette variation, developed by Microgaming, impresses with state-of-the-art visuals, realistic sound effects and user-friendly interface. The roulette games also offer a variety of interesting and useful features that are guaranteed to make your gaming experience truly unforgettable.
Top Online Casinos
Features of Microgaming Roulette Variations
The roulette games offered by the popular software developer stand out with crisp, life-like visuals and realistic sound effects, much like those you would expect to hear in an actual landbased casino. Yet, visual appeal is far from being the only advantage Microgaming's roulette variations can offer to fans of the game of chance.
Players are presented with a variety of cool features, designed to enhance their gameplay and render their gaming session even more enjoyable. With most variations, the wheel is situated in the top left corner, with the betting layout covering much of the screen. It is possible to adjust the layout so that it fits your betting needs. Players can save up to eight layouts with their preferred betting patterns as long as they switch to Expert mode. The table limits range between £1 and £1,000, but it all depends on the Microgaming casino you have registered at. Some of the most popular variations like European Roulette Gold have both standard and high table limit versions.
Roulette fans get to play the game at their own pace since there is the option to switch to Turbo Play. Another useful feature is Autoplay, which is available in Expert mode. It allows fans to play up to 100 Spins with a single click of their mouse button and stop when their winnings exceed a specific sum.
Microgaming's roulette variations are also suitable for players who incorporate a given betting system into their gameplay since it is possible to bring in a detailed history of the numbers that have come up on previous spins of the wheel. Statistics on Red/Black, Odd/Even and High/Low numbers that have been spun are available. Also, players can double their bets or repeat their previous bet with a single click of the respective buttons.
In some roulette variations, like Premier Roulette Diamond Edition, close-ups of the winning numbers are not available. As a matter of fact, close-ups are not really needed in this instance since the graphical representation of the wheel is so crisp, you will be able to see the number the ball lands on by yourself.
There are numerous betting options to choose from. It is possible to make inside, outside, call and neighbour bets. Players, who are looking to try out something new, will greatly appreciate Microgaming's multiplayer and multi-wheel variations of the game.

Popular Microgaming Roulette Variations
Microgaming has produced several enticing variants of the classic game. The Roulette Gold series are especially popular among fans of the game and encompass more traditional options like European, American and French Roulette Gold. Multiplayer Roulette adds a more social aspect to playing online, while Multi-Wheel Roulette is played on several wheels simultaneously. Below, you can find more information on the most popular roulette variations, courtesy of Microgaming.
European Roulette Gold
Microgaming updated its original variations of European, American and French Roulette in order to bring them in line with the variants, offered by competing software developers. Thus, European Roulette Gold features visually compelling graphics, more realistic sounds and a range of improved, additional features.
The game features a single-zero wheel and follows the standard rules of play. The table layout takes most of the screen, with a wheel positioned at the upper left corner. Players can adjust the size of the screen, the sound effects and the speed of the game. Thanks to the Autoplay feature, players can set a bet type, choose the size of their wager and let the software take care of spinning the ball.
There is also the option of changing the layout to an overhead view by switching to Expert mode. It is possible to save up to eight betting patterns. The statistics on the numbers that have been previously spun are displayed in the upper right corner of the screen. A close-up of each winning number is also available. The game offers information on the percentage of the table players have covered with their bets.
Speaking of bets, there is the option to make inside, outside, and call bets like Voisin du Zero, Orphelins and Tiers du Cylindre. Betting on Red and Black Splits is also possible in Expert mode.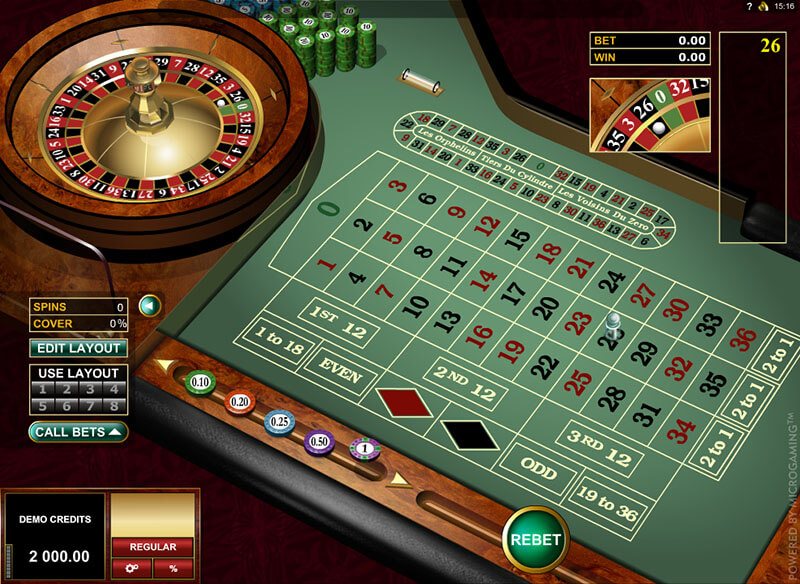 French Roulette Gold
Microgaming's French Roulette Gold resembles to a great extent the European variation of the game. Both games share a number of features. For example, French Roulette Gold makes it possible to keep track of the recent outcomes of the spins in the history board.
The close-ups of winning numbers are displayed in the inset zoom window, situated in the upper right corner of the screen. If you switch to Expert mode, you will be able to save your preferred betting patterns, which is more time efficient than clicking on individual chips to place a bet. Saving up to eight edited layouts is possible.
The wheel is again positioned at the top left corner of the screen and features only one zero pocket. However, the La Partage rule is applicable in the French variation of the game, which means players will have half of their original stakes returned if the ball ends up in the zero pocket.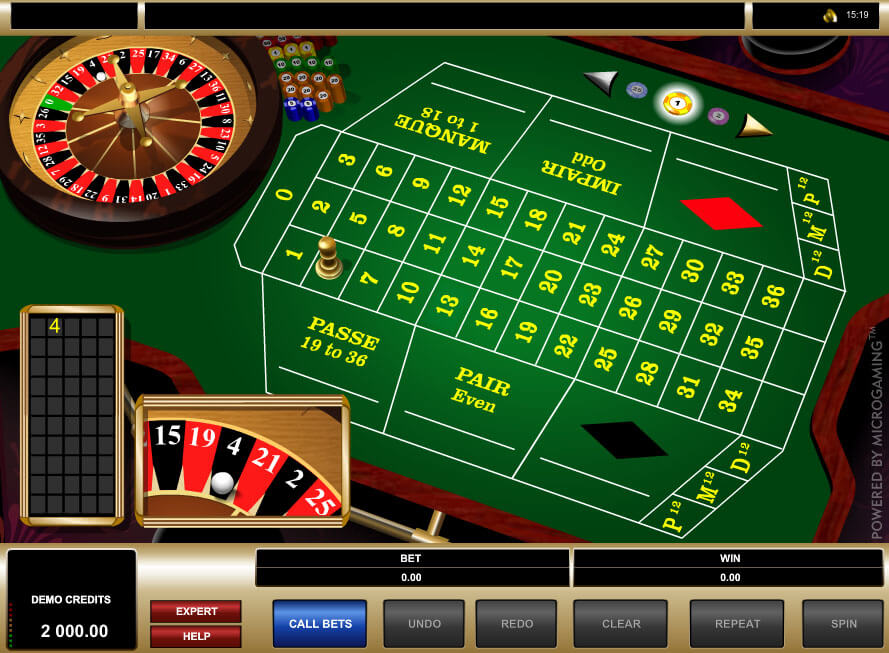 American Roulette Gold
Microgaming is also responsible for one visually appealing variation of American roulette. The game is played on a wheel containing two zero pockets, which doubles the house edge to 5.26%. Other than that, the traditional rules of play apply as players can make inside and outside bets as well as Five-Number bets that cover numbers 0, 00, 1, 2 and 3.
Again, there is option to customise the layout of bets on the table, saving up to eight different betting patterns. The Autoplay feature is also present here. You can adjust the settings so that Autoplay ends after your winnings exceed a specific sum or stop after any win. Other useful features include the Rebet functionality, statistics on previous spin outcomes and the inset zoom window where close-ups of winning numbers are shown.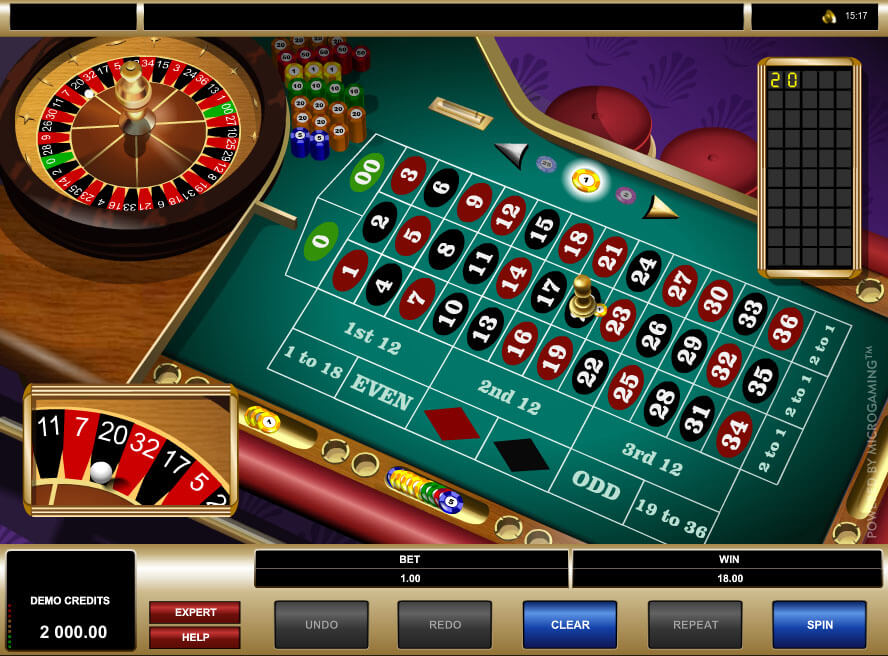 Premier Roulette Diamond Edition
Microgaming truly outdid themselves with their Premier Roulette Diamond Edition variation of the popular game. The 3D wheel is visually appealing and accurately represented, so much so it leaves players with the impression they are betting at a landbased casino.
As soon as the game loads, you will notice the single-zero wheel is actually situated above the betting layout. On that note, it is worth mentioning players get to choose between six different table layouts and each one impresses with a different colour and design. The game also allows for up to 500 consecutive spins in Autoplay mode.
Less experienced players can place even-money, outside bets and inside bets on individual numbers or combinations of numbers. More advanced players, on the other hand, can make call and neighbour bets in Expert mode. Statistics on hot and gold numbers and the outcomes of previous spins is also available. One feature that is missing is the inset zoom window. The latter is not really necessary as the wheel is so detailed, you can easily distinguish where the ball has landed on your own.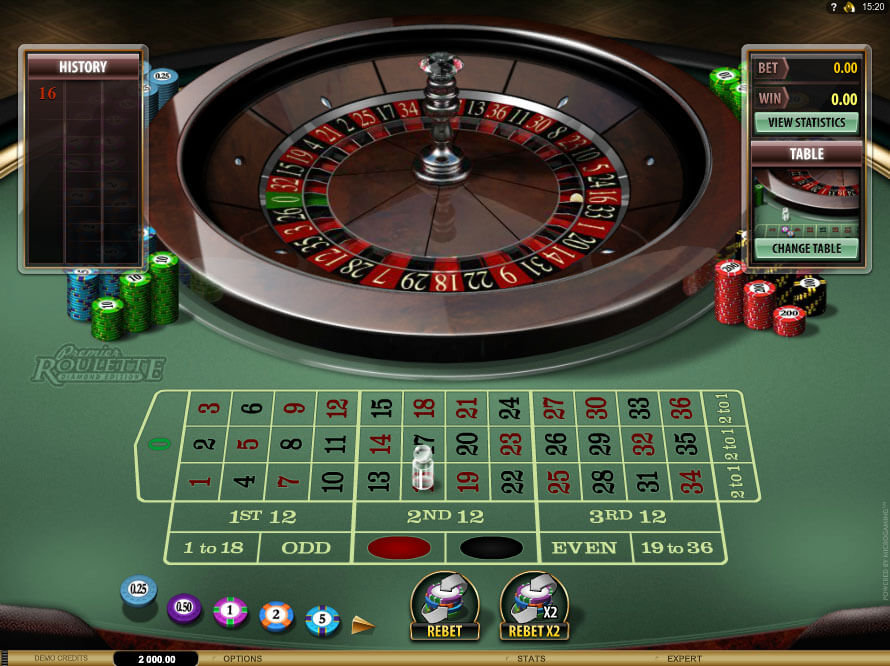 Multi Wheel Roulette
Avid fans of the classic casino game will surely appreciate Microgaming's take on Multi Wheel Roulette. This variation of the game features not one but eight wheels, which means eight opportunities to win with your bet. However, if you do not wish to play all eight wheels simultaneously, you can easily deactivate some of them.
Similarly to Premier Roulette Diamond Edition, the wheels in this game are located in the upper section of the screen, above the betting layout. The game allows for inside, outside and racetrack bets. However, if you are new to the game, it is advisable to be careful in the beginning and avoid playing all eight wheels simultaneously.
Whenever you make a bet, the sum you put on stake is multiplied by eight. For example, if you bet £10 on Black, you actually are betting a total of £80 given that all eight wheels are currently active. That is why players are recommended to place smaller bets than they normally would do on regular roulette games.
When all active wheels come to a stop, the panels will zoom into the numbers the ball has landed on. After that, the markers for each active wheel are placed on the table and you are paid out all winning bets accordingly. You can place the same bet by hitting the Rebet button or double your wager by clicking on the Rebet x2 button.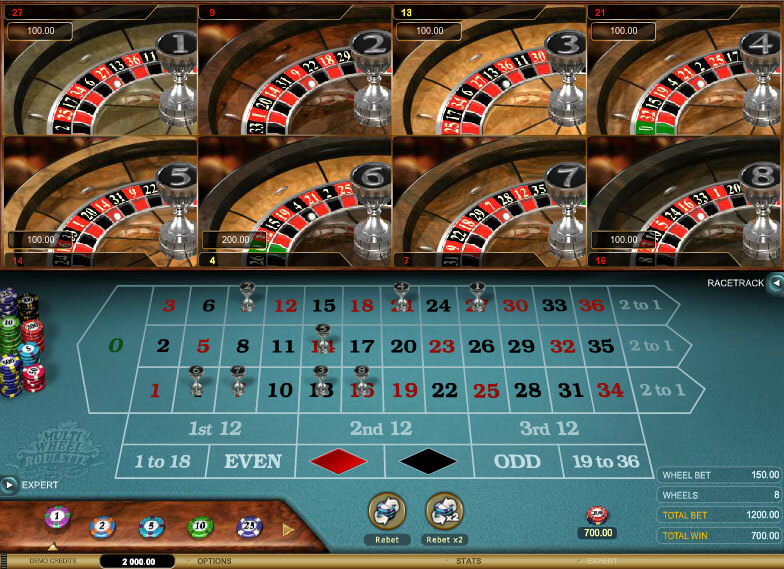 Multiplayer Roulette
Roulette fans, who seek to experience the fun and excitement of playing in a brick-and-mortar gambling venue, should opt for Microgaming's Multiplayer roulette variation. The game is actually broadcasted live, directly from a landbased casino and is hosted by flesh-and-blood, professional dealers.
The game allows for up to seven players joining the same roulette table, which means you can see the bets made by the other six players. The Multiplayer variation is based on European roulette and features a single-zero wheel. More advanced players can switch to Expert mode and benefit from a number of useful functionalities like Autoplay and Rebet. There is also the option to modify the table settings in accordance with your individual preferences.
A social aspect is added to the game since participants are enabled to interact with each other and communicate with the dealer via the chat functionality. Statistics on hot and cold numbers and history, regarding previous winning numbers are also displayed. What is more, players get to see information about the dealer who is hosting their game. Due to the fact the game is broadcasted in real time, time limits are applicable when players make their bets.