Players all over the world choose to play blackjack because it is one of the most challenging and enticing card games. It is a casino game that provokes heated discussions among professional players regarding its patterns, developed strategies, and systems. Blackjack grew in popularity significantly because it offers gamblers the chance to gain an advantage over the casino by using their skills and knowledge.
Throughout the years, many interesting variations have emerged, each one having additional options and rules. Some of them really appealed to the majority of blackjack fans. This is the reason why a great number of casinos offer not only the classic game but also some of its most sought-after variations.
One very popular version of the game is called Blackjack Switch and it can be found in many brick-and-mortar casinos as well as online. The reason why is that it's quite extraordinary and many players opt for it. Some variations of blackjack offer only minor changes to the major rules such as an optional side bet, whereas this one provides them with a completely different way of playing.
Brief History of the Variation
Geoff Hall is the reason why this popular variation of the game exists as he was its inventor and developer. Geoff Hall is undisputedly one of the most acknowledged names in the casino industry. Hall has been fascinated with card games from an early age, constantly looking for new ways to improve them or increase their dynamics.
After his first encounter with the game of 21 at a terrestrial casino, Hall immediately developed an interest in blackjack and borrowed a book from a fellow player to study its peculiarities in more detail in the late 1980s.
He quickly developed his skills and became proficient in both shuffle tracking and card counting, two of the most profitable advantage-play techniques in blackjack. Blackjack Switch is arguably Hall's best-known and famed creation so far. In an interview, Hall recalls he came up with the idea of this game in the late 1990s while he was playing two betting spots at a landbased casino.
He was dealt two weak hands that could have been improved drastically if he was able to switch the top cards between the two. In an interview with mathematician and acclaimed gambling guru Michael Shackleford, Hall recalls one of said hands was hard 14 while the other one was hard 16. Both are terrible totals for the player.
Hall remembers thinking his odds would have been improved significantly had he been able to switch the cards to get hard 10 and 20. He toyed with the idea of one such game for half a year until he finally developed Blackjack Switch.
His invention was eventually introduced at the Harvey's Casino (that presently goes under the name of Harrah's) in the state of Iowa back in 2001. Two years later, Hall decided to revise some of his invention's rules and added the now-notorious Push 22 rule.
In the winter of 2003, the improved version of Blackjack Switch debuted in Sin City's Four Queens Casino on Fremont Street. It was not until long that the game made its way onto the floors of many other North American gambling venues.
It spread like a wildfire, so much so that gambling software provider Playtech asked for Hall's permission to adapt it for online play. It eventually became one of the most popular online blackjack variations released by the Isle of Man-based software studio.
Blackjack Switch was patented in 2009 and ever since it has been very successful as it appeals to many players globally. The different number of hands make this variation extremely interesting and challenging which is the reason why it became so popular in a very short period.
Rules of Blackjack Switch
The main rules and moves of the game are the same as those in classic blackjack unless otherwise stated on the table in the casino. It is recommended for players to have a look at them beforehand. The major difference here is that instead of one hand, they have two, which allows them to switch the top cards to improve their hands. You play them in turn, starting with the right hand and proceeding with the left. Note that the top cards of the two hands can only be switched before you have taken any hits.
To play them, you need to place two equal bets for each one as they are viewed as two separate hands. Card counters need to bear in mind that the decks in the game vary as they can be four, six, or eight. The online variation released by Playtech uses six decks that are randomly shuffled by the RNG after each round. Cards are dealt face-up to players and the dealer takes hole cards.
The peek rule is also in place, requiring the dealer to check for naturals whenever their starting card is an ace or a ten. Insurance is offered against the dealer's ace and pays at standard odds of 2 to 1. In this version, the payout for blackjack is not the standard one of 3 to 2 as players are paid even money instead.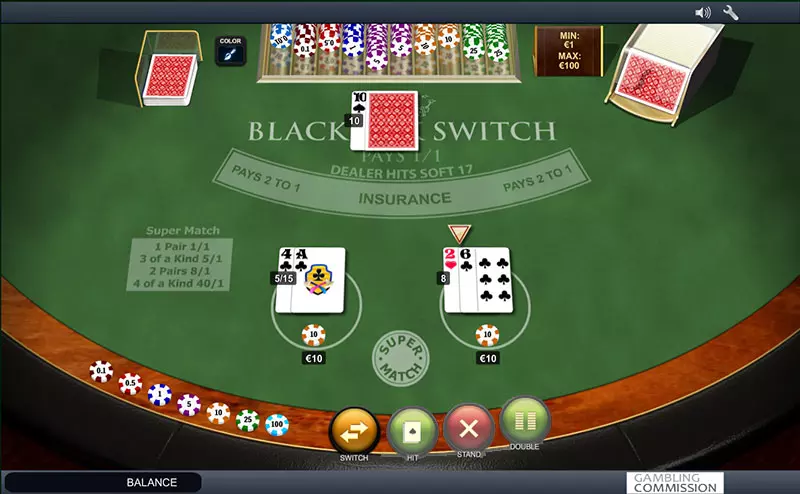 In most cases, the dealer hits on soft 17. However, this rule may vary depending on the casino so it is always best to double-check before you sit down to play. Another unique rule of Blackjack Switch is that the dealer pushes with non-busted player hands when holding a total of 22. So if you do not bust and hold anything else but a blackjack, you will have your original wager restored to you in a push.
Players have the chance to double down on any two cards and also make this move after they have split. Re-splitting is allowed up to three times to a maximum of four hands. Most versions of the game disallow hitting split aces.
Blackjack Switch is so immensely popular that it has travelled across the ocean to Europe. In Austria, the game is known under the name Blackjack Exchange. The game has also made it to some Russian casinos where four or six full decks are implemented.
The Russian dealers normally stand rather than hit soft totals of 17 and do not use hole cards (as is the case with many European blackjack variations). Perhaps the coolest feature of the Russian version is the availability of early surrender.
This enables players to fold underdog hands right after the initial deal of the cards when the dealer's first card is an ace. The bottom line is Blackjack Switch is available worldwide so you better ask the dealer or the floor personnel about the particular ruleset before you start placing bets at a new table.
Optional Side Bet
Just like other variations of the game, Blackjack Switch also offers a group of optional side bets, collectively known as the Super Match wagers. If players choose to take advantage of this option and place it, they will be rewarded when they have two or more matching cards in their hands. The payout varies depending on the number of matches and the casino rules.
A side bet must be placed before any cards are dealt at the table. It is settled immediately after the initial deal before you have switched your cards or taken any hits. Should you win, the dealer would pay out right away. You proceed to play your two main hands as you normally do.
The side bets are settled based on the four initial cards that form your two starting hands. The chips are posted in the smaller betting circle positioned between your two main betting spots. In Playtech's online adaptation of Blackjack Switch, a single pair of any two matching cards offers an even-money payout (1 to 1).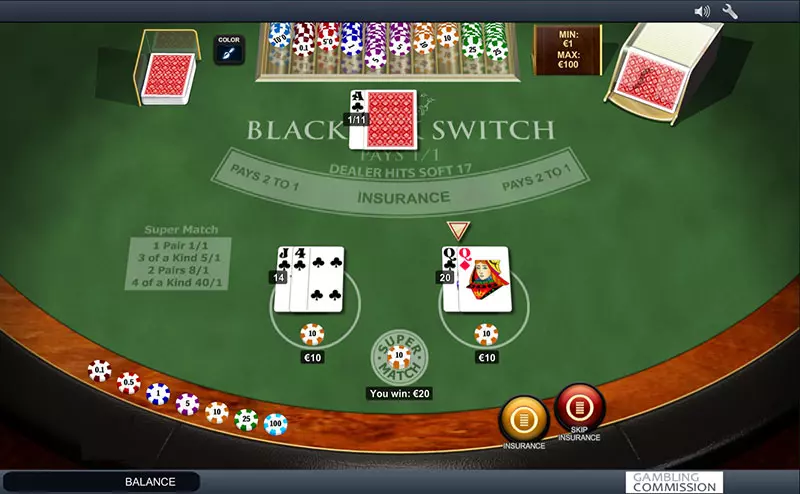 A set of three matching cards earns you a payout of 5 to 1 whereas two pairs pay at odds of 8 to 1. The top earner in the game is the Four of a Kind, which returns 40 times your side bet. The limits for the main and side wagers are casino specific, though. Some Playtech-powered casinos accept wagers between £0.50 and £50, giving small-scale bettors a great chance to enjoy this bespoke blackjack game.
Before players make up their mind, they should take into account the fact that most side bets heavily favour the casino. Moreover, if they want to make the best possible decision regarding the side bet, they need to get familiar with all of its subtleties and possible tricky situations.
The above-described payout structure produces a cumulative house edge of 2.55% for the Super Match group of side wagers. This is significantly higher than the house advantage of the main game which is estimated at approximately 0.13%. The exact percentage might differ across online casinos. The expected returns of individual winning side bets are posted in the table below.
Blackjack Switch – Expected Return of the Super Match Side Wagers
Side Wager's Name
Expected Return per £1 Wager
Payout
Any Pair
£0.35
1 to 1
Three of a Kind
£0.10
5 to 1
Two Pairs
£0.12
8 to 1
Four of a Kind
£0.01
40 to 1
Strategy for Blackjack Switch
Playing Blackjack Switch optimally is more complex since there are two separate strategies you must learn and abide by. The first thing players must do after their starting totals are dealt is to decide whether or not they should switch the top cards between the two hands. The suggested simpler switch strategy below is good for the standard set of rules in Nevada, and Las Vegas in particular.
There are also free switching calculators online that tell you the correct plays in every possible situation. Feel free to use them until you learn the switching strategy by heart. You enter the values of the first and second cards of your two hands along with the value of the dealer's upcard and the calculator computes the optimal play for you.
Once the player decides to decline or accept the switch option, they must revert to basic strategy to play out their hands. The chart below contains the plays for standard six-deck variations where the dealer hits soft 17.
Basic Strategy Moves after the Players Make Switching Decisions
Players' Hand
Dealer's Upcard
2
3
4
5
6
7
8
9
10
Ace
Hard Totals
5, 6, 7, 8
H
H
H
H
H
H
H
H
H
H
9
H
H
H
D
D
H
H
H
H
H
10
D
D
D
D
D
D
D
H
H
H
11
D
D
D
D
D
D
D
D
H
H
12
H
H
H
S
S
H
H
H
H
H
13
H
S
S
S
S
H
H
H
H
H
14, 15, 16
S
S
S
S
S
H
H
H
H
H
17, 18, 19, 20
S
S
S
S
S
S
S
S
S
S
Soft Totals
A-2, A-3, A-4
H
H
H
H
H
H
H
H
H
H
A-5
H
H
H
H
D
H
H
H
H
H
A-6
H
H
H
D
D
H
H
H
H
H
A-7
H
H
H
Ds
Ds
H
H
H
H
H
A-8, A-9
S
S
S
S
S
S
S
S
S
S
Paired Cards
2-2, 3-3
H
H
H
P
P
P
H
H
H
H
4-4
H
H
H
H
H
H
H
H
H
H
5-5
D
D
D
D
D
D
D
H
H
H
6-6
H
H
P
P
P
H
H
H
H
H
7-7
S
P
P
P
P
P
H
H
H
H
8-8
P
P
P
P
P
P
P
P
H
H
9-9
S
S
P
P
P
S
P
P
S
S
10-10
S
S
S
S
S
S
S
S
S
S
A-A
P
P
P
P
P
P
P
P
P
P
The only basic strategy discrepancy between six-deck and eight-deck games is that in the latter, you hit your hard 9 against the dealer's 5 instead of doubling down as is the case in the former. As for the switching part, many blackjack experts have created strategies for this, some more simplified than others, including Arnold Snyder, Cindy Liu, and Karel Janecek.
The strategy developed by Cindy Liu is by far the most broadly used one. Blackjack Switch novices should start by learning Liu's simpler version of the strategy and build up from there. Liu orders the player's hands starting from the strongest to the weakest one like so: 21, 20, 19, Ace-Ace, 11, 10, 9, 18/8, and 8-8 with 2 to 8 up.
The players must implement the above-listed ranking of hands to strengthen weak starting totals as much as possible against the dealer's 8 or 7. When the dealer shows any other possible upcard, the player must also try to improve higher totals, if they can, by switching.
If it is still impossible to form any of the above-listed hands, the player must attempt to form the highest possible hand from this alternative ranking: 7/17, any pair that calls for splitting against the respective upcard, 12, or 13. However, there are several exceptions to these rules as well.
When you hold a pair of aces while your other hand is 8-3, you should keep the aces as they are rather than switching cards. The same is valid when you have 9-2 and aces against a dealer who shows low upcards deuce through 6.
Aces should also be kept as they are with a holding of 8-2 and A-A. If you insist on accuracy, we suggest you check out Liu's advanced strategy for switching. The monetary penalties you will have to pay when using the simpler (and less accurate) strategy of Liu amount to 0.17%.
Pros & Cons of Blackjack Switch
On the one hand, Blackjack Switch is a variation which gives players rather decent chances of winning as the house edge of the main game is one of the lowest you can find in blackjack, provided that the rules aren't altered by the casino.
However, players will benefit from this low house advantage only on condition they stick to the perfect basic and switching strategies. On top of that, Blackjack Switch players will benefit from milder variance. You will not see as massive short-term swings as those inherent to some conventional blackjack variations.
Apart from this, the game is really interesting and challenging as you must make choices for two hands. At the same time, you have the unique opportunity to exchange cards between them. Every gambler has at least once faced a situation where they wished they could switch one of their cards to improve their hand.
As blackjack is a casino game that involves money, it is extremely important to be able to make the best possible decisions to reduce the chances of incurring losses to the minimum. This version of the game allows you to make unusual moves and experience different situations. Thanks to it, players will be able to put their skills and knowledge to the test and develop their ability to multi-task. The game is guaranteed to appeal to anyone who enjoys greater dynamics and unconventional gameplay.
On the other hand, the fact that switching is allowed can be considered as a major drawback due to the reason that it requires a whole new strategy and approach. You will have to learn the correct plays for switching along with the optimal basic strategy for the ruleset of the main game.
It would be difficult to transition from conventional 21 to Blackjack Switch as you will have to commit many new plays to memory. Additionally, here you have no other choice but to play two hands every single round. This is something that might not appeal to players with very humble bankrolls.
One rule that does not favour players is that if the dealer's cards total 22 and none of them is an ace, he/she doesn't go bust. The dealer ties with all non-busted player hands instead except for blackjacks, meaning that they don't get anything on their initial wager.
Conclusion
Blackjack Switch is one very different variation of the game as it allows players to switch cards, a move which is forbidden when it comes to playing conventional blackjack. Just like every casino game, this version has both its advantages and disadvantages. This is the reason why players should take their time and decide for themselves whether or not to try this version.
On the one hand, it is really interesting and challenging as it allows them to play two hands and switch cards between them which increases their chances of improving them. On the other hand, this change influences their basic strategy directly. Before they start playing, they must alter it accordingly and learn a new strategy when it's best to switch.