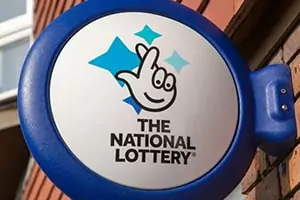 The National Lottery is extremely popular in the UK, with statistics for 2020 showing that 27.3% of the people in the UK have participated in the National Lottery at least once in the last month. Until recently, the legal age for purchasing a lottery ticket and playing the game was 16 or older. As lottery tickets were given as birthday gifts and anybody of the age of 16 or older could play the National Lottery, the number of jackpot millionaires in the UK is fairly high.
In April 2021, the fifth-biggest ever EuroMillions jackpot was won by a UK citizen who enjoyed the whopping £122 million. The major jackpot would place the latest winner of the EuroMillions game among the top 1,000 on the Rich List of Sunday Times for 2020. While the future for the newly created millionaire is yet to be unveiled, past lottery winners have gone through a lot in the year that followed their big wins.
Have you ever wondered what happens to a lottery winner after becoming a jackpot millionaire in a day? Well, the harsh truth is that in most cases, something has gone wrong with the lives of past lottery winners who have suddenly become millionaires and did not know what to do with all of this money.
If you are interested in the lives of National Lottery winners in the UK, you can take a look at the list of people we have covered. You will be surprised how the money has drastically changed the future of most winners and unfortunately, in most cases, for the worse.
Colin and Chris Weir
Colin and Chris Weir have remained in the history of EuroMillions as some of the biggest lottery winners in the world and the second biggest jackpot winners in the UK. In 2011, the married couple swept the major jackpot prize of £161 million, earning them a spot on the Sunday Times Rich List.
Comparing them to other winners on our list, the couple had fairly modest first purchases with their newly won money. A tractor, computer, and sports jacket are some of the things the lucky winners bought with a small portion of their millions. One of their bigger purchases included Knock House, located near Largs. Later on, they sold their mansion to buy an even bigger house in Troon.
Colin and Christine donated a large portion of the money they have won, with The Weir Charitable Trust also being set up in 2013. Many believed that Colin and Christine would beat the lottery curse and will remain together, as they have been married for 38 years. Unfortunately, in April 2019, the couple announced their divorce. Just a few months later, in December 2019, Colin passed away at the age of 72.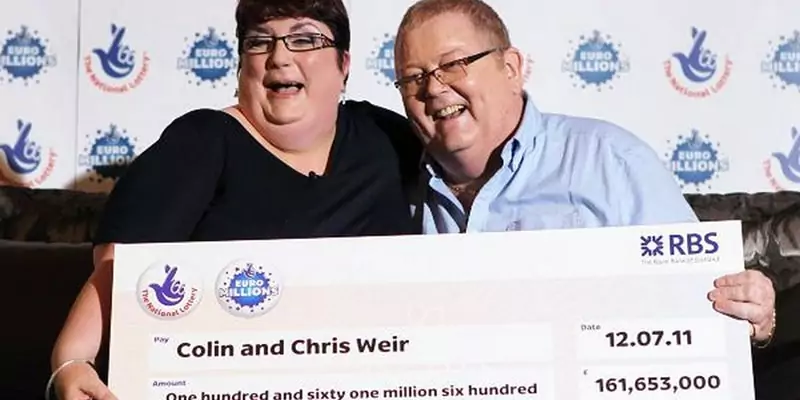 Jane Restorick
Before the recent change in the law to raise the legal age for participation in the National Lottery to 18, any individual in the UK of the age 16 or older could buy tickets and play the National Lottery. In 2013, after purchasing her first-ever lottery ticket, Jane Restorick, known as Jane Park in the past, became the youngest winner of the EuroMillions jackpot. Back then, Jane was only 17 and was living with her mother in Edinburgh.
Like most teenagers would do in her situation, Jane announced her win of £1 million on Facebook, expressing her surprise in a post on her wall. The first things she bought with her newly won million were a Chihuahua dog and a designer handbag by Louis Vuitton.
Despite this scenario sounding like a dream come true for many teenagers, Jane shared that sometimes she felt as if the lottery win destroyed her life. Jane believes that £1 million is way too much money for a 17-year-old girl to handle without any real guidance. The youngest lottery winner felt the stress of the expectations of friends and family to help them with any financial obstacles.
Although her win is the smallest on our list, Jane definitely is one of the jackpot millionaires who enjoy the most lavish life after the lottery win. Despite her young age, the lottery winner spent her million on expensive cars, vacations, and plastic surgeries.
Several years ago, Jane was admitted for a Brazilian lift procedure but was later rushed to a hospital due to some complication after the surgery. The jackpot winner admitted being in agony after having spent over £50,000 on plastic surgery procedures. One could say that things went wrong in her life after winning the lottery at such a young age, having no control over her spendings and the things she spends her money on.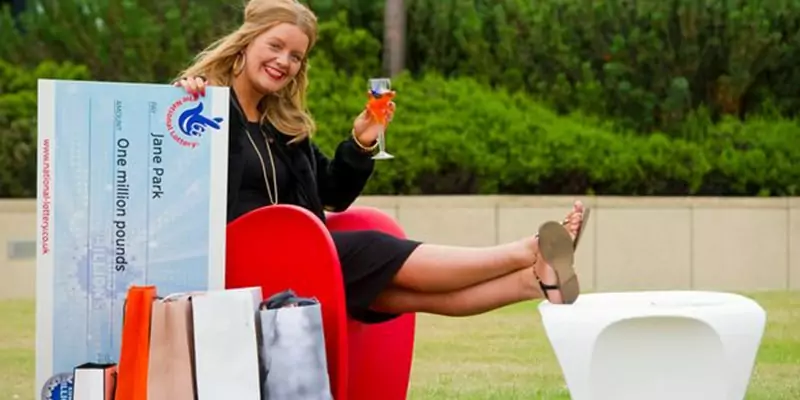 Adrian and Gillian Bayford
Next on the list is a couple that won the EuroMillions jackpot of £148 million in 2012. Adrian and Gillian Bayford became instant millionaires after sweeping the major jackpot. Unfortunately, the couple suffered what was often known as the lottery curse and split up only 15 months after they became millionaires.
Despite living in a £6 million mansion in the countryside, in 2016, Adrian decided to go back to work since he felt bored with his lavish life at the mansion. Adrian also used a portion of his money to start a music-related business and open a shop with the largest Lady Gaga memorabilia collection in the world.
Even though Adrian decided to move on with his new girlfriend, in February 2017, they split up. Just a few weeks later, burglars foiled a £100,000 raid on his home. In 2018, Adrian suffered another break-up with his latest girlfriend, with the latest news about the lottery winner being about him selling his £6.5 million mansion due to the numerous bad memories it brings to Adrian.
Gillian, Adrian's ex-wife, also had a very unfortunate life after winning the lottery and divorcing her husband. In 2016, her father publicly exposed Gillian for lying about giving him £20 million, with him admitting to receiving only £1 million.
In 2018, Gillian married Brian Deans who was a convicted conman. In 2019, however, Gillian's ex-boyfriend accused her of attacking him back in 2017. The trial was dismissed after Gillian pleaded guilty to the lesser included charges of abusive behaviour and threats towards her ex-boyfriend.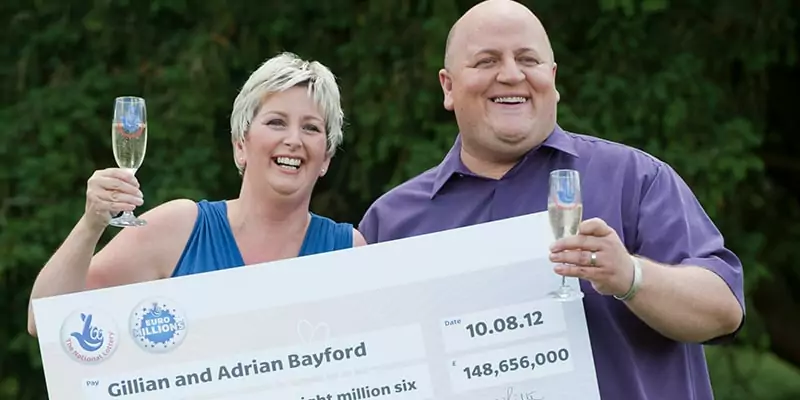 Dave and Angela Dawes
In 2011, David and Angela Dawes won the major EuroMillions jackpot that was over £101 million. The couple was extremely surprised and ensured that they will share a portion of their massive prize with their loved ones. While those closest to the lucky couple received around £30 million, David and Angela also set up a charity organisation.
The jackpot winners decided to move to a much bigger and more luxurious home, buying Socknersh Manor in East Sussex for £4 million. The mansion was previously owned by famous personalities like Tom Jones and Engelbert Humperdinck.
Unfortunately, as most jackpot winners on our list, David and Angela also suffered some misfortune after they won the lottery. While the couple is still together, beating the lottery curse, last year, they were robbed by a gang in their luxurious home.
One of the robbers struck David in the face and then the couple was tied with cable ties. The robbers took the couple's Range Rover and stole £20,000 worth of cash and some jewellery. The incident forced the couple to improve their home security to avoid any future incidents.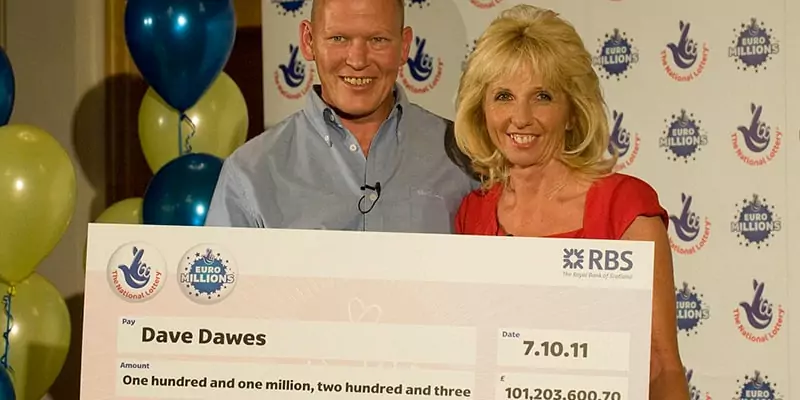 Gareth and Catherine Bull
Another couple that joins the rest of the National Lottery winners on our list is Gareth and Catherine Bull. In 2012, they became instant millionaires after winning the £40.6 million jackpot of EuroMillions. Gareth's then-wife Catherine joked that they were not nearly as extravagant as other multimillionaires and all she wanted was a new carpet for their newly-built home.
Turns out Gareth's wishes were far from modest as he ended up buying two hospitality boxes – one at Old Trafford and one at Wembley. After becoming a lot richer, the couple also became owners of a holiday villa in Tenerife. Catherine quit her job while Gareth gave up his building business.
While the couple seemed happy after the jackpot win, they were also victims of what many refer to as the lottery curse. A few years after they became multimillionaires, Gareth and Catherine Bull split up.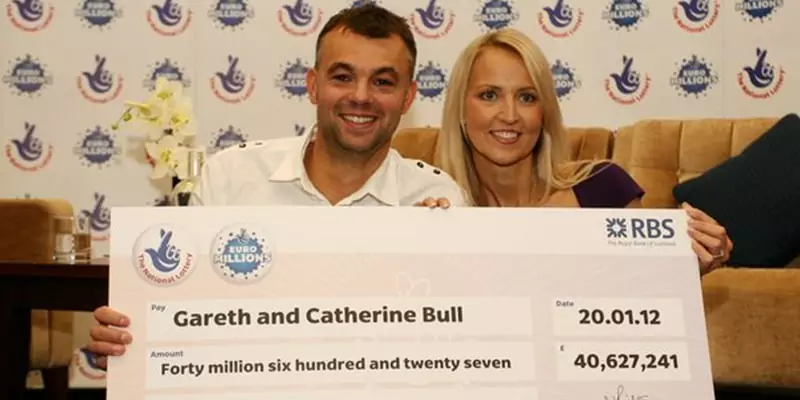 National Lottery Participation in the UK
Although many consider the lottery for a harmless form of entertainment, it is still some type of gambling and as such may expose vulnerable individuals to gambling-related harm. While the legal age for participation in the National Lottery was raised to 18 in April 2021, for many years, anybody of the age of 16 or older could buy lottery tickets and play the National Lottery.
Buying Lotto tickets was so common that many would even give tickets as birthday and Christmas presents. As most people consider the lottery as a low-risk gambling form, it has gained massive popularity in the UK. A survey on the cultural and sport participation among British people revealed that 44% of respondents have participated at least once in the National Lottery in the past 12 months.
You may be surprised but EuroMillions ranked as the second favourite game among British people (60%), with lotto taking the first place with 71% of respondents having purchased lotto tickets at least once between April 2019 and March 2020.
According to the survey, these are the favorite lottery games of British people:
Lotto – 71%
EuroMillions – 60%
Scratch cards – 29%
Thunderball – 11%
Other National Lottery games – 4%
HotPicks – 3%
Instant-Win games – 2%

As for the frequency of playing the National Lottery, 35% of the respondents reported having played the lottery every week, 25% played every month, and 40% of the participants in the survey reported participating in the National Lottery less frequently.

The Five Biggest EuroMillions Wins in the UK
Winner(s)
Jackpot
Date
Anonymous
£170 million
October 2019
Colin and Chris Weir
£161 million
July 2011
Adrian and Gillian Bayford
£148 million
August 2012
Anonymous
£123 million
June 2019
Anonymous
£122 million
April 2021

Ten Biggest Jackpot Winners in EuroMillions History
Winner(s)
Jackpot
Country
Date
Anonymous
€210 million
Switzerland
February 2021
Anonymous
€200 million
France
December 2020
Anonymous
€190 million
United Kingdom
October 2019
The Bayfords
€190 million
England
August 2012
Anonymous
€190 million
Portugal
October 2014
Anonymous
€190 million
Spain
October 2017
Both Anonymous
€187 million
Ireland and Belgium
June 2013
Chris and Colin Weir
€185 million
Scotland
July 2011
Anonymous
€183 million
France and Portugal
February 2006
Dean Hardman and the rest are anonymous
€183 million
United Kingdom, France, Spain, Portugal, Ireland, and Belgium
November 2006

Harry Evans is a long-year journalist with a passion for poker. Apart from a good game of poker, he loves to write which is why he spent several years as an editor of a local news magazine.