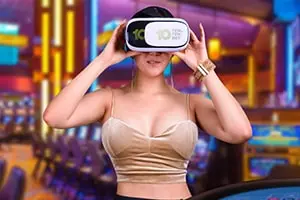 The gambling industry witnessed some drastic changes throughout the years. In the past, people had to travel to the nearest land-based gambling establishment to play their favourite casino games. The advent of technology was and still is the driving force that helped the gambling industry evolve. In the mid-1990s, the Internet exploded in popularity, leading to the exponential growth of the online gambling industry.
In the beginning, players could choose from a limited number of gambling sites. But running a web-based casino turned out to be a very prosperous business. Hence, a growing number of people decided to dip their toes into the market and start up a virtual casino. Presently, the gambling industry is oversaturated with online casinos and new ones spring up every day. To stand out from competitors, online casino operators offer mouth-watering bonuses.
Keeping their fingers on the pulse of the latest technology trends is also important for successful casino operators. Now, it seems that virtual reality (VR) is making waves in the online gambling industry. Even though this technology is relatively new, it found its place in different walks of life for training purposes. The gambling industry also managed to successfully implement virtual reality, attempting to lure in new players.
Virtual Reality Explained
Perhaps, many people associate virtual reality with sci-fi movies and gamers wearing huge goggles. If we have to define the term virtual reality, we would say that it is a three-dimensional artificial environment that replicates a realistic experience and shuts out the real world. Virtual reality would not be possible without special equipment that includes a headset. The price of the headset usually determines its quality.
Oculus Rift is a high-end VR headset, but it is not cheap. It will cost you approximately £400 for a basic pair without extras. But if you are a casino player, you will certainly need a headset to play VR games. Other high-quality VR headsets include Samsung Gear VR, Google Cardboard, Google Daydream View, and HTC Vive VR. The companies at the forefront of VR development are Samsung, Google, Facebook, TCL, and HTC.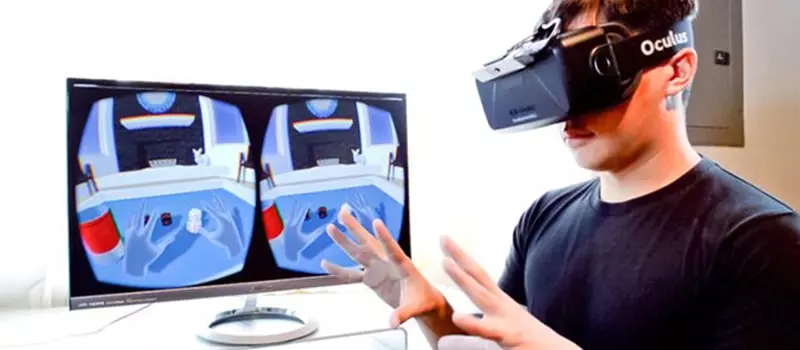 The Technology Behind Virtual Reality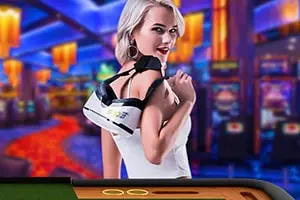 It is interesting to examine how exactly VR works to immerse people into an entirely different world while sitting on the couch in their living rooms. The different types of headsets are not that different in terms of their size and shape. However, the way they project the images varies greatly between the different headset models. In a nutshell, VR headsets are mounted displays. Headsets need to be connected to a console or computer to transmit video.
VR headsets are often referred to as goggles due to their technology that uses two LCDs (one per eye), pixels, and lenses placed between the eyes. The lenses change the angle from which 2D images are projected to replicate the way our eyes see the world. VR headsets come with an important feature called the field of view. Headsets with a wider degree of field provide a more immersive experience.
At least 60 frames per second are required to avoid disorientation and headache. Headsets' most distinctive features are head tracking and motion tracking. Thanks to them, the picture in front of your eyes moves as you move your head.
Virtual Reality and Online Gambling
A few gambling sites have already embraced virtual reality technology. Although the choice is very limited, the virtual casinos that offer VR gaming options are licensed and reputable. However, industry insiders believe that it will not take long until more VR online casinos appear on the gambling scene. A growing number of people buy VR headsets and accessories, meaning that such casinos will certainly appeal to a horde of people. The global VR gambling industry is set to grow from $0.4 billion in 2017 to $2.4 billion by 2024.
Virtual casinos are expected to attract the attention of gamers and people above 30 years old. Interestingly, VR casinos offer more than 3D animations. They provide players with a lifelike casino experience by welcoming them to the casino floor. VR casinos allow players to interact with each other thanks to a live chat feature. Some online bookmakers are also eyeing the opportunity to implement VR to offer a one-of-a-kind betting experience.
Virtual reality casinos have to employ a new gaming platform compatible with VR technology. Casino operators can develop a VR environment by employing 360° video technology. In a nutshell, it allows players to be a part of the game and move around in it. Unfortunately, the technology is still in its infancy but we expect that it will soon be widely available.
Many people believe that augmented reality and virtual reality are two terms denoting the same thing. However, these are different notions. Augmented reality overlays virtual images to your view of the real world. In addition, augmented reality does not require the use of special equipment. The most avid example of a game that is based on virtual reality is Pokémon Go. Virtual reality, on the other hand, aims at immersing people in an artificial experience by completely excluding the real world.
Apart from the multiple advantages VR casinos offer, we have to mention that avid casino fans are likely to spend more time and money on gambling. This might affect vulnerable players and youngsters, posing more risk of problem gambling.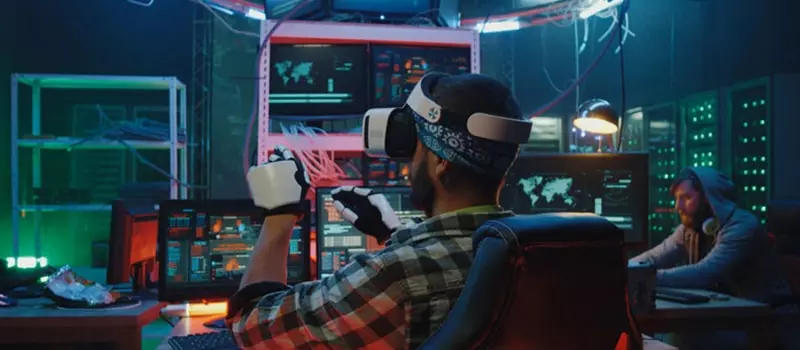 Virtual Reality Casinos
The web-based casino SlotsMillion will always remain in history as the world's first virtual reality gambling site. It was launched in 2014 by Alea Gaming Group. In 2021, the interactive casino changed its owner and now it operates under the umbrella of the Maltese-based company SLTM Ltd. The gambling site carries a stamp of approval from the Malta Gaming Authority and the UK Gambling Commission.
Its gaming portfolio is courtesy of reputable software companies from the likes of Play'n GO, NetEnt, Playtech, Microgaming, Quickspin, Pragmatic Play, Yggdrasil, Wazdan, and others. SlotsMillion is home to over 3,000 slots and table games compatible with different portable devices. It is crucial to mention that not all games are available in virtual reality.
To play the games in virtual reality, casino fans need to download SlotsMillion virtual casino application. If you have Oculus Rift goggles, you will enter an entirely new casino world. However, casino enthusiasts who do not have the headset can see the virtual casino in 3D on their PCs. The application automatically recognises whether the goggles are plugged in or not.
To add extra excitement to the overall experience, you can see other players wandering around the casino, but none of them will be able to see your game screen. Casino devotees can play VR games in demo mode.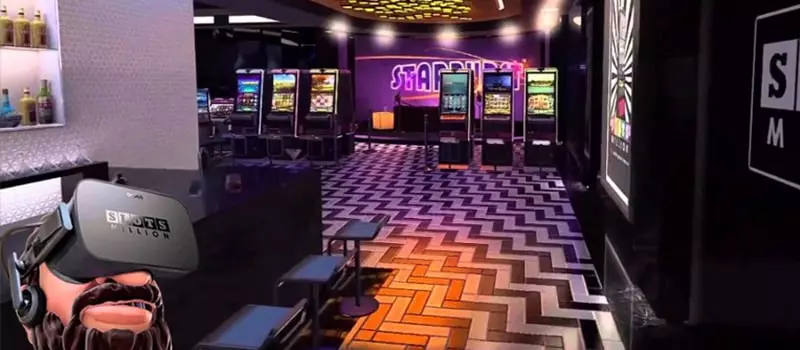 Playing VR Casino Games
As we already hinted above, VR is in its early stages. Hence, it is not a bolt from the blue that the available VR casino games are not a lot. However, casino enthusiasts are treated to some nail-biting slots and table games. The tech-savvy software company NetEnt was the first to introduce a VR slot – Gonzo's Quest VR.
Other emblematic VR slots are Jack and the Beanstalk, Miss Midas, Thunderstruck II, Twin Spin, Starburst, and several more. If you have never played VR games, we would like to advise our readers to first try the games in demo mode as these are different from all other casino games you have ever played.
To play VR games, casino aficionados need to have a VR headset. In addition, the PC or laptop should meet certain technical requirements that depend on the type of goggles you intend to use. In 2020, Oculus Rift officially announced that it will stop supporting Windows 7 and 8.1. At the moment, Oculus Rift requires Windows 10. Check the table below to learn more about the technical specs your PC should have to support VR casino games with an Oculus Rift headset.
Component
Recommended Specs
Minimum Specs
Processor
Intel i5-4590 / AMD Ryzen 5 1500X or greater
Intel i3-6100 / AMD Ryzen 3 1200, FX4350 or greater
Graphics Card
NVIDIA GTX 1060 / AMD Radeon RX 480 or greater
NVIDIA GTX 1050 Ti / AMD Radeon RX 470 or greater
Alternative Graphics Card
NVIDIA GTX 970 / AMD Radeon R9 290 or greater
NVIDIA GTX 960 4GB / AMD Radeon R9 290 or greater
Memory
8GB+ RAM
8GB+ RAM
Operating System
Windows 10
Windows 10
USB Ports Rift
3x USB 3.0 ports, plus 1x USB 2.0 port
1x USB 3.0 port, plus 2x USB 2.0 ports
Video Output
Compatible HDMI 1.3 video output
Compatible HDMI 1.3 video output
Source: support.oculus.com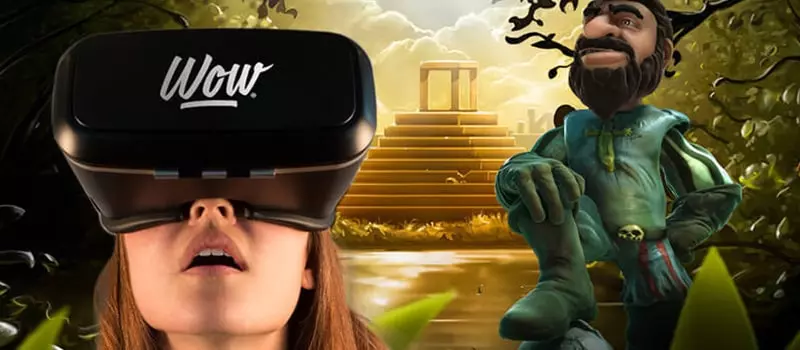 Virtual Reality and the Future of Online Gambling
Virtual reality is a growing trend that took the online gambling world by storm. Even though the technology is far from mature, virtual reality already attracted the attention of thousands of casino fans. Industry insiders believe that virtual reality is to drive the online gambling industry to a whole new level. It allows better interaction between players and a fully immersive virtual reality. What is more, it will keep slot fans on the edge of their seats as the VR technology will be able to provide them with an authentic feel.
A large number of web-based casinos are expected to embrace virtual reality to lure in new signees and retain their existing patrons. Software companies will release a lot more virtual reality casino games to please the needs of all kinds of players. Of course, technology will keep on developing to push the boundaries of the industry even further. We believe that the price of VR headsets will drop soon as the technology will become more mainstream.