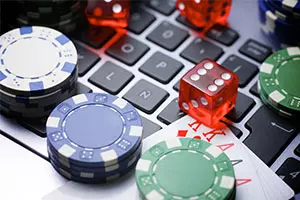 Nowadays a number of players prefer to spend their spare time playing at an online casino for several reasons. The online casinos are reliable, innovative and convenient which make them top virtual gambling destinations. They offer a broad selection of online games which impress with their high-quality and graphics. No matter what personal preferences and betting habits you have, you will certainly be able to play a favourite casino game online. It is possible to enjoy blackjack, baccarat, roulette, video poker, slots and craps without having to leave your home.
When it comes to video slots, the number of available variations on the Internet is truly impressive. You can try your luck on a wide range of video slots and win real money. All you need to do is to open an account at a reputable online casino and make a deposit. The huge diversity of slot games, some of the online casinos offer, is definitely something which attracts hundreds of players. It is possible to choose from various types of video slots which enable you to find the game that suits your needs best.
Popular Types of Slot Games
Most online casinos offer several types of slots from which you can choose – classic 3-Reel Slots, 5-Reel Slots that have Multiple Paylines, Video Slots, Progressive Jackpot Slots, 3D Slots, Free Spin Slots, Fruit Slots and others. An interesting fact about slots is that in Australia these games, including video poker, are called pokies. When it comes to video slots, the so-called reels indicate how many hoops with symbols will be spun simultaneously. Depending on them, the number of elements you need to match is also different.
The 3-Reel Slots are often referred to as classic slots, whereas versions such as 3D Slots are considered to be more modern ones. In the former, the symbols you need to match are usually the traditional lucky sevens, fruits, diamonds, bars and others. They are the perfect option for the players who love vintage casino games.
Progressive Jackpot Slots are one of the most popular variations since they offer players the opportunity to win a life-changing amount. The reason why they feature such a substantial amount is that every time someone places a bet, part of it goes to the ever-growing sum. It is worth mentioning that in order to be able to win the jackpot, you are required to place a special side bet and to wager the maximum amount. In case that you manage to match the required symbols, however you have failed to fulfil the above-mentioned criteria you won't be able to receive the substantial amount.
3D Slots are also among the most played games for real money. What sets this type of games apart from the rest of the available versions is that they feature extraordinary graphics and sound effects. As the name hints, they offer you the chance to immerse in your favourite game completely thanks to the excellent three-dimensional graphics they offer. Some of them feature animated reels and videos which make them very entertaining and interesting.
Bonus Slots appeal to a great number of players due to the many attractive features they have. During the course of the game, if you manage to match the respective bonus symbols, a mini game will be unlocked. Some of the most widespread mini games that are included in such variations are free spins, pick to match, pick to win, wheel games and others. The bonus symbols that unlock the additional round which is typically a mini game can be found in the paytable of the respective version.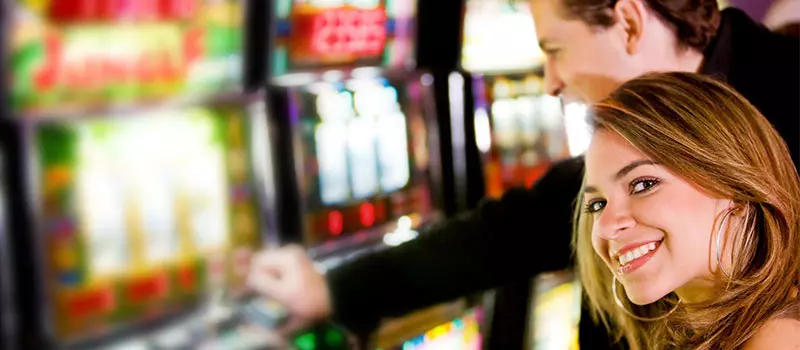 Most Played Video Slots for Real Money
Regardless of your personal preferences and gaming style, you will be able to find a video slot game that you will love since presently there are a number of variations provided by various leading online casinos. The available video slot games are so diverse and extraordinary that there is a variation for every taste. Furthermore, most online casinos offer top-notch slots whose graphics and animations are simply excellent.
However, when it comes to playing video slots for real money, it is also essential to take into account the RTP /Return to Player/ percentage the respective game offers. Some of the most played video slots variations are provided by some of the leading software suppliers such as Microgaming, Playtech, NetEnt and others. Now, let's have a look at some of the most popular video slot games and what makes them so attractive to the majority of players.
Mega Moolah
Perhaps, one of the most popular video slot games is Mega Moolah due to the fact that it features a progressive jackpot. There are several games that share the same title – Mega Moolah, Mega Moolah Isis and Mega Moolah Summertime. The classic game features 5 reels and 25 paylines. All of these games are available thanks to the prominent software provider Microgaming which is the reason why their graphics and quality are amazing. There are four types of jackpots which you can win – Mini, Minor, Major and Mega. Their amount often reaches a life-changing sum which makes them definitely worth playing for.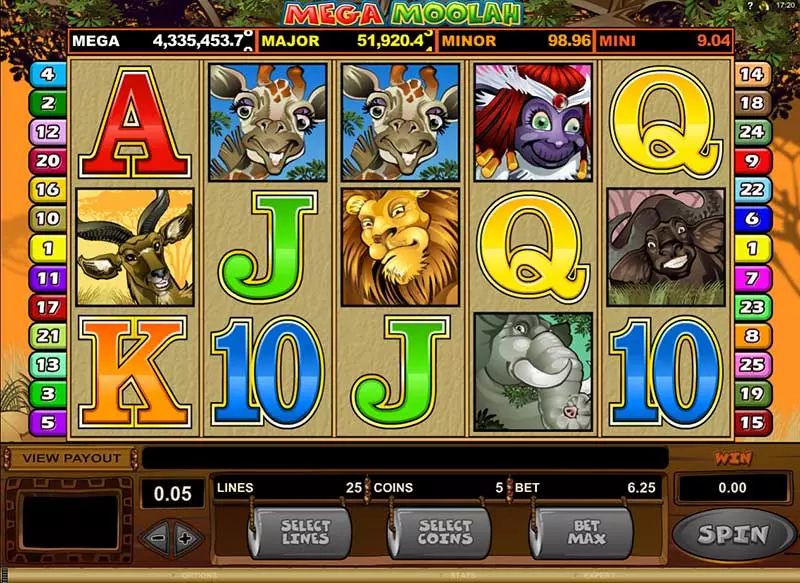 Gonzo's Quest
This is another popular slot game which is developed by the leading software supplier NetEnt. It is played by hundreds of players from all over the world which is the reason why you can find it in various online casinos. At the beginning of the game, a short clip is displayed which illustrates the main character around whom the action revolves – Gonzo. This video slot game is very extraordinary in every aspect in comparison to the rest of available such variations. For instance, the traditional spinning of the reels is no longer the same as the symbols in this game fall down instead.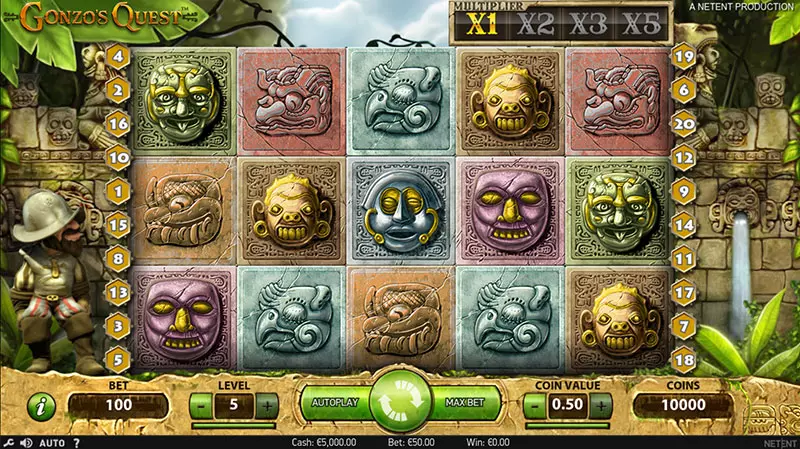 Thunderstruck II
Thunderstruck II is also an extremely popular video slot game which appeals to a number of players on a global scale. Its graphics and sound effects are incredible which shouldn't be much of a surprise since it is powered by Microgaming. Its symbols are inspired by some of the Nordic Gods which makes the game perfect for fans of the Nordic mythology. It offers four types of bonuses and it is a 5-Reel slot game.
Return to Player in Slots
One of the most important factors, that you need to take into account when it comes to playing video slots for real money, is the Return to Player percentage. RTP is a term used to describe the payback percentage that players can expect to get from all bets. In this sense, the most beneficial video slot games will be the ones that offer a high payout percentage. For instance, it is recommended to play the popular video slot game Jackpot 6000 by NetEnt as it offers a RTP of 98.86%.
Statistically speaking, this means that if players wager £100, they are expected to get back around £98.86. However, bear in mind that the RTP applies to all players who are playing on the respective slot. Therefore, every time you wager such an amount, you won't be able to recover it with the same success. It should be also noted that the house edge and the Return to Player are interdependent as they directly influence each other. In this sense, in the aforementioned example, the house edge is estimated to be 1.14%
FAQ
What features do video slots have?
Video slots are famous for offering a number of special features which make these games more interactive and exciting. Most of the advanced video slots have at least 5 reels and multiple paylines whose number can reach a hundred. What sets video slots apart from the traditional 3-reel slots is the fact that they contain many different bonus features such as Free Spins, Wild and Scatter Symbols, Multipliers, Mini games and extra rounds. These types of games also stand out from the rest of the slots because of their excellent graphics, animated symbols, exclusive themes and realistic sound effects.
What are Wild and Scatter symbols?
Wild and Scatter symbols are some of the special features which can be found in most of the modern video slots. Wilds give you the chance to substitute a particular element on the reels in order to form a winning combination. Scatters are symbols which unlock payouts or mini games whenever they appear on the screen, regardless of their position. In order to activate them, you need to collect a certain number of scatters.
Which video slots offer the best RTP percentage?
Nowadays, there are various video slots on which you can test your luck. Each one of them has unique themes, symbols, paylines, reels, features and graphics. However, video slots also differ from one another in the RTP percentage they offer. Since in slots, you rely entirely on your luck, you should search for the games which offer the highest RTP percentage. In this aspect, some of the most beneficial slots are Mega Joker and Jackpot 6000. Both are developed by NetEnt and offer a RTP percentage of respectively 99% and 98.90%. It should be noted that the RTP percentage can vary, depending on the online casino you are playing at.
Which are the most popular movie-themed slots?
Movie-themed slots have quickly gained popularity since most of them are inspired by all-time favourite stories. Some of the most played slots of this type are Jurassic Park, Games of Thrones, Tomb Rider by Microgaming, Gladiator by Playtech, Creature from the Black Lagoon and Frankenstein by NetEnt. Thanks to them, you have the chance to enjoy a modern video slot which features elements and short videos from a popular movie.
Which are the video slots that have the most paylines?
The video slots that have the most paylines are the ones that are played in a special format called 243 ways-to-win. These games are also known as "all ways" slots and they feature 243 paylines. You can test your luck on various such games, including Battlestar Galactica, Games of Thrones, The Dark Knight Rises, Playboy, The Lord of the Rings and others. All of them are developed by leading software providers such as NetEnt, Microgaming, Playtech and others.