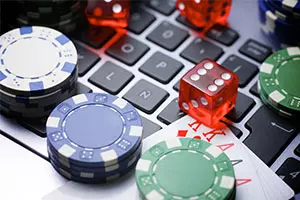 Nowadays more and more players opt for online casinos as they offer them the chance to play their favourite casino game and get the same high level of entertainment from the comfort of their home. All reputable online casinos are convenient and secure which is the reason why this type of virtual entertainment is on the rise. Moreover, most of them have teamed up with various software suppliers in an attempt to provide a broad selection of top-quality online games. As a result, presently you can play a staggering number of variations which can greatly diversify your online gambling experience.
Since every game offers different rules and house edge, your chances of winning greatly depend on the variation of your choice. Some casino games simply offer better odds than others which make them worth playing. If you want to manage to make a profit while enjoying an exciting casino game, it is best to take into account several important factors such as the house edge and the Return to Player.
The Important Role of the House Edge
If you are new to casinos, one of the first terms which you should get familiar with is the house edge. Your chances of winning greatly depend on this aspect and thus, in order to determine the games with the best odds, you should consider it. In general, the games which offer a high house edge are not beneficial as they don't give you many chances of winning. The house edge basically indicates the built-in advantage all casino games have thanks to which all casinos are able to operate and make a profit.
It is also worth mentioning that you should take into account the Return to Player percentage which shows the expected return from a particular casino game. You should know that the most advantageous casino games are the ones that offer a high percentage return. Usually, you are able to find out this valuable information on the casino website so make sure to check this aspect.
Casino Games with Best Odds
In general, the casino games that have the best odds are the ones that feature a skill element. These games give you the chance to influence their outcome by simply applying a strategy. This way, you can improve your game, make better choices and gain an advantage over the casino. This is the reason why games such as blackjack and video poker have gained in popularity even more in the past few years. However, it should be noted that games of chance such as roulette and craps can also be quite beneficial if you play the right variation.
Blackjack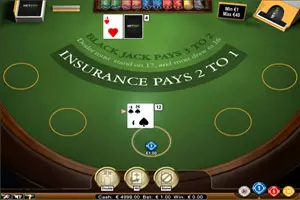 When it comes to blackjack, you should know that the classic game offers one of the lowest house edges in the gambling industry, if not the lowest. Most blackjack games offer a payback percentage of 99% which gives you a decent chance of making a profit in the long term, providing that you apply the basic strategy. Some of the most beneficial variations include Blackjack Switch, Spanish 21, European Blackjack, Pontoon, Atlantic City Blackjack and others. However, bear in mind that since every variation offers different rules, the house edge won't be the same.
Video Poker & Slots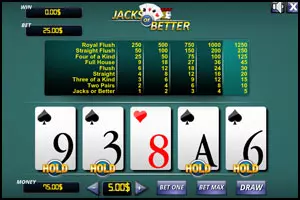 Video poker is another game that offers decent odds since you will be highly rewarded if you apply skills. The expected return in some of the best video poker variations such as 9/6 Jacks or Better is approximately 99%, providing that you apply a reliable strategy. Video poker is often compared to slots as in land-based casinos the latter game is played on almost the same machines.
However, these two games are quite different in a lot of aspects and one of the things that set them apart is the payback percentage. In the best-case scenario, slots offer a payback percentage of 95%. In most cases, the percentage in these games varies from 75% to 80%, whereas even the video poker games with the worst odds offer approximately 94%. If you want to manage to make a profit, you are better off playing video poker rather than slots.
Craps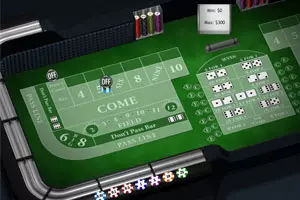 Another very popular casino game which is worth mentioning is craps. While it is true that some of the bets in this dice game offer the worst odds as their house edge is as high as 10%, you should know that craps also features a bet whose house edge is zero. The latter is referred to as odds bet and it is perhaps your best option whenever you play craps. In this sense, the higher the amount you are allowed to wager on this bet, the better odds of winning you have.
When it comes to craps, it is advisable to mainly place money on the simple bets such as come/don't come, pass/don't pass, odd bets and others as in such cases, the Return to Player percentage will be around 99% or even more. This game offers an excellent house edge, providing that you choose to stick to the simple bets only.
Roulette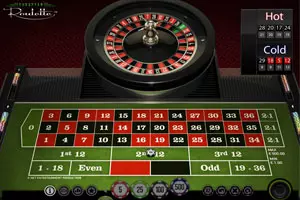 Roulette is one of the all-time favourites which offers fairly favourable odds. However, when it comes to this casino game, you should know that there are many variations which have a high house edge. One of them is American Roulette in which the wheel features two green zero pockets. As a result, this version offers a house edge of 5.26% which is not so favourable. This is the reason why you are better off playing European Roulette in which the RTP is 97.30%.
Baccarat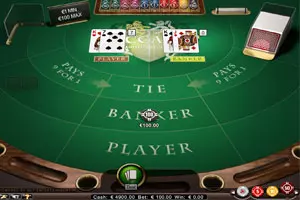 Last but not least, baccarat is also among the games which are most famous for offering decent odds, regardless of the fact that it is a game of chance. In this game, you can choose from three bets and in order to manage to increase your chances of winning, you should wager on the bet that offers the best odds. Statistically speaking, the bet that offers the lowest house edge is the Banker one – 1.06% and thus, it is best to opt for it whenever you play baccarat. The second best is the player bet whose house edge is estimated to be 1.36%.
The Odds of 10 Popular Casino Games Explained
Understanding the odds of casino games is vital if you wish to improve your chances of winning. The trouble is odds and probabilities fluctuate wildly across different categories of games and their variations, so we thought it would be useful to provide readers with concrete examples. This section contains comprehensive explanations about the odds of 10 popular casino games. We have put in the legwork crunching all the numbers to assist you in making informed decisions the next time you visit your favourite online casino.
#1 – Classic Blackjack by Microgaming
Microgaming's Classic Blackjack in Brief
Betting Range
£1 – £5,000
Highest Single Payout
2 to 1 for insurance bets
Return to Player
99.91%
House Edge
0.09%
Where You Can Play It
Videoslots
Classic Blackjack is an authentic casino staple designed by the industry frontrunner Microgaming. The game is definitely worth admiring as it comes with incredible graphics, an intuitive interface, and nicely rendered animations that perfectly capture the atmosphere at landbased blackjack tables. The phenomenally low house edge significantly broadens the appeal of Classic Blackjack.
Players will benefit from a theoretical return of 99.91% in the long term, which means they have only a teeny-tiny casino advantage of 0.09% grinding against them. This almost non-existent house edge can be attributed to the set of rules the game uses. For starters, Classic Blackjack plays with a single deck of cards which takes away approximately 0.48% from the initial advantage the house holds against the player.
The dealer must stand on soft totals of 17 and there is no reduction in the blackjack payouts which pay at the standard house odds of 3 to 2. The peek rule does not apply here as the virtual dealer takes only one card at the start of a round. The double-down rules are a bit rigid since this move is only allowed on initial totals of hard 9, 10, and 11.
Resplitting is disallowed, but Microgaming compensates players by giving them the option to draw multiple cards to split aces, an extremely powerful move that reduces the casino's advantage by 0.19%. Your odds of winning in Classic Blackjack are contingent on the rules it uses, so we decided to compile this table to better drive this point home.
We should point out that the house edge in Microgaming's Classic Blackjack stands at 0.09% only on condition you play each hand according to perfect basic strategy. Keep in mind the strategy for single-deck variants differs from that for multi-deck games. Your long-term theoretical return will significantly drop if you are playing Classic Blackjack by intuition.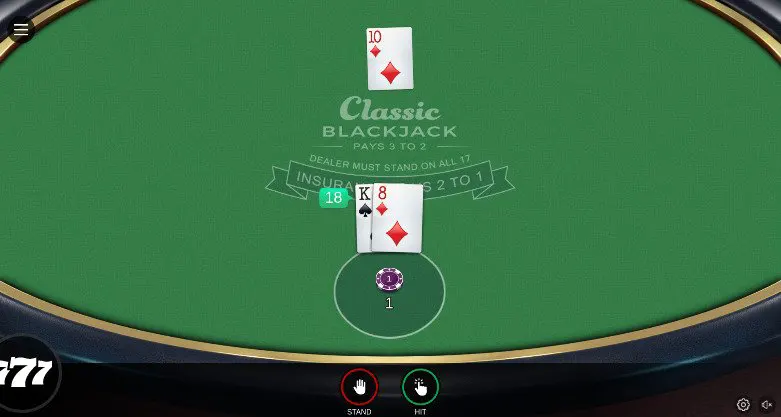 #2 – Blackjack Surrender by Playtech
Playtech's Blackjack Surrender in Brief
Betting Range

£0.10 – £200
£1.00 – £2,000
£5.00 – £2,000

Highest Single Payout
100 to 1 for suited three-of-a-kind (a 21+3 side bet)
Return to Player

99.66% in the base game
95.38% for 21+3 side bets
93.89% for side bets on pairs

House Edge

0.34% in the base game
4.62% for 21+3 side bets
6.11% for side bets on pairs

Where You Can Play It
SlotsMillion
This next recommendation comes from industry heavyweight Playtech, a company that is highly regarded for delivering expertly rendered table games with player-friendly rules. The multi-hand version of Blackjack Surrender serves as a perfect example of one such game as it yields a minuscule house edge of under half a per cent. The key to the variation's high theoretical return once again lies in the set of rules it uses.
Six randomly shuffled decks are in play in Blackjack Surrender where the dealer stands on soft 17 and peeks for blackjacks when showing an ace or a ten-value card. Players can double down on any initial two-card total. Doubling after splitting is allowed but resplitting is impossible. The seven-card Charlie rule also applies, which means the player wins with any unbusted seven-card total against all dealer hands bar blackjacks.
Late surrender is also in place (hence the variation's name), which shaves off an extra 0.07% from the house edge. Under this rule, the player can fold any starting total at the beginning of a round to receive half of their original bet on the hand back. Exercising this move is possible only after the dealer has peeked for a blackjack. In multi-deck variants like this one, surrendering is the optional playing decision when you have a hard 15 against a dealer's 10 or a hard 16 against the dealer's 9, 10, or ace.
Payout Schedule in Playtech's Blackjack Surrender
Blackjack
3 to 2
Insurance
2 to 1
Other winning hands in the base game
1 to 1
Perfect Pairs
25 to 1
Coloured Pairs
12 to 1
Red/Black Pairs
6 to 1
Suited Three-of-a-Kind
100 to 1
Straight Flush
40 to 1
Three-of-a-Kind
30 to 1
Straight
10 to 1
Flush
5 to 1
As you can see in the table above, Blackjack Surrender supports a slew of side wagers from the 21+3 and Perfect Pairs categories. We shall not go into further particulars about how these optional wagers work since Playtech has included this information in the game's help section. Nonetheless, we shall warn you to avoid these side bets as their house edges are substantially higher at 4.62% and 6.11%, respectively.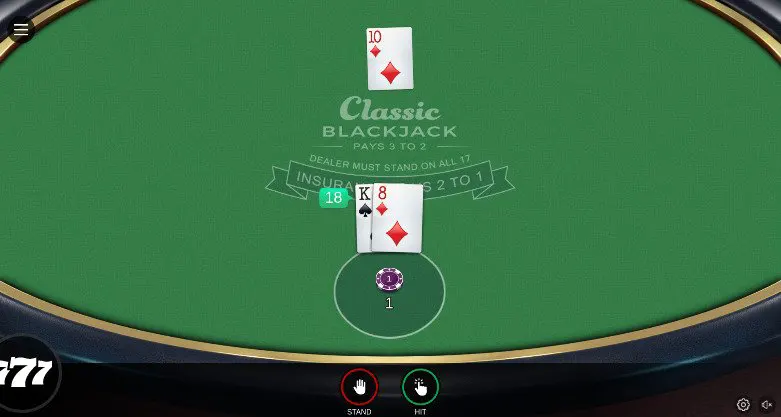 #3 – Jacks or Better by NetEnt
NetEnt's Jacks or Better in Brief
Betting Range
£0.10 – £62.50
Highest Single Payout
4,000 to 1 for a royal flush
Return to Player

98.40% at the first bet level
99.56% at the highest bet level

House Edge

1.60% at the first bet level
0.44% at the highest bet level

Where You Can Play It
Casumo
Our third recommendation, Jacks or Better Double Up by NetEnt, marries luck and skill and allows you to play up to 25 hands at a time. The premise of the game is simple. You are dealt five random cards from a single deck on the initial deal. Then, you must decide which cards to keep and which ones to replace so that you can form the best possible five-card poker hand after the draw.
The stronger the hand, the higher the payout, with the royal flush ranking as the top payer in the game. The weakest hand consists of paired jacks or better that pay even money. Consult with the table below for the full range of payouts in Jacks or Better Double Up.
Payouts in NetEnt's Jacks or Better Double Up
Hand
Bet Level 1
Bet Level 2
Bet Level 3
Bet Level 4
Bet Level 5
Royal Flush
250 coins
500 coins
750 coins
1,000 coins
4,000 coins
Straight Flush
40 coins
80 coins
120 coins
160 coins
200 coins
Four-of-a-Kind
20 coins
40 coins
60 coins
80 coins
100 coins
Full House
9 coins
18 coins
27 coins
36 coins
45 coins
Flush
6 coins
12 coins
18 coins
24 coins
30 coins
Straight
5 coins
10 coins
15 coins
20 coins
25 coins
Three-of-a-Kind
3 coins
6 coins
9 coins
12 coins
15 coins
Two Pairs
2 coins
4 coins
6 coins
8 coins
10 coins
Jacks or Better
1 coin
2 coins
3 coins
4 coins
5 coins
Discarding decisions should be anything but arbitrary, however. There is a tried-and-tested discarding strategy for Jacks or Better and only following it to the tee can ensure you benefit from the high theoretical return NetEnt advertises for this variation. The strategy is based on the premise that each new hand is dealt out of a fresh deck containing 52 cards but the discards the player has decided to replace are not returned to the deck until the end of the round.
The correct strategy decisions for Jacks or Better Double Up, and video poker in general, are calculated based on the paytables, the probability of improving your initial card holding after the draw, and the overall maths of the game. The bet level is another factor that impacts players' long-term return in Jacks or Better.
Looking at the Jacks or Better Double Up paytable above, it becomes obvious that you should always wager the maximum of five credits per hand or else you will be shortening your long-term return from 99.56% to 98.40%. This is due to the discrepancies in the payouts for royal flushes which increase dramatically from bet level 4 to bet level 5.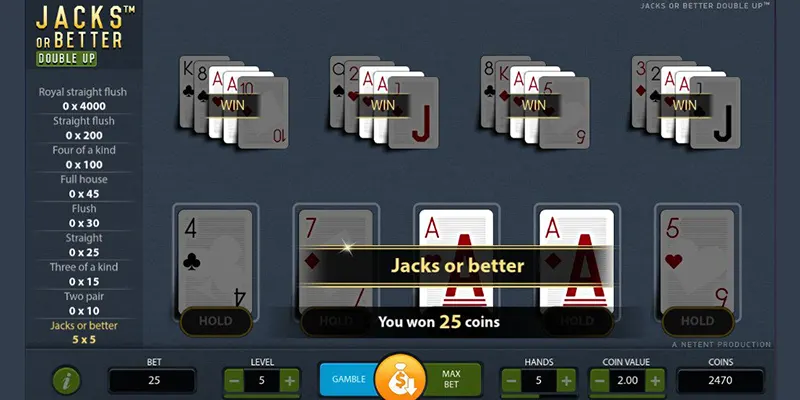 #4 – Aces and Faces by Microgaming
Microgaming's Aces and Faces in Brief
Betting Range
£0.25 – £25.00
Highest Single Payout
4,000 coins for royal flushes (£20,000 with maximum bets)
Return to Player
99.26%
House Edge
0.74%
Where Can You Play It
Casino Action
Microgaming appears on our list of recommendations again with yet another high-value card game. The studio's Aces and Faces plays similarly to other variations of five-card draw poker. What distinguishes it from the bunch are the enhanced payouts on specific four-of-a-kind hands consisting of aces or face cards like kings, queens, or jacks. It is worth mentioning this is the 8/5 version of the game, otherwise known as 'full-pay' Aces and Faces.
The 8/5 ratio indicates the variation pays 8 to 1 for a full house and 5 to 1 for a flush at the highest bet level when five coins are in action. The royal flush is again the most valuable hand and pays at odds of 800 to 1, or 4,000 coins at the highest bet level. Skim through the full paytable below before we discuss how these payouts affect your winning odds and overall return rates.
Payouts in Microgaming's Aces and Faces
Hand
Bet Level 1
Bet Level 2
Bet Level 3
Bet Level 4
Bet Level 5
Royal Flush
500 coins
1,000 coins
2,000 coins
3,000 coins
4,000 coins
4 Aces
80 coins
160 coins
240 coins
320 coins
400 coins
Straight Flush
50 coins
100 coins
150 coins
200 coins
250 coins
4 Jacks, Queens, or Kings
40 coins
80 coins
120 coins
160 coins
200 coins
4 Deuces through 10s
25 coins
50 coins
75 coins
100 coins
125 coins
Full House
8 coins
16 coins
24 coins
32 coins
40 coins
Flush
5 coins
10 coins
15 coins
20 coins
25 coins
Straight
4 coins
8 coins
12 coins
16 coins
20 coins
Three-of-a-Kind
3 coins
6 coins
9 coins
12 coins
15 coins
Two Pairs
2 coins
4 coins
6 coins
8 coins
10 coins
Jacks or Better
1 coin
2 coins
3 coins
4 coins
5 coins
This paytable is considered optimal for the variation because any further reductions in the full house and flush payouts will cause a significant dent in the long-term theoretical return of the game. In turn, this means a full-pay version gives you the best possible odds of winning. There is still a house edge working against you but it is quite tolerable at 0.74% in the 8/5 variation. Here is how Microgaming's version of Aces and Faces compares to the so-called short-pay variants in terms of house edge (HE):
7/6 Aces and Faces – 0.81% HE (99.19% RTP)
7/5 Aces and Faces – 1.90% HE (98.10% RTP)
6/5 Aces and Faces – 3.05% HE (96.95% RTP)
We could not stress enough the importance of using proper strategy while playing any video poker variation, Microgaming's Aces and Faces included. The optimal strategy for Aces and Faces differs from that for Jacks or Better but you can easily find a cheat sheet on the internet to consult with as you play. Microgaming's version is also equipped with an auto-hold feature that gives you hints on which cards to keep.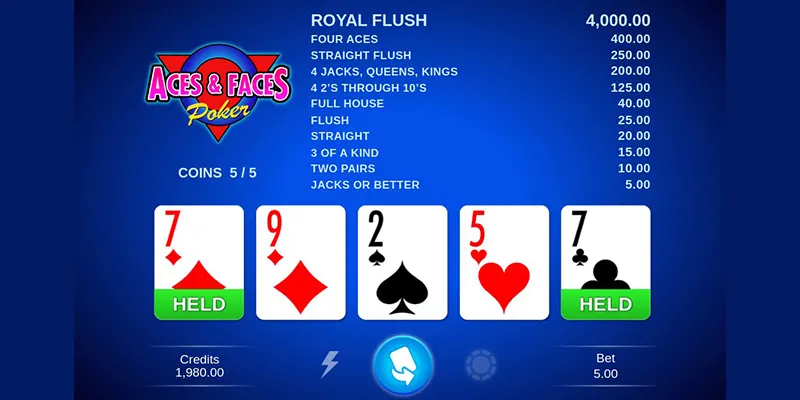 #5 – First Person Craps by Evolution Gaming
Evolution Gaming's First Person Craps in Brief
Betting Range
£0.50 – £2,500
Highest Single Payout
30 to 1 for Craps 12
Return to Player
83.33% – 99.17%
House Edge
16.67% – 0.83%
Where You Can Play It
PlayOJO
If you are looking for higher return rates, you will find them in First Person Craps by Evolution Gaming. The game is available in a live dealer format but we suggest you try the randomly generated version if you insist on speedier gameplay. The first-person variant supports a broad range of bets, with return rates fluctuating based on the types of wagers you place.
The payouts, winning odds, and return percentages depend on the possible dice combinations for each number. Craps is played with two six-sided dice that can produce 36 combinations in total. The more possible combinations there are for a given outcome, the better its odds of coming up. A dice roll of seven is the backbone of the game since seven is the most easily rolled number with six combinations. Here is the paytable of Evolution Gaming's First Person Craps, along with the house edges and return rates of the supported bets.
Payouts, House Edges, and Return Rates in First Person Craps
Bet Type
House Odds
RTP
House Edge
Pass/Come Bets
1 to 1
98.59%
1.41%
Don't Pass/Don't Come Bets
1 to 1
98.64%
1.36%
Taking Odds on Pass/Come
4 or 10 – 2 to 1
5 or 9 – 3 to 2
6 or 8 – 6 to 5
99.17%
0.83%
Laying Odds on Don't Pass/Don't Come
4 or 10 – 1 to 2
5 to 9 – 2 to 3
6 or 8 – 5 to 6
99.17%
0.83%
Place to Win 4 or 10
9 to 5
93.33%
6.67%
Place to Win 5 or 9
7 to 5
96.00%
4.00%
Place Win 6 or 8
7 to 6
98.48%
1.52%
Place to Lose 4 or 10
5 to 11
96.97%
3.03%
Place to Lose 5 or 9
5 to 8
97.50%
2.50%
Place to Lose 6 or 8
4 to 5
98.18%
1.82%
Hard 4 or 10
7 to 1
88.89%
11.11%
Hard 6 or 8
9 to 1
90.91%
9.09%
Field 3, 4, 9, 10, 11
1 to 1
94.44%
5.56%
Field 2 or 12
2 to 1
94.44%
5.56%
Any Seven
4 to 1
83.33%
16.67%
Any Craps
7 to 1
88.89%
11.11%
Craps 2
30 to 1
86.11%
13.99%
Craps 3
15 to 1
88.89%
11.11%
Craps 12
30 to 1
86.11%
13.89%
Eleven
15 to 1
88.89%
11.11%
C & E 2, 3, or 12
3 to 1
88.89%
11.11%
C & E 11
7 to 1
88.89%
11.11%
We understand craps can be rather overwhelming but it offers very good value provided that you know which bets to place and which ones to avoid. Looking at the table above, you can easily draw the conclusion that pass/come and don't come/don't pass wagers yield the highest return rates, especially when combined with taking or laying odds. Most other bets have terrible odds and should altogether be avoided. The Any Seven, in particular, is notorious for being one of the worst possible wagers you can find on the casino floor.
The help section of the game offers detailed explanations about each supported bet type. Feel free to refer to it if you are a complete rookie. If you are new to craps, Evolution gives you the option to switch to the easy mode which involves fewer wagers. Transitioning to this simplified version of the game does not affect the theoretical return.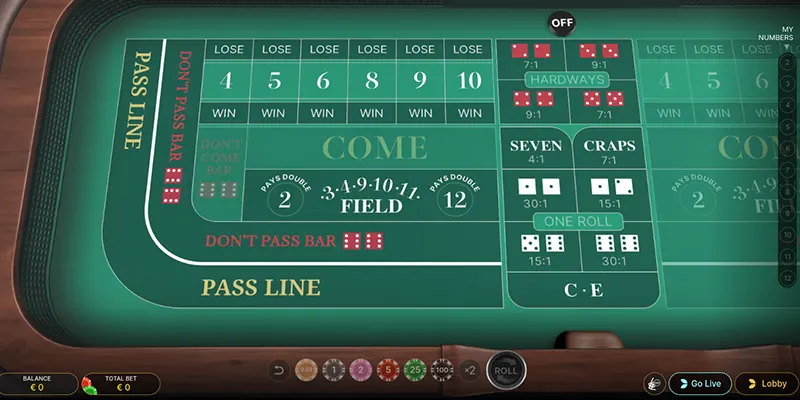 #6 – Live Baccarat by Pragmatic Play
Live Baccarat in Brief
Betting Range
£1 – £10,000
Highest Single Payout
30 to 1 for Player/Banker Bonus side bets
Return to Player

Main game: 85.64% – 98.94%
Side bets: 86.29% – 92.72%

House Edge

Main game: 1.06% – 14.36%
Side bets: 7.28% – 13.71%

Where Can You Play It
All British Casino
This next suggestion comes from Pragmatic Play's suite of live dealer games and carries a slightly higher but still tolerable house edge. Live baccarat plays with six decks and is particularly suitable for unversed casino players since it is as simple as betting on a coin flip. The objective in the main game is to predict which side, Player or Banker, will win the coup by obtaining a hand whose value is closest to a total of 9. Betting on ties is also an option.
The card drawing rules for the two sides are fixed, so the only decision you must make is whether to bet on Player, Banker, or Tie. Out of these three main outcomes, the Banker is your best bet, with a relatively low house edge of 1.06% and a winning probability of 45.86%.
Just keep in mind the house charges a 5% commission on all winning Banker bets so that players are paid at odds of 0.95 to 1 rather than receiving even money. The odds of winning for the Player side are not too poor, either. The Player hand wins approximately 44.62% of the time and yields a slightly higher advantage for the casino of 1.24%.
Payouts, House Edges, RTPs, and Winning Probabilities in Live Baccarat
Bet Type
House Odds
RTP
House Edge
Winning Probability
Banker
0.95 to 1
98.94%
1.06%
45.85%
Player
1 to 1
98.76%
1.24%
44.62%
Tie
8 to 1
85.64%
14.36%
9.52%
Player/Banker Pair
11 to 1
89.64%
10.36%
7.47%
Either Pair
5 to 1
86.29%
13.71%
14.38%
Perfect Pair
25 to 1
86.97%
13.03%
3.35%
Player/Banker Bonus
Between 1 to 1 and 30 to 1 depending on the precise outcome
86.65%
13.35%
Varies based on the exact outcome
Pragmatic Play's live baccarat tables offer a slew of side wagers which you should avoid at any cost due to their monstrous house edges, as you can see in the table above. Yet, the majority of these optional wagers pale in comparison with the Tie bet, which gives the casino a 14.36% advantage and has a significantly lower winning probability of 9.52%.
Other than offering relatively decent odds of winning, Pragmatic Play's Live Baccarat gives players access to a range of great features, including in-depth statistical information on trends. Players can keep track of previous results via several traditional roadmaps, including the Bead Plate, the Cockroach Road, the Big Eye Boy, and the Big and the Small Roads.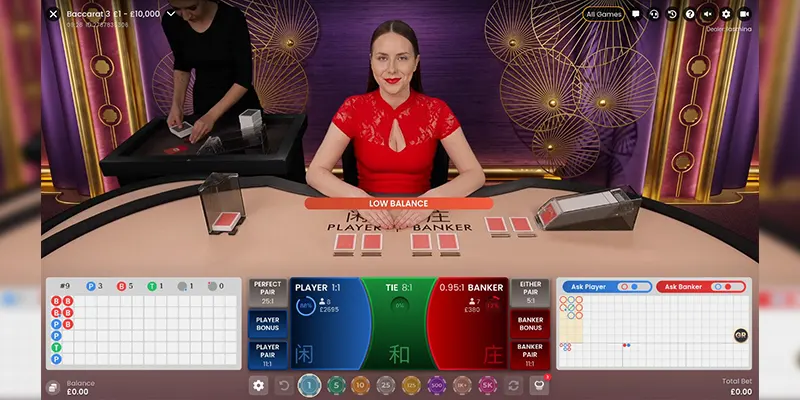 #7 – French Roulette by Microgaming
Microgaming's French Roulette in Brief
Betting Range
£0.25 – £2,000
Highest Single Payout
35 to 1
Return to Player
98.65%
House Edge
1.35% on even-money bets, 2.70% on all other bets
Where You Can Play It
Luxury Casino
Microgaming's rendition of French Roulette offers some of the best winning odds players could ever hope to find in a game whose outcomes are fully governed by chance. Unlike most single-zero variations of roulette, this rendition features the La Partage rule, which moves the casino advantage on certain bets from 2.70% to 1.35%.
Keep in mind this lower percentage applies only to two-sided outside wagers on red-black, high-low, and odd-even. In standard versions of the game, these even-money bets automatically lose when the ball lands in the green zero pocket since zero is considered neither odd nor even in the context of roulette. It is obviously neither red nor black and does not belong to a specific range like low (1-18) or high (19-36).
Under the La Partage rule in Microgaming's version of French Roulette, the player only loses half of their original even-money bet and gets back the other half. The other supported wagers yield their standard house edge of 2.70% (97.30% Return to Player). Examine the table below for concise information on your winning chances in French Roulette with the La Partage.
House Edge and Winning Probabilities in Microgaming's French Roulette
Bet Type
Probability of Winning
Odds against Winning
House Odds
House Edge
Even-Money Bets
48.65%
11⁄18 to 1
1 to 1
1.35%
Dozens
32.43%
21⁄12 to 1
2 to 1
2.70%
Columns
32.43%
21⁄12 to 1
2 to 1
2.70%
Line
16.22%
51⁄6 to 1
5 to 1
2.70%
Corner
10.81%
81⁄4 to 1
8 to 1
2.70%
Street
8.11%
111⁄3 to 1
11 to 1
2.70%
Split
5.41%
171⁄2 to 1
17 to 1
2.70%
Straight Up
2.70%
36 to 1
35 to 1
2.70%
As you can see, even-money bets offer the most value because they carry the lowest house edges. Other than that, Microgaming's developers have equipped this French Roulette rendition with a whole set of handy features, including a racetrack, favourite bets, autoplay, turbo mode, and statistics. Players can also turn the computerised dealer's voice on and off and enable or disable the game sounds. The least you can bet per round is £0.25 but the ceiling depends on the type of wager you place.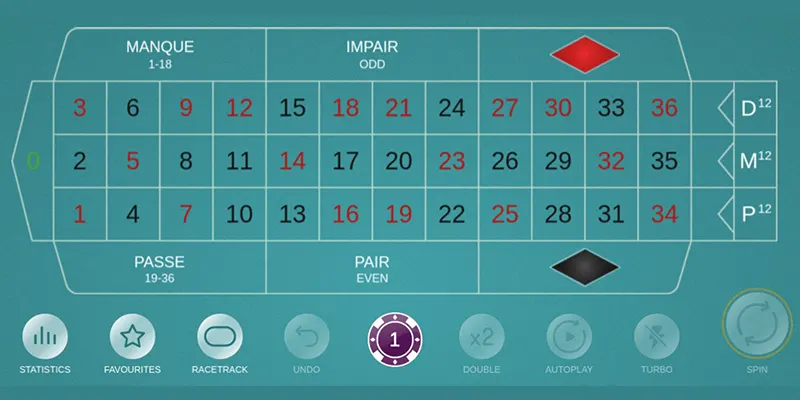 #9 – Three Card Poker by Light & Wonder
Three Card Poker in Brief
Betting Range
£0.10 – £100
Highest Single Payout

Main game: 5 to 1 for a straight flush with ante bonus
Side bets: 1,000 to 1 for winning 6 Card Bonus bets with a royal flush

Return to Player
97.99% in the main game
House Edge
2.01% in the main game
Where You Can Play It
888casino
Our penultimate recommendation comes from Light & Wonder, a renowned gambling services provider that previously went by the name of Scientific Games. The company's rendition of Three Card Poker definitely deserves attention as it impresses with a fitty design, crisp graphics, and decent theoretical return. The concept of the game is relatively easy to grasp.
Three Card Poker is dealt out of a single deck of cards reshuffled between each round. You play against the virtual dealer and your objective is to obtain a higher three-card poker hand than the house. Hands are ranked in descending order as follows – straight flush, three-of-a-kind, straight, flush, pair, and high card. The house qualifies with queen high or better. The round starts with the player posting an ante bet and evaluating the strength of their hand. The player then has the option to either 'play', i.e. raise, by placing an additional wager equal to their ante or fold their hand and lose their original ante.
When the player wins against a qualifying dealer with a weaker hand, both the ante and the play bet pay even money (1 to 1). If the dealer fails to open with a qualifying hand, the player's ante pays even money and the play bet is a push. The game awards ante bonus payouts for straights, three-of-a-kind, and flushes.
Had it not been for these ante bonuses, the house edge of the game would have been monstrous at 8% to 9%. The key thing here is that when the player obtains at least a straight, they win a bonus payout proportional to their ante bet. More importantly, the player does not need to beat the dealer to receive the ante bonus, which significantly improves the odds of the game. As for the house edge of Three Card Poker, the casino holds a 2.01% advantage in the base game provided that the player uses a strategy.
Simple Three Card Poker Strategy
Players must raise on any hand that pushes with or outranks Queen-6-4 and fold all hands of lower value.
Three Card Poker supports two optional side wagers but we advise you to refrain from placing them as they offer very poor value. The house edge of the Pair Plus group of side bets stands at 4.38%, while that for the 6 Card Bonus is even worse at 10.22%. The house odds for all supported wagers are featured on the table's layout. Feel free to consult the screenshot below for the payouts of all available main and side bets.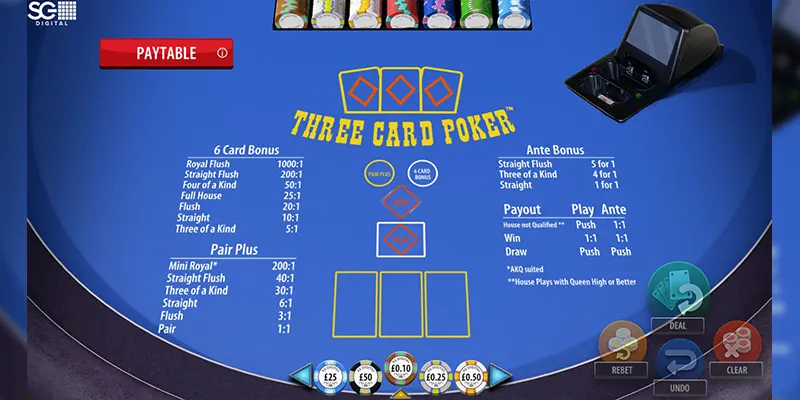 #10 – Roulette Nouveau by Relax Gaming
Relax Gaming's Roulette Nouveau in Brief
Betting Range
£0.10 – £5,000
Highest Single Win
35 to 1 for straight bets
Return to Player
97.30%
House Edge
2.70%
Where You Can Play It
Hello Casino
This timeless classic comes straight from Relax Gaming and ranks last on our list of recommended casino games, with a theoretical return of 97.30%. This relatively high return percentage results from the fact Roulette Nouveau utilises a wheel with one green zero pocket and 37 numbered pockets in total. The table layout supports all traditional outside and inside wagers, which pay at standard roulette odds.
The highest payout of 35 to 1 goes to players who are lucky enough to win straight up with bets on individual numbers. You can calculate the house edge of all wagers in Roulette Nouveau by using the following formula:
House Edge = Winning Numbers/Total Numbers x Bet + Losing Numbers/Total Numbers x (-Bet)
Let's elaborate with an example. Assuming you wish to place a £1 bet on red, you win if any of the 18 red numbers hit and lose if the ball settles on the remaining 19 numbers. The formula will look like this in this case:
18/37 x 1 + 19/37 x (-1) = 18/37 + (-19/37) = -1/37 = -0.0270 x 100 = -2.70%
If you take the time to calculate the house edges of all bets in Roulette Nouveau, the result will inevitably be 2.70% as they all produce the same casino advantage. Still, the game offers better value compared to double-zero roulette variations where the casino holds a mathematical advantage of 5.26% (18/38 x 1 +20/38 x -1 = 18/38 -20/38 = -0.0526) over players.
Other than having a relatively tolerable house edge, Roulette Nouveau allows you to save your favourite betting patterns and features a heatmap where you can track the history and distribution of the previous outcomes. The interface is quite toned down, which renders the game perfect for roulette rookies.
Conclusion
The bottom line is that no matter which casino game you play, it will always have a built-in advantage that will prevent you more or less of making a profit. Therefore, it is best to view online casinos as a great source of entertainment which gives you the opportunity to win some extra cash from time to time. In order to do so, you should opt for the games that have the best odds.
FAQ
Which is the most important factor that you need to consider prior to playing?
If you want to not only enjoy a casino game but also make a profit from it at the same time, it is essential to consider its house edge beforehand. The house edge indicates the built-in advantage all casino games have and it is expressed as a percentage for easier comprehension. It basically shows the profit that the casinos are expected to make in the long run from the bets that players place. The house edge directly influences your chances of winning which is the reason why this is the most important aspect that you should take into account before you wager your money.
In this sense, the higher the house edge is, the worse the odds are. Every casino game has a different house edge which changes every time the rules are altered. In other words, if you decide to try a new variation of a particular casino game, you should know that the house edge won't be the same as in the original game.
How are the house edge and the RTP percentage linked?
The house edge and the RTP are two dynamic measurements which are expressed as percentages. They are interdependent and every time one of them changes, it directly influences the other one. These figures can be viewed as two sides of the same coin. The house edge represents a percentage from the casinos' point of view, whereas the RTP is the same proportion but from players' point of view. For instance, the variation Double Exposure Blackjack has a house edge of 0.69% which means that the RTP percentage is 31%.
Which are the best casino games in terms of odds?
Generally speaking, the casino games which offer the most beneficial odds are the skill-based ones because, in them, you have the power to influence the outcome of every round or hand. Games such as video poker and blackjack give you the chance to apply a strategy and improve your moves by using your own skills and knowledge. Blackjack can be very profitable, especially if you are a card counter who knows the basic strategy backwards and forwards. If you are a video poker fan, you should search for full-pay machines since they offer the best odds.
Is there a bet whose house edge is zero?
As surprising as it may sound, yes, there is. Craps feature a side bet called the Odds bet whose house edge is as low as 0%. It is considered to be one of the most beneficial bets in craps and not only, due to the practically non-existent house edge. In fact, its house edge is always zero, regardless of whether it is estimated per roll or per bet resolved. On the other hand, the bet which offers the worst odds in craps is Big Red 7 as its house edge is 16.67%. Thanks to it, the casinos are able to generate massive profits in short periods of time.