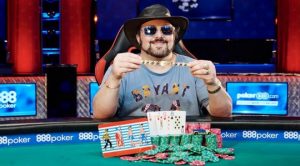 Professional poker player David Bach became took down the WSOP $10,000 H.O.R.S.E. Championship, becoming the first player for this Series' edition who won a second gold bracelet. In the early hours of Sunday morning, the Athens, Georgia-residing player emerged victorious from the event, which made him the first double bracelet winner this summer.
In order to win the WSOP $10,000 H.O.R.S.E. Championship event, Bach overcame the strong competition of all other players who entered the event. This year's WSOP H.O.R.S.E. Championship event accumulated an overall players field of 150 entries, including some of the most elite poker players. Apart from the gold bracelet Bach won by taking down the event, he was also granted with the lion's share of the guaranteed prize pool, taking home a cash portion of $383,208.
The player, whose best live cash amounts to $1,276,806, has boosted his total live winnings to $4,042,848. Currently, he has over 30 cashes and a large amount of final tables reached. Previously, David Bach has finished as a runner-up in three WSOP bracelet events, but he managed to flatten up this result by winning a total of three bracelets. His first one was won in 2009, when Bach took down another HORSE event – the WSOP $50,000 World Championship H.O.R.S.E., also generating his largest live cash.
He managed to win his other two gold bracelets this summer. First, he won the WSOP $1,500 Dealers Choice 6-Handed for $119,399, and now, the $10,000 H.O.R.S.E. Championship event.
His first victory this summer came to Bach after he had a dominant performance and a strong presence at the event's final table. This time, the player emerged victorious after facing a tough final table, considering the fact that some of the most successful poker players were present there, with Jason Mercier, Daniel Negreanu, Eric Rodawig and Andrew Brown, all gathering around the final table of the event.
The eliminations at the final table started with Jerry Wong leaving the table, followed shortly after by Yuebin Guo. Several hours later, two other players got eliminated, with Negreanu and Mercier hitting the rail. Four- and three-handed play followed, until there were only David Bach and Eric Rodawig left around the final table. At this time it was Rodawig who had a small chip advantage. After three stud games, the players came back to Limit Hold'em, and Bach took the lead. After that, it did not take him long to take down the event and be crowned as the $10,000 H.O.R.S.E Championship winner.
With David Bach winning the WSOP $10,000 H.O.R.S.E. Championship event and taking home a guaranteed prize pool portion of $383,208, Eric Rodawig remained at the runner-up position, getting a cash prize estimated to $236,841. The third place in the ranking was occupied by Don Zewin, who got a total of $163,557 for his efforts.
Andrew Brown remained fourth, followed by Jason Mercier. Daniel Negreanu remained at the sixth place, while Yuebin Guo occupied the seventh position. The final eighth was formed by Jerry Wong, who was the last player in the final table ranking.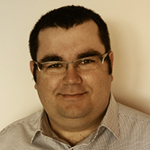 Harry Evans is a long-year journalist with a passion for poker. Apart from a good game of poker, he loves to write which is why he spent several years as an editor of a local news magazine.