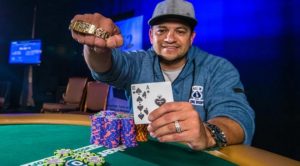 American poker player Adrian Moreno managed to get through a shaky final table, only to emerge victorious from the 74th event of the 2017 edition of the WSOP $1,111 Little One for One Drop No-Limit Hold'em.
The player not only won the next-to-last gold bracelet that is to be awarded in over the 2017 WSOP, but also scooped a massive monetary prize estimated to $528,316, which also turned out to be the best one in his career.
Up to date, the 48-year-old player has generated total live winnings of $663,056, with a best live cash of $528,316 generated with his last WSOP win. Apart from his first-place ranking in the $1,111 Little One for One Drop No-Limit Hold'em, Moreno, who is only a part-time poker player, also has four other cashes in World Series of Poker tournaments, accounting for earnings of $90,419.
This year, the WSOP $1,111 Little One for One Drop No-Limit Hold'em event attracted an overall players field of 4,391 paid entries who accounted for a guaranteed prize money of almost $4 million. The event was also extended to an unscheduled Day 4 session. The guaranteed prize pool amounted to a total of $3,951,900 which added up to the $487,401 generated for the One Drop charity. In addition, such a massive number of entries meant that a Day 4 was needed for a second year in a row.
Some of the most popular players who finished in the money were Matt Affleck, Eugene Todd, Pierre Neuville, Chris Ferguson, etc.
The event's finale saw only 12 players return, with Matt Berkey being the chip leader at the time with 12,000,000 in chips.
When speaking of his victory, Moreno called it a dream come true and suggested that he would be playing more tournaments in the future. He confessed that he used to play when he had the time, but shared that after the good cashes this year he could become more of a tournament player.
As mentioned above, Moreno managed to survive a tough final table, facing some ups and downs. The situation did not get any better at the time when there were only Moreno and Lesjoe around the final table. It was a fierce duel between the last two players standing, but it eventually ended up with Moreno being crowned as the event winner.
With Adrian Moreno emerging as the winner in the 2017 WSOP $1,111 Little One for One Drop No-Limit Hold'em and taking home a guaranteed prize pool portion estimated to $528,316, it is the Norvegian Martin Lesjoe who occupied the runner-up position. Lesjoe was granted with a cash prize of $326,314 for his efforts. Matt Berkey remained third, scooping a monetary prize of $240,588.
Jimmy Guerrero ranked fourth, followed by Richard Dixon. The six position in the ranking was occupied by Guiseppe Pantaleo, while Ricardo Ramos ranked seventh. Samuel Vonkennel and Alexandros Papadopoulos ranked eighth and ninth, respectively, scooping cash portions of $58,953 and $45,578.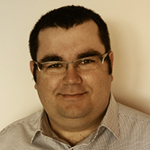 Harry Evans is a long-year journalist with a passion for poker. Apart from a good game of poker, he loves to write which is why he spent several years as an editor of a local news magazine.