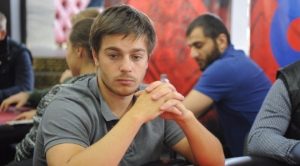 This year's edition of the PokerStars Festival Sochi Main Event finally saw its champion with Aleksandr Merzhvinskiy being crowned as a winner. The Russian poker player emerged victorious out of a massive players field of a total of 699 entries to take home a monetary pool portion of RUB 7,700,000, which equal to almost $134,000.
PokerStars Festival Sochi was held between October 16th and 22nd at the Sochi Casino and Resort, with a number of live events standing out. The Main Event of the festival offered a guaranteed prize pool estimated to RUB 30,000,000, which equals to $500,000.
PokerStars Festival Sochi Main Event Day 3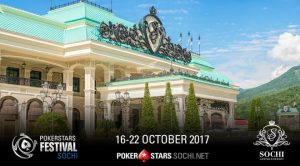 Only 27 players survived to the third and final day of the festival's Main Event and returned to Sochi Casino and Resort to compete for the title. At the time when Day 3 action kicked off, it was Merzhvinskiy who got the chip lead, holding a chip stack estimated to 2,599,000 in tournament chips. At this point the second-largest stack was held by Serafim Kovalevskiy, who had a total of 1,293,000 in tournament chips.
In fact, Aleksandr Merzhvinskiy had an advantage over the entire day, by setting a face-pace game and increasing the pressure on his opponents. This, however, does not mean it was an easy victory for him, especially at the time when he ran into Kirill Denisenko cards in the big blind and was forced to literally start rebuilding his stack.
The action slowed down a bit at the time when the unofficial final table of nine was reached, with Vadim Lipovka becoming the first one to got eliminated, leaving only eight players around the final table. The number of competitors was quickly reduced from eight to only two, with Alexsandr Denisov and Aleksandr Merzhvinskiy set to face each other in the final table heads-up play.
The two players paused the clock to consider a possible heads-up deal, but shortly after that they decided that they did not want to make an agreement and the play was resumed. After some time, it was Merzhvinskiy who got the festival champion's crown, as well as the largest guaranteed prize pool portion.
The winning helped Merzhvinskiy boost his total live earnings to almost $600,000. His largest live cash to date was generated in September 2017, when the player ranked third at the partypoker Millions Russia RUB66,000 NLHE PokerStars National Championship #1, which also took place in Sochi.
Final Table Ranking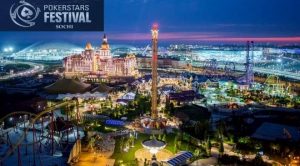 With Aleksandr Merzhvinskiy emerging as the winner of the PokerStars Festival Sochi Main Event with a prize of RUB 7,700,00, it was Alexsandr Denisov who got eliminated at the runner-up position. Denisov took a total of RUB 4,700,000 for his efforts. The third place in the ranking was occupied by Nikita Myshkin, who received a guaranteed prize portion of RUB 3,350,000.
Alexander Shlyakhov remained fourth, followed by Valentin Zolotilov. The sixth place in the final table ranking was taken by Andrey Kotelnikov. Mikhail Zamyatin got eliminated at the seventh position, while Kirill Denisenko from Belarus remained eighth. The ninth place was occupied by Vadim Lipovka, who received a guaranteed prize pool cash portion of RUB 610,000.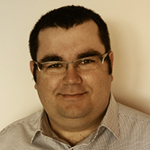 Harry Evans is a long-year journalist with a passion for poker. Apart from a good game of poker, he loves to write which is why he spent several years as an editor of a local news magazine.