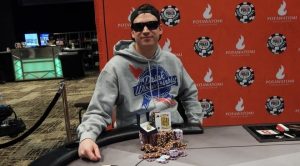 Michael Hudson made a memorable comeback after a long absence from tournament poker by winning the 2018/19 WSOP Circuit Potawatomi $1,700 Main Event mere hours ago.
The 32-year-old player became the one who outlasted all his 666 competitors after a tense final day during which he faced several Circuit gold ring holders. The victory brought Hudson his first-ever WSOP Circuit ring and a massive prize of $207,159. Apart from the six-figure payout, the player also got a guaranteed seat into the season-ending 2019 Global Casino Championship.
Congratulations to Michael Hudson for taking down the @paysbig Circuit Main Event, claiming his first gold ring and $207,159. Full story: https://t.co/6WugQ8vAwE pic.twitter.com/0O8fsc6JDm

— WSOP (@WSOP) February 12, 2019
The Main Event of the 2018/19 WSOP Circuit Potawatomi stop gathered an overall number of 667 entries, after the first flight of the tournament drew 292 entries, and Day 1B added another 375 entries to the overall account. The competitors accounted for a total prize pool of $1,010,505. Only 97 of the total number of players got to Day 2 of the event – the day when Hudson managed to gather a strong chip stack.
As Casino Guardian previously reported, Day 3 of the $1,700 Main event saw only nine competitors return to try and win the first-place prize and the event's title. At that time, it was Michael Hudson who got a massive chip lead, with him holding almost 40% of the overall chips at the final table.
Hudson Faces Several Circuit Gold Rings Winners on Day 3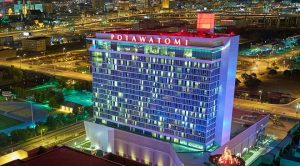 At the beginning of the final day of the WSOP Circuit Potawatomi Main Event, Hudson had a chip stack of 7,850,000, while Hank Sitton was second in chips, with 2,870,000. Day 3 of the competition, however, was not an easy obstacle for Hudson to overcome, as he had to face several Circuit gold ring owners, including Cody Brinn, who was aimed at winning his eighth gold ring. Two-time ring winner Cody Brinn, as well as Kevin Saul and Brett Apter, with one ring each, were also having their eyes on the prize.
The massive chip advantage, however, was not the only thing which Hudson managed to start Day 3 with. To make things worse for his opponents, he also managed to score the first two eliminations of the final day, boosting his chip stack to more than 10 million. This gave him a monstrous advantage to the rest of the players even bigger, as the remaining six competitors held an average of less than two million.
The @paysbig Ciruit Main Event is down to a final three. @JTonetime, @Hank_Sitton, and Michael Hudson are playing for $207,159 and a Circuit gold ring. Finale updates: https://t.co/a7siXGaH7L

— WSOP (@WSOP) February 11, 2019
Eventually, Michael Hudson and Joshua Turner were the last two players to remain around the final table. Despite the fact that at the time the odds were not in Turner's favour, he made a comeback and succeeded to even take the chip lead at one point of the heads-up play. Unfortunately for him, the chip lead changed back shortly after his momentum, and not long after that, Hudson claimed the title, winning his first gold ring.
With Michael Hudson emerging as the winner of the 2018/19 WSOP Circuit Potawatomi $1,700 Main Event, with earnings of $207,159, Joshua Turner remained on the runner-up position, taking home $128,183 prize pool portion. Hank Sitton occupied third place in the ranking. He was granted $94,017 for his efforts.
Kevin Saul remained fourth, followed by Brett Apter. The sixth position in the ranking was occupied by Dajan Radanov, while Nathan Braungardt and Cody Brinn were seventh and eighth, respectively.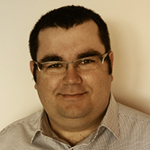 Harry Evans is a long-year journalist with a passion for poker. Apart from a good game of poker, he loves to write which is why he spent several years as an editor of a local news magazine.