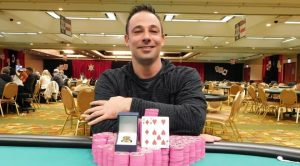 Ryan Eriquezzo conquered the latest Main Event of the WSOP Circuit series. He emerged victorious from the one at the Harrah's Atlantic City stop of the 2018/19 WSOP Circuit, winning a prize pool cash portion of $124,397 and adding a fourth gold ring to his collection.
The victory also brought Eriquezzo's all-time live earnings to more than $1.5 million and guaranteed him a free seat at the season-ending Global Casino Championship.
As already reported by Casino Guardian, the tournament started on March 15th, with the first flight bringing in 141 entries, and the second one – 216 entries. The latest edition of the WSOP Circuit Harrah's Atlantic City Main Event gathered an overall field of 357 entries. Only nine of them, however, managed to make it to the last day of the event, with Renata Colache returning to Day 3 as the chip leader. She was also the only one of the nine remaining players who piled up a chip stack exceeding the 2-million mark.
Ryan Eriquezzo wins the Main Event @harrahsresort after outlasting 357 runners! He claims his fourth Circuit ring and $124,397 for his victory.https://t.co/gmB6vZcUD8 pic.twitter.com/KN4x23DP73

— WSOP (@WSOP) March 19, 2019
At the beginning of the third, and last, day of the $1,700 Main Event, Ryan Eriquezzo was in the middle of the pack. He pretty much kept that position by the beginning of the six-handed play, when he turned to a more aggressive play mode and managed to build up a large stack putting him on the lead.
Denis Gnidash Left on Second Place after Fierce Heads-Up Play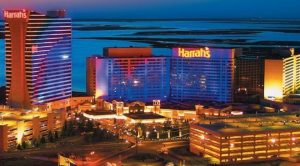 Renata Colache may have started Day 3 of the Main Event with the largest chip stack, but soon after that, the chip lead would shift from player to player. At the time when there were only six players left, Eriquezzo built up a strong stack. He took the chip lead not to give it back by the end of the event.
Heads-up play started with a massive chip advantage for Eriquezzo, but Gnidash was not an easy rival to deal with. He doubled up almost instantly and managed to almost even out the playing field. Eriquezzo continued with his aggressive play without showing any signs of distress by grinding his opponent's chip stack down, until he managed to secure all the chips and took down the event, leaving Gnidash second in place.
Renata Colache leads final nine going into Day 3 of @harrahsresort Main Event!https://t.co/iNK04uk08z pic.twitter.com/3HcUjMJpqb

— WSOP (@WSOP) March 18, 2019
With Ryan Eriquezzo triumphing as the winner of the 2018/19 WSOP Circuit Harrah's Atlantic City $1,700 Main Event, taking home a gold ring, a free guaranteed seat at the 2019 Global Casino Championship and a cash prize of $124,397, Denis Gnidash finished as a runner-up. Gnidash was granted $76,904 for his second place. Kurt Lichtman took the third place, winning a cash prize of $56,103.
Richard Hanheide remained fourth, followed by Ryan McKnight. The sixth place was taken by John Forlenza, while Ross Gottlieb followed on the seventh position. Day 3 chip leader Renata Colache finished eighth, and the final table ranking was formed by Daniel Park who took the ninth place and received a cash prize of $11,693.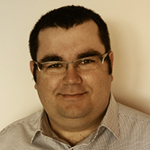 Harry Evans is a long-year journalist with a passion for poker. Apart from a good game of poker, he loves to write which is why he spent several years as an editor of a local news magazine.