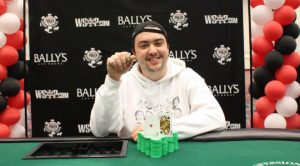 The poker action for Bally's Las Vegas $1,800 Main Event has wrapped up with Brooklyn's Asher Conniff triumphing over the strong field of 607 players for the first WSOP Circuit Ring in his career. After entering the Final Day with the chip lead, Conniff managed to survive and eliminate Joshua Suyat in the second place.
The tournament started on Friday as the highlight of the 2018/2019 World Series of Poker Circuit at Bally's Las Vegas and managed to attract a total of 607 entries during the two starting flights – 250 players entered the competition on Friday and another 357 poker pros bought in on Saturday. This strong interest in the $1,700 buy-in event resulted in a prize pool of $919,605, which was split among the 63 best players. 118 poker enthusiasts and pros made it through the starting flights and managed to return to the poker tables on Sunday and only 12 of them survived to Day 3 the following day.
Asher Conniff managed to defeat a tough competition, including Simon Deadman, Justin Young, and Stanley Lee. In the final heads-up, he won over Joshua Suyat and took home a cash prize of $193,147. This is not the first WSOP cash for him but with this victory, he took his first WSOP Circuit Ring. He also earned a free seat into the 2019 WSOP Global Casino Championship, which will be held this August as the culmination of the 2018-2019 Circuit season. With this prize money, his total earnings from live poker tournaments exceed $2.2 million.
Final Day Wrap-Up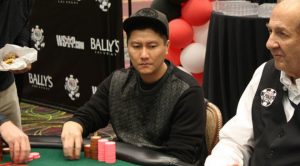 Cards for the Final Day were in the air at noon, with Asher Conniff leading with 3,030,000 in tournament chips. Day 2 Chip Leader Justin Young had 2,520,000 in his possession and was closely followed by Stanley Webb (2,325,000) and Stanley Lee (2,260,000). Young quickly took the lead in the beginning after taking over 800K from Webb but this did not last long as Conniff won a few hands, too. The first player to be eliminated was Kevin Calenzo (12th place, $14,419) and it did not take long for Steven Grybas (11th, $14,419) to be sent home, too.
The first to leave the unofficial final table was Vini Polpeta (10th, $14,419), while Lee finished 9th, taking $17,913. Several quick eliminations followed – Daniel Park (8th, $22,548), Simon Deadman (7th, $28,765), James Fricker (6th, $37,198), and William Wolf (5th, $48,766). Finally, Webb (4th, $64,813) was sent home by Young, while Conniff continued to increase his advantage.
Congrats to @misterashmoney for winning the Circuit Main Event @BLVPOKER for $193,147!https://t.co/DK9aH85Jdl pic.twitter.com/7X4LRUtLfD

— WSOP (@WSOP) April 2, 2019
After the start of Level 30, however, things quickly shifted and the young player from Brooklyn, NY, was in jeopardy as Joshua Suyat from Hawaii managed to take over. Following Young's elimination in the 3rd place ($87,344), the two poker pros continued heads-up for another hour. In the final hand, Conniff's A-Q managed to beat Suyat's K-Q and brought him the victory in the 2018/19 WSOP Circuit Bally's Las Vegas Main Event. He took $193,147 in prize money and for his runner-up position, Suyat cashed $119,447.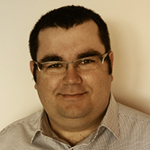 Harry Evans is a long-year journalist with a passion for poker. Apart from a good game of poker, he loves to write which is why he spent several years as an editor of a local news magazine.