One very popular casino game which can be played in real time is Live Poker. It is offered by a number of leading gaming houses along with its many variations, some of which are extremely famous on a global scale. This card game has been played for centuries and it is often the first thing that comes to mind whenever the word casino gets mentioned. The game resembles Blackjack in terms that along with luck, it also requires skills and strategy. Due to the fact that players have the power to influence the final outcome using their knowledge and abilities, poker is among the most played games of all time.
Live casinos use cutting-edge technologies and advanced systems in order to provide players with an experience which is second-to-none in terms of entertainment and excitement. They have the chance to enjoy Live Poker with a live croupier who deals the cards every time at the moment of playing which greatly contributes to the realistic feeling they are able to get. Furthermore, the live streaming technology employed by most online casinos enables the players to witness the whole gaming process and all of the involved actions in it. They can even have a good chat with the dealer and the rest of the Poker enthusiasts while playing the game at their home.
Reasons to Try Live Poker
When online poker first came out, many players didn't even consider the option to give it a try due to the fact that the online version is completely computerised and therefore, it takes all the fun away to a great extent. However, when Live Poker was introduced, it completely changed the way players were looking at online gambling. What makes it so worthwhile is the fact that via live streaming video, players are able to witness how the croupiers perform their duties in real time. The attractive and professional real dealers also greatly contribute to the overall pleasant experience which poker fans get from playing their favourite game live.
Moreover, players can also communicate with them and with the rest of the poker enthusiasts, using the live chat feature This option gives poker fans the opportunity to establish a personal connection with the people involved in the game. The human element is no longer absent when Live Poker is played online which is great news for outgoing players who like to socialise and have a chat when they go to a casino. The fact that live games offer a number of advantages and exclusive features which don't exist in brick-and-mortar casinos is undeniable. The rapidly increasing popularity of this type of game is an indicator on itself that Live Poker appeals to a huge number of players worldwide.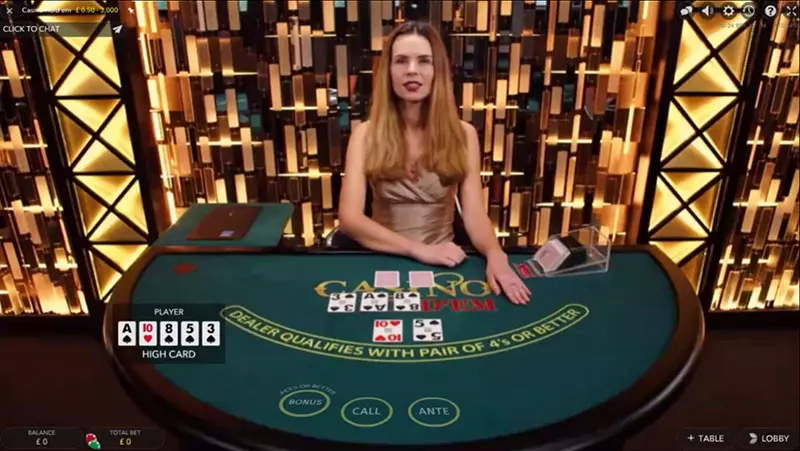 Most Popular Live Poker Variation – Casino Hold'em
One of the most popular variations of Live Poker is Live Casino Hold'em and as such, it can be found in most online casinos. It is another game which can be played with a professional dealer in real time, providing players with the chance to enjoy an experience similar to the one at their favourite land-based casinos. It is now possible for poker enthusiasts to take advantage of this unique opportunity to enjoy one very interesting variation of the game at the comfort of their home and at the same time, get an extremely genuine feeling of it. Thanks to the sophisticated live streaming technology involved, they are able to witness an attractive dealer who will not only professionally conduct the game but will also do it in a timely manner.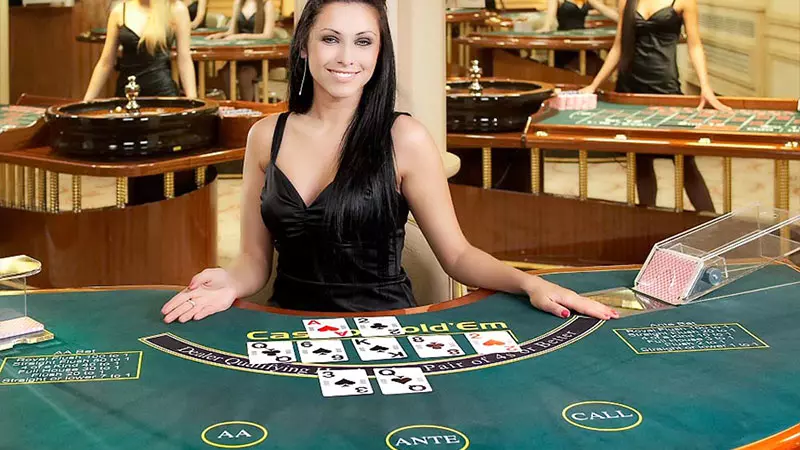 Just like any other live game, Live Casino Hold'em offers a number of benefits and unique features which significantly contribute to the overall pleasant experience for players. One such great advantage is the fact that most live casinos offer special bonuses and irresistible deals for this game variation. This perk is among the reasons why Live Casino Hold'em is considered worthwhile by a number of players globally. The table limits of the game can vary from one online casino to another, giving the needed freedom of choice and satisfaction.
Other Popular Live Poker Variations
Poker is an extremely popular game among casino fans and you can find plenty of its variations at Live Casinos. If you want to try something similar to Casino Hold'em but with some additional features or a few added tweaks to the rules, you can try some of the options we will review below.
Live Caribbean Stud Poker
This particular poker variation currently has three live-dealer versions that can be played at interactive casinos powered by Xpro Gaming, Vivo Gaming, and Evolution Gaming.
While the three games have the same rules of play, the Xpro and Vivo Gaming versions can accept only up to five players at once. In the meantime, Evolution Gaming's Live Caribbean Stud Poker deals one single hand that applies to numerous players.
The game is extremely easy to play, with the main goal of the player being to beat the dealer's hand. Before the new round begins, players are required to make the so-called Ante bet. Once they are dealt their five cards and the dealer reveals the last card of their hand, players must decide to raise their bet and play or fold their hand.
One thing that makes Evolution's version even more exciting is the chance of hitting a progressive jackpot. The progressive pay is won whenever the player is dealt a Royal Flush. In addition to that, players can place a 5+1 side bet that can be won for different combinations of four of the player's cards and one of the dealer's cards.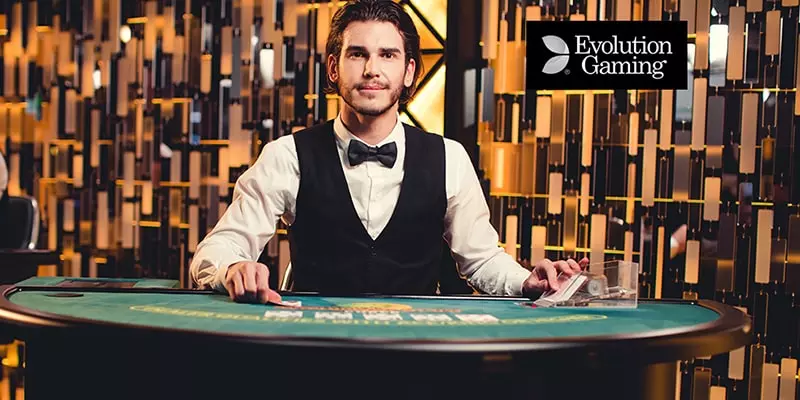 Live Texas Hold'em Bonus Poker
Yet another very entertaining live-dealer poker version you can enjoy online includes Live Texas Hold'em Bonus Poker by Evolution Gaming. In this variant of the card game, your main goal is to form the best five-card hand with two cards that are dealt to you and three of the community cards on the table.
Like the rest of the poker variations, Live Texas Hold'em Bonus Poker requires an Ante bet before the new round begins. In addition to that, the game includes a bonus and a progressive jackpot that can be won if you decide to make a side bet or place a bet that will qualify you for the progressive prize.
When the new game begins, you will be dealt two hole cards that will be facing upwards. You can decide to fold your hand or raise your bet and play. Following your decision, the dealer will reveal three face-up community cards. The player can check (do nothing) or raise their bet before a fourth community card is dealt face-up. Yet again, the player must decide to check or bet, with the fifth and final community card being dealt at the end.
The side bet applies to the two hole cards dealt to the player, with different payouts being offered for specific pair combinations. The progressive jackpot is won when the player forms a Royal Flush. If there are several players with a Royal Flush during the same gaming session, the prize pool is equally divided between them.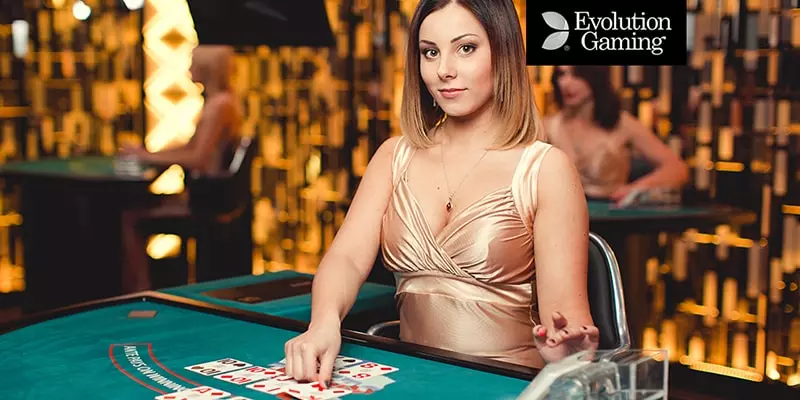 Live Three Card Poker
Fans of poker can also have a great experience playing Live Three Card Poker by Evolution Gaming. Similar to Baccarat with Squeeze, this poker variant allows the slow reveal of the cards, making the entire game a lot more thrilling.
At the beginning of a new gaming session, players place their Play bets. Additionally, they can also make side bets and play for bonus payouts. Then, players are dealt three cards facing up, while the dealer draws three cards facing down.
Players must decide whether to continue to play and place an Ante bet or fold their hands and quit playing. After players make their decisions, the dealer reveals their hand and the game is won by the hand with the higher value.
Players can win an Ante Bonus if their three cards form a Three of a Kind. Meanwhile, there is the Pairs Plus bet that is won when the players' hand is a pair or better. There is also the option to win the 6 Card Bonus if your three cards and the three cards of the dealer form a five-card hand of Three of a Kind or better.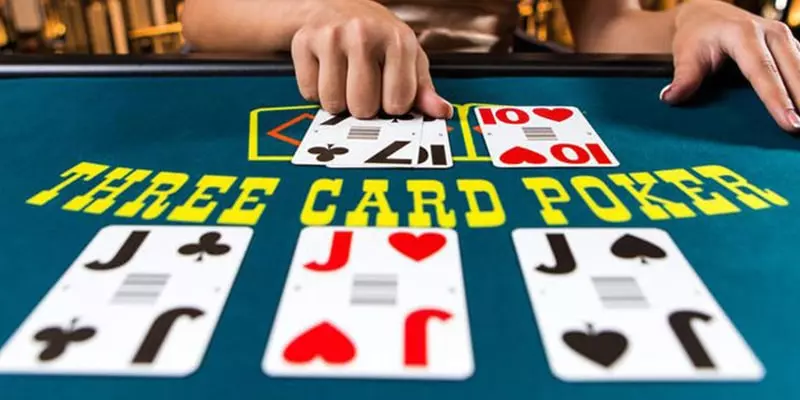 Key Features in Live Casino Hold'em
In Live Casino Hold'em, players have the chance to compete against the casino online and interact with each other. There is the chance to establish a more personal connection with the rest of the participants and have a good chat while playing your favourite game from a comfortable spot. This is a key factor that greatly contributes to the excitement this variation of Live Poker brings. Even though the game is virtual, the social element is retained due to the live chat feature in use.
While playing Live Casino Hold'em, players will have several betting options to make use of. The standard wager that could be placed in the game is the Ante bet, which is made before any cards are dealt. There is also the chance to place a Bonus side bet along with the Ante. The Bonus bet is won when the first 5 dealt cards show a pair of Aces or higher.
In addition to the first two bets that can be placed before the cards are dealt, you can also make a Call bet. It is placed when you decide to play the hand, formed after the 3 community cards have been dealt.
Another great feature that you can enjoy when you play Evolution Gaming's Live Casino Hold'em is a progressive jackpot. In order to be eligible to sweep the progressive jackpot, you will need to make a Side Bet. The jackpot prize is won when there is a 7-card Straight Flush, formed by the player's two cards and the 5 community cards.
Evolution Gaming has also released another fun version of the live-dealer poker game. Thanks to 2 Hand Casino Hold'em, players will have two different hands to choose from. There is the option to pick either of the two or both of the hands to play with.
Some live casinos took their online casino interface to the next level by offering a special multi-user interface feature. Thanks to it, players have the unique chance to observe the moves the rest of the participants on the table make, as if they were in a land-based casino. Such special features make up for the fact that poker enthusiasts are not present in the brick-and-mortar casino by allowing them to witness all of the actions conducted on the table.
Players are also able to see how the cards are dealt by a professional dealer in real time, thanks to the live streaming technology, most live casinos employ. Casino fans no longer have to sit behind a computer or a mobile screen and play on their own as this advanced system serves as a window that shows a new different gaming world. This is the most realistic feeling, they can get while playing Live Poker at the comfort of their homes.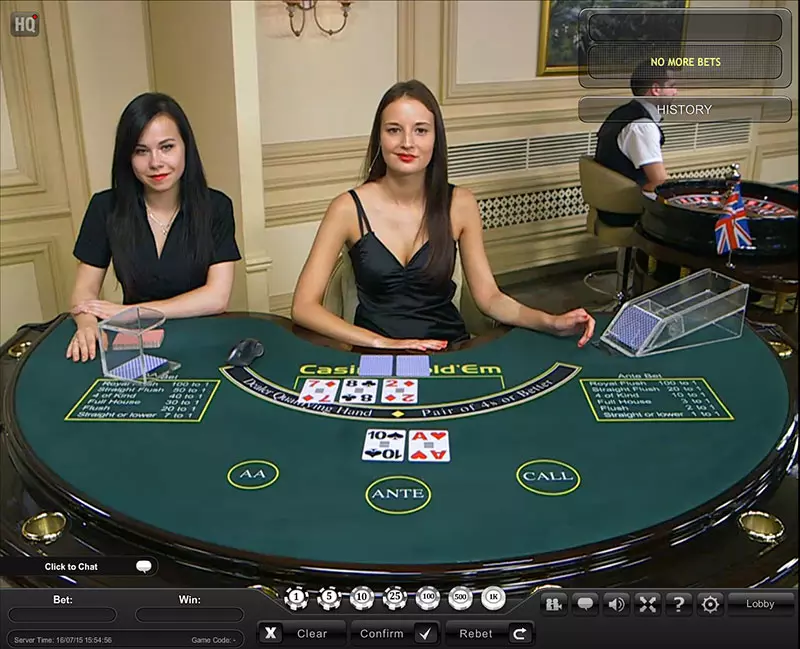 Live Casino Hold'em Strategy
As you may already know, poker is best played when you utilize the right type of strategy. When you are playing Live Casino Hold'em, you will yet again have the option to apply a strategy and increase your chances of a generous payout.
Like at a brick-and-mortar casino, with live-dealer Casino Hold'em, you will be competing against a real dealer. Your goal is to beat his/her hand to win the game. Your hole cards will let you know whether you should fold or call with your hand.
As a rule of thumb, there are several good hole cards to call with while playing Live Casino Hold'em. If you are holding a pair, an Ace or King, a Queen or Jack, you are advised to call. Keep in mind, however, that if the community cards are the same suit and you do not hold one, holding a Queen or Jack would mean that it is better to fold.
If you are holding a Flush or Straight Draw and you need only one card to complete the hand, you are advised to call. When your hole cards are of a higher value than the community cards, you should also call.
When your hole cards do not match the community cards or you are not holding a card over 10, you are advised to fold. The only exception is if you are holding a Straight Draw of Flush Draw.
Holding unpaired cards with low values that do not match the community cards will also mean that it is best to fold.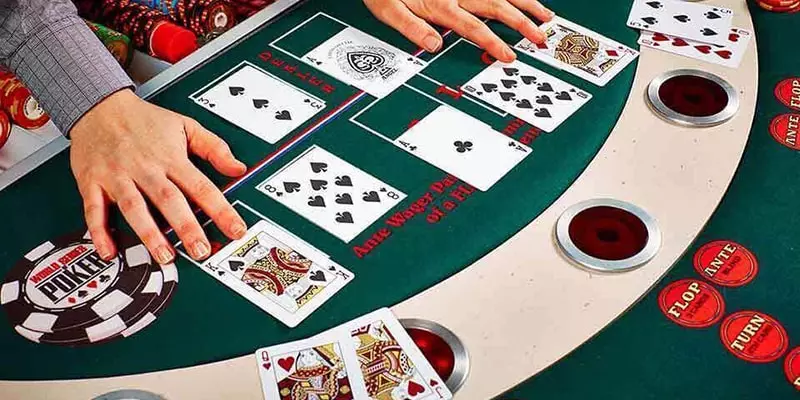 Pros and Cons of Live Casino Hold'em Poker
When you are wondering whether playing Live Casino Hold'em is worth it, you can check the perks and downsides of diving into such endeavours.
The biggest advantage of playing Casino Hold'em against a real professional dealer is the authenticity of the entire experience. You will be able to enjoy a realistic casino adventure in the comfort of your own home while trying to beat the dealer.
All of the croupiers who work at Live Casinos are professionals who know how to handle the cards and conduct a very entertaining game of Casino Hold'em. What is more, thanks to a Chat feature, you will be able to communicate with the dealer and other players who have joined the live table. This makes the experience even more authentic, fun and interactive.
Since Live Casino Hold'em is played in real time with a professional dealer, you will see the cards being dealt before your eyes. This means that there is no RNG involved and a real human hand will reveal the cards that are involved in every round. This means that the game is fair and you do not need to worry about the authenticity of the results.
Live Casino Hold'em is a fun game that has several variations online. Depending on the Live Casino where you have decided to play, you might have different betting options to choose from. In addition to the standard Ante bet, you might also have the chance to make side bets that can be very rewarding if luck is on your side.
Another great perk of the live-dealer card game is that players who enjoy taking risks might also appreciate Evolution Gaming's version of Live Casino Hold'em. It allows players to make a side bet that will qualify them for receiving a generous progressive jackpot. If there is a 7-card Straight Flush, you might quickly boost your casino balance thanks to the jackpot of the game.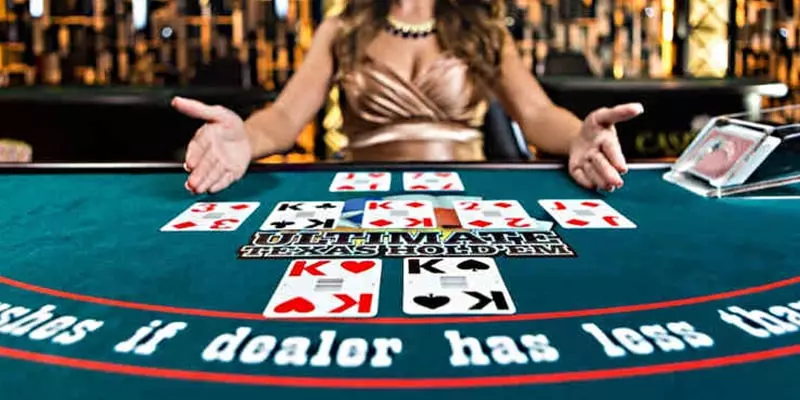 Another great perk of playing Live Casino Hold'em is the accessibility of the game. You can enjoy your favourite poker variation, no matter where you are. As long as you have a stable Internet connection, you will be able to load the game on your smart device and play on the go.
In addition to the various pros of live-dealer Casino Hold'em, there are several cons you should pay attention to. When you decide to play against a real dealer, you should keep in mind that Live Casino Hold'em, like other live games, cannot be played for fun. This means that you will need to top up your casino balance before you start playing.
Having to deposit money into your account in order to play the live version of Casino Hold'em can be a bit inconvenient. If you are not used to the game and you prefer to practise first, you are advised to resort to online variations of the game. You can bet at a Live Casino once you are confident in your poker skills.
Another disadvantage of the game is mainly concerning players who decide to play on the go. If your Internet connection is not strong enough, this will disturb your Live Casino experience. You might not be able to fully enjoy your game of Live Casino Hold'em and place bets in real time if you do not have a stable Internet connection.
Conclusion
Live Poker and some of its variations can be played in most reputable online casinos because of their huge popularity and challenging nature. The first priority of every well-established online casino is providing a second-to-none experience for their members and surpassing even the highest expectations about how Live Poker can be played. Thanks to the live streaming technology, offering various opportunities, the way live games are perceived has changed significantly. If you are a fan of the card game, you finally have the chance to apply the right strategy, play against a real dealer and revel in an authentic poker experience in the comfort of your own home.