Live games are becoming more and more popular among all types of players which is the reason why they can be found in most online casinos. It has never been so easy to enjoy a favourite table game at any time and place and at the same time, get an extremely authentic experience and high level of entertainment. The reason why it is possible to play a live game, which is almost identical to its brick-and-mortar version, is that many of the online casinos use live streaming technologies and advanced systems. They enable players to witness a live croupier in real time, positioned in a casino studio, specifically designed for such purposes.
One of the most popular casino games is Roulette and as such, it is no surprise that it is among the games offered live by a number of online casinos. Along with the classic Roulette, players can also enjoy many of the game's variations and play the one that best suits their personal preferences. Furthermore, thanks to the sophisticated systems in use, they can rest assured that their sensitive information and data will receive a high level of security at any point which enables them to fully enjoy the game without any concerns and worries.
Specifications of Live Roulette
The foremost aim of the live games developers is to manage to create a live version which highly resembles the one offered in brick-and-mortar casinos. When it comes to Live Roulette, players can be sure that such an effect is successfully achieved and they will be able to get one very genuine gaming experience. Moreover, the rules of Live Roulette are pretty much the same as the ones of its land-based counterpart which works in favour of the players. However, playing live has its specifications and it is always best to get familiar with them in advance in order to be prepared as much as possible.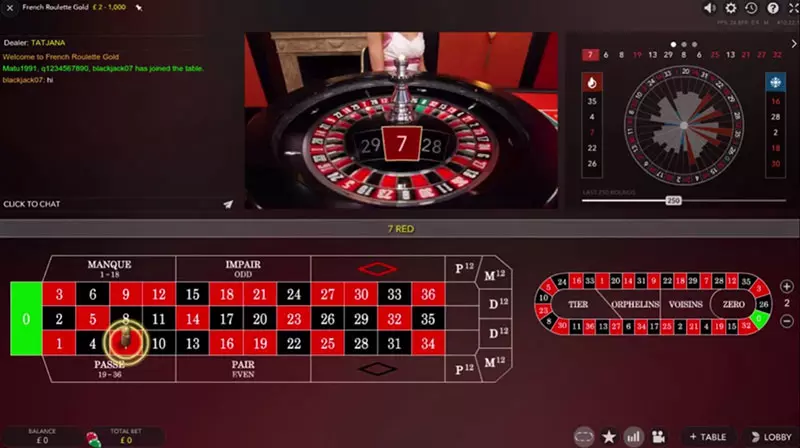 Favourite Bets Feature in Live Roulette
One difference between Live Roulette and its land-based version is that players have the chance to take advantage of one additional feature which can be found only when the game is played online. It is called Favourite Bets and it is quite easy to guess what it's used for due to its transparent name.
If players have a particular amount of wager which they would like to place on a few spins, they can easily save it as a favourite bet and use it whenever needed. This feature is extremely convenient and it saves both time and efforts when the game is played live.
You can save several of your favourite bets and use them for your future gambling sessions. While you play Live Roulette, this feature will allow you to enjoy the best qualities of both online and offline gambling.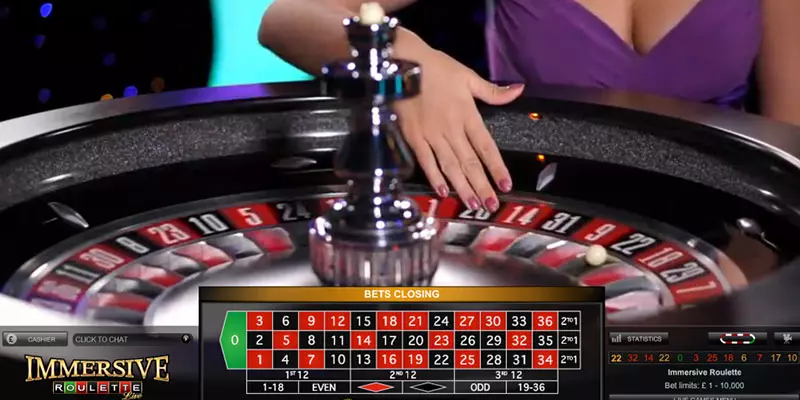 History Feature in Live Roulette
Due to the fact that Roulette can be played not only online but also live, players have the chance to check their bets' history whenever they want. Whereas when playing at a brick-and-mortar casino, they have to remember the amount of the wagers they've placed, when playing online there is no need to burden their minds with such detailed information.
Sometimes it can be really hard to remember all of the wagered money, especially if the game is played for hours. At the end, it is almost impossible to recall every single bet that was made. Playing Live Roulette gives players the chance to review not only their previous spins but also the outcome of each one of them.
Thanks to the History section of Live Roulette games, you can easily follow your betting patterns as well as some statistics about the game. Although roulette is still a game of chance, you can see the hot numbers that have been winning most often and bet on them. Meanwhile, the History feature will also show the cold numbers which you might want to avoid as they have rarely appeared in the previous rounds.
Pros & Cons of Live Roulette
Just like the land-based Roulette, its live version has its pros and cons which players can take into account in case they still wonder whether to try it or not. One of the biggest advantages when the game is played live is that it is possible to easily place your bets for every spin. Thanks to the advanced technology used by software providers, your screen becomes interactive and you can freely choose the bets you would like to make.
Furthermore, thanks to the chat feature in use, they also have the chance to communicate with the dealer as well as with the rest of the participants involved in the game. This further contributes to the high level of entertainment Live Roulette brings.
Another very beneficial thing when the game is played live is that thanks to the live streaming video, players are able to witness a live dealer who will spin the wheel in front of the camera at the time of playing. Moreover, the croupier is usually positioned in a private studio which contains all of the casino elements and highly resembles the splendid setting in a gaming house. The live streaming video, the presence of the dealer and many other factors give players the unique opportunity to get an extremely authentic feeling of the game even though they are not in a brick-and-mortar casino.
Most Live Casinos provide a variety of live-dealer roulette versions. If you are used to playing with just 37 sockets on the wheel, you can opt for betting on European Roulette. Since this variation offers a lower house edge, many players prefer to gamble money on this version of the classic game. Those who wish to add some thrill to their experience will also have the chance to play American Roulette live. With an extra double-zero socket on the wheel, this game is favourite to numerous casino fans.
Although many prefer Live Casino games due to the interactions with real professional dealers, there are also automatic roulette versions. These games are still streamed from high-tech Live Casino Studios but the wheel is spun automatically. To fully make your experience fun and rewarding most live-dealer variants of roulette also include racetracks that allow call bets. This way, players can enjoy different betting options, increasing their winning chances.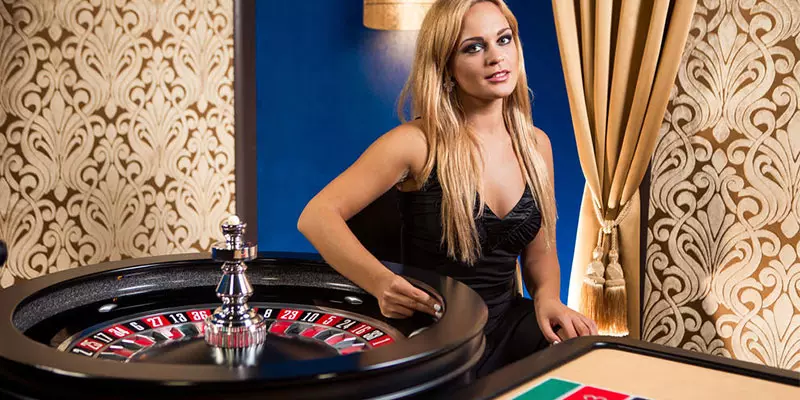 Whether you are a recreational player or you prefer making higher bets, you will be able to find live-dealer roulette options that will suit your preferences. Low-limits tables will allow less risky wagers, while high-rollers will be able to join VIP roulette tables. The biggest perk of the Live Roulette diversity online is that you might also come across games with dealers who speak foreign languages. Russian, German, Italian, Swedish and Turkish are just a few of the languages that some roulette dealers can speak.
Another great perk of playing Live Roulette is that you can enjoy your experience no matter where you go. Since most of the software companies have optimized their live-dealer games with mobile devices, you can easily play your favourite table game with a real dealer at any time you want.
If you wish to play Live Roulette even when you are on the go, make sure that your Internet connection is stable. This way, you will be able to join any live-dealer table and play in real time with a professional dealer who will spin the roulette wheel before your eyes.
Even though you will be playing on a smaller screen, you will still have the chance to enjoy crystal clear streams of your favourite roulette variation. You will still have the chance to control your bets with just a few taps on the screen and enjoy an authentic casino experience even when you are on the move.
One very convenient feature of some Live Casinos will enable players to play several live-dealer roulette games at once. This is definitely a perk that you cannot make use of at land-based casinos. If you like to increase the thrill levels, you can view several Live Roulette games on the screen and bet simultaneously on several variations of the classic casino game.
One thing which can be considered as a drawback is that in order to enjoy all of the benefits Live Roulette provides, players need to have a reliable and fast Internet connection and a suitable device. Any technical issues that might occur during the course of the game can ruin their mood and enjoyment. If the Internet connection is not fast enough, there can be a delay and players might not be able to make their bet choices on time. Moreover, there is also a distinct possibility of technical issues, coming from the software provider which should be taken into account.
Like other Live Casino games, Live Roulette cannot be played just for fun. To be able to place bets on your favourite live-dealer game, you will need to have sufficient funds in your casino balance. This can be inconvenient for players who are not well aware of the rules of roulette and wish to have a practice before betting real money. Even if you have topped your account, keep in mind that playing online roulette can be more budget-friendly than playing Live Roulette.
Fun Live Roulette Variations
While you play online, you have the chance to explore various Live Roulette variants that include European and American roulette. In addition to the standard live-dealer roulette options, there are also several intriguing variations that will definitely keep you entertained.
One different version of the classic game is Evolution Gaming's Lightning Roulette. While there is nothing unusual in the way the game is played, players have the chance to land additional payouts thanks to the special lightning feature. In each round, you will see lightning striking between one and five numbers. These lucky numbers can award payouts with multipliers between 50x and 500x. You can still make your typical roulette bets and add an extra win thanks to the special feature of Lightning Roulette.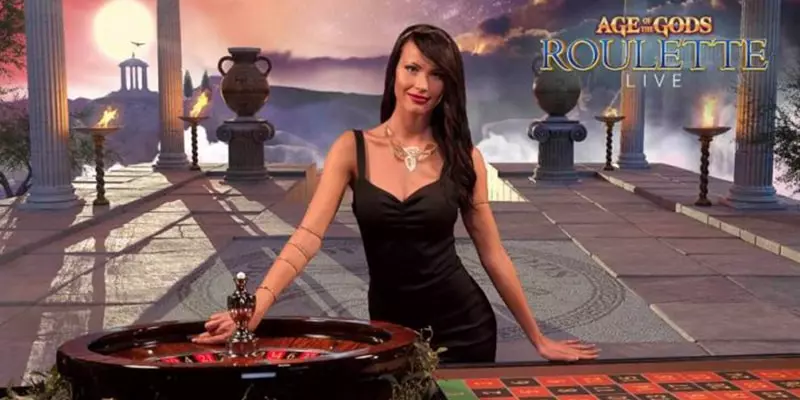 Another fun live-dealer version of the classic table game is Double Ball Roulette by Evolution Gaming. By adding an extra ball to the roulette wheel, the frequency of wins increases and so does the level of thrill. With the additional ball, every spin provides two winning numbers, giving players even more payout opportunities.
Players might also appreciate the Live version of Age of the Gods Roulette. Similarly to American Roulette, this variant has an additional socket on the roulette wheel. Instead of double-zero, however, the extra socket is dedicated to the special Age of the Gods section that can award a massive progressive jackpot. This option can make one's gaming experience a lot more exciting and rewarding.
Conclusion
Live Roulette is another opportunity for players to enjoy their favourite game in real time, at the comfort of their homes. What is more, they will be able to interact with a real dealer and with other casino enthusiasts. The live version of the game can be found in a number of reputable online casinos and most of them also offer many of its most popular variations. Players are able to see the spinning wheel in real time which assures a high level of excitement and creates a feeling of fairness. Now it is possible to play Roulette online at any place and time but still get almost identical experience as if you were at a brick and mortar casino.